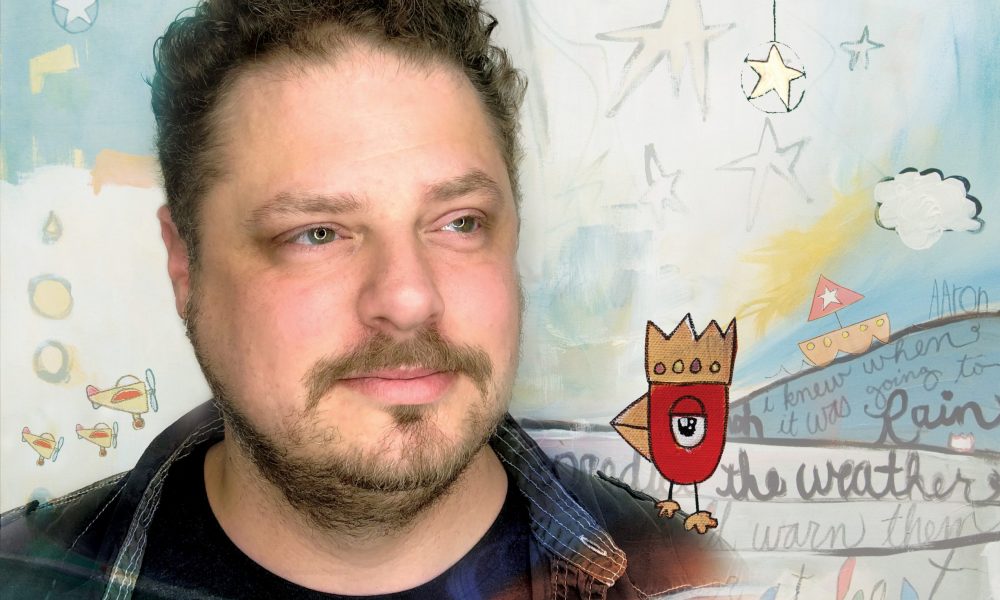 Today we'd like to introduce you to Aaron Grayum.
Aaron, please kick things off for us by telling us about yourself and your journey so far.
Like many artists I know, I've made art since before I can remember. One of my earliest memories is of sitting in my room, not long after I'd turned 4, drawing Donald Duck on cardboard and then cutting him out so I could play with him. When I was in elementary school, Micro Machines were popular, and my friends and I would draw these "micro wars" on notebook paper, which were basically airplanes and tanks battling it out in mechanical pencil, drawn as tiny as we could possibly draw them. One of my teachers told me she was tired of me drawing battle scenes all the time (and why on Earth so small, Aaron?), and that I should instead draw happy things like rainbows and trees. I think I did one drawing like that, got her blessing, then went back to my Micro Wars.
After that I went through various artist phases. In high school I wanted to be the next Todd McFarlane, so I drew comic book characters every chance I had. In college I stumbled around impressionism for a bit, and then I visited a Mark Rothko exhibit at the National Gallery. That threw me into the world of oil painting for several years.
Then in the mid-2000's my wife Michelle and I joined an artist co-op in East Nashville called Plowhaus. That was great but I was still struggling to find my voice as an artist.
Then one day in 2006, Michelle and I were walking through an art gallery and she reminded me about all those little faces and characters I'd always drawn, and how it would be great if I would take them out of the margins and turn them into actual paintings on canvas. And what if I even signed my first name on them the same way I did when I was little?
I didn't jump at the idea. I wanted to be a serious artist, and not only was I personally against signing my work at the time (I had hangups, people). But also, the thought of the general public, not to mention other "real" artists, seeing these little drawings I'd done my whole life was far more scary than exciting.
At some point, though, I knew she was onto something. So, I tried a small series of about a dozen 8"x10" paintings — of things like ducks and clowns — and displayed them at the next cash-and-carry group show at Plowhaus. I invited all my friends and family to come and tell me what they thought of my new work.
But then I ran into a problem … within the first hour, EVERY SINGLE piece I'd brought had sold and was gone. Even the extras I'd hidden in the back! And then everyone I knew started showing up to support me, and I had nothing to show them but the only blank wall at the show. Awkward? Yes. Complaining? Not a chance. That night was a turning point for me, when I knew that not only had she been right about all this, but that the art that those people, that "scary" public, was resonating with, was more authentically ME than perhaps anything else I'd done. Even though my style has evolved some since then, the heart of my work is rooted in tapping into my inner child and letting him out to play.
Can you give our readers some background on your art?
I take drawings and inspirations from my childhood and give them new life, specifically in acrylic paint on canvas. Some of the imagery, like trees, elephants, birds, boats, and airplanes, are just like those I drew back in elementary school.
I love that both adults and kids enjoy my art. I try to bridge the gap between the two. My hope is that viewers can not only enjoy the whimsy in my art, but will also see beyond that, at the vulnerability that lives just below the surface. The other evening at one of my openings, a lady told me that she'd read the words in one of my paintings and its vulnerability made her cry. That's one of the best compliments I can ever get.
In your view, what is the biggest issue artists have to deal with?
Feeling isolated. To help with this, artists can reach out to other artists. Doing that is easier today than it's ever been. Become a consistent face at art crawls, gallery shows, online or local artist communities – whether you're showing your art or just supporting everyone else. Always have business cards in your pocket to make it easy to give other artists your info. From my experience, nearly every artist I've ever reached out to, whether for professional advice or even for coffee, has been more than willing to connect. Artists do get lonely, but we also GET each other.
What's the best way for someone to check out your work and provide support?
People can see my work in person locally at Markay Gallery (markaygallery.com) in Marietta, or online at aarongrayum.com and facebook.com/aarongrayumart.
Contact Info:
Getting in touch: VoyageATL is built on recommendations from the community; it's how we uncover hidden gems, so if you know someone who deserves recognition please let us know here.