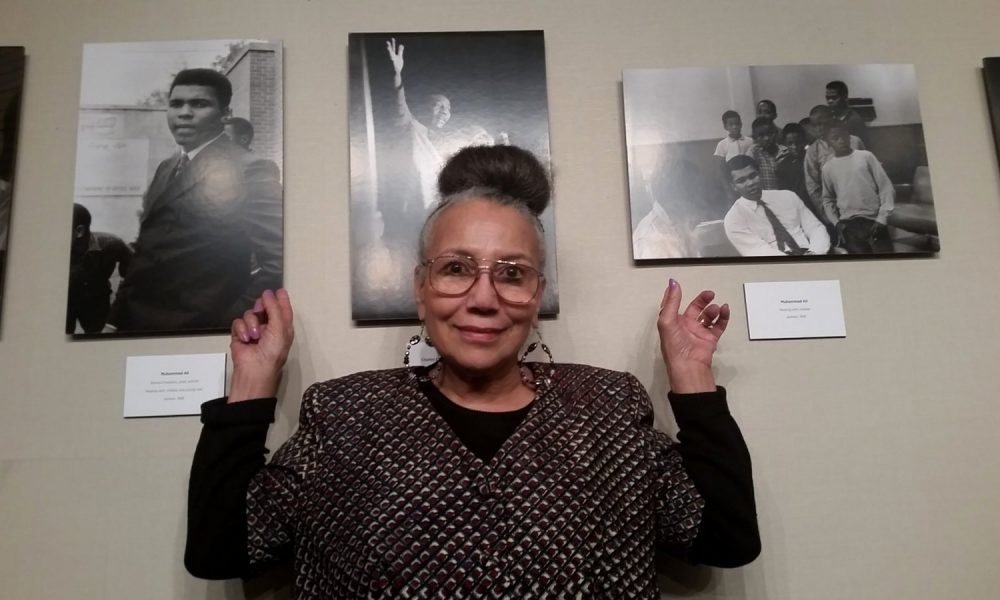 Today we'd like to introduce you to Doris Derby.
Doris, please kick things off for us by telling us about yourself and your journey so far.
I am a New York transplant having resided in Atlanta, Georgia for 28 years. I have lived and worked in the North, Midwest and various parts of the South.
I earned my BA Degree from Hunter College, NYC in 1962, my MA and Ph.D. in Cultural/Social Anthropology, specializing in African American Studies, at the University of Illinois, Champaign/Urbana in 1980. Before working in the south, I was involved in and supported many artistic activities in the visual arts, dance and the theater, which reflected and drew upon the cultural history of the African and African American heritage. At Hunter College I was a student leader, artist, activist and Freedom Rider. As a middle school student, I started collecting books, artifacts, newspaper articles, magazines and fine arts by and about people of African descent. My current book collection contains about 1600 items on African and African American topics. After graduating from college, and teaching school in Yonkers, New York, I joined the southern Civil Rights Movement in Georgia, Alabama and Mississippi, while maintaining ties with the arts and activism in the North.
Growing up in New York provided me the inspiration, time and opportunity to paint, study and associate with African American artists, dancers, writers and theater people. During my first year in Mississippi, in addition to theater initiatives such as co-founder of the Free Southern Theater (FST), I produced many paintings and poems related to my experiences in the Civil Rights Movement and the effect it had upon me. I also taught teachers, parents and children in the Child Development Group of Mississippi's Head Start Program (CDGM). I joined Southern Media, Inc., a documentary photography and film group in MS., from 1966 until 1972. Working with this group provided me the opportunity to develop filmmaking and photography skills and to work with a number of filmmakers. I produced thousands of photographs relating to the history, culture, status and struggle of black people in America. My images have been included in numerous exhibits, books, documentary films, plays, and public art murals.
Can you give our readers some background on your art?
My photographs, which focus on the Civil Rights Movement and the daily struggles of African Americans, especially in the south, have been exhibited throughout the nation's museums, galleries, universities, public schools, libraries, arts centers, city halls, law offices and other diverse institutions. My one woman show exhibits range from fifty to seventy-five photographs each including themes of "The Black Arts Movement, Black Power, and the Struggle for Civil Rights", "Women Agents of Change in the American Civil Rights Movement", "Farish Street, Jackson, MS: Where Do We Go from Here?", "Fertile Ground: Six Civil Rights Organizations in Mississippi", "Reflections of Women Writers in the Student Non-Violent Coordinating Committee" (SNCC), and "Saving Ourselves America".
My long-term commitment has been to reverse the lack of historicity, visibility and photographic representation of African American people participating in self-help initiatives related to economic, educational, cultural, political and health care access in an environment that was extremely oppressive because of race, hatred, violence and segregation. I have been a long-time member of Sistagraphy, a Black Women's photography collective in Atlanta, GA. My photographs will be included in Sistagraphy's 25th Anniversary Celebration Exhibition at the Auburn Avenue Research Library in July 2018.
Taking photographs from the age of 12 until now has granted me unlimited opportunities to document African-American history and culture—our struggle for equality, achievements, patriotism, the American work ethic, Christianity, spirituality, creativity and courage — through a unique lens. Engaging myself for social change — political, educational and economic justice during the Civil Rights Movement produced the most moving experiences and images of my life as a photographer. Not only did I feel chosen to perform this important work, but it ranks high among the most engrossing, creative, rewarding and pleasurable endeavors of my life.
In your view, what is the biggest issue artists have to deal with?
I think the biggest challenge facing artists today is financing their artistic development and production of their art work. Funding in organizations and institutions subsidizing and promoting the arts, the education and training of artists is drastically being cut in public schools, higher education institutions, visual arts facilities, cultural venues and non-profit organizations.
What's the best way for someone to check out your work and provide support?
Documentary Photography Exhibits
Many of my photographs which focus on the everyday life of struggling African Americans during the Civil Rights period, have been exhibited throughout diverse public and private institutions. Museum locations include the Mississippi Arts Museum in Jackson, MS., the Hammond House Museum in Atlanta, the Field Museum in Chicago, the Skirbal Museum in Los Angeles, and the Bronx Museum in New York City. Examples of past exhibits in University locations include Emory University, Georgia State University, Spellman College, Agnes Scott College, Clayton State University, Georgia Perimeter College, Jackson State University, the University of Alabama-Tuscaloosa, and New York University. Currently my work is housed in the permanent collection of the Smithsonian National African American History and Culture Museum in Washington, D.C., the Margaret Walker Center and the Mississippi Civil Rights Museum in Jackson, MS., the High Museum in Atlanta, GA., and the Krannert Art Museum at the University of Illinois Champaign/Urbana.
Local Atlanta gallery past exhibits include the Abernathy Arts Center, Southwest Arts Center, Dashboard Art Gallery, Auburn Avenue Research Library, Museum of Contemporary Art, and the Margaret Mitchell Library Galleries. My photographs have also been featured in the Atlanta Hartsfield-Jackson Airport Gallery, and in two major public Art projects—murals – in Atlanta. The mural, "Journey to Freedom: Women of the Civil Rights Movement", contains twenty-one of my photographs. It was an initiative of the Mayor's Office of Cultural Affairs dedicated in 2017, and may be seen on Freedom Park Pathway, Atlanta Beltline. Another mural, entitled "Education is Not a Crime", sponsored by the Baha'i, which depicts two of my photographs was painted by the artist, Charmaine Minniefield. It is located at 395 Edgewood Avenue near Ebenezer Baptist Church in Atlanta. The mural is included in the Baha'i documentary film of the same theme. In-depth information about my life's work and examples of my photographs may be seen in an article in the magazine Art Papers, of the High Museum published in the winter of 2017-2018.
Documentary Films
My photographs have also been published in documentary films. Producer/Director David Shulman, two others and myself Co-produced the film, "Dirt and Deeds in Mississippi". The Smithsonian produced another version of the film as "Mississippi Inferno", which received the Television Academy Honors Award, June 2016 in Beverly Hills. My documentary photographs are in the film. I also have photographs in the documentary film, "Baobab Flowers", produced and directed by Afro Brazilian-Afro Peruvian filmmaker Gabriela Watson, screened at the Black Star Film Festival, August 2017 in Philadelphia, Pennsylvania.
Currently, I am Consulting-producer for a work in progress, documentary film about the Free Southern Theater (FST) founded in 1963. It is being produced by Junebug Productions, by Stephanie McKee, Jason Foster and Kiyoko McCrae. The film will contain my photographic images. A forthcoming documentary film, "Wednesdays In Mississippi (WIMS), under the leadership of Producer/Director Marlene Mc Curtis, depicts the initiatives of an interracial women's Civil Rights organization in the mid-1960s. Several of my documentary photographs are featured.
Artistic Support
My work can be supported through presentations of my exhibits, requests for me as a speaker and support of my work financially.

Image Credit:
All photographs have been taken by and copyrighted by Dr. Doris Derby. Exception: Author unknown of one image taken of Dr. Derby in front of her images.
Getting in touch: VoyageATL is built on recommendations from the community; it's how we uncover hidden gems, so if you know someone who deserves recognition please let us know here.