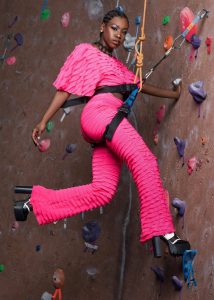 Today we'd like to introduce you to Kae Mitchell.
Kae, please kick things off for us by telling us about yourself and your journey so far.
Born and raised in Decatur, Georgia. I lived with my mom and my brother from Arthur's Court on Glenwood to Covington Hwy and then to Spring Valley on Candler road. I probably was seven years old walking down the road with my cousins to South Dekalb Mall. My dad was arrested while my mom was pregnant with me for attempted murder. He served seven years and a couple of months so I met him in person going on eight years old. We then moved to Conyers at 9 and my parents got married. My mom has always been on the move and loves to party; so she would sit at my bus stop and wait for me to get home from school. We would go to my aunt's house so they can drink, eat, and talk really loudly. Lol My aunt lived in Decatur and she spent a good time in Amal Heights on the Westside of Atlanta. I can remember spending a few of my summers there.
As far as school goes, I was always an honor student until my behavior and partying became a distraction. I actually taught myself to read when I was four years old and had a good hand with a gateway computer by the age of 7. At the age of 1, my mom says I stuck my hand in a perm she was giving to her friend and put it in my own hair. My first time getting suspended was kindergarten. I guess you can say I've been quite independent and maybe a little rebellious since the beginning. Around the age 12-13, I was allowed to hang out and party. I threw three big house parties my self and even started promoting for teen clubs like Fusions and Studio 72. I grew up making up dances with my cousins. We would perform them at family events, a pageant we ALMOST did at Spelman college, and even downtown on Sundays at the Falcons game where my family has been tailgating for years. Dancing is just in my blood and it's honestly my first passion. At some point, partying for me was one of my only outlets for dancing. If it wasn't at a party, I was dancing in my mirror or getting my fix while being a cheerleader. I was a cheerleader at the age of 5 and then from 10 grade until I graduated high school. At 16, I took some dance classes and joined a competition team for a while. I was accepted into the Dance program at Brenau University, however, I turned it down because it was an all girl school and the dorms were just not going to work for me. I ended up at Georgia Gwinnett College where I fell into a depression. I honestly think I wasn't happy because I didn't feel I was on the path I needed to be on to follow my dreams. This resulted in me promoting again which lead to me clubbing almost every day of the week and smoking way heavier than I did back when I started smoking marijuana at 15.
I started sewing and working on my clothing line when I was 18. I taught myself how to sew by using YouTube, reading books, and with help from my mom who knew how to sew her self. From there, my mind has been going a million miles per hour with ideas.. When I was 20 years old, I moved to Los Angeles away from my family and friends. I had $150 in my pocket and sat in the airport for 17 hours. I can remember calling my mom telling her to just come get me. While I was on the phone with her; they called my name. This lead to me having to make a decision. Do I take this as a sign to stay home or do I take this risk and fight for my future? Of course, I chose LA.
To be honest, that journey was a roller coaster. I really love LA, its scenery, and the always on the go environment it has. Despite the discrimination I received when looking for a job, I found a way to live on a dollar and a dream. I dealt with all types of things. I was sexually assaulted, really almost raped, which lead to me falling into a depression. I was then kicked out of school and had to go home. Luckily, it was summer break because I didn't tell anyone I was kicked out. I ended up going back to LA to try to get back in school. Things did not work out so smoothly. I linked up with an old guy friend and let him sell me a dream that only lasted for about a week. Well, at first. I went home and a couple of weeks later that same guy friend asked to hang out and over time he became my boyfriend. I was in that relationship for four years. It was definitely a life lesson and changed me in many ways both positive and negative. I literally can make a movie about what I experienced with this guy. If you would like for me to go in detail, I could but it would take a while. All in all, dude went to jail for two years got out and effed me over. Another story.
In conclusion, I have seen and experienced so much to be twenty-five years old. I know for a fact, if I did not experience these things, I would be so much further in life. However, I also know that because I DID experience these things, I would not be who I am today. Every day I battle clinical depression and anxiety and I know its due to the things I have went through, all the way from grade school to now. Just know that I am a fighter and I will not even let the days I just want to give up get in my way. God has a plan for me. He has a plan for you. FOR US. I just remind myself that everything I need is already bestowed within me.
Can you give our readers some background on your art?
I am a fashion designer. Currently working to launch a clothing line. I decided to name my brand Au̇t-ˈlan-dish\ because I felt like it describes not just myself but any other oddballs out there, who gets talked about for being different. The slogan for my brand is The Winning Odds. Who are the winning odds you ask? Those individuals who are willing to unapologetically step outside of the box to express themselves through their style and their lifestyle, even when it may cause controversy – because at the end of the day they are always the ones left in the spotlight. This makes my brand not only relatable, but it has a purpose. Substance. When I design my garments, it's not about making what's "trendy". I actually love doing the totally opposite.
Au̇t-ˈlan-dish\ creates out of the box pieces. Walking art. Wearable art. We're an all-around brand. Exquisite yet unpredictable. I am currently doing women's wear, however, the ultimate plan is to expand to menswear and kids as well! I even plan to do home decor, a shoe line, and a nonprofit organization. This is what makes my brand stand out from other brands. I am open-minded in the creative process and love to bring my garments to life. Whether it's with concept visuals or showcasing in a fashion show, it's all about creating an experience for my audience. My garments will make one feel undeniably confident..to be able to wear something so bold and unexpected and still make a statement is the goal every time through every thread and every button. I've been told I'm like a mad scientist when it comes to my designs. Whether it's color blocking, mix n match prints, putting together fabrics that wouldn't normally go, a gown, or a fur coat, if it has character I know I have accomplished a successful garment.
In your view, what is the biggest issue artists have to deal with?
The biggest challenge is social media and presenting your brand the way you want. Social media because of the algorithms and the popular views. You literally have to post two to three times a day, like, comment, and repost to gain followers or even get the followers you already have to engage in what you post. Nowadays, professional photography is more than half or at least half of your rent. You either have to have a well-paying job(s), connections, or make a decision to sacrifice what is important to you for what is important for your brand.
I also think originality is hard to obtain these days. For the most part, a lot of things are about hype or what is trending. Here in Atlanta, they love the fast fashion and some just do not appreciate those artists that are original, take their time, and put their hearts into their work.
What's the best way for someone to check out your work and provide support?
You can simply view all my links and shop by using my Linktree web link. It is https://linktr.ee/dopeasskae_
You can support my work by following my social media pages, share, and repost things on my page, and most importantly by shopping with me. If it's custom, it's yours. If it's ready to wear, it's exclusive and limited.
Contact Info:
Phone: 470-588-8738
Email: weareOutlandish0@gmail.com
Image Credit:
Photographers: Thecamkilla, kevonrphotography, marlonrphotog, joeybstudio
Makeup Artist: SLAYbyNay, erica_xoxo1
Getting in touch: VoyageATL is built on recommendations from the community; it's how we uncover hidden gems, so if you know someone who deserves recognition please let us know here.