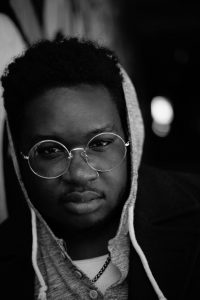 Today we'd like to introduce you to Lamont Pierré.
Lamont Pierré, please kick things off for us by telling us about yourself and your journey so far.
I've been a filmmaker for the past 16 years writing, producing and directing my first script and film right after high school. In 2002, I attended Florida State University in Tallahassee, FL (majoring in English/Creative Writing and Political Science) and produced several film projects including what is considered to be one of the very first web series ever (before "web series" became a genre), the award-winning "My Brother's Keeper", an indie college drama series which ran for six years (culminating in several wins at the L.A. Web Series Fest, founded by the late great Michael Ajakwe.) In 2008, I left college for an offer to intern for Lee Daniels Entertainment in Manhattan, NY during the post-production period of the film 'Precious.' After a week, the unpaid internship turned into a paid job as Lee Daniel's executive assistant. In 2009, I moved to Los Angeles and worked at a talent and literary agency in Beverly Hills where I first experienced the nuances of script coverage, script pitching and development. After this stint, I turned back to developing my own projects and scripts which by now included several scripts for television dramas and edgy feature films. In 2011, I produced two short films 'Tequila Sunrise' (broadcast on Verizon FIOS TV) and 'Plateaus.' I met my business and creative partner Geno Brooks in 2010 and together we produced my first indie feature film 'Talking With the Taxman About Poetry' which starred indie R&B singer Steph Jones, actress Vanessa Simmons (MTV's Run's House) and Saleisha Stowers of 'America's Next Top Model' fame. The film premiered at the 2013 Pan African Film Festival in Los Angeles and played as the centerpiece film at the 2013 Outfest Fusion Film Festival at the Egyptian Theatre in Hollywood.  My film Taxman was offered a DVD distribution deal after this festival screening though I eventually opted for my own digital independent release where I kept all my ownership and distribution rights.  In 2012, I earned and was rewarded membership into the Writer's Guild of America West because of my writing credits and achievements in New Media.  During the next few years, my producing partner Geno and I began pitching pilots to TV studios and networks while independently producing several web series under our production company banner across multiple cities such as Los Angeles, NYC, Atlanta, and Miami. Our biggest web series hits included 'The Therapist,' 'Black Boots,' 'The Trouble With Going Somewhere,' 'Miles + Cal' and the groundbreaking, award-winning Atlanta-based Black LGBT series 'Freefall' which ran for three seasons and 47 episodes. In 2016, I founded my production and distribution label, The Arthouse which is a digital streaming network of original series and films written and produced by myself. In 2018, the pilot episode of my psychological drama series 'Red Skin', viewable on Youtube, hit 3.7 million views bringing my network's Youtube channel to over 10 million total views.  2019 marks the rollout of new series, feature film productions and a venture into music video production and documentaries.
Can you give our readers some background on your art?
I am inspired by the emotional, influential and transcendent quality of the moving picture. My cinematic style exudes the unconventional. I gravitate towards moody, atmospheric lighting, stream-of-conscious-style dreamy edits and vacillate between bold, vibrant colors to muted color temps and desaturation. Because of my distinct visual style, I am what is called an auteur; I write, direct, photograph, light, edit, color grade and recently began composing my own original music for all of my films. My style is obscure, experimental and avant-garde. As a trained classical writer and poet, I try to incorporate elements of classical literature into my film and script work as well as finding new ways to infuse African American and international culture, history, poetry and politics into my art. I am empowered by writers such as James Baldwin, Mark Twain, Ernest Hemingway, Alice Walker, Emily Dickinson, Carl Sandburg, F. Scott Fitzgerald, Zora Neale Hurston, Richard Wright, and Langston Hughes, photographers suck as Alex Haley, Roy Decarava, film directors such as Khalil Joseph, Terrance Nance, Bernardo Bertolucci, Stanley Kubrick, Billy Wilder, Julie Dash and music video directors Sanji, Hype Williams, Malik Sayeed, Sophie Muller and Melina Matsoukas. I think the message in my stories and visuals is emotional freedom — how to achieve it despite turbulent and sometimes impossible mental, physical, phsychological conditions and how to maintain it through unexpected circumstances. I hope people find strength in the honesty of my characters, stories, and visuals. I hope people find the inspiration and compulsion to rock their own worlds and circumstances. I think my work is raw, honest and fearless, exactly what I look for and appreciate in people that I encounter.
How do you think about success, as an artist, and what do quality do you feel is most helpful?
As an artist with a very concrete set of values and artistic integrity, I have learned that my definition for success is defined as an emotional and psychological space of peace and contentment — as opposed to notoriety, money, and attention. Hollywood is a heartbreaking business that preys on the dreamer.  And millions of us attempt to navigate such a destructive industry leading with nothing except that dream (often constructed by our insecurities) and maybe some talent.  Then we go to Hollywood and play a crap shoot for 20 years of our life on the off-chance we "make it".  But I believe it's never what we think it's going to be and that's where we go wrong; we look for Hollywood to make us whole.  Unless you have found a satisfactory state of peace, the journey will always be stressful and discouraging — and misleading. Once I learned that my identity as an artist was not delineated by success and validation in the industry — an industry, in my opinion, that is not set up for Black artists to win. Once I truly understood that I was lamontpierré the artist no matter where I ended up in my career, I found success. I had to understand that I was whole whether in or outside of the tv/film industry.  Success is true acceptance and satisfaction with oneself, no matter your outcomes. Success is wholeness. What's needed to reach this personal success? Honesty with oneself.
What's the best way for someone to check out your work and provide support?
Fans and supports can find previews of my work on The Arthouse Official Youtube Channel (@thearthousetv). Full and extended films and series by lamontpierré can be found at my Official Subscription-based streaming platform, The Arthouse (http://www.thearthousetv.vhx.tv). My films can also be enjoyed at select screenings around the world.
Contact Info:
Image Credit:
All images owned exclusively by The Arthouse by Lamont Pierré LLC. All rights reserved.
Getting in touch: VoyageATL is built on recommendations from the community; it's how we uncover hidden gems, so if you know someone who deserves recognition please let us know here.