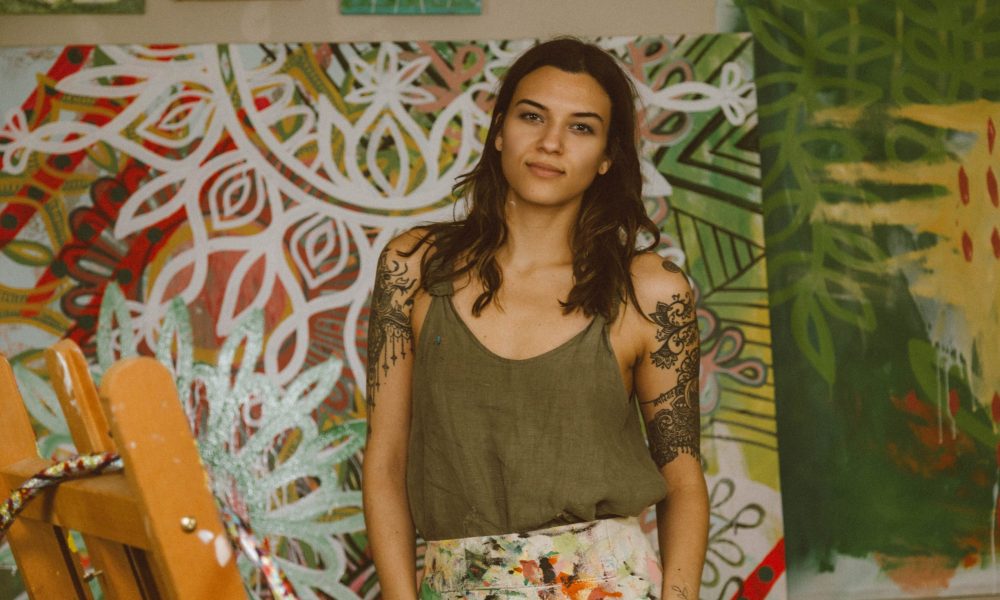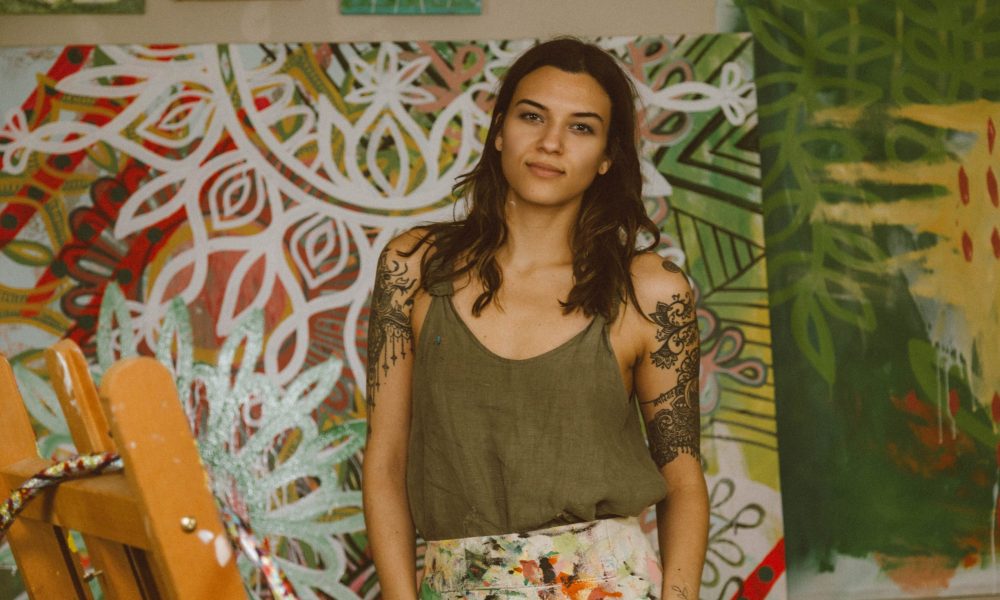 Today we'd like to introduce you to Meagan Jain.
Meagan, please kick things off for us by telling us about yourself and your journey so far.
Growing up, my creativity made me feel different. Once I became more comfortable in my difference, I realized being an artist means walking your own unique and different path. I went to Georgia State University for college. It was there I became a hospice volunteer, sitting with people at the end of their lives. It was during these interactions I saw a need to connect people. I mostly sat with adults 70+ who were looking for companionship, and I was similarly noticing people my own age were also seeking companionship. I thought, "Hey, that's easy! Let's connect people!"
Visual arts is a great way to connect people together. Art gets people talking, communicating, and connecting. Through many experiments and winding turns, I found visual arts to be a great medium for connection.
I started an Adopt-A-Grandparent program at GSU when an undergrad. In grad school, I started an arts-based nonprofit. Ageless interAction redefines ideas of aging by connecting people through painting. Once I graduated from graduate school with my Masters in Gerontology, I began creating painting programs in various senior communities such as nursing homes and assisted living homes. It was during this time I also painted my first mural.
Over the past five years, I have gone through many adventures in defining myself as an artist. I now describe myself as a gerontologist, muralist, painter, tattoo artist, exotic dancer, and workshop host.
Can you give our readers some background on your art?
My work seeks to shift perspective. I first started to use art to redefine how we think about age and the aging process. We are taught what to think about the world around us; many of the things we know are learned from other people. These understandings, in turn, impact how we come to think about ourselves. Think about how you think about your age – what is your age? Do you feel like you are where you are supposed to be at your age? Do you look like your age? Do you feel your age?
What does it mean to look your age? And what does it mean to feel your age? "I just turned 53, but I don't feel 53. I feel like I'm 25" is something we often hear. Through painting, my work with adults 70+ re-frames abilities of older adults and creates new ideas of how we think about older age.
I also paint large scale murals. I like painting murals because it helps curate an environment – a painted wall defines a space and how someone feels around a large scale painting.
I do single need hand poke tattoos for the same reason I like murals – they become a part of the person in the same way a mural becomes apart of a space. I love the idea of wearing art. It feels utilitarian and aesthetic at the same time – something that looks good and carries a function – the function being wearable art. I have played around with design too, making purses, notebooks, and shirts. Using artful things in everyday moments uplifts our daily routines.
My first year after graduate school, I focused on my work – painting, and murals. I did well but was not making a solid living from it. I met a woman who introduced me to the idea of stripping.
Working as a stripper has been one of the best decisions I have made. It has taught me confidence, business, sales, listening and negotiation skills that have helped me grow as an artist. I took all of the things I have learned from the club and created an empowerment experience for women. The Sage Experience curates an artful space for women to use their bodies as a paintbrush and paint a painting through body movements. We dance, we dive deep into our sensuality and creativity, and people paint tremendously beautiful paintings using their bodies.
When it comes to my work as an artist, I work to create spaces for others to feel comfortable diving into their own creativity. By using art, we can shift how people think about age and sensuality in more open, fluid, and progressive ways while empowering their confidence and creativity.
Do you think conditions are generally improving for artists? What more can cities and communities do to improve conditions for artists?
In many ways, it's become much easier. Being able to communicate with a global audience in the palm of your hand leads to a wider network. But because so many people have access to the same platforms, it's also important to support local artists. So I think it's easy and hard. I get more local work than non-local work. In fact, I am moving to Brooklyn this Spring, and I keep thinking about rebuilding a network up there. I don't seek work often anymore; work finds me which is what you want as an artist. Rebuilding that takes a lot of time and effort.
Cities can support artists by literally supporting their work! Listen to their music, by their clothes, paintings, sculptures, experiences, events, whatever it is! A city has a vibrant arts culture when artists can afford to live and create the work from their dreams.
What's the best way for someone to check out your work and provide support?
I am always open to collaborations and commissions for paintings, murals, and tattoos. People reach out for all kinds of projects in addition to murals and tattoos. I just painted a triptych with differently abled adults for their annual fundraiser, and I did henna for a Blessingway baby ceremony, for example.
I host monthly Sage Experiences. The next ones are April 6th and 7th, 2019. www.besageworkshop.com for tickets!
Contact Info:
Email: meagan@meaganjain.com
Instagram: meaganjain
Facebook: Meagan Jain Art
Image Credit:
Elizabeth Day, Ashley Chupp, Meagan Jain
Getting in touch: VoyageATL is built on recommendations from the community; it's how we uncover hidden gems, so if you know someone who deserves recognition please let us know here.