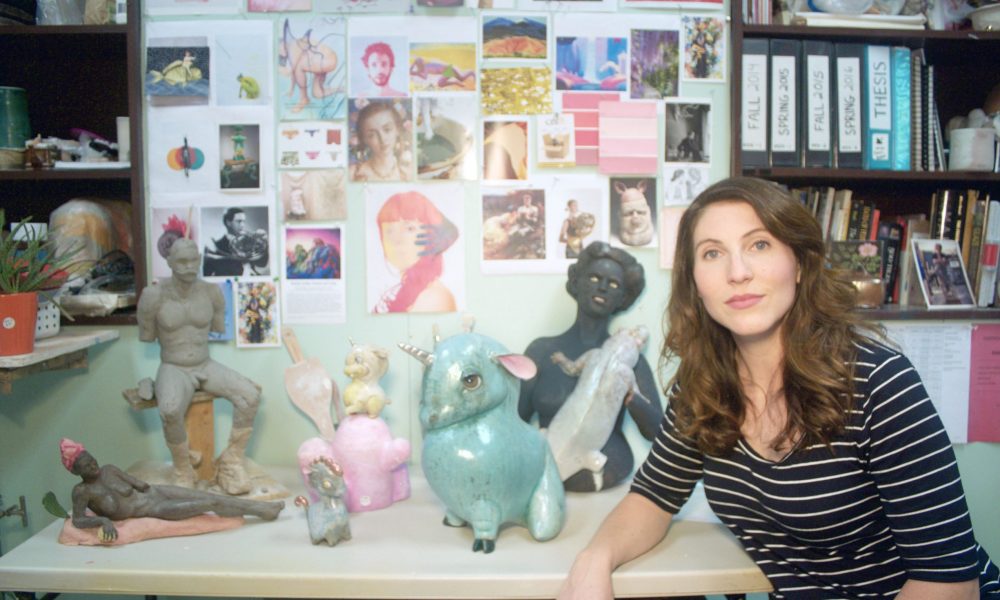 Today we'd like to introduce you to Rachel Ballard.
Rachel, please kick things off for us by telling us about yourself and your journey so far.
I grew up in Mooresville, NC where the majority of my childhood involved performing in some form or another. As the oldest of three girls, I spent a great deal of time convincing my younger sisters to play in makeshift dramas that imitated the singing and dancing characters we saw on our television screen. Regular viewings of The Lawrence Welk Show alongside the comedic films of Charlie Chaplin and Laurel and Hardy cultivated my love of campy music and slapstick humor. It wasn't until recently that I realized the significant impact these shows have had on my development as an artist. Between both parents, my father a watercolor painter and my mother a 7th grade English teacher, art and creative expression were encouraged in our household.
Therefore, it was no surprise when I went off to Appalachian State University to study music after receiving a scholarship to play the bassoon. The communal aspects of the music program were extremely rewarding and allowed me to make life-long friends, but I missed the freedom I felt while making art.
I decided to pick up some art classes on the side to fill this void and it was during a metal casting class that I first discovered sculpting in clay. Everything changed when I realized what I could do with this material in my hands. Clay became my Excalibur and made me feel like I could do anything. I have been obsessively pursuing a career in the field of ceramics ever since. This energy and enthusiasm enabled me to work with some of my favorite ceramic artists including Lisa Clague, Beth Cavener, Cristina Cordova, and Bob Meier of Doe Ridge Pottery. For three years, I worked as both an intern and artist's apprentice before I decided to go to graduate school to focus on my work.
In 2014, I came to Atlanta and began studying under the mentorship and guidance of Christina West at Georgia State University. Some art schools, especially in ceramics, have a purist mindset and only want their graduate students to work within the boundaries of their discipline. Thankfully, GSU gave me the freedom to explore, the security to fail, and the strength to flourish. Professors like Craig Drennen, Joe Peragine, and Susan Richmond exposed me to contemporary art sensibilities and encouraged me to embrace my performative impulses. Their collective support along with that of my fellow grad students has allowed me to blossom as a contemporary artist.
Currently, I work as the Project Coordinator at the Chastain Arts Center, where I manage the day-to-day operations of the ceramics program and act as an overall Ms. MacGyver, ready to solve any kind of problem. I've also been writing in BURNAWAY's Art Writer's Mentorship Program, where I am building my confidence and experience as a writer.
Can you give our readers some background on your art?
I create ceramic sculptures and videos that investigate themes of trauma, femininity, and craft. Recently, these sculptures have evolved into obnoxiously cute creatures. The "schmoopies" are my way of rebelling against unmonumental trends in both contemporary art and craft. They are an exaggerated amalgamation of predictable, cute, kitsch objects. Sianne Ngai writes, "There can be no experience of any person or object as cute that does not somehow call up the subject's sense of power over those who are less powerful." The "schmoopies" are no exception. These small doe-eyed creatures may appear innocent at first glance, but a quiet defiance and strength stir beneath their sparkling glazed surfaces.
Video and performance allow me to animate concepts and narratives that cannot be contained in a static object. The creation of the character, Amber Fine Sparkle gives me the opportunity to insert a direct sense of humor into the work. Named after an aventurine glaze by acclaimed ceramist, Lisa Orr, Amber Fine Sparkle highlights the tendency to fetishize technique within the craft community. With her white bobbed hair, porcelain cream dress, lumpy clay glasses, childlike enthusiasm, and obsessive expertise in ceramics, Amber allows me to embody and simultaneously tease that fetish through satire. Her character represents a duality and struggle within myself to embrace my southern craft-centric roots while also working to push beyond them into a broader art context.
In your view, what is the biggest issue artists have to deal with?
I think the biggest challenge facing artists today is financial support. Our culture simply doesn't value visual arts in the same way as it does our musical and theatrical counterparts. People are willing to spend several hundred dollars on concert tickets or tattoos and are less likely to invest in a single painting or sculpture. Therefore, it can be very difficult for artists to survive and receive the validation they so desperately need. We need to validate and support our artists by investing in them. Many young artists have to work multiple jobs just to keep their heads above the water. They struggle to support themselves and their studio practice. I recently applied to a gallery show that charged $40 just for an application fee, which is the equivalent to a week's worth of groceries. Even after paying this fee, there is no guarantee that my work will get accepted or that my work will sell during the exhibition. Something's got to give.
What's the best way for someone to check out your work and provide support?
The original "Schmoopie" will be on display at the Blowing Rock Art and History Museum this summer for the "Ten Years of Appalachian State Ceramics" exhibition. I'm also working on a separate line of design works as Amber Fine Sparkle, so stay tuned for the launch this fall.
Contact Info:
Image Credit:
Rachel Ballard
Getting in touch: VoyageATL is built on recommendations from the community; it's how we uncover hidden gems, so if you know someone who deserves recognition please let us know here.