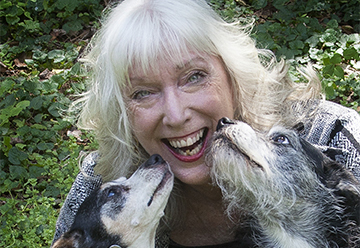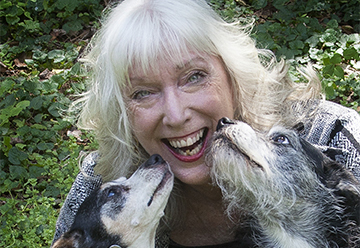 Today we'd like to introduce you to Vickie Martin.
Vickie, please kick things off for us by telling us about yourself and your journey so far.
Believe it or not, I was actually born in Atlanta! My family always encouraged creativity. My grandfather taught singing, tuned pianos and eventually opened his own music store. My dad rebuilt pianos as a hobby, so I grew up with a connection to music, beginning the piano at age five.
I would describe myself as a learner. I worked as a media buyer in advertising – buying the time that airs the commercials that you see and hear on television and radio. It was a job, not a passion, so I kept taking classes.
I am also a reader, I begin every day with a book and a bath (reading over 70 books a year). So, it made sense the book "Drawing On The Right Side of the Brain" caught my attention. See, I'm left-handed, so I am pretty right-brained. Taking a drawing class based on the book was the beginning of my journey into the visual arts. That was over 20 years ago, and I'm still going strong!
My advertising job ended in 2015 the Atlanta office closed. This was a blessing actually. I was going to concentrate on art and music. But, life sometimes strikes. I became my mother's caregiver as she began to suffer from dementia. But – the journey with my mother ended up affecting my art. I began researching the power of music and memory to begin with. Now I lead a weekly art project with an adult day-care center, complete with a lesson on art-history.

I believe in giving back, and now my passion is the Georgia Alzheimer's Association, as I am a trained community educator for them and also have auctioned off pieces of art with 100% of the dollars raised donated to them. I have begun teaching art lessons at assisted living residences.
I also teach vision board workshops throughout the year (along the way I became a certified life coach)
Can you give our readers some background on your art?
I both paint and make collages. Dealing with my mother's dementia proved to be an inspiration for the work I am concentrating on now, which I call "The Rhythms of Memory".
In paintings I begin with a beginning composition and lay down multiple layers, often taking a blow-torch to the surface while it is drying. I love watching the paint bubble and move around. It reminds me of the chaos that is in the mind of someone with dementia. After I do this, I create a highly textured surface that is symbolic of the plaques and tangles in the brain of those with dementia, this is what makes communication and judgement difficult for them.
There are two parts in the painting series. The first deals with the isolation and the feeling of invisibility. On the textured surface I have created, I add human figures and then paint them out giving them a ghostly appearance. It is important to remember that people with dementia are still here, they are present and they deserve dignity and understanding.
The second deals with the confusion and the feeling of being lost they experience. I make seemingly random marks that initially create a chaotic composition and then connect the dogs to bring order to the composition.
The collages I am currently creating feature music. Music and memory is very powerful. Each collage is based on a particular song that has been proven through research and documentation to evoke memories in patients. For instance, I did a collage based on the song "Let Me Call You Sweetheart" after I read a story about a woman that had been non-verbal for about a year. However, she made strange clicking noises and an astute music therapist realized it was probably a song she was trying to communicate. When she heard the song "Let Me Call You Sweetheart" she immediately began humming, eventually singing the words and eventually telling them it was the song used in her wedding.
So, this is, in short, what I am conveying with my art at this time.
What would you recommend to an artist new to the city, or to art, in terms of meeting and connecting with other artists and creatives?
I think it is very important to connect with other artists, both in person and on-line. Find a group in your area! There are dozens of them. Take classes to connect with other artists. Go to events to support other artists. Share their work on Facebook.
I am currently on the board of Women's Caucus for Art in Georgia and I was a founding member and past President of the Atlanta Collage Society. I have been part of several critique groups through the years – which is a great way of connecting with other artists.
What's the best way for someone to check out your work and provide support?
I am currently represented by Art-Haus Gallery, located in Grant Park. I recently had a solo show there and will have another one in 2019.
As a board member of the Women's Caucus for Art, I exhibit regularly with them.
I will be teaching Vision Board workshops in my studio in November and December, and at Markay Gallery in January. To read about the power of Vision Boards – visit a blog I wrote about them at http://vickiemartin.net/vision-board-workshop/
Better yet, sign up for my newsletter at https://tinyurl.com/yacyqu2q to keep up with upcoming workshops, events, and workshops.
Sign up for my blog at http://vickiemartin.net/blog-4/ or connect with me on Facebook at https://www.facebook.com/Vmartinarts/
I am open to studio visits and am located in the Spaghetti Junction area. Hey, if you are coming – I'll make you some vegetarian chili!
Contact Info:

Image Credit:
Joel Conison
Getting in touch: VoyageATL is built on recommendations from the community; it's how we uncover hidden gems, so if you know someone who deserves recognition please let us know here.