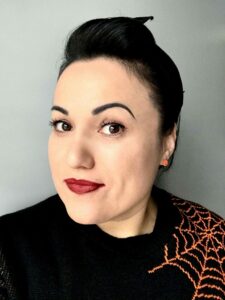 Today we'd like to introduce you to Ana Arriaga.
Ana, we appreciate you taking the time to share your story with us today. Where does your story begin?
It's no secret that I have a sweet tooth. As far back as I can remember, I have been a fiend for sugar. As a child, I would sneak peanut butter baking morsels from the kitchen while my parents were sound asleep. It just made my Saturday morning cartoons even more enjoyable. I'm the youngest of three, with two older brothers who were my best friends and absolutely my whole world. They supported me in everything I did and believed in me. My parents were more than any child could hope for. They loved us unconditionally and stressed the importance of education, being good to others, and above all – family comes first. We did not have much growing up, but we always had each other. Growing up in a Hispanic household, my family would welcome everyone with a beautiful and abundant spread of food. You always felt invited and significant, and that has shaped my approach to not only my business but life in general. For me, baking became not only an expression of my art but an extension of what I know as love and joy to give to others. The real reward of anything I bake is making someone else happy.
I had never realized that baking for a living was even a possibility until 2011. While yearning for relief from a job that was heavy and emotionally draining, I became dazzled by cooking shows and competitions like Top Chef & Amazing Wedding Cakes. Those people were rock stars to me and I was hooked on watching them create incredible things. I needed an artistic outlet from my job – a way to relieve the immense amount of stress and sadness that was building inside of me. I never had formal training, but baking was always in my heart. It's what I loved doing and it was then I considered that perhaps a pivot in careers could be possible. I pushed myself to learn as many baking tips and techniques as I could on my own through online tutorials. Initially, I focused on decorating cakes and decided to experiment with fondant. As I began creating cakes for friends and co-workers, word of mouth spread quickly and I decided to start a small baking venture called Pink Cloud Bakery (2011). Unfortunately, working full time at my job with lots of extra shifts made time for baking dwindle, but I still fantasized of what it would be like to own my own dessert & coffee shop.
I left the security of my career and tried to land a job at several bakeries with the hope of getting some experience in the industry. Though they were impressed with my portfolio, they told me I did not have enough experience or speed to handle a high-volume bakery. Heartbroken, frustrated, and in need of a solution, I decided if they wouldn't give me the shot I needed, I would just have to do it on my own. I got a Cottage Foods license and decided I would turn my attention full time to opening my own baking business. I needed a fresh start and decided to rebrand with an identity that better represented who I am as a person. Enter: ghoul next door bakeshop. The play on "girl next door" was the perfect reflection of who I felt I was: a good girl who doesn't get into trouble, but in this case, is just a wee bit of an oddball. I never thought of myself as your typical little girl. I tended to be on the shy side, introverted.. ok, strange…but I happily played in solitude with my own imagination to entertain me. I decided to lean into my weirdness and use my love for Halloween, cult classic movies, and "gothy" music to shape my brand.
I created ghoul next door bakeshop from the bottom up – designing my own logo, website, recipes and aesthetic. I am the baker, the web technician, order taker, deliverer, photographer and social media hype person. I spent most of my previous baking venture decorating cakes, but my true dessert passion has always been cookies. It's what I love the most and what I wanted ghoul next door bakeshop to specialize in while still making time to design and decorate cakes on the side. Starting off a new career in a new city was intimidating. Especially since Atlanta is so much more of a big city vibe than Orlando, Florida. I wasn't sure where to begin or where I was going. My first official sale was posted in our neighborhood community yard sale – I was selling miscellaneous household items and big ass cookies. Well, at least the cookies sold out! I began to post in the surrounding community social media pages to take online orders for delivery and decided to do my first pop up market November 2020 in West End. My initial fears of people not "getting" the spooky aesthetic were quickly squashed when everyone fell in love with my cookies and my brand. It was a dream come true and the doors continue to open with new and exciting opportunities for my weird little bakeshop.
Would you say it's been a smooth road, and if not what are some of the biggest challenges you've faced along the way?
The journey to opening my own bakeshop has not been a straight path or an easy one. As a family, we faced many hard times that brought my happy childhood to a jarring and sobering early adulthood. From my brother dying in a military accident when I was 15 to my mother facing breast cancer twice and my dad having several life-saving heart surgeries, life got in the way of maintaining any childhood innocence or optimism. Our family who relied on always having each other was now broken. But even through these tough life challenges, the four of us that remained continued to make each other a priority.
My brother and parents supported my desire to make the career change to baking, but with no formal training, I was passed over for every bakery job opening I applied for despite having a portfolio that was strong. I left a 13 years career with a secure income and benefits to start over from the very bottom. I vowed to take any job that I could just to get exposure in a retail bakery. I moved from Orlando, FL where I had lived my whole life, to Atlanta, GA with no job prospects in March of 2020 and unfortunately, right at the beginning of an unexpected curveball: The Covid Pandemic. Not only did I not have the experience, but I was then faced with a freeze on hiring due to commercial shut-downs. I had saved money prior to moving to give myself time to find a job but was faced with the possibility that I would be out of work much longer than expected. Taking a chance on starting my own business while so many others were folding due to Covid was scary and overwhelming. Fortunately, I found a niche that was in high demand at that time – comfort food. Though many restaurants were faced with closing their dine-in option and refiguring their business to a takeout program, my business model was based out of my home for delivery with no overhead, and this ended up working to my advantage. I had the fortune of having experience in website development and marketing and made my one-man-show business work for me. Though I did not qualify for any government assistance for pandemic relief funds, I have been fortunate to make ends meet by working 24/7 to market my brand and take any and every opportunity that has crossed my path from pop-up markets, to catering, to collaborations with other local businesses.
As I approach my one year anniversary of ghoul next door bakeshop, I reflect on the disappointment and heartbreak I felt when I was rejected by the bakeries I interviewed for last year. I felt hopeless and the rejection felt like it was the end of my journey…But in fact it was the beginning. That rejection pushed me towards making my own way and actually doing everything I want to do and how I want to do it. I get to create what I want and what excites me. I get to put my own personal stamp on everything I do, and that has been worth more than any job I could have been hired for.
My advice to anyone chasing their dreams: be flexible, be persistent, and turn those "no's" that you get from anyone into your motivation to find the path that is right for you. The "no's" do not determine your worth – it just means that path wasn't for you, and you must realize there is more than one path to accomplish what you want.
Thanks – so what else should our readers know about your work and what you're currently focused on?
Ghoul next door bakeshop specializes in and is known for our giant monster cookies. We love things that are unconventional, but we also have a reverence for traditional and vintage styles. From our hand-decorated sugar cookies to our custom cakes, what sets ghoul next door bakeshop apart from other bakeries is our attention to detail. Our website cookie gallery of half-pound (8 oz) cookies features our five staples (chocolate chip, triple chocolate, peach cobbler, s'more and peanut butter), along with 2 Limited Edition "cookies of the month."
Our cookies are anything but standard from their giant size to the thoughtfulness of the fillings and toppings that tie them not only into the season but also our brand. For example, our Camp Crystal Lake cookie which hearkens to the infamous Camp Crystal Lake location of Friday the 13th is a browned butter cookie with chunks of Hershey's chocolate bars and graham crackers that is crowned with giant hand-roasted marshmallows to give you that nostalgic summer camp by the fire s'more experience. We love for our clients to be in on the joke and get our references to spooky pop culture with cookies like Bunnicula, Cinnamon Ghost Crunch, and Gretel's Revenge. We are most proud when our reviews, time and time again are, "this is the best cookie I've ever had." When clients are dazzled and wowed by our cookies, that is when our mission is accomplished.
Ghoul next door bakeshop was chosen to participate in the first-ever Dessert Wars Atlanta in May of 2020 and was voted #10 in the People's Choice award out of over 60 vendors. We have also been asked to participate in the Atlanta Food & Wine Festival on September 11th 2021, which is an incredible honor in our first year of business.
Can you talk to us a bit about happiness and what makes you happy?
What brings me the most happiness is recapturing the joy of my childhood. My story began with a magical and innocent childhood, filled with happy memories of what it was like to be a kid in the 80's. My parents made every birthday and holiday memorable with decorations, elaborate cakes, and celebrations that made every occasion special. They are the reason I love celebrating holidays and why I long to be a kid again. I don't think I ever really grew up actually. It is that nostalgia for those happy times I had growing up that inspire much of the desserts I create today. From cookies with marshmallows that I used to love carefully picking out of my Pac-Man cereal to those peanut butter morsels that taste like the Saturday morning cartoons I loved so much, I am reliving the most cherished years of my life in everything I bake. I hope to recreate that joy for my clients as well. When I decided to transition from my old career to baking, it was with the notion that – "no one is ever mad to receive a treat. Cookies (and cakes) make everyone happy."
Pricing:
Contact Info:
Suggest a Story:
 VoyageATL is built on recommendations from the community; it's how we uncover hidden gems, so if you or someone you know deserves recognition please let us know 
here.