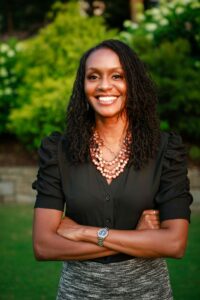 Today we'd like to introduce you to Elektra Thompson. 
Hi Elektra, thanks for joining us today. We'd love for you to start by introducing yourself.
I am an only child from the southside of Chicago, born and raised in a single-parent home where my mom allowed me to take some risks and explore. I always found ways to not only entertain myself but to learn new information. I was a bright kid who loved everything science and math-related. In elementary school, I liked to build, light up, break down, and to investigate any and everything. My mom rarely had to concern herself with my academics because I would just figure it out. From elementary school to middle school, the pattern continued. I excelled and got the awards and recognition, but I knew I did not have to put an extreme amount of effort into learning. All I knew was that I needed to write things down to remember, but to have an actual system was foreign. As a 13-year-old, I didn't think it really mattered. Oh, "Hey, high school!" I was greeted with a humble pie that was bitter, yet sweet. 
Take notes? What did it really mean to take notes? Study skills…how? Wait, I have to manage a schedule AND extracurricular activities…where do I start? When you were in elementary or middle school, who taught you how to study, organize your time and complete your tasks? Who helped you create a plan and a foundation for academic success? Think about it. Educators are doing a great job with modeling the skills within their lessons, but are these skills intentionally taught? 
I graduated from Northern Illinois University with a degree in Management and Information Systems. My focus and interest included operations and how things worked and connected behind the scenes. I did not know that when I changed careers and became a professional school counselor, that many of the skills I learned would not only help me but impact those around me. I was able to figure out how to help students with certain life skills while having intentional conversations with parents and educators on how to support these students within their environment. 
About six years ago, I began working with students using a curriculum I created when I researched and gathered data on skill-building, specifically when it came to academics. I wanted to be intentional about teaching these skills while also explaining why they are essential for life. The students were from diverse backgrounds – which meant their access to resources varied as well – but I believe learning a skill has no boundary. The individual must see value in learning something, especially if it can make their experience easier and less stressful. 
Change can be hard – I mean we were really cleaning up poor habits and creating new ones. For 9-12 weeks, I worked with a different group of students and walked them through how to create an academic plan and how to approach their challenges in proactive ways that could work them. As quickly as some shied away from wanting this change, many recognized their current process wasn't going to yield great results for very long. Humble pie anyone? That reality check was close, however, each student figured out how to build from this foundation. For added measure, I included their parents in a workshop. I believe understanding a child's background is vital to any child's academic and overall success. Also, including parents allows more opportunity to provide another layer of accountability and space for growth. Parents really have the power to help their child establish new and healthier habits. Many parents recognized some of their own habits needed to change. It was then that "Use Your S.O.A.P. (R)" was born. 
Each year, I saw an increase in confidence, students advocating for their education, improved communication skills between parents, teachers, and students, as well as specific goals created and attained. The feedback matched the results. I worked with a group of students, who in their 5th-grade year, encouraged me to work with students outside of my school. One student said, "Ms. Thompson, more kids need to learn this. They need your help." They were right. I mean, when I was their age, I did not know I needed this until it was almost too late. Well, when the babies talk, we should listen. I prayed and put my creative juices to work. Today, "Use Your S.O.A.P." is now available in the form of a graphic novel and companion workbook, with QR codes to engage. It has become a necessary resource for parents, students, educators, and more. I think it should be on every shelf in every classroom and home. If we want to see different results, we must take the time to do something different. Take the time and cleanse those habits. This is the other S.O.A.P. we needed! 
Can you talk to us a bit about the challenges and lessons you've learned along the way? Looking back would you say it's been easy or smooth in retrospect?
I am an introvert by nature. I tend to keep my thoughts and energy inward, so many times I can be misunderstood or misrepresented. As a result, I truly value relationships and genuine friendships. I enjoy intimate conversations and learning new things. I just hope I am granted the space to get those opportunities. 
Appreciate you sharing that. What should we know about Couregeous Counseling & Consulting, LLC?
Couregeous Counseling and Consulting is an educational solutions group that puts parents and children front and center when it comes to educational change and progress. These practical solutions include communication, vision boards, family changes, trauma, academic systems, and relationship building. 
Are there any apps, books, podcasts, blogs, or other resources you think our readers should check out?
The Deepest Well by Nadine Burke Harris, MD Post Traumatic Slave Syndrome: America's Legacy of Enduring Injury and Healing by Dr. Joy DeGruy 
Compassion in Action – Emotional First-Aid for Children by Deborah D. Miller, Ph.D. & Jondi Whitis, MToT 
Contact Info:

Image Credits
Cam Bradley
Suggest a Story:
 VoyageATL is built on recommendations from the community; it's how we uncover hidden gems, so if you or someone you know deserves recognition please let us know 
here.