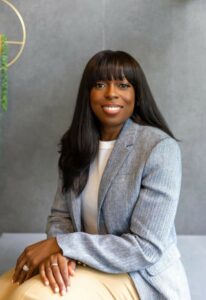 Today we'd like to introduce you to Maryam Jernigan Noesi.
Hi Maryam, thanks for joining us today. We'd love for you to start by introducing yourself.
How I got to where I am today started with my parents as the foundation. I was born the last of four children to my parents while living in Western Massachusetts. As I think back on the values that they instilled in all of their children, they are the ones that inform a lot of what I am passionate about and do today. My mother, who was originally born in the South, and ultimately relocated to MA due to lack of work or career opportunities, was a big proponent of education. I have very fond memories of her taking me to the library and encouraging me to read, to always be curious, and to identify as someone who worked hard and took great pride in my academic success. Likewise, my father, a Vietnam Veteran at the time of my birthday, came from humble beginnings but worked hard to support our family. He eventually went on to pursue a degree in higher education. What I remember most about what he taught me was to think critically about anything that was presented to me as information. Always ask where the information comes from. Who is the source? What might their agenda be? He always taught me to get my news from more than one source – he would read the newspaper every day, watch the evening news, and seemed to collect books. Beyond this, my parents were intentional about so many things I could not appreciate as child. I had no idea that their deliberate actions were intended to provide their children a solid foundation and sense of self in order to combat what they already knew would be the tough interactions we would encounter within society across our lifespan. I grew up surrounded by positive images of Black people in our household. The books in our home featured Black history and characters and were written by Black authors. The media they exposed us to reflected images of people who looked like me. We were always active as a family in community events. Giving back to others through service or acts of kindness was something that was typical and ingrained as important. This instilled a value of recognition that the work we engage should always be with a greater purpose in mind. Social justice and equity were common topics in our house, especially as they pertained to race relations.
I could probably go on however, it was that foundation that allowed me to set my goals high. My parents have told me that at a very early age, I began to articulate a desire to get my doctorate degree in mental health to help others. As I grew and continued to explore my own career goals, I initially said I wanted to become a child psychologist because I felt as though if you helped individuals earlier in their lives, perhaps they would have a better chance of not struggling as much emotionally in their adult lives. It was a little naïve in that I did not fully comprehend the complexities of life but, some of that sentiment remains.
Largely influenced by my exposure to HBCUs depicted on television at the time, I was determined to attend an HBCU. After graduating as class valedictorian, I left MA to attend the HBCU, Fisk University in Nashville, TN. I was fortunate to receive a competitive four-year scholarship from the former Black Achievers program through the YMCA Boston. I majored in psychology with the goal of attending graduate school. While a student at Fisk, my advisor offered information I would not have otherwise known, not having a blueprint to understand the process. He told me, "If you want to get your doctorate, be strategic. Look for programs that you will pay for you to get your degree." I honestly did not know that was possible at the time. I applied to a program Dr. Winbush told me about at Vanderbilt University in Counseling. We had very honest conversations about what that experience might be like as I transitioned from Fisk to Vanderbilt, two very different institutions in Nashville. I was the only person of color in my graduate program cohort.
Vanderbilt was the place where I began to develop my professional identity as a person dedicated to conducting research that informs interventions and practices with traditionally racially minoritized communities. I also engaged in my first professional advocacy experiences. Racial disparities remained a central focus on my interest, but I also began to understand how identity informs a person's lived experience. Race is one very real aspect of identity and how an individual is perceived and treated. Yet, this was not often discussed in the scholarship that mental health professionals in training were provided. Because of my parents and my education at Fisk, I knew there were perspectives that were not acknowledged and representations of certain populations in very disparaging ways. As a student, I coordinated an event for my graduate program. The title was something to effect of "Eradicating Ignorance: Building the Foundation for Multicultural Competence in Mental Health." I called upon my mentors and others to serve on a panel to discuss the importance of culturally responsive training and treatment for mental health clinicians. I remember having some issues getting approval for the program. Ultimately, it happened.
With my master in hand, I decided to take another gap year and move to Atlanta, GA. During this year, I fell in love with the city and always vowed to return. I investigated which graduate PhD programs that would train me to offer care to underserved communities. I recognized that there were not enough researchers dedicated to studying communities of color and that the research that existed was often pathologizing.
After applying to programs in Georgia and elsewhere, I decided on Boston College's social justice-oriented doctorate program. I spent years in Boston as a graduate and post-doctorate fellow, training with some of the leaders in the field of psychology and academic medicine. I worked in community mental health settings, hospitals, and schools. I also worked as a graduate research assistant at the Institute for the Study and Promotion of Race and Culture. My experience was invaluable. What I am most proud of during my tenure at Boston College was starting the Jernigan Sankofa Program for Black adolescent girls in a local high school. The program took a systemic approach to investigate Black girls' experiences in their school environments. This "needs assessment" informed what would become a program over the course of 5 years. I developed a curriculum and implemented weekly group program (in and after school) for Black girls in the high school. Based on my assessment, the girls were reacting to a racially toxic environment. As such, my goal was to promote their positive intersectional identity (race-gender) in an effort to improve their wellbeing. The program tied together my desire to use research to inform practice with the ultimate goal of serving a communities of color in a real-world settings (schools). In addition to the Sankofa Program, I began to develop and provide trainings for teachers and school administrators on racial climate in schools and its effect on Black students.
That work, at the recommendation of my mentor, led me to start my business, Jernigan & Associates Psychological and Educational Consulting, LLC in 2008, while still in graduate school. I began working with school districts, educators, and administrators to help them understand the experiences of youth of color in school settings. Eventually, my consulting extended to colleges and universities.
I did all of this while competing postdocs at Harvard Medical School and Boston Children's Hospital and then Yale Medical School. I left Yale to start my private practice and first tenure track position as a professor of clinical psychology in CT. My decision to go into private practice was in large part fueled by the many of women of Color I would meet who would, upon learning of my profession, ask if I was accepting clients.
I met my husband and got married in CT. After having our first child, I decided it was time to Atlanta in 2017. Our transition was a goal for quality of life and career. I started as a Visiting Professor at Agnes Scott College in Decatur with the goal of re-opening my practice upon transfer of my license and growing my consulting firm. I was soon promoted at Agnes Scott to a tenure-track position, started the Intersections Research Lab, and continued to work as a consultant and clinician.
Since moving back to Atlanta, my business as a consultant has continued to expand. I now offer Executive Coaching related to promoting equitable and inclusive educational and work environments. I assist Black-owned community-based organizations to develop research initiatives, strategies and evaluations to ensure sustainability of their programs and apply for competitive funding. I offer a range of trainings for mental health professionals specializing in the assessment and treatment of racial trauma in the clinical encounter. I have also assisted corporations in implementing policies and practices that promote increased awareness of issues around race and culture for their employees, as well as clients served. Based on my work as a psychologist in this area, I am increasingly called upon as an expert or expert witness in civil cases related to racial discrimination.
My goal remains to ensure that underserved and marginalized people are considered at the "table" and have equitable access to experiences and the services they need.
As a clinician-scientist, my work has focused on understanding and reducing mental and physical health disparities for Black girls and women. This work has allowed me to mentor students to expose them to research opportunities. My Intersections Psychology Lab has ongoing research projects exploring racial trauma, examining Black maternal mortality from a behavioral health perspective, studying the experiences of Black adolescent girls in secondary school settings, and developing social and emotional curricula for early learning centers that focuses on promoting positive identity development in children to counteract negative messages we know that they have or will encounter. I try to mentor my students as I have been mentored. As such, our lab adopted a group of Black middle school girls and their caretakers. We have had them on campus to discuss college preparation, per their request. My students took the lead while I spoke to caretakers about the social and emotional health of their girls. Our second collaborative event was assisting in their monthly community service project where we packed over 50 care packages with health and beauty products for homeless teenage girls in the Atlanta area.
I have also acquired a number of mentees, who are women of color scattered across the nation in various disciplines and stages of their own career development that may seek advice or guidance. Some I have had contact with over the years. Others have found me online and asked for the opportunity to talk.
More recently, I have made the decision, while we quarantine, to use my voice to engage my colleagues in public conversations on Instagram about coronavirus and how the pandemic affecting different communities (e.g., college students, Black and Brown communities, families, etc.).
I am a mother, a life partner, Dr. Maryam, and MJ to my friends and family. I am always thinking about, promoting and working towards racial justice. One of my favorite quotes embodies how I like to approach my life's work.: "Thinkers think and doers do, but until doers think and thinkers do, progress will be just another word in the already overburdened vocabulary of talkers who talk. E.J. Taylor"
I'm sure you wouldn't say it's been obstacle free, but so far would you say the journey have been a fairly smooth road?
No journey is smooth. One of the biggest pieces of advice I can give is that the road looks different for everyone. There will be peaks and valleys. The end goal has to be bigger than yourself. That is what you have to remind yourself of when the road twists and turns and it doesn't seem as if you quite know where you are going or what you are doing. My struggles were really trying to navigate the next steps along the way. I did not have a blueprint or information that gave me the information I needed in advance. I had to find mentors and networks and cobble together the best guidance I could find to figure out what steps to take to reach my goals. There are plenty of stories of gendered racism faced along the way. Jobs I applied for and did not receive. Imposture syndrome crept in at times. I was fortunate to have supportive parents and met Black woman mentors along the way who continue to serve as sources of support.
If you are just starting your journey, realize that you will need mentors. Don't be afraid to reach out. It is my experience that while you need to be prepared to be specific about what you may need or desire, most are happy to help. They know what it feels like to try and work towards their goals without assistance.
Always follow up. If someone says to email or call them, do it. When you network and meet new contacts, email with a quick follow-up once you return to your regular work schedule. Remind them of your meeting. As one of my mentors told me, make contact and connect with people before you may need to ask them for something you may need.
Stay committed to your purpose and your passion. Do what you need to do to perfect your craft and provide quality work over quantity. As my greatest mentor once said, as long as you are doing what you are supposed to do, you won't have to look for work. People will find you. She was right. I have not applied for my last two academic positions in a traditional manner. My work as a consultant has led me to subsequent consulting because of my purpose and work ethic.
Never compromise your character or become someone you don't believe in, reach a goal. Understand that in many places, the rules are different, and they come in an unwritten book not often provided for those of us on the margins. Understand the difference between being strategic and compromising your soul to get ahead.
Sleep. I get 7-8 hours. I work hard, but I also sleep.
Thanks for sharing that. So, maybe next you can tell us a bit more about your business?
Dr. Maryam is a licensed professional psychologist, clinician-scientist, and educator with over 15 years of instruction experience in higher and professional education.
I am a nationally recognized mental health expert dedicated to illuminating the impact of racism and racism on the lives of people of color and working to promote their healing.
I use my background as an academic and researcher to develop and implement accessible and culturally responsive health interventions and treatment practices in schools and communities.
I am a CEO. In 2008, while a graduate student, I founded Jernigan and Associates Psychological and Educational Consulting, LLC to meet increased demand from educational institutions, healthcare, and organizations to understand how to promote racially equitable and inclusive practices that lead to effective outcomes. I provide a range of professional development workshops, training, and consultation services for professionals and administrators.
I am a research consultant to community organizations and small businesses to assist with assessment, as well as program development, implementation, and evaluation.
As a licensed psychologist, I work with clients of all backgrounds with a variety of mental health concerns. My training also includes specialization in specializes in women's health, perinatal mental health, racial trauma, and identity.
As a speaker, I have been featured on a variety of multimedia platforms including television, print, radio, and podcasts. Topics have included mental health across the life span, social and emotional development in youth in school settings, racial trauma, and culturally responsive treatment.
What I am most proud of is the feedback I get from clients about my brand. They see us as reliable, thoughtful, efficient, and effective. I am also proud of the fact that I have built personal relationships with my clients. If they are willing to engage the work, I am willing to work with them to find ways to do so. As a brand, I continue to evolve by paying attention to trends and trying to stay ahead of the curve. I value innovation and am often described as enterprising. In doing so, I have never and don't imagine I will ever compromise my work for the sake of financial gain or quantity over quality service. I hope to leave a legacy that speaks to my dedication to social justice through my work.
What sets me apart is my ability to adapt to different organizations and fields of work. I can apply my training as a psychologist, clinician, researcher, educator, and organizational consultant. For me, the unifying concept is helping to promote racial justice at the individual, institutional, and community levels.
Can you talk to us a bit about happiness and what makes you happy?
Being a mother makes me happy. I see it as a way of giving back the gifts I have experienced in life to another human being. It is a gift and responsibility to pour into the life of another and watch them grow and develop. I love seeing my son's smile and how happy he is. I want nothing more for him than to have more happy days than those that bring him challenge and sadness. Right now, I enjoy creating memories that make us happy as a family.
Contact Info:
Email: drmaryam@mmjerniganassociates.com
Website: www.mmjerniganassociates.com
Instagram: @mindfield_drj
Facebook: @DrMaryamJernigan
Twitter: @jernigma

Image Credits:
Damien Jackson – headshots & photo with son
Suggest a Story:
 VoyageATL is built on recommendations from the community; it's how we uncover hidden gems, so if you or someone you know deserves recognition please let us know 
here.