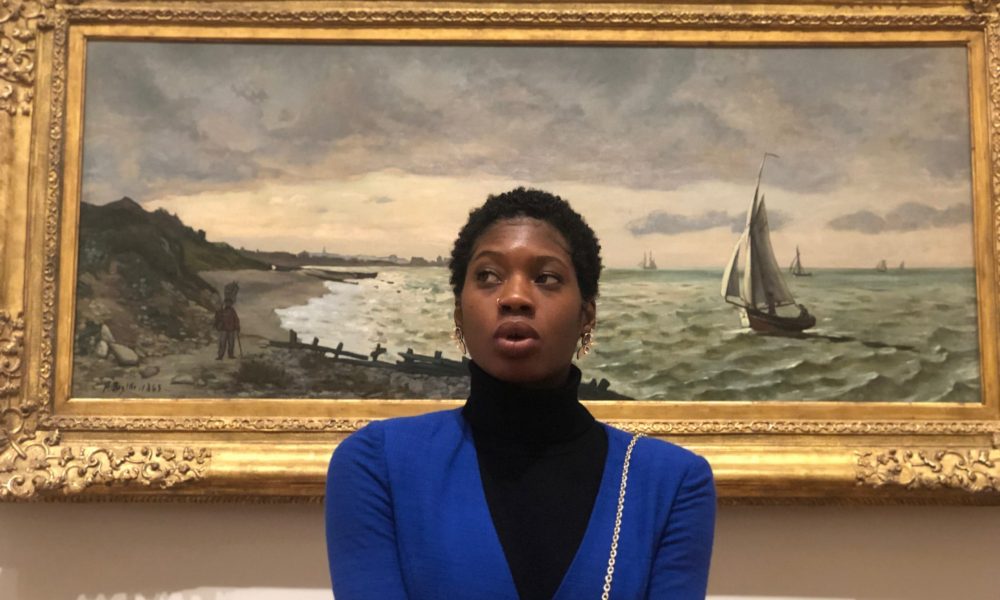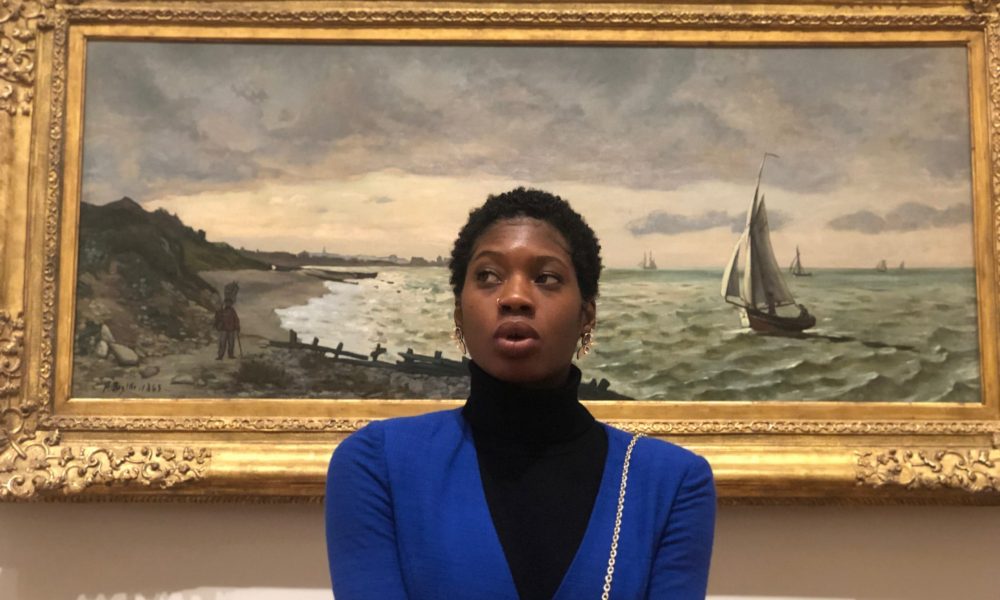 Today we'd like to introduce you to Destiny Konan.
Destiny, please share your story with us. How did you get to where you are today?
I am the daughter of Dominique and Capathia Konan. I have an older brother named Diamond Konan. I currently reside in Lawrenceville, GA where I was raised. I have always appreciated beauty however, as I got older, I learned to appreciate it in various shades and forms.
In my college years between 2012 and 2016, I went through a lot of transformations. One of my transformations was that I decided to stop putting a relaxer in my hair. My natural hair was hard to manage and very dry. My natural hairstyles never came out like the ladies on the Youtube tutorials. My hair suffered from breakage and heat damage. It eventually started thinning out. Unfortunately, this became normal for me. So, when I wanted a break from fighting with my hair, I would either braid my hair or weave it up. I also started developing pimples and a mild case of eczema. This was new to me because, at one point in time, I never had skin problems. People would ask me what I used to wash and exfoliate my face with. I would proudly tell them that I never had a nightly nor morning exfoliation routine.
In the year 2016, I decided to stop weaving up my hair, because it became too expensive and I really wanted to know how to manage my natural hair. I switched from using Jergens to Aveeno body lotion hoping that it would keep my skin moisturized and stop the itchiness. I also started washing my face with Neutrogena face wash, hoping that my pimples would stay away. When these alternative solutions didn't work, I went to the dermatologist for creams and other solutions for my skin. However, nothing worked quite well for me. I not only had frustration with my appearance, but I was also feeling the pressure from my college courses. I didn't believe that I was on the right route in life. I use to hide away in my bathroom to meditate and be alone. It felt like the only place in my dorm where I could have some real privacy and actually lock the door without being questioned. The bathroom was and still is like my sanctuary. When I would get bored with meditating in silence, I would look through my hair and skin product ingredients. I even mix products to make new concoctions still looking for resolutions that would work.
One day, I received a call from Diamond stating that I needed a business. I rushed him off the phone, giving him my infamous phrase, "I have to study." In actuality, I just needed time to grasp what just happened. I had never thought that big in my life. That same day, I was having a conversation with my roommates about the extraction of oils from plants and flowers. I wanted to know more so I started researching. While I was researching, I noticed the benefits that certain flowers and plants had on our hair and skin. These benefits were resolutions to what my hair and skin have been starving for! A light bulb immediately went off. I decided to do a thorough search to create a hair and skin product for myself. I had nothing to lose seeing as though the chemicals from the stores made my hair and skin feel dryer. Also, I never have seen true results from the cream that my dermatologist gave me for my skin.
Originally, I was going to make two separate products one for skin and another for my hair. However, I noticed throughout my research that we need the same vitamins for our hair, skin, and nails. I decided to make it one product. When I finally had the final list of ingredients for my hair and skin product, I did a search for an essential oil to act as a fragrance agent for the butter. I decided to choose lemon oil as my first scent for a feeling of refreshment and to help me feel alive. With everything that I was handling during this time, I definitely could use something refreshing.
I made my first batch Dec. 22, 2016. Once I tried it, the rest was history. I named the brand Shinar and named the product Hair and Body Conditioner. Because of the lemony smell, I called the scent of the product Lomi Twist. The Hair and Body Conditioner was amazing, and it did everything that I created it to do! My eczema was managed, my dark spots went away, my pimples went away. My hair and skin stayed moisturized, softer, and glowing longer than when I used other products.
My natural hairstyles came out better when I used the Hair and Body Conditioner. I decided to sell it to the public because I knew that I was not the only kinky hair lady struggling to embrace her natural curls. I also knew I was not the only one suffering from a dry skin disorder. From my journey up into when I first applied the Hair and Body Conditioner on my hair and skin, I felt a sense of power when I finally received the results I've been looking for. I began to feel beautiful and had confidence while the glow from the Hair and Body Conditioner form a silhouette over my body. I felt like I discovered a treasure and I could not keep it a secret. The Hair and Body Conditioner is a treatment product that moisturizes your hair and skin, repairs your hair and skin, and restores the nutrients that your hair and skin need. This product was shared so individuals do not have to give up on their natural hair and skin.
We're always bombarded by how great it is to pursue your passion, etc. – but we've spoken with enough people to know that it's not always easy. Overall, would you say things have been easy for you?
My struggles when I started my business was prioritizing my time wisely and committing to my goals. I am a full-time student and I work part-time. As a college student, I have a big social life and I am a family-oriented lady. I was always studying, working, and getting invited to events. I found it hard to put time into my business after running around making deadlines, and being there for everyone else. Eventually, I created business annual goals and business plans. To achieve my yearly goal, I had established monthly, weekly, and daily goals so that I would not feel overwhelmed throughout the year or even feel as though my goal was impossible to achieve.
When I finished my daily goals, my weekly goals were accomplished. When I achieved my weekly goals, my monthly goals were accomplished. When I achieved my monthly goals, by the end of the year my checklist would be completed. Once you are focused and committed to your plan, you will begin to realize that you don't engage as much in activities that "waste" your time. Or you may find yourself losing interest in those activities altogether. This method not only works for business goals, but it also works for life goals that you want to achieve in life. Prioritizing your time for the things that are fulfilling to your life's and business goals is important because accomplishing these things are what makes us rich and happy inside. We will then begin to attract wealth and happiness. It is critical for me to set up my foundation as a small business so that I may eventually make bigger boss moves. I found the motivation to stay committed to my goals by constantly reminding myself where I want to be. My advice to any young lady, not just young entrepreneurs is to set goals for what you want in life. Establish short term goals to get to your long-term goal. After you commit to the plan, prioritize your time, and be consistent. There is nothing that we cannot do.
So let's switch gears a bit and go into Shinar LLC story. Tell us more about it.
Shinar is a treatment holistic brand that considers the wellness of their customer's immune system. Chemicals in some of our favorite hair and skin products may react negatively with our immune system causing other physical, mental, and or emotional problems. However, the Hair and Body Conditioner contains essential oils for aromatherapy. Each ingredient applied in Lomi Twist were well thought out to provide an excellent combination for resolutions for general hair and skin problems. These ingredients also help to decrease depression, fatigue, and anxiety. I created a tea of thyme and Oregano spices to soak it in the melted oil before I whip the batch. The thyme and oregano included in the tea bag help with dryness. Shinar understands that it is easy to get caught up with everything that is going on in your life. Many people can relate to forgetting about themselves and their well-being in the midst of life. Shinar's mission is to promote self-care. In order to look and feel good as new, you need to constantly pamper and treat yourself.
Shinar's Lomi Twist Hair and Body Conditioner is an oil-infused shea butter that provides protection for hair and skin. Whether your hair is hiding under natural hairstyles such as braids, weaves, or your hair and skin is exposed to the sun or harsh cold weather, you can be sure that it will be shielded. The Lomi Twist Hair and Body Conditioner is well known for its soft whipped texture and its Lemon, grassy smell. Imagine yourself glowing in a forested backyard sipping on lemonade. There you have it, Lomi Twist! That is exactly what Shinar is all about, taking you on a journey. Plenty of customers love to include the Hair and Body Conditioner in their DIY hair and skin mask or hair and skin scrubs. This gives customers an opportunity to buy carrier oils, essential oils, and butters for their selves without having to do the research. Shinar has already done the research and created the perfect product for you. Shinar is simply bringing the spa to your home so that you do not have to leave your sanctuary.
My current major is Industrial and Systems Engineering. However, at the beginning of 2020, I will be enrolled in a cosmetic science school to get training on product development and quality. Be sure to look out for more scents and product lines in the near future!
It would be great to hear about any apps, books, podcasts or other resources that you've used and would recommend to others.
Book:
One Fry at a Time by Renault Ross
App:
Apple Music
Podcast:
Clever Girls Know
Pricing:
4oz – $22
8oz- $40
16oz- $60
Contact Info:
Image Credit:
Brianna Allen, Felicite Cesaire
Getting in touch: VoyageATL is built on recommendations from the community; it's how we uncover hidden gems, so if you know someone who deserves recognition please let us know here.