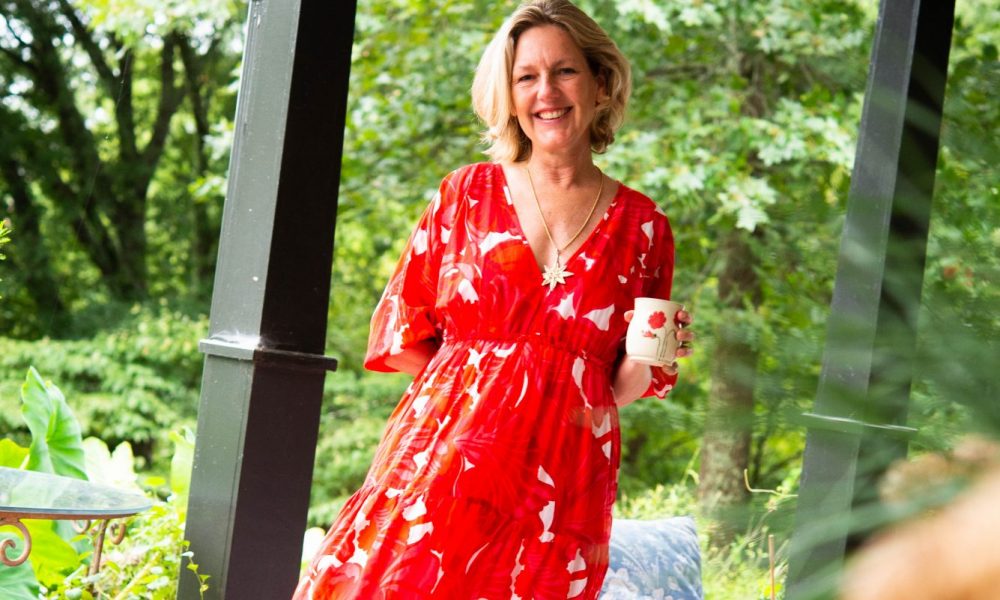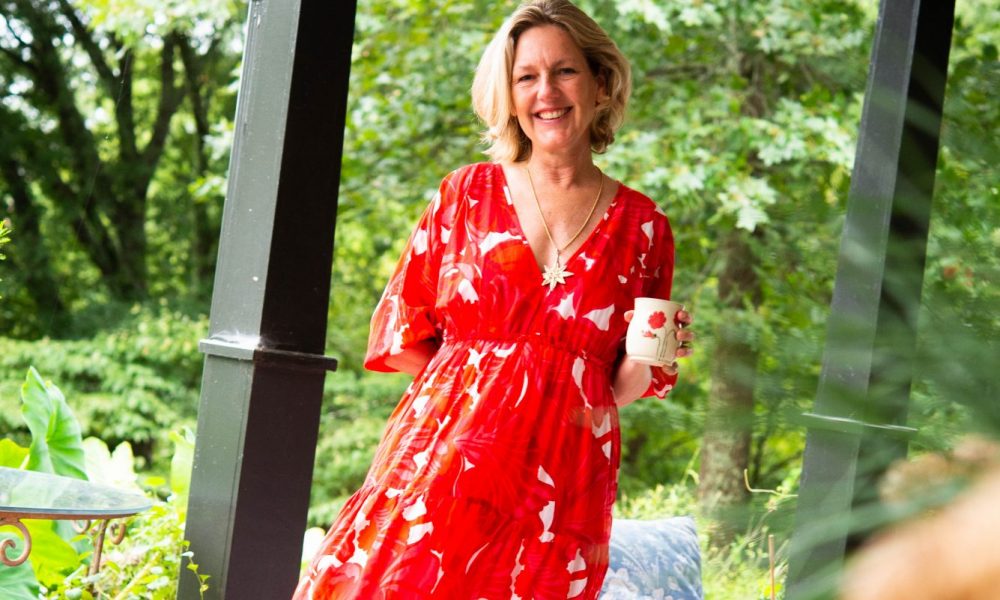 Today we'd like to introduce you to Jane Gray Pritchard.
Thanks for sharing your story with us Jane. So, let's start at the beginning and we can move on from there.
Stray Dog Designs started on a whim….Billy and I fell head over heels in love, married within a few weeks, ran off to Mexico on an extended, "get to know you" honeymoon with zero dollars and, soon enough, fell into the laps of a family who owned a handful of artisanal workshops that promoted traditional Mexican handcrafts. I would say that once we secured that reliable supply chain, Stray Dog was officially up and running…that would have been in the fall of 1995. You can head over to our website, www.straydogdesigns.com, to read the entire sordid back story… including pictures of the loveliest of street dogs, La Princessa and Carlotta, for whom the company is named.
Before bounding off to Mexico with Billy, I had a little decorative painting business focused mostly on children's rooms and furniture. And prior to that I worked for several years for a kooky, hugely creative, local store owned by a delightful and inspirational female entrepreneur. That was my very favorite job to date, as a matter of fact. My days were spent splatter painting sweatsuits (it was the late 80's, thank you very much), making dangly earrings and other assorted baubles, smoking cigarettes, drinking coca colas and entertaining customers. Holy cow, wasn't life grand when we were young, unencumbered and utterly carefree? Anyhoo…before I jollied off down memory lane, the point I wanted to make was that I had something of an artistic background that was somewhat useful and/or relevant to our present endeavors. And the emphasis is on somehow. Basically I could draw, had an interest in design and home furnishings, a spirited imagination,and knew a smidgen about the wholesale market from the aforementioned stint in retail. Shockingly, I was a treasure trove of business know-how compared to Billy, who came with a wonderfully romantic and wildly impractical MFA in poetry from UVA. Clearly, we were clueless and I am continuously astounded that we have managed to keep this puppy up and running for 25 years!
We're always bombarded by how great it is to pursue your passion, etc – but we've spoken with enough people to know that it's not always easy. Overall, would you say things have been easy for you?
I am sure you can surmise from the above answer that the road has been anything but smooth. We have encountered numerous bumps, potholes, roadblocks and even almost fatally veered off a time or two. Therefore, I would strongly encourage anyone starting out to take the time to master some basic business fundamentals. Enroll in one or two of the "boring" classes in school…accounting, management, marketing, etc. If no longer a student, then go online and find tutorials or even better, seek out a nonprofit startup accelerator in your area. We have managed to survive and even thrive with the "winging it" method but it would have been a smoother, far less harrowing, ride if we had started with even the most elementary business acumen. You will find yourself in an uncomfortably vulnerable position if you are entirely reliant on employees or bookkeeping services to navigate your accounting software and interpret profitability reports.
Trust me on this one…we have made this gigantic error of omission and came shockingly close to having our business snatched by "helpful investors".
Secondly, don't underestimate the value of your product. I find that often women will make light of their abilities. And this tendency, when coupled with an innate desire to please, fosters an impulse to offer bargain-basement rates. It is unlikely that a "cut rate" pricing structure will be financially beneficial in the long run and will likely be counterproductive. If you undervalue your brand so will everyone else. It is essential that you realize you have something unique and desirable to offer and price accordingly.
My final piece of advice is to always be open to change in your marketplace. In the last 25 years, we have seen unprecedented shifts and developments in our industry with the advent of the internet. (As has anybody in any business anywhere in the world). Almost every single segment of our business has metamorphosed …distribution, clientele, sales channels, cost structure, marketing, customer communication….everything. Our original business model is basically obsolete. If you are in the game for the long haul, you can't be stubborn or stagnant, you have to lace those sneakers up and be ready to pivot.
So let's switch gears a bit and go into Stray Dog Designs story. Tell us more about the business.
I am the designer (and partner, reluctant bookkeeper, occasional copywriter, potential coder, and sometimes office cleaner) for Stray Dog Designs. We design, produce, sell and distribute a line of vibrant housewares that are entirely (and ethically) made by hand in our San Miguel de Allende, Mexico based workshop (we eventually bought one of the workshops mentioned in the first paragraph.) We are known for supplying completely original, colorful and happy, slightly quirky lighting and decor for the home. We strive to be environmentally and socially conscious and I think and hope that aspect of our business is also recognized. We are willing, able and happy to build wholly custom pieces for our clients and the majority of our line can be re-scaled, modified, and painted in custom colors. I imagine this adaptability is valued, especially by our designer clientele. I would like to think that we are also known for being easy to work with and overall nice business partners and vendors. I suppose I am most proud of the fact that we have managed to build an inventive, recognizable, little brand with a niche audience that is drawn to the skillmanship of our talented artisans and the originality and humor in our designs. I don't imagine that we will ever be a design powerhouse as we are not for everyone but those that appreciate our sensibility seem to really relish it and they, in turn, happen to make for an especially lovely customer base. I am super pleased that our little company allows our artisans to preserve and pursue their traditional craft while supporting their families and way of life. And I am exceedingly tickled and amazed that along the way, we have managed to raise three wonderful children and finance their outrageously expensive education (thus far, anyway, we are nowhere near the finish line.)
For good reason, society often focuses more on the problems rather than the opportunities that exist, because the problems need to be solved. However, we'd probably also benefit from looking for and recognizing the opportunities that women are better positioned to capitalize on. Have you discovered such opportunities?
Hmmm..plenty of barriers out there. One that immediately comes to my mind is the gender-specific lack of assurance or the tendency I mentioned earlier, to discount our own abilities and achievements. This self-inflicted obstacle is the obvious result of an overreaching societal problem, in my opinion. We teach our girls to "be polite", "don't make waves", "you catch more flies with honey..", etc etc. while our boys are coached to "be aggressive", "don't back down", "get back up and fight". It's sort of fascinating when you consider the strides we have taken towards equal rights and the national attention given to workplace and wage discrepancies lately, yet we seem unable or unwilling to amend this biased methodology in the education and messaging we impart to our children. Bad habits are hard to break, huh? And God knows, lessons learned and ingrained expectations are hard to shake. Nonetheless, I think it is high time women shimmy right on out of this modest, demure historical hand me down…it's a tad too tight.
I could go on and on about the social inequalities facing women in the workforce and my personal obstacle, the age old working mother dilemma, but I'm not sure your readers signed up for that. In short, I think sexism is alive and well in 2019, but I am confident that as creative and clever women, we have the capability to change the narrative that is limiting our leadership potential in this and any industry.
Contact Info:
Image Credit:
Family photos, Lane Park Photography
Product photos, Graham Yelton Creative
Suggest a story: VoyageATL is built on recommendations from the community; it's how we uncover hidden gems, so if you or someone you know deserves recognition please let us know here.