Today we'd like to introduce you to Kia Jones.
Kia, let's start with your story. We'd love to hear how you got started and how the journey has been so far.
I have honestly always had a distorted body image which caused me to be insecure concerning my weight and how I viewed myself from a young age. Growing up, I was always curvier than others at school and among my sisters. My first year in college, I didn't have a meal plan, and for the first time, I was responsible for preparing my own meals along with other freedoms and duties that come with college. I experienced food insecurities where sometimes I didn't have access to affordable nutritious food, nor did I manage to find time to workout and prepare homemade meals like I did previously in high school.
As a result, the infamous "Freshman 15" weight gain happened and soon snowballed into sophomore 50! I was in college for over two years touching 200lbs and felt defeated that my usual techniques for weight loss weren't seeming to be enough to drop the pounds. This was also a time where I was doing a lot of soul searching on my purpose and passions to determine my major and next collegiate steps. I decided to take a nutrition course which really helped me understand the true science of what happens in our bodies when we eat. I decided to slowly fast from any processed foods or sweets. I consumed only juices, smoothies, and foods with easy to read nfps (nutrition fact panels) under 5 or so ingredients. My results spoke for themselves! By junior year, I truly changed my lifestyle. People kept suggesting I should sell the juices and smoothies I was bringing to class every day. The summer after graduating from college is when I first began the business. I didn't have a name and I was making smoothies and juices in mason jars mostly for a few friends and family. They would either text me or place their orders on my personal Snapchat/Instagram and I would deliver to their home or workplace. I also facilitated a summer camp for elementary school kids.
On one field trip, we went to a strawberry field to pick fresh strawberries off the vine. Prior to this, I had never really thought about how a strawberry starts off as a strawberry blossom. I was excited that our kids were learning the life cycle of the food we eat at a young age. I noticed plenty of information about bees pollinating strawberries. After our visit and seeing the busy worker bees firsthand, I became intrigued by the bee's role in the life cycle of our foods. Thus, the business name Bee Juicy was born as a tribute and way to bring awareness to our pollinator bees, which aren't just the well-known colony honey bees, btw, but also solitary bees.
We're always bombarded by how great it is to pursue your passion, etc. – but we've spoken with enough people to know that it's not always easy. Overall, would you say things have been easy for you?
It has definitely not been smooth, but with each pivot, I've learned so much along the way! First piece of advice I would give is to never give up if it is your true passion and purpose! I've learned when you make the effort and persistent steps always doing your best to simultaneously seek and honor God, He will make provisions for you. The difference between successful people and others is they never give up no matter what they encounter. They keep pivoting and moving forward! God has set me in so many rooms with leaders in the beverage industry, that I know would never be possible without Him. Most times, I am the only woman of color in the room. I try to keep God in the center asking Him to go before me & touch the hearts of those I encounter & to give me the courage to speak boldly. One major obstacle has been having to secure a new co-packer in the north-east after my local Georgia co-packer suddenly closed. I was working with them for nearly a year just prior to my first production run for Fall 2018. We had just finally completed our shelf life study needed to move forward and HPP our beverages. This study was not an overnight or fast milestone, it takes months to complete so with every delay, we were drastically pushed back. To be "market-ready" I needed a complete shelf life study for my beverages. This is vital so that retailers and consumers know how long they have to sell and drink perishable beverages. Our beverages shelf life is 75 days with HPP (High-Pressure Pasteurization). This process keeps the integrity of our organic ingredients while making our cold-pressed juices more accessible and sustainable which is vital for our brand to reach underserved communities and food deserts. Another word of advice would be… don't wait until your brand or business is perfect before releasing it to the public. Be sure to have a beta-testing phase. I know when I began, I was subconsciously worried about what others would think which delayed me moving forward. I wanted everything to be perfect before I presented my business. Like I mentioned before when I began, my drinks were in unlabeled glass mason jars. I knew that wasn't how I wanted to present my beverages but it was my MVP (minimum viable product). It allowed me to have a product ready to sell. I received and used the feedback from consumers as I scaled the business. For example, consumers would drop and break the glass or freeze and burst the glass. They needed it to be more portable. Some consumers weren't able to fit those jars in cup holders in their cars. They also shared feedback on flavors which helped me tweak recipes like lowering the agave syrup and pulp contents of our Citrus Cleanse. My biggest obstacle has been finding out I was with child Christmas Day 2018. I would have loved to have had an established company prior to starting to grow my family with my fiancé. While I was sick, overwhelmed, and exhausted sometimes during pregnancy… I was also unexplainably motivated to be able to have more for my child. I have had to drive/ride to the East Coast multiple times with my fiancé getting sick for hours on road than having to take meetings and tour facilities. My last trip was in June (7 months pregnant), it was finally time for my first production run!!!! But for it to happen, we would have to drive over 10 hours in a Penske truck with newly labeled bottles to the co-packing facility. While everything, of course, didn't go as I planned, we were able to finally present our drinks to the world. Glory to God, we have received amazing feedback concerning bottles, branding, and most importantly beverages! I delivered my son the same week my first production expired! Now, with my little human here, we are ecstatic for our next production run to continue to penetrate retail.
So let's switch gears a bit and go into Bee Juice story. Tell us more about the business.
I am the founder & CEO of Bee Juicy. Which means for my startup business, I am really doing a little bit of everything! When the company first began I was sourcing the materials/produce, preparing the beverages in sometimes 12-hour juicing sessions (with help from my mom), then scheduling and fulfilling deliveries. We are mostly e-commerce currently staying true to how we began allowing consumers to purchase straight from IG or our site for the local deliveries to the surrounding Atlanta area. Our beverages are retail-ready and I am currently working to penetrate retail as well as secure nationwide shipping. Since we now have a co-packer, I am not preparing beverages. My responsibilities fall under sourcing materials, distributing, finding key congruent partnerships, acquiring education about the industry, and securing marketing to grow the brand. Bee Juicy A New Organic Buzz focuses on honoring, protecting, and supporting the process from seed to consumption.
One thing that sets Bee Juicy apart from other juice companies is we honor the pollinator bees (not only honey bees)!! Without them, we wouldn't have 1/3 of the food we consume today like citrus fruits, berries, carrots, celery, pears, and apples for example. All of which we currently use in our beverages.
What do you feel are the biggest barriers today to female leadership, in your industry or generally?Happy you asked this question! The disparity in statistics concerning women in business can be un-motivating at times. One of the biggest barriers I believe for female entrepreneurs is access to acquiring venture capital. In 2018, women-founded companies received 2.2% of the total $130 billion in venture capital compared to 76% for all-male founded companies. The beverage industry is highly capital intensive with an enormous amount of capital requirements. Women founders in beverage are at a clear disadvantage. I gain more hope when I see women defying the odds and finding ways to overcome certain lifestyle constraints! Within my industry, the female founders I draw inspiration from are Daina Trout, Sheryl O'Loughlin, and Harlan Berger. There are challenges being a woman in business and then, there are challenges being a working mother in business. The C-suite is occupied by less than 20% women and 12% of startups are led by women. Traditional board meetings and quarterly trips across the country are more difficult to attend when you have young kids at home in which you are their primary caregiver. So, there has to be more flexibility and open-mindedness on how businesses can function. Hopefully, the leverage of technology will create more opportunities for women with arrangements like virtual offices. Tolerance and acceptance can blossom if businesswomen do not apologize for simple life constraints. Quick example… the Wing founder and CEO Audrey Gelman covering a business magazine visibly and unapologetically pregnant. Being a new mother I can understand and have experienced the possible constraints present with bearing a child from nausea, swelling, travel restrictions, to simply feeling exhausted at times. We have to be more transparent and intentional with sharing our war stories! There are unique obstacles in being a mom, a wife, a business leader, a partner etc and we make all of that work.
Pricing:
Build Your Own Bee Box-$33
3 Day Detox-$67
5 Day Detox-$112
Case of Juices-$33
Case of Shots-$24
Contact Info:
Website: www.beejuicy.life
Phone: 404-889-0892
Email: kiajones@beejuicy.life
Instagram: @drinkbeejuicy
Facebook: @ drinkbeejuicy
Twitter: @drinkbeejuicy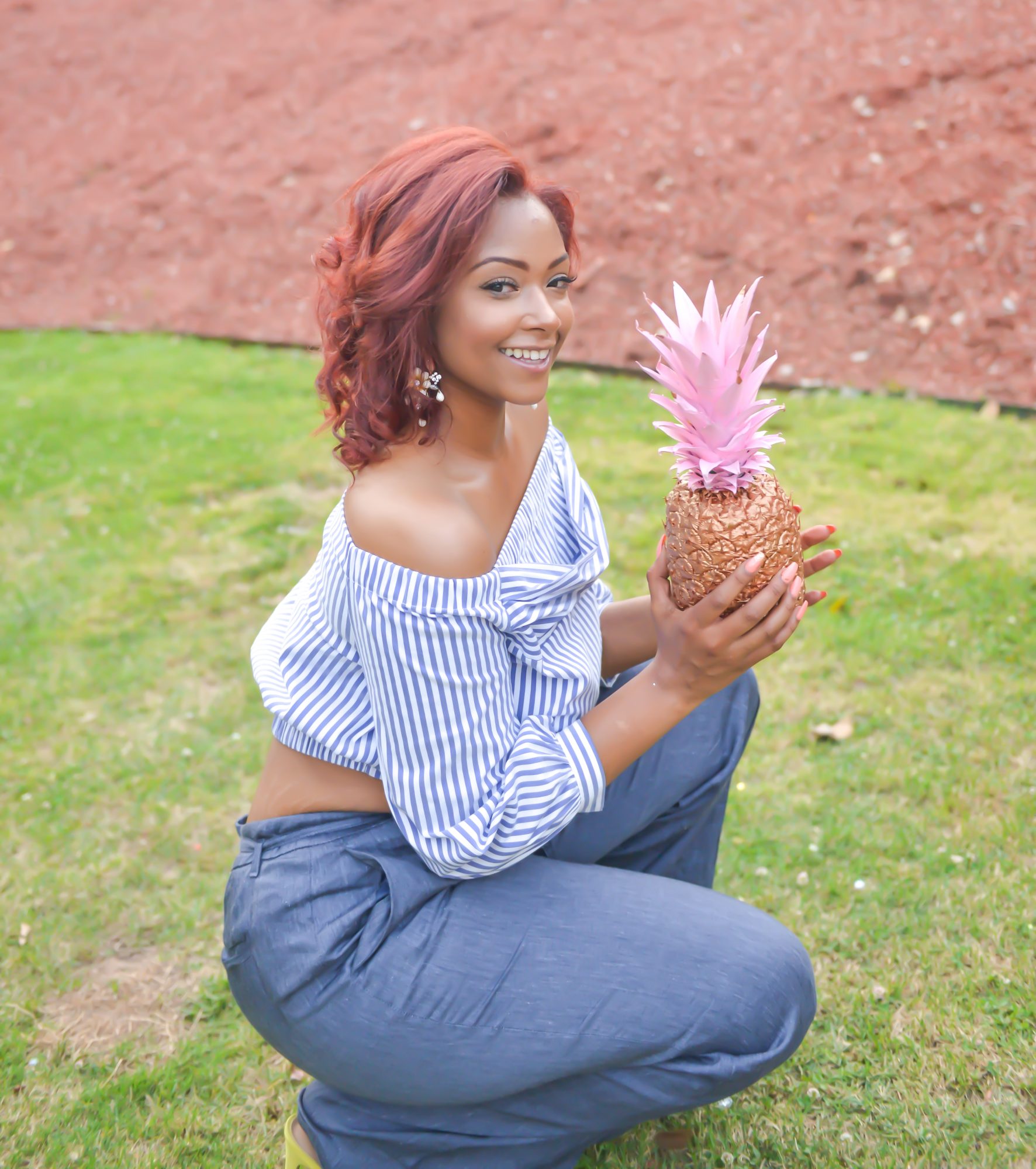 Image Credit: Yolanda Mendez @Yophotoz, Roldine Pierre @thepeculiarsoul Suggest a story: VoyageATL is built on recommendations from the community; it's how we uncover hidden gems, so if you or someone you know deserves recognition please let us know here.