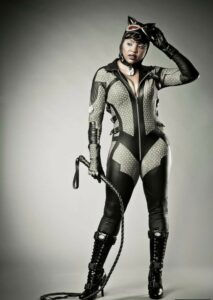 Today we'd like to introduce you to Sherita Dunbar.
Hi Sherita, can you start by introducing yourself? We'd love to learn more about how you got to where you are today?
My Super Fit origin story started over ten years ago when I first ventured into the world of Cosplay. Yes, you read that correctly Cosplay. My husband (who is not at all shy) came home one day and was like babe, can I ask you something? I'm like sure what's up. Well, I've been going to Dragon con, and I see my friends with their hot wives cosplaying and I got to thinking, well I have a hot wife and was wondering if you would Cosplay with me. (Cue puppy dog eyes and foot twisting) I couldn't help but say yes to that!
So off to Dragon con we went! I will admit, I started off very excited to go but the closer we got to the actual day, the more nervous I became. And that was honestly because I was going to be cosplaying two characters that were not black characters. After stepping out at con dressed as Rogue (X-men) and then Chun Li (Street Fighter), it was a wrap, I had fallen in love with Cosplay.
I genuinely had a great time but after seeing some of the pictures surface afterwards, I remember thinking gosh I really am not happy with what I see. Growing up, I was always "high school skinny". Marriage and two children later, that was now a thing of the past. My health had honestly taken a backseat and I hadn't even realized it. After having such a great time, we made the decision to go again the following year. This particular con year, I decided to follow a friend's bodybuilders' diet. It was the blandest diet ever, no dairy, no this, no that, no life. Lol! But your girl did it though. It had gotten so bad to where I was gobbling down 4-6 cans of dry tuna a day. And I was honestly miserable but ya know, mama didn't raise no quitter. Seriously though, it wasn't healthy and looking back, I wouldn't recommend it to anyone. Also, during that time, I started get these severe cramps and abdominal pains and had no idea why. One day while in the office, I had eaten like four cans of tuna and not much else, my boss walked into our conference room and apparently, I was laid out on the floor! I didn't even realize I had passed out. It was so crazy. My body was like no girl you're crazy. So, I had to figure out what those pains were all about and to top it off, here I was passing out at work. I went to the doctor and discovered that I had Mercury poisoning from eating so much fish and tuna. Needless to say, that was the first and last time I did a diet to that extreme ever again. And I knew then that I wanted to teach myself a better way to achieve my fitness goals and perhaps even inspire some people along the way. I kept thinking do you really have to give up all your favorite foods to lose weight? Do I need to eat dry chicken and broccoli to be fit? Do things really need to be that extreme? Thanks to thousands of dollars for college, nah I'm kidding, I didn't have the money for that. I meant thanks to the internet, I read everything online, medical journals, weight loss studies, trainers' journals and everything I could find to teach myself how to properly lose weight and exercise without going through what I went through before. My self-teaching journey was producing results and I was a roll!
Fast forward to 2013 and Super Fit With Ree was created. It was actually called "Get" Super Fit With Ree but that was just too many darn words for something that would later become my brand. I wanted to be able to not only share my own weight loss journey but rather a journey into living a healthier lifestyle in general. I transitioned from solely focusing on a number on a scale to learning how to properly fuel my body with the proper nutrients. Focus on the inside and the outside will shine too. That is my motto. Later, I decided to create a YouTube channel. This is where I post my full follow along workouts. How cool is that? You can sweat, grunt, make faces and workout with me all in the comfort of your home! I also share healthy or made over recipes, in addition to sharing my cosplay lifestyle. My goal is to reach and help at least one person out there to not have to feel like they need to go through extreme measures in order to get to this magic number on a scale.
If I could reach just one person and inspire them or guide them to doing things in a healthier, more sustainable way, I will feel "Super" accomplished!
Alright, so let's dig a little deeper into the story – has it been an easy path overall and if not, what were the challenges you've had to overcome?
Before getting to the point that I am now. I struggled. I wish I could say that the bodybuilder's diet was it for me. However, it was definitely not the last diet I had ever done. I'm not proud to say it but I think I've tried every weight loss pill, cabbage soup diet and magic bean on the market. It took a lot of studying, a lot of learning and a lot of self-acceptance in order for me to be where I am right now and not just physically but mentally. I swear I could tear myself apart so easily. Someone could give me a compliment and instead of just saying thank you, I'd name five things that are still "wrong" with me. It's not a good mindset and something I still sometimes have to correct. I'm still a work in progress and I've accepted this. Another struggle for me now is balance. It's very difficult to work a full 9-5 workday and make full follow along workouts, edit the videos and upload. In addition to being active on all my social media platforms. I have three full-time jobs right now: accounting, content creator and editor.
As you know, we're big fans of you and your work. For our readers who might not be as familiar what can you tell them about what you do?
I am a mild-mannered accountant by day and content creator/Cosplayer by night. Right now, I still work my professional job as an accountant however my goal is to build my YouTube channel, do live zoom workouts and ultimately, I want to create a Super Fit workout clothing line. I can certainly say that being a Cosplayer helps to bring more attention to my brand. I'm fortunate enough to have been featured in various magazines and newspapers such as Glass Vault and Rolling Out. One of my biggest accolades is that I'm a comic book character! The legendary Georg Perez created the character Interface in my likeness. Additionally, you can usually catch me on a Cosplay Your Way panel in which I also get the opportunity to promote my brand and share my health and fitness knowledge with other fellow Cosplayers. My goal is to be able to resign from accounting. I want to be able to focus full time on building my Fitness and Cosplay brand and I'm happy to say that I feel like I'm well on the way to achieving that.
The crisis has affected us all in different ways. How has it affected you and any important lessons or epiphanies you can share with us?
As awful as this crisis has been and continues to be, I have learned that doing things online/virtually is going to become the new norm. I once thought that I wanted to do in person personal training, but to be perfectly honest that is no longer my goal. I realize that social media and building an online presence is going to be far more advantageous than attempting to do things in person. I am already planning out my weekly live zoom workout classes and I'm continually uploading on my YouTube channel. I'm no longer worried that my fitness and Cosplay brand will suffer due to covid. I can already predict a bright future for Super Fit With Ree.
Contact Info:

Image Credits:
Andrew Michael Phillips – The Amp Image SF Design Jeff Hall – Dr Law's Photo Lab
Suggest a Story:
 VoyageATL is built on recommendations from the community; it's how we uncover hidden gems, so if you or someone you know deserves recognition please let us know 
here.