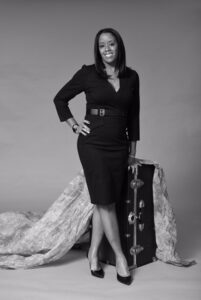 Today we'd like to introduce you to Ivory Cloud.
Ivory, we appreciate you taking the time to share your story with us today. Where does your story begin?
My name is Ivory Cloud; I'm a wife, mother, educator, and community, outreach activist. I'm married to Dr. Antre' Cloud, a fellow educator and real estate investor for the past 18 years. We have two daughters, Charity 16 and Chasity 15, who are the driving force behind Dreams of Lois incorporated and DreamCloud Sleepwear. I'm an exceptional education teacher and small business owner. I have a strong passion for teaching, educating, and empowering my community. I was raised by my father- Cornelius Heckstall, after losing my mother at the age of 9 and grew up in an all-male household.
My motivation is to provide girls and all children with an opportunity to embrace who they are and empower them with the proper support they need to become confident, successful young ladies and young men of distinction. I have a passion for supporting the community in any way possible. I started Dreams of Lois incorporated over ten years ago in honor of my mom, Lois Marie Heckstall, who passed away from breast cancer on Mother's day when I was nine. She passed away so young she couldn't fulfill all her dreams at 34 years old. I enjoy helping others fulfill their dreams as a way of making sure my mother's dreams continue. This desire to help others is where the vision of Dreams of Lois started. Growing up as a child, Mother's day was such a hard day for me so, I wanted to create an event that would give children and families that lost their mothers an opportunity to celebrate their mother without the sadness and pain of missing their mothers. So I started an annual Mother's day tea, and for the past eight years, I have hosted the event at Children's Healthcare of Atlanta. Dreams of Lois hosts monthly events that are centered around community outreach that supports hundreds of people a month. I have an Associate degree in Criminal Justice, a Bachelor's degree in Sociology, Master's in Special Education, and an Educational Specialist degree in Curriculum and Instruction, and 17 years of service in the Georgia Public school system.
We all face challenges, but looking back, would you describe it as a relatively smooth road?
I have faced a lot of challenges in the nonprofit world. As a young minority woman nonprofit owner, it has been difficult to get large funding to support our monthly and annual events. Our biggest obstacle has been the lack of funding and mentorship that we need to grow our business so that we can devote ourselves full-time. We are a small organization, yet powerful and desire for the world to see our power. We are changing and impacting lives with one community outreach service project at a time.
Can you tell our readers more about what you do and what you think sets you apart from others?Dreams of Lois is a Federal 501C3 nonprofit organization. We are a community outreach and mentoring organization. At Dreams of Lois, we believe that small acts can have a big impact on the lives of those in our community. Our organization focuses on finding specific community needs, often small and overlooked by larger social services organizations, and we bring many donations together to fill these needs. Every month of the year, Dreams of Lois organizes a community giveback event meant to fulfill a specific need.
Small and overlooked needs are what Dreams of Lois focuses on. For example, every year in March and on Mother's Day, Dreams of Lois organizes a pajama giveaway at Children's Healthcare of Atlanta. Young patients at CHOA get to pick out a brand-new pair of pajamas and (pre-pandemic) enjoy a small party for mothers and their children. This event solves multiple needs: First, it gives children an enjoyable chance at normalcy while in the hospital, and the pajamas make their stay more comfortable. Second, the event provides much-needed levity on Mother's Day, which might otherwise be stressful at a Children's Hospital.
Other "Small and Overlooked" needs include an annual donation in June to local children's shelters. We provide snacks, supplies, and personal hygiene products for local children who, once school is out, might otherwise have few resources. When summer break starts is actually when many children need social services like ours, and is an overlooked need. Many of our projects center on serving children in need; we provide backpacks full of school supplies at the start of the school year and Christmas, we provide gifts for families who can't afford to buy them. Each month Dreams of Lois has a community outreach project, where we serve hundreds of people a month through food, clothing, personal hygiene products, pajamas, books, supplies, and snacks.
As an educator, I am uniquely qualified to solve these issues because I see them every day as I teach and serve my community. Part of what inspires me to do this work is that I see how so many children don't have a stable support structure to provide them with all they need to be happy and healthy. The name "Dreams of Lois" refers to my own mother, who died young from breast cancer. She had so much love inside of her, and my dream is to keep that love alive by spreading goodness into my own community. Even if the act is small, it can have a big impact on someone's life.
What I am most proud of is each time we have hosted an event in the community, the smiles on the children's faces and their families have really warmed our hearts. Seeing the growth of Dreams of Lois and its impact on the community has really been our success story. Each year we can increase community outreach and donations. Seeing how the communities and families that we have helped feel hopeful again is truly our success story. Dreams of Lois is also the proud recipient of several awards for the outstanding work we do in the community, including, The Winship 80 award from Emory, The Community Empowerment award for My Sister's Keeper, The APIVEO Award from Zaxbys, The Unsung Hero, and The Outstanding Customer Service Award from the Fayette County School system. We are so proud to be able to serve our community and bless so many.
What also sets us apart is that we have two young teens driving the business to go to the next level. Dreams of Lois donated thousands of brand new pajamas to Children's Healthcare of Atlanta over the past eight years. Our daughters, Charity, and Chasity are the driving force behind all the donations in the community. They are in charge of putting the pajama event and many other events for Dreams of Lois together. Charity and Chasity have been so inspired by their pajama donations and love for pajamas that they decided to create their own line of sleep and loungewear named DreamCloud Sleepwear. The girls desire to design a line of sleep and loungewear that is comfortable and fashionable. The girls are young entrepreneurs and are seeking mentorship to grow their brand DreamCloud sleepwear to a global empire.
Dreams of Lois is unique for the reasons that we like to do things that aren't being done and support communities that are often overlooked and underserved.
If we knew you growing up, how would we have described you?
Growing up as a kid, I was very shy and quiet. I loved to daydream and read. I was fascinated by the business world, fashion, the criminal justice system, community outreach, and helping others. I always loved to cheer for the underdog. I had a strong desire for everyone to win and treat people fairly and still do. I have always believed that success is what you make it, and each generation needs to increase entrepreneurship to create generational wealth.
Contact Info:

Image Credits
Professional Photos were taken by Photographer- Ms. Marie Thomas Graphic Logo designs for Dreams of Lois and DreamCloud Sleepwear- Mr. Stacey Woods Screen Print- City of Dope- Mr. Maurice Stewart
Suggest a Story:
 VoyageATL is built on recommendations from the community; it's how we uncover hidden gems, so if you or someone you know deserves recognition please let us know 
here.