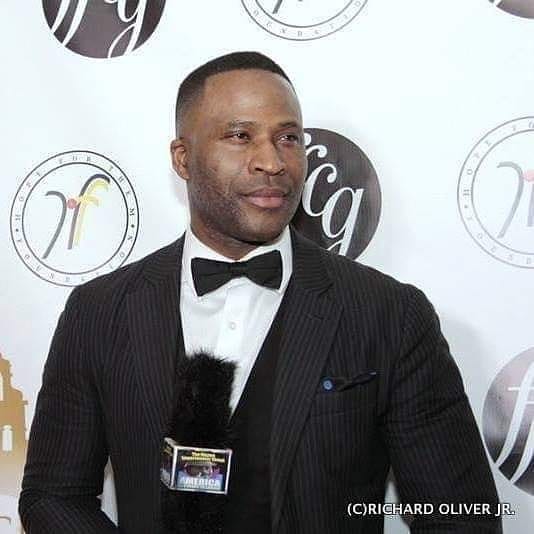 Today we'd like to introduce you to Richard Oliver Jr. Them and their team share their story with us below:
Entertainment's next NY Tough "RENAISSANCE MAN", has arrived. Richard Oliver Jr. without a doubt is indeed a huge force to be reckoned with in 2021 and beyond. He's been featured in press articles with NBC, Fox and CBS for his 4th consecutive single release and award-winning Music Video entitled: "My Mother", Official selection of the Bitesize Film Festival – 2021. His work has also been acknowledged by the highest office in the land, the White House of the United States of America, in a personal letter bearing the official presidential seal to Richard from our 46th President-elect: Joe Biden, and the first black south asian female Vice President-elect: Kamala Harris. The letter was in appreciation for his 10-time Award-Winning film project entitled: HERO – A heartfelt music video and documentary tribute to all Frontline Healthcare Workers who have made the ultimate sacrifice for US in the wake of the Covid-19 Pandemic.
Richard Oliver Jr. is an Entrepreneur, Actor, Writer, Producer, Vocalist, and "Mega Solo-Entertainment Powerhouse destined to reach great heights in the entertainment and film industry. He can now add Chef to his many notable titles. After successfully graduating culinary school in December of 2019 with 2 prestigious honors, he went right into Essential work for his city of New York after the Covid -19 Pandemic hit. Since May of 2020 till present, he has played a major role in 4 contracted projects for Covid-19 relief helping top feed elderly homebound seniors, quarantined college students, and on his day off he also volunteers at a local church food pantry helping to feed the homeless and low-income unemployed families directly affected and impacted by the Covid-19 Pandemic, which would inspire all the songs on his new follow – up album entitled: Everything I Have which features the newly released singles entitled: HERO, ALRIGHT, MY MOTHER and WHAT I'M DOING TO YOU and Everything I Have, all available at: https://richardoliverjr.hearnow.com, Spotify, Pandora, Itunes, Amazon & Everywhere!. SUBSCRIBE to his You-Tube Channel at: http://www.youtube.com/therhymeimpersonator and WATCH all 4 music videos and LIKE, SHARE AND COMMENT.
HERO
A heartfelt Tribute to all Frontline Healthcare Workers. Winner of 10 Film Festival awards plus a special White House Acknowledgement on the presidential seal from our 46th President-elect: Joe Biden, and the first black South Asian female Vice President-elect: Kamala Harris.
MY MOTHER
Winner of Best Music Video at the Bitesize Film Festival, is a very special personal and heartfelt song dedicated to Richard's mother and all the mothers that we lost from Covid-19 Pandemic here in the USA, and across our entire Globe, Richard is honored to share this song with you.
ALRIGHT
A song that addresses the serious issue of Mental Illness, Depression & Suicide in the wake of the Covid19 Pandemic. As a survivor of Mental illness himself this is a song very personal to Richard.
As well as a singer, songwriter and producer, Richard has also honed his talents respectively as a dramatic and comedic actor, screenwriter, director, and film producer starring in various short films, and producing his first documentary film on Hurricane Katrina while studying at the prestigious "The New York Film Academy". Richard would reach the top of his career with a defining, hilarious, and unforgettable performance in his comedy show pilot, as the legendary Dr. Phil from the hit TV program "The Dr. Phil Show" He also produced the theme song for the show. In preparation for the role Richard would spend months studying the iconic figure, and when the moment came, he nailed the character! in a hilarious off the wall comedy sketch entitled: "Dr. Phil Saves A Marriage" featured in SEASON 1 of his sketch comedy web series entitled: "The Rhyme Impersonator Show" 5 hours in the make-up chair and worth every minute.
Richard successfully raised 13.5K for with not 1 but 2 successful Kickstarter Crowdfunding campaigns which got his show off the ground to produce 5 successful SEASONS with over 30 PLUS Episodes!. After the premiere release of SEASON 1 of his web series, he was approached by the huge Online Media Giant YouTube and he has been growing the channel ever since and is soon to hit his 1st milestone of 1,000 Subscribers.
Richard is the CEO of ICP Entertainment and founder and creative director of the ICP Ent. Film Festival (https://filmfreeway.com/ICPEntfilmfestival) An annual NYC platform that attracts submissions from both the U.S. & International filmmakers for a 1-week screening where 10 winning films are selected and screened in NYC.
Richard successfully completed his 7th Annual Film Festival in October of 2021 in NYC, even in the midst of the pandemic it was a very safe event for all those who attended, where all CDC rules and guidelines were followed. He is now scheduled to host his 8th Annual Film Festival in October 8, 2022 in NYC.
On top of all of his film, music, and acting aspirations, Richard also plans to release his very 1st inspirational Memoir in 2022.
Richard currently resides in Manhattan, New York City.
We all face challenges, but looking back would you describe it as a relatively smooth road?
Homelessness, Mental Illness (which I elaborate more about in detail in my upcoming New Memoir) and the Covid-19 Pandemic.
Thanks for sharing that. So, maybe next you can tell us a bit more about your business?
ICP Entertainment is a Multi-faceted Award Winning production company based in NYC providing Pre and Post Production Videography services, and ingenious digital marketing content to help both artists and start-ups grow & expand their business and brand.
I am the CEO/Founder and Creative Director of ICP Entertainment. My CFO, PR an Back office support Representative, is Veena Kondapalli from hyderabad India. I primarily operate all the creative, artistic and technical aspects of the company, from pre and post-production, content creation, screenwriting, shot-lists, songwriting, music production composition, camera equipment selections, editing, to working very closely with film crew hands, actors, make-up, hair and fashion stylists, on various production projects.
What I'm most proud of is my natural ability to see an artist(s) or a brand's vision very clearly. As a filmmaker everything I view and create first begins with a vision, as an actor, writer and director, I have the ability to modify and perfect that vision or said concept and expand and open it up larger so more eyes can see its true and unique beauty.
Brand wise I am most proud of past and current accomplishments, even in the midst of our new normal. My annual film festival is now in its 8th season, and the artists and businesses who were once on the verge of giving up after Covid 19 hit, but then decided to give us a chance and trust us with their vision, their babies aka passion projects, to watch and see us nurture and develop them as if they were our very own, to ultimate success over exceeding their expectations.
Not one but two budding actresses, who hired us to redo their individual reels were blown away by our turnaround time and final product. To read both of their testimonials on how they began to get more paid film projects and gigs/bookings brought tears to my eyes, but happy tears. I read them often on our website homepage to remind myself of why I'm so blessed to do what I do each and everyday.
What I want your readers to know is this, NEVER GIVE UP ON YOUR DREAMS, ICP Entertainment is here for YOU, if you need a new or modified acting reel, model reel, headshots or a 30 second to 1-minute digital marketing promo commercial for your business start-up or brand, then just reach out to us at: E: icpentnyc@gmail.com, or Call/Text (212) 470 – 0871. We look forward to hearing more about your dreams, goals, aspirations and passion projects, and also building a long-lasting and working relationship with you.
How can people work with you, collaborate with you or support you?
For Rates please Email us at icpentnyc@gmail.com or Call/Text: (212) 470-0871. LIKE US on Facebook at: ICP Entertainment
FOLLOW US on Twitter at: www.twitter.com/icpentnyc, IG at: http://www.instagram.com/icpentertainment | http://www.instagram.com/richardoliverjr and Website: http://www.icpentertainment.org.
Stream, listen, follow and share our new Music at: http://www.richardoliverjr.hearnow.com.
FOLLOW US on Spotify at: https://open.spotify.com/artist/6wBIXga0QPRKlrk8S7NmEL?si=LQ2Xx_b0Rl6F17SnG9NWdA&utm_source=copy-link
SUBSCRIBE to our YouTube Channel at: http://www.youtube.com/therhymeimpersonator
To WATCH & COMMENT on all our films, celebrity interviews, and creative content.
Facebook Fan page at: https://www.facebook.com/richardolivierjrfanpage
SUBMIT YOUR FILM to our 8th Annual ICP Entertainment Film Festival 2022 at: http://www.filmfreeway.com/icpentfilmfestival
Press, Media Inquiries Email; icpentnyc@gmail.com
Pricing:
Acting & Modeling Reels – $150.00 Holiday Special!
Contact Info:

Image Credits:
Lisa Veena Kondapalli
RJ Gibbs
Zarina
Suggest a Story:
 VoyageATL is built on recommendations from the community; it's how we uncover hidden gems, so if you or someone you know deserves recognition please let us know 
here.