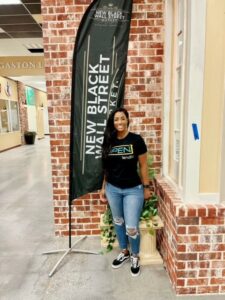 Today we'd like to introduce you to Ebonii Lachea.
Like most of us raised in "our community", Ebonii didn't have the luxury of a formal financial literacy education growing up; nor was she born with a silver spoon in her mouth. Instead, she grew up in a lower-class household, often tasked with the responsibility of raising both her sister and brother. Her life principles were all about surviving not thriving and that had to change. 
After MANY "failed "entrepreneurial attempts and facing a fresh divorce in the early 2000's she was forced back into corporate America to gain a steady paycheck to raise her two boys as a single parent. Determined to provide for her children she took the first opportunity that came her way. Having had a solid real estate background, she was brought on with Trulia as a sales rep making only $12.00 with the opportunity to make a commission. Before she left training, she was promoted to an account manager making double the pay, 90 days later she was offered a position as a senior strategic account manager, managing and growing multi-million-dollar accounts. Because of her determination and what she likes to call "the key ingredient", in only four short months, she was a top Strategic Sales Executive set to make well over six figures her first year. What was this key ingredient you ask? It was the culture Trulia managed to create and maintain. 
Driven by her believed purpose to create positive change in the workplace and her natural/practiced talents in brand work Ebonii created the Brand Therapy Team LLC. in 2005. 
About The Brand Therapy Team LLC. 
Since 2005 The Brand Therapy Team has acted as a brand partner that brings much more than microwavable solutions. We thrive on tackling difficult problems and believe that the best way to build a brand that is trusted, respected, and remembered is through first understanding root causes, and most importantly by leaning on collaboration and input from diverse teams that provide a valuable range of experiences and perspectives. Bottom line, we are an agency that cares to see beyond the surface. We dig deep and solve long-standing 'root cause' issues resulting in measurable success that earn our clients' brand a place in people's hearts and newsfeeds, today, tomorrow, and years from now. 
As a small business owner Ebonii was always a recognizably, action-oriented, go-getter skilled at bringing in significant amounts of revenue. However, she struggled with financial management. One day, Ebonii and her two boys came home to all of their valuables and belongings thrown out on the streets, with a bold letter on the door that spelled out EVICTION. Seeing the hurt, embarrassment, and disappointment in her children's eyes changed her forever. This was her defining moment. She committed to showing her boys financial stability, something she was never taught. Ebonii owned the responsibility for her circumstances and moved forward with a plan focused on thriving, a growth mindset. 
She began studying about budgeting and how to increase her credit score. Over time she began to feel a sense of empowerment because her credit score and savings were increasing, she was beginning to get offers for credit again. Ebonii knew that so many others could benefit from what she had learned. 
From 2015 to 2020 Ebonii led a community-based organization called, The Credit Spa. The Credit Spa has helped thousands of clients get the financial freedom we all dream of. Banks, auto dealers, and mortgage companies nationwide have become Credit Spa partners and sponsors, relying on their experience to help prospects become qualified buyers. 
At the height of the Covid-19 Pandemic Ebonii found herself at a crossroad to do more for struggling minorities. Instead of expanding her brand agency Ebonii made the decision to purchase a Lendio franchise in Atlanta, GA to further her mission in expanding financial resources in the black community, specifically small business owners because what better time to dig deep than now? 
Lendio was the best option because they TRULY cares about small businesses thriving and have shown that through their actions. To date, we have funded over $170 Million to small businesses in Atlanta Georgia alone. 
When March 2020 shocked the world with a global pandemic and lenders started to pull out from funding loans due to the economic uncertainty. With a majority of Lendio's lending partners leaving our marketplace, Lendio's CEO Brock Blake called an all-hands-on-deck meeting with the company. There they decided to see if we could facilitate PPP loans from the federal government. Within about 30 days Lendio as a company was able to create the new program to help secure PPP funds. The COVID-19 pandemic created an unprecedented demand for small business relief funds. In just 2 months, business owners accessed more than $8 billion in Paycheck Protection Program (PPP) loans through the Lendio marketplace. Before the pandemic, Lendio had facilitated $2 billion in loans to small businesses. 98% of PPP loan applicants were first-time Lendio customers. 
To date, Ebonii is a 15-year award-winning transformational leader committed to accelerating the journey towards improved lives and healthier communities. She is a serial Entrepreneur that leverages her own story through public speaking and community engagement to empower others facing similar challenges to adopt the same growth mindset, "Grow through what you go through". In her free time, Ebonii can be found maximizing the lives of our most vulnerable community members. As a mother of two boys, she is determined that her boys see her engaged in the daily balance of work, family, and community. 
As the President and Chief Visionary Officer of Lendio Atlanta, Ebonii is on a mission to Educate. Empower, Support & Grow small businesses in the Atlanta area. She hopes to increase the knowledge of business structuring, financial literacy, and credit education, in her community. She takes personal responsibility in ensuring that each client is handled with white glove world-class customer service. She makes sure each client receives a business "health check" and the knowledge on maintaining a positive business profile and building wealth. She continues to educate herself and her team on new market trends, providing the most up to date, beneficial information to current and past clients. 
Educating. Empowering. Supporting and Growing thriving communities are at the heart of everything she does. 
Appreciate you sharing that. What should we know about Lendio Atlanta?
It takes a little cash flow to change the world, right? Unfortunately, our traditional banking partners are forced to reject 80% of small business loan applicants, who end up trading their big ideas for ordinary ones because they can't get the funding they need. We're creating a new reality for small business owners. We're helping them get loans that back up their ambition so they can be more than just entrepreneurs – they can be visionaries and craftsmen, warriors, and rebels. They can be the very builders of American dreams. 
By providing a free online service that helps business owners find the right small business loans within minutes Lendio has become a market disruptor for the fintech industry and is changing the way we look at traditional lending. 
As a marketplace with a network of over 75 lenders offering multiple loan products, Lendio can give business owners a big-picture view of their capital options. Bringing all options together in one place, from short-term specialty financing to long-term, low-interest traditional loans, our technology makes small business lending simple and decreases the amount of time and effort it takes to secure funding. Lendio's high-tech matching algorithm streamlines the application and approval processes, while its consultative approach to funding gives small business owners the full-service experience they seek. 
Lendio Atlanta is the only metro-based, Lendio franchise office offering Lendio's high tech platform via a high touch approach by working closely with the small business community here in Atlanta. It is our belief that a strong, successful America doesn't start with the government or large corporations. It starts with small businesses. It starts here. And that's why we do what we do, every day. 
Educating. Empowering. Supporting and Growing thriving communities are at the heart of everything we do. 
Me: 
I am most proud of my mission to Educate. Empower. Support and Grow small businesses to thrive in communities that serve people who look just like me. 
I believe that you don't deserve to be penalized for years and years because of your lack of education and financial mistakes made in the past. Your credit doesn't have to hold you back forever, and the debt that comes along with it doesn't have to be scary and stressful. Every month Lendio helps thousands of small business owners in and around Atlanta get the financing they deserve. 
We're big believers in optimizing opportunities, we're prepared to work hard so your business can grow to support the lifestyle you and your family are working hard to achieve. 
Business: 
We've facilitated more than 300,000 small business loans totaling over $12 Billion in funding. 
That's 300,000 loans that have helped small business owners hire staff, buy equipment, or add a second location. Or maybe just keep their doors open during a slump. That's 300,000 loans that have helped small business owners take another step toward their American dreams. 
And we're only increasing our momentum. 
Our next milestone… 
At least one billion dollars in small business loans. Every. Single. Year. Why one billion? Sure, it's a nice, round number – but it's also enough to give the American economy a substantial boost. Trust us, we've done the math. $1,000,000,000 isn't just small business funding. It's enough to create more than 25,000 jobs and have an economic impact of $1,207,000,000 annually. And that's what this revolution is all about – accelerating America by supporting the very heart of our economy, small business owners. 
VOLUNTEERING 
Small business loans are just the beginning. Lendio Gives is our way of making an even bigger impact, both locally and globally. Through this employee-driven charitable program, Lendio matches every dollar our employees donate and provides opportunities for volunteer work. It's pretty awesome to be part of something that makes a difference every day. 
For every loan facilitated on our marketplace platform, Lendio Gives donates a percentage of funds to low-income entrepreneurs around the world through Kiva. 
Is there something surprising that you feel even people who know you might not know about?
TEAM DYNAMICS As silly as it sounds…My team and I need music and dance to thrive each and every day. From the time we come into the office to the time we leave we are listening to the latest music and making our best attempt at the latest dances. We believe that music is fuel for the soul. We take pride in welcoming diverse music introduced by our team and connecting through learning new genres. 
Contact Info:
Email: ebonii.lachea@lendiolocal.com
Instagram: eboniilachea / Lendio Atlanta
Facebook: Lendio Atlanta
Twitter: Lendio Atlanta
Youtube: Lendio Atlanta
Other: www.lendio.com

Image Credits
Brock Blake
Trent Miskin
Suggest a Story:
 VoyageATL is built on recommendations from the community; it's how we uncover hidden gems, so if you or someone you know deserves recognition please let us know 
here.