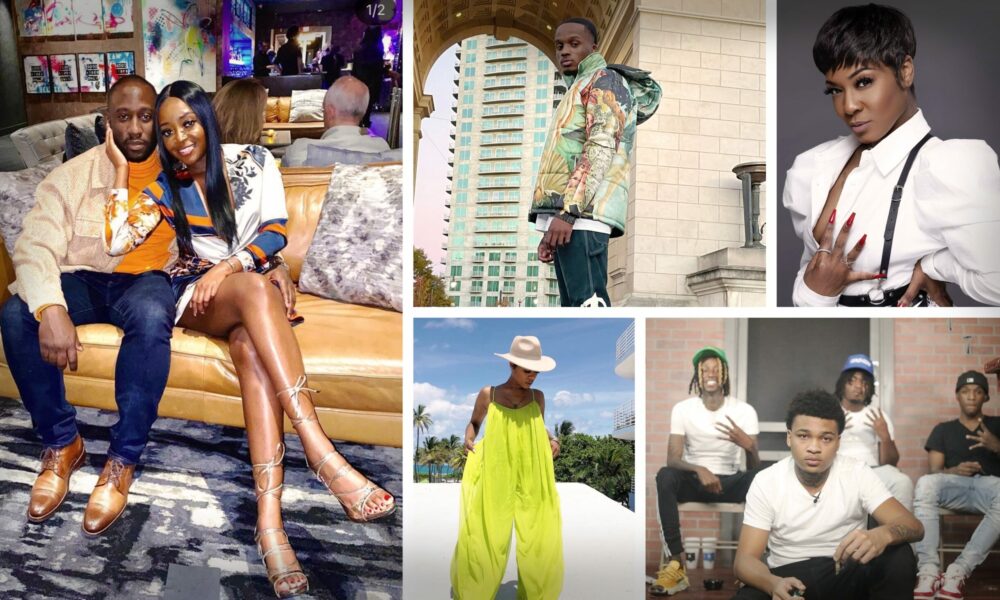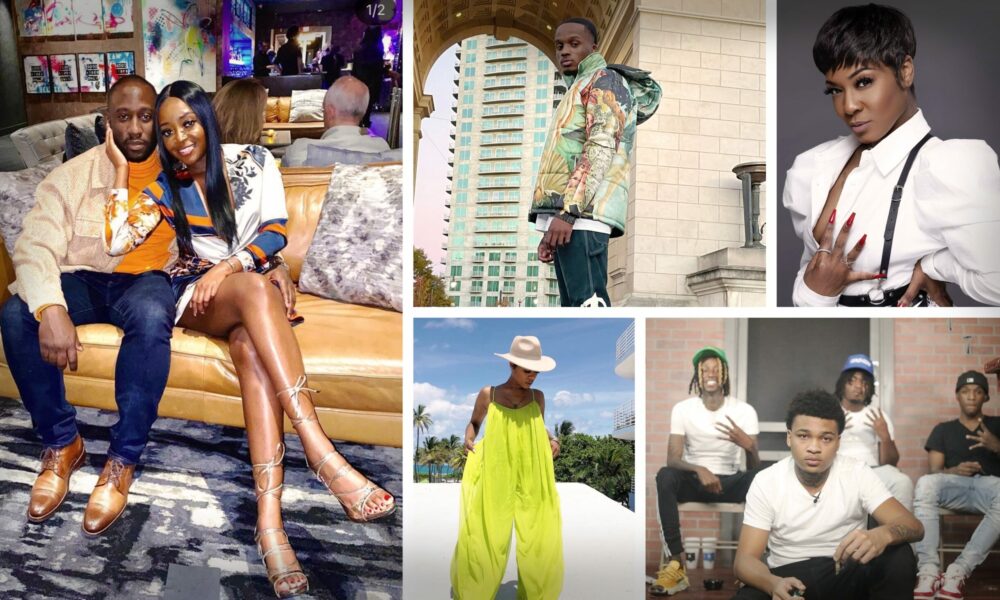 The heart of our mission at VoyageATL is to find the amazing souls that breathe life into our city. In the recent weeks we've had the privilege to connect with some of the Atlanta's finest artists, creatives, entrepreneurs and rabble rousers and we can't begin to express how impressed we are with our city's incredibly deep talent pool.  Check out Southern Atlanta's rising stars below.
2sc Money

I started rapping in 2019 when I linked up with my manager blac and with the connections I made. I later got the chance to open up for Gucci Mane, Boosie Badazz, Rod wave, Jadakiss and went on tour with Foogiano and Euro Gotit. Read more>>
Mr. Affamé

Hauté Couture brands have always been interesting to me. I love the design process the garments go through and the history behind these brands. As my interest in the high fashion world grew, I noticed the lack of a completely black-owned and started Fashion House in your officially recognized Haute Couture houses. Which drove me to wanting to start my own brand and develop it into a fashion house over time. Affamé came about as I got older and realized that I want to always strive forward in life and learn to better myself and to never be complacent. That expectation helped me come up with the name Affamé (translates to hungry in French) which you have to be in order to progress anywhere in life. My hope is for everyone who wears Affamé feels that extra drive to keep pushing through anything they're going through whenever they put on any Affamé clothing. My goal is to grow Affamé into a top-class fashion house and become the reason people keep pushing on. Read more>>
J. Cornelius George

I've always wanted to be a comedian and an educator. I know it sounds like a strange combination, but my two favorite things were making people laugh and learning. I realized early on in life how important laughter was to my learning process, even though most of my teachers did not see any benefit (called it distracting). I would take the notes from class or sections from the textbook and make comedy stories or jokes out of it. When I would try to use my material in class, I would get put out (Guess that stage was only big enough for one star). After teaching for a number of years in the alternative school setting and making my students learn history while laughing (they did it for the grades) I decided that I would try to do standup comedy. This was the best/worst decision ever! I went from making students laugh to bombing on stage. So I worked on my craft and every technique learned, I found a way to introduce it to my students. I was having fun and truly enjoying being on both stages. I started to notice how much teachers were unhappy and stressed, so I started a comedy show called Laugh Your Class Off. Read more>>
Maurice Brown

I was always the guy people would go to before they booked a trip. I was building itineraries and saving people a lot of money. So then it hit me, I should become a travel agent. So I started a travel agency in 2021 that's doing extremely well. Read more>>
Yvette S.

Hailing from New York, what many call the melting pot of fashion, I've always been into looking my best. However, I didn't take fashion seriously until I moved to Atlanta. Moving here exposed me to different trends and diversity, which led to my blending of classic pieces with designer looks. The ability to blend styles has brought much admiration and due to this very admiration, I felt compelled to create my brand. I must admit that I was hesitant to start my brand as many are often scared of failure. But, my love of fashion has been my driving force for so long, therefore why not create a stream of income doing something that I love. After years of doubt, I decided to take a leap of faith and created my baby, Beyond Addictd Boutique which as ironic as it seems was during the Covid-19 Pandemic. Looking back on those moments of doubt, I cannot believe that it's now December 2021 and I'm going into my second year in business. Read more>>
Ruby Reign

I started off as a college student in Indianapolis, I didn't know which major to pursue let alone the career path. All I knew was that I wanted to make a decent living and be "successful" in the eyes of my family. However, all of that changed following my move to Atlanta. When I came here for the first time, it was what I would call a creative's heaven. Rather than solely corporate jobs, artists are everywhere, free to make a killing doing whatever complements their expertise. To say in the least, I was inspired. After watching my mentor build his clothing brand from the ground up and having several conversations with my mentor, we devised a business plan for Ruby's Premium Collection. During my childhood, I remember always getting in trouble for hair whether it was cutting off all my doll's hair, redoing the girl's hair at school, sneaking out to do hair and more. Moving to Atlanta gave me freedom a newfound sense of freedom to be a creative. Today not only am I a college graduate, but I am a licensed cosmetologist perfecting her craft while on the brink of establishing the start of her legacy with the release of Ruby's Premium Collection. Read more>>
Marlon Senior, Tia Ellis and Sydnei Ellis-Fields

We are a family business formed by my fiancé, myself, and my future mother-in-law. While planning our wedding, we realized the cost of a wedding could be exponentially high especially the event planner and decorator fees. My fiance and her mother have always had a love for planning events and decorating the homes of family and friends. I have been doing wood projects for as long as I can remember, so we all collectively thought "why pay someone for something we can do ourselves"? We also had a few friends who were getting married as well, they saw the things we were building for our wedding and asked us to build products for theirs. One order lead to another, the word traveled fast and the rest was history. After doing so many projects, we decided to make it official and started our company. Our business has been a huge blessing for us! We've managed to turn our hobbies into something that helps others celebrate big moments in their lives. It has been an honor and privilege to be a part of those milestones and for that, we are all so grateful. There's nothing like doing what you love to do and making others smile while you're doing it. Read more>>
Kristen Cosey

I grew up on the south side of Chicago. I didn't have the best childhood so reading was one of my favorite outlets. I always imagined I was the characters in my favorite books. I guess you could say I lived the life I envisioned for myself through stories. Some of my favorite series as a child to read were the Junie B. Jones series and the Bluford series. I was always excited when a new story from either of these series was available in the library. I read every book. My mom tried her best to keep me and my siblings out of the streets so we spent a lot of time in the library. I began looking forward to the next occasion. I felt there was a lack of diversity when it came to stories about growing up in the hood and some real-life concerns that plagued the hood. One of those was being a 'product of your environment.' I didn't believe in that. I began writing stories to shed light on real-life issues that not only plagues low-income neighborhoods but people in general that's often overlooked. I wrote and published my first story at age 25. The story told about some struggles I encountered growing up with an alcoholic and abusive father and navigating the streets of Chicago. Read more>>
Ross Peterkin

How I started in the Atlanta art scene was through a co-worker that was involved in Free Art Friday Atlanta. This is where some of the local artists around Atlanta would leave their art in random places around Atlanta and post hints on IG like a scavenger hunt. Being involved in this, I meet a lot of local artists and came across graffiti around town and I know I wanted to try my hand with this new art style… So I grab some spray paint and went down to Krog street tunnel and did my first piece wasn't the best but I was hooked from there. I am currently doing local vendor markets around Atlanta and also be commissioned to do murals and custom artwork. Read more>>
Alexis Arvin

My love of makeup & story begins in high school. I always had a deep love for beauty & it grew when my mom started selling Mary Kay & I would take her samples to school & have friends lined up outside of the bathroom to do their makeup. Fast forward to a year before moving to Atlanta, I ran into a lady whose son played on the HBO show house of cards & she begged me to do her makeup & spoke life in my hobby stating that a friend of hers was Oprahs makeup artist & pushed me to pursue my craft full time. I moved to Atlanta, graduated from Health & Style Institute with a background in Esthetics & joined the Mac Cosmetics team to further my life path…the rest is history in the making!! Read more>>
Kenniya Harper

Back in 2016 – Freshman year of college, I wanted to learn how to fill my eyebrows in. That led me into trying to do full face makeup. I would sit in front of my laptop watching YouTube tutorials following along with them. I kept practicing, I would do this multiple times a week. I knew I was improving because I would do my makeup before going to the mall and I started getting compliments on it. That's what gave me the okay to keep going. 2018 I dropped out of college and went back home. I started practicing on my mom and I had a friend that would let me practice on her. Then I met people at work who would come over so I could do their makeup. I started taking pictures and posting it. I would actually have people reaching out to book appointments here and there. That's when I knew it was something I should actually take serious and invest in. I got booked to do homecoming makeup, prom makeup, an engagement photoshoot all that year. 2019 I was booked for my first bridal party! From there, things started to take off. I was working a full-time job doing inside sales and I would call off anytime someone wanted to book with me. I decided to take a leap of faith and eventually quit my full-time job to do makeup full time. Read more>>
Jordan Brown

I have been a literature lover and writer my whole life. I earned my Bachelor's in English Literature from Morehouse College in 2010 and went into education. In 2018, I read Julia Cameron's "The Artist's Way", and it caused a creative unblocking within me. All that I had studied and seen my whole life came pouring out of me like a wave through my art. I decided then, this is what I want to do with my life – use my talents to make art that can change the world. Read more>>
James Butler

Blessings everybody my name is James Butler better known in the music industry as "Murk Tha Engineer." I am a Music producer/ Artist manager from Columbus Georgia based in Atlanta Georgia. I have been working within the music industry for over 15 years mostly for engineering and producing. I became involved in music at an early age while singing in the church choir. I was so fascinated in the way music made people feel, the way it makes me feel. It's funny because when I was younger, I thought I was crazy because every time I would listen to music, no matter the genre or sound, I would always see colors. It wasn't until I was 24 I understood this to be identified as Chromesthesia – a type of synesthesia that causes an acoustic perception to evoke a visual experience. Meaning every time I heard music, I would associate it and its emotion to a color. Read more>>