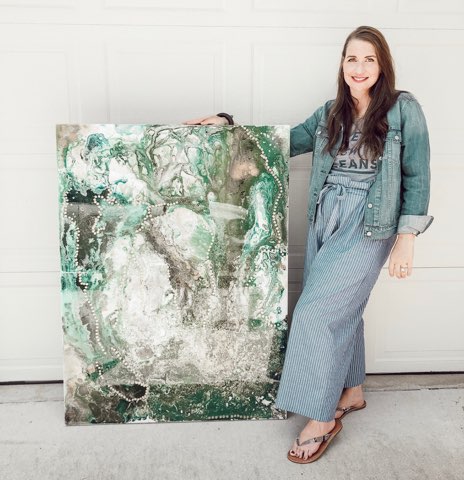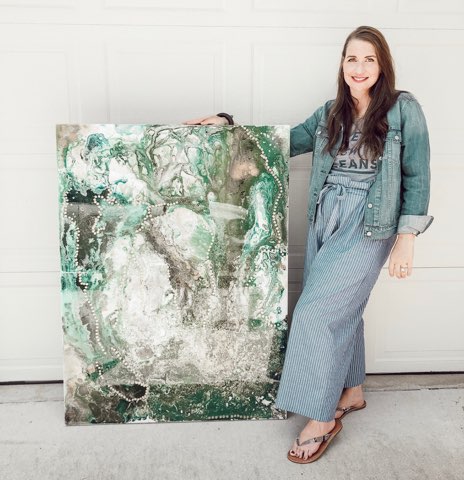 Today we'd like to introduce you to Jill Ford.
Jill, please share your story with us. How did you get to where you are today?
In May of 2018, tragedy struck my family when my eight-month-old daughter, Everly James Ford passed away unexpectedly of SIDS. This forever altered my perspective on life, love and the energy I am putting out into this world. Everly passing away has forever changed my world. It would be so easy to slip back into the comfort of every day. And yet, I feel like I'm standing on the edge of a crumbling cliff slowly giving away under my feet. This event has forced me into a new life, a new "normal " if you will. Although I don't think our lives will ever be normal again, our baby girl changed us forever. She expanded my heart… tore me wide open.
We are deeply grieving and my art is my refuge. It provides me with a safe space to release my grief and pour love into the world. When I feel peaceful and joy, she shows up. When I feel deep grief and sadness, she doesn't. She's my biggest teacher. Still. I'm learning from her each day and her message is clear. Everly is always around me and she doesn't want me to be sad. She wants me to celebrate her. I celebrate her through my art and sharing my art with the world.
After Everly's death, my care-ability is pretty low. I'm no longer concerned with if everyone likes my work or not. I'm healing through the creation of each piece and I'm proud. Humbled. Grateful for a gift that God gave me. I put special prayers into each piece, soft, breathy whispers of love. It's a soul transfer of energy if you will.
This is the journey I am on and am so grateful for the opportunity to creatively express my healing. Sales from each painting go toward our adoption fund. This is an exciting journey we are on and the next step in our healing.
Overall, has it been relatively smooth? If not, what were some of the struggles along the way?
Nothing about the road I've been on has been smooth and that's where my art and faith take over for healing. Of course, my biggest struggle, and the biggest struggle I will ever experience in my lifetime is the unexpected loss of my daughter. Prior to Everly passing, I cared a great deal about what others thought about my work. It censored my creativity more than it fed me creatively. I almost quit my art because I didn't think I was good enough. After we lost Everly, my care-ability hit rock bottom. When you've lost everything, you have nowhere to go and nothing, nothing at all, matters.
We have a choice every day. Every day we get to wake up and live. Be proud of what you create for your life and the world.
Please tell us about JGF Collective.
My process when I create my art comes from breathing and healing.
I meditate to center myself and channel my energy before pouring it onto the canvas: both literally and figuratively. I combine my love of yoga and breath work while painting and use only my breath to move the paint instead of traditional paintbrushes. I call this technique Prana Painting; my work has healing frequencies infused because of the sheer power of intention pouring out through my breath. The frequency of the intention I hold while painting is carried vibrationally through my breath onto the canvas making the pieces visually stimulating, bringing a unique energy to each piece.
I am deeply connected to the element of water. Both of my babies were born into water. Water is essential to life and it doesn't stop, can't stop, won't stop, no matter the obstacles in its path. It has the power to heal and wash all things new or destroy. There is something sacred to being around, being in and feeling the water. The power of our words and intentions hold information that can be transmitted via water.
I begin by putting several layers of paint, creating depth and different textures within each piece. I finish each piece with an epoxy resin protective coating then hand cure them with fire. Once the resin dries, I embellish each piece with pointillism while holding an intention set for the client and piece.
Love, breath, and peace is drawn in and exhaled into each and every piece of art.
Who have you been inspired by?
I'm inspired by the women that have come before me. I'm deeply connected to my Native American ancestry and recently discovered my lineage. I am part of the Santa Rosa Creek Indian tribe through the line of Ada Taylor. I've discovered a lineage of child lose in my family. Because this child loses keeps repeating itself, I'm the one who will heal the lose by handling it differently. I am healing through changing the perception of child lose, talking about my experience openly, and deeply connecting to myself and my art through this process.
Pricing:
36" x 48" | original: $1200 | commission: $1380
24" x 48" | original: $800 | commission: $920
24" x 24" | original: $500 | commission: $575
16" x 20" | original: $300 | commission: $345
11" x 14" | original: $175 | commission: $200
12" x 12" | original: $150 | commission: $175
Contact Info:
Getting in touch: VoyageATL is built on recommendations from the community; it's how we uncover hidden gems, so if you know someone who deserves recognition please let us know here.