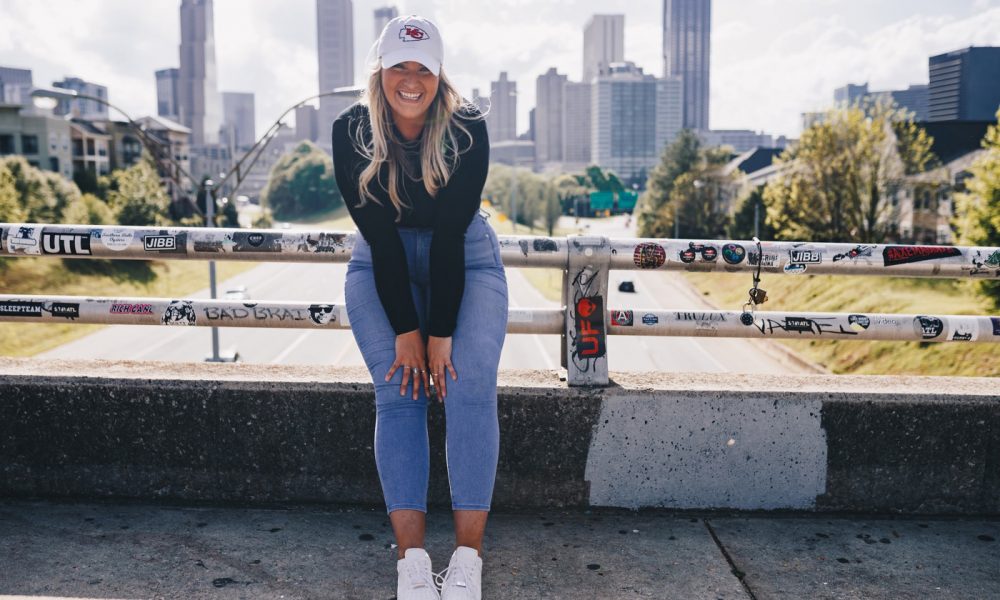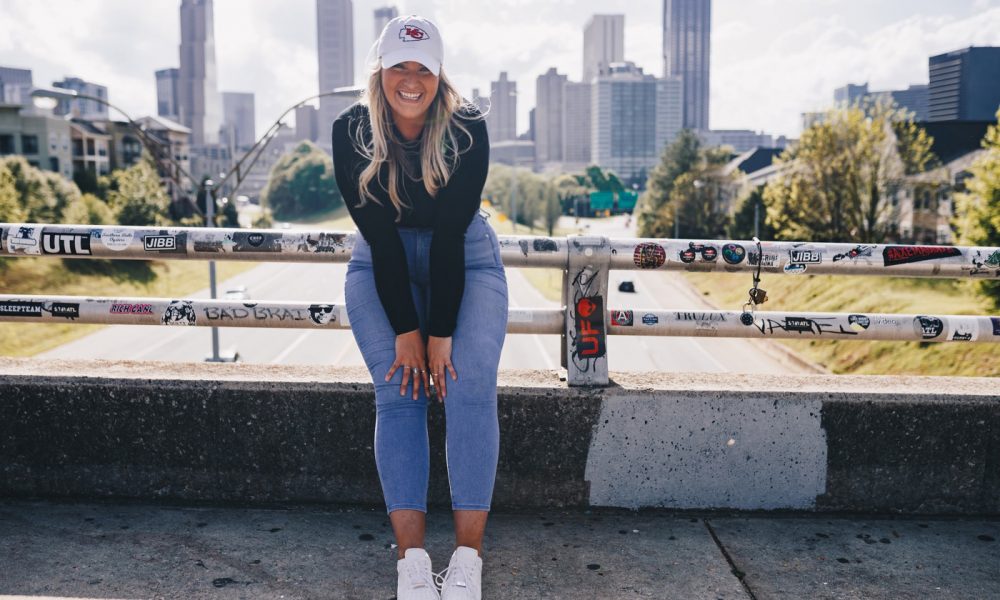 Today we'd like to introduce you to Stacey ward.
Stacey, before we jump into specific questions about your work, why don't you give us some details about you and your story.
I've always loved sports and have watched/played them my whole life. I made it to college as a softball pitcher (two years of it) before a season-ending shoulder injury. I ended up at my dream school, the University of Georgia. Even though my softball career was over, I knew that wasn't going to end my sports career. Since I was two years late to working in college athletics, I knew it would be tough to work with Georgia Athletics – but I shot my shot anyway.
I ended up talking to the Athletic Director, Claude Felton, who agreed to meet up with a random girl who transferred to Georgia and found his email on a website. He really gave me the time of day. He was so nice and welcoming. And not kidding.. THAT day he introduced me to my boss, Jen Galas. She ended up being my boss for the remaining 2.5 years I stayed in Athens. I covered Georgia Athletics on all digital platforms. It went from doing Instagram stories to taking photos on the sidelines of Georgia Football games, to developing one of my biggest passions – graphic design. I wouldn't have discovered this was a passion of mine without Jen. I love being creative and I wanted to be so good so fast. But it was really hard. I mean really hard.
After hours and hours of YouTube videos and stalking graphic designers' work – I got to a point where I felt confident enough in what I could produce. My last month with Georgia Athletics became my first month with my favorite team: the Atlanta Falcons. I was a content production assistant (fancy term for intern lol) for their digital team. It didn't matter to me that I was an intern. I was working for the best team in the world. I was on cloud9. I was happy to go into work every single day. I worked more hours than I should have, but I loved it so much that it all made up for it. I felt blessed and lucky and could not get over how they chose ME. I did a little everything while working with them – from editing the roster and publishing stories to the website to taking photos of the players at practice/community events/pregame warmups to shooting a video series in the locker room after practice during the week, to making graphics for their social platforms and much more.
I was incredibly lucky to work with all of these departments within my favorite team. Matt Tabeek, manager of editorial content, was probably my biggest fan and mentor. He was honest, he believed in me and he pushed me harder than anyone had ever done before. Though I know he most likely wished I did a little more editorial content lol, he always saw my potential and gave me every opportunity he could to let me succeed. & Kara Durrette, the Falcons team photographer, was more than a boss to me. She was a friend. She trusted me. TRUST. The biggest and most powerful thing I have found in this industry thus far – yep, she gave THAT to me. I was honored more than anything. I'll never forget her and what she did for me.
There were so many people apart of my journey at the Falcons and the list could go on and on. But the last person I have to give credit to is Morgan Shaw-Parker, VP and Chief Marketing Officer of AMB Sports (that includes Falcons, Atlanta United, Mercedes-Benz Stadium & more!). This is a badass woman. I remember the first day I met her. I was so nervous. "A woman with so much power should never give me the time of day" – young me. Jokes on me, she was the NICEST and warmest executive I have ever been around or met. She didn't care what my position was, where I came from, or who I reported to. She was interested in me and what I wanted to do with my future career. She (without knowing any of the work I have ever done) believed in me. She gave me advice and honestly was there for me when I needed it the most.
Who would have thought? This woman has done more for me and my career than she will ever know. She has inspired me beyond measures with not only her workplace/status but as a human being. Because of my experience with her, I know how it feels to be the scared little intern talking to a woman of power. My future self will now know how to comfort that little girl (or boy) and make them feel worthy bc that's what she did to me. She proved my worth to myself… Something I'll never be able to repay her for!
Looking back, a full-time job with the Falcons would have been my absolute dream – and one I thought I could attain. But, my naive self was quick to find out that full-time jobs don't just open up out of the blue. I am so grateful for my opportunity with this team and BEST organization in sports. This organization knows how to treat their employees and make everyone feel apart of the team. Heck, it's not often that a head coach in the NFL will stop you in the hallway and ask you how YOUR day is going. Dan Quinn, you're the best. And it ALL comes from the top of the top – owner, Arthur Blank. And I swear I am not saying any of this bc the Falcons are my team, I mean every word. I have been other places and have exact comparisons I can make to this and it's just not even close. So thank you, Mr. Blank, for building a world-class organization.
My next step was developing ONE of my skills because I thought it would make me more marketable to teams as a full-time employee. I decided to let go of my "full time" dreams and step out on a limb and apply for a graphic design assistant (another fancy title for intern) for the Kansas City Chiefs. That's right. Your 2019 Super Bowl Champs – I was a graphic designer for them!!!! Ah. What an incredible opportunity. This is where a lot of my growth in my sports design career happened. And I will give 99% of the credit to my boss, Jordan Giesler – Creative Services and Brand manager of the Kansas City Chiefs. Mind. Blown. Now, I said earlier that I had been pushed… well let me tell you, this one pushed me far past my limits.
Sometimes I wanted to breakdown (and did lol), but he had my back the whole way. He 100000 million percent shaped me into the successful graphic designer I am today. Without his help, there's no doubt I would NOT be sitting pretty with a full-time job in sports in LA. I'm going to bring back that word I said earlier. Trust. Never in my life have I felt more trusted than I did by Jordan. Though technically I was an intern, he gave me way more duties and responsibilities than I deserved or signed up for. He saw where I thrived and he let me keep going. He didn't let me stop. He pushed me harder with each project. Even though I doubted myself, he NEVER doubted me. He was my boss and my friend. We could talk for hours. He made me realize how important it is to have a good relationship with your boss, no matter what. Even if we didn't see eye to eye – he let me explain why I saw it one way and never told me I was wrong. (unless he needed to lol) He made it a point from the very beginning that his job and what made him the happiest was where his interns ended up at the end of our time with the Chiefs. Welp, look at me now. Because of him and many others – I am living my dream.
I now work full-time with Fox Sports in LA – specifically covering the NFL. & I'd like to give a special shoutout to Twitter – yes TWITTER – for landing me my first job. I did not search for this job online or apply for it through a website… my boss's boss literally found my profile on twitter and DM'd me. That is how I "met" and shared my story and goals with him. Isn't this a crazy world? A crazy digital world I'm so thankful for. Months later, I am living it up in a dog-friendly *cries* office with some of the best and most hard-working people in the industry. Though my main sport is NFL… Fox Sports covers 20+ other professional and college sports – giving me the opportunity to work with other sports during my "offseason," which is a bonus!
The majority of my work at Fox Sports is graphic design. But, I also produce content and ideas for all of our social platforms and even have the chance to cover events (just got back from the NFL combine!) while having the chance to interact with players and coaches. The work culture at Fox Sports (digital) is one most people in the sports industry would dream of. We laugh together (most importantly), we meme together, we share long nights together, we yell at the TV when sports teams are being dumb together, and we probably will cry together (haven't gotten there quite yet but I haven't experienced a World Cup yet lol) all while having an LA beach a couple miles away. Though I have only just now completed my third month here (wow), it feels like home. I could not ask for a better boss (Bryce Gibson) and coworkers. These guys make the long hours just that much better. Bryce is flexible and understanding and wants the same goals that I want for myself. He has my back and values my opinion. What else could you ask for??? This all just does not feel like real life.
My journey here is one I am tremendously grateful for. I am lucky. I am blessed. I have come across so many people that have helped shape my path and the amount of thank yous these people deserve is far more than what I can give them. Thank you to everyone. To those who believe in me, but especially to those who didn't. Because those who didn't are part of the reason I pushed myself to get to where I am today.
We'd love to hear more about what sets you apart from others.
I don't know exactly what sets me apart from others, but I do know that I like to pride myself in just being a good, honest person like my parents raised me to me. Someone who is kind and helpful to others. I have had so many people help me along my way (and some that did not, but that also made me better), and I cannot wait to pay it forward as my career unfolds. I cannot wait to be someone's future role model.
Are there any apps, books, podcasts or other resources that you've benefited from using?
Twitter is my favorite app! Always get a good laugh!
Contact Info:
Address: FOX Sports
12181 Bluff Creek Drive
Playa Vista, CA 90094
Email: stacey.ward@fox.com
Suggest a story: VoyageATL is built on recommendations from the community; it's how we uncover hidden gems, so if you or someone you know deserves recognition please let us know here.