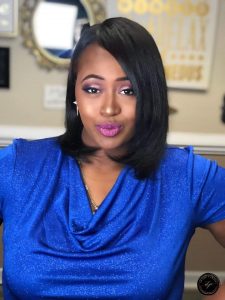 Today we'd like to introduce you to Tameka Nichole.
Hi Tameka, thanks for joining us today. We'd love for you to start by introducing yourself.
I'm your Beauty Entertainer, I am an Esthetician, Promoter, Radio Account Executive and event host to all music enthusiasts. When I am not involved in brand consulting, independent artist development, volunteering time to mental health community support services, assisting with several non-profits, most recently Atlanta, GA's "Every Girl Shines", I spend most of my time traveling promoting beauty with my business, Perfections by Tameka Nichole, aided by over a decade of experience in the industry as a professional eyebrow artist where my focus is grooming eyebrows naturally with my #NoWaxNoThread Hair Removal technique privately one on one with all the best in music driven by mood.
I began my entertainment career while attending NCCU with the campus student radio station, "AudioNet Campus Access Radio", then becoming an intern for Radio One of Raleigh Radio station, later using this opportunity to venture into the station's promotion and marketing, leading me to my most recent career in radio as 105.5 FM The King Publicist and Radio Account Executive. When it comes to the music, which led to all in entertainment, I began my music interest at the early age of five when my grandmother, Lillie Mae Balmer moved me to the country town of Jackson, NC, after leaving the city of Norfolk, VA, where all of my leisure time in the woods away from the city I grew up in, I became dedicated to radio and beauty.
Growing up on 103 Jamz (Norfolk, VA) and FOXY (Raleigh) I sat by the radio every night switching back and forth in between the classics on FOXY and the current on 103 Jamz. I'd anticipate World Radio Premiers just to record the latest songs I liked on my "Just For Me" Jingle cassette tapes which came free in my hair relaxer kit, making a way to continuously hear my favorite songs on repeat while doing something in beauty, whether it was nails or hair, I fed my desire for both. After years of cultivating, in 2017, I decided to merge and become one with the loves of my life. Beauty & Entertainment rebranded creating, "Tameka Nichole the Brand," coining myself as "Your Beauty Entertainer," where the statement verbally expresses the combination of my life-time experiences within the beauty and entertainment industry.
My main goal is to promote that beauty is within while understanding that in every life experience. Beauty is a mindset. Beauty, it's really all about self-care, your mood, and aiding to that with a hypnotic groove of Classic Soul and R&B, you know, like the kind you grew up listening to. Playing those tracks that put you in the mood of getting up out of your seat, grabbing the nearest item resembling a microphone, singing and dancing with yourself in front of your mirror admiring your beauty, having fun just entertaining yourself. As your Beauty Entertainer, I offer a full-throttle personality, providing all entertaining experiences full of beauty and entertainment, divulging everyday hacks in both beautification and music for women and men to continually keep the party going in the world of dancing and mingling over a good tune.
Can you talk to us a bit about the challenges and lessons you've learned along the way. Looking back, would you say it's been easy or smooth in retrospect?
My road has not been so smooth with being a motherless and fatherless child. Having a mother incarcerated practically all my life (Currently serving Life Without the Possibility of Parole) who shares with you on your day of graduation from college that she has no idea of who your father is, growing up with two brothers (older and younger) who knew there fathers, as a young girl even now as an adult that left major inadequate feelings for someone with such an explosive persona like mine. God blessed me with a loving maternal grandmother, Lillie Mae Balmer, whom I spoke of earlier, who gained custody of me at just two weeks old. Had it not been for her selflessness, I am not so certain of who or where I would be today, so in regards to that struggle, I have no complaints, just feelings of purpose. Were there obstacles? Yes. Feelings of abandonment of a mother, no father, no paternal family, no love from a man growing up, no feelings of being a daddy's girl or having a man that is in that position to look to for any help in male situations. Challenges? Yes. Fights in middle school with locals because of things my mother did in our small town. Adults that knew her and if I behaved they would always yell, "You're gonna be just like your mother!" That statement became my driving force to NEVER BE LIKE ANYTHING SHE, my mother, WAS!
Can you tell our readers more about what you do and what you think sets you apart from others?
Since the age of 12, I have been invested in Eyebrows. Became a Licensed Esthetician in 2009, putting thousands into myself and my business, Perfections by Tameka Nichole for certification and licensures to be taken seriously about my self-taught skills in eyebrows. This investment allowed profit as a entrepreneur in my love for Natural Eyebrow Artistry aiding in my education to travel showcasing my expertise on tour hosting and organizing "Brows in Any City" pop up shops educating upon proper brow care, giving me the ability to spread beauty to many in a matter of minutes by simple brow grooming, and if necessary, one to two make up enhancements, causing each client to immediately exude positive feelings about self. My specialty in Esthetics & Make-Up Artistry is Eyebrows, my niche, natural brow hair grooming and removal by single hair extraction, a #NoWaxNoThread method, that is what I am known for, and what sets me apart from others in the eyebrow industry.
Before becoming a licensed professional working as Brow Arch Expert for two top retail Eyebrow Service Providers in the US, Anastasia of Beverly Hills and Benefit San Francisco, I had humble beginnings.  Allow me to elaborate on my Atlanta beginnings within the beauty industry. One month in August of 2008, there was a casting call held by Total Media Group at a Downtown Atlanta Marriott hotel that I was employed with. TMG hosted the largest beauty platform at the Bronner Brothers Hair Shows throughout the US, allowing me to stumble into behind the scenes of the largest beauty convention known in the US. I was invited out by TMG to volunteer with the production crew of their platform stage. With my work ethic and tenacious attitude, I formed a great business relationship with Ericka Kay Turner-Cannida who was their Model Recruiter, one of the reasons why I was invited back for a total of 4 years after as a hired staff member of TMG as a Key Makeup artist. Ericka Kay saw something in and believed in me so much that she continued our relationship, inviting me to do my first credited feature as Makeup Artist for an issue of 'Sophisticate Black Hair.' Ericka Kay encouraged me to take my beauty talents to Greenbrier Mall here in Atlanta, GA and apply to do eyebrows, so I took her advice.
From that, I introduced myself to a area Professional Brow Artist, my only mentor in the Eyebrow Industry, Veteran Brow Artist, Atlanta Native, Joi Mebane who hired me and allowed me to work without a license after training me on her techniques in brows off my positive attitude, interest in brow artistry and my ability to be assertive, sell and expressively promote her brand to everyone, including men who would walk by then named kiosk, Color Me Beautiful by Joi, now The Look By Joi. I couldn't believe it. Here I was after years of having a passion for and interest in beauty since elementary school that I got to be so fortunate to work in this industry is one of the most recognized cities for Beauty Advances without any licensure because at the time, the market of eyebrows was not as popular as it is here in 2021 and no license for brow grooming was necessary to provide eyebrow services in 2008 in Atlanta.
Currently, my daily working career consists of several other projects beyond what's been mentioned, giving me satisfaction in supporting all as Your Beauty Entertainer, a business consultant serving many businesses locally and nationally. Aiding in lifestyle alternatives with BeautyBy.Bulavita.com beauty, health and wellness supplements offering a residual income business with a focus on Muscadine and its positive benefits in being the best superfood with the highest source of antioxidants in the world, supporting investments into the future "Balmer Estates Herbal Farm & Muscadine Vineyard". PussyGaloreCosmetics.com vegan, organic and botanically crafted in the United States cosmetic brand as the brand chief operating officer, licensed esthetician and driving force behind the brand.  Artist Development and Public Relations Coordinator for ARuthProctor.com. SCHouseOfWings.com as the restaurant Director of Online Media Marketing since opening to the public. Court Show Television Production Assistant DivorceCourt.com . Everythang Nola Cafe A South Atlanta Staple, Social Media Visual Arts Artist. Last but definitely not least, Featured Visiting Eyebrow artist at Diamonds N the Rough Nail Salon, South Atlanta's longest operating Black Owned Nail Salon.
What does success mean to you?
Success, I'm going to make reference to a new song recently added to my Spotify Playlist, success is being at Peace. Peaceful (Slim Thug, 2016) When you've personally achieved success, it is something that is of fulfillment and satisfactory to you in your life at any given moment. That puts you at peace with yourself. Having Peace with self is the ultimate success in life. Once you're at Peace, you're able to relax in your wins of that individual achievement of success.
I remind myself of this, "I told myself I would never stop achieving the unattainable, I took a chance and Perfected it into a craft not so much of a gamble because I'm a woman able to do anything, not perfect but perfecting my imPERFECTIONS, and I'm HERE NOW!!!"
When not traveling providing mobile on location services, Perfections by Tameka Nichole services inside these cites and salons:
Atlanta, GA
Diamonds N The Rough Nail Salon
1190 Fairburn Rd SW, Atlanta, GA 30331
Raleigh, NC
Rapheal's Beauty Bar & Hair Salon
717 E Martin St, Raleigh, NC 27601
Durham, NC
Kreations by Kiki | Tips & Needles Nail Studio
1230 Avondale Dr, Durham, NC 27701
Pricing:
$50 Perfections Signature Brow Arch & Tint
$40 Perfections Signature Brow Arch & Enhancement
$30 Perfections Signature No Wax No Thread
$20 Entertainment and Business Consulting w. Your Beauty Entertainer
Contact Info:
Image Credits:
Brown Boy Photography & Graphics, MHolloway Photography, In God's Image Photography, Eyebrows Perfections by Tameka Nichole Make Up – Face It Make Up Artistry by Jameeah and In God's Image Make Up Artistry
Suggest a Story:
 VoyageATL is built on recommendations from the community; it's how we uncover hidden gems, so if you or someone you know deserves recognition please let us know 
here.