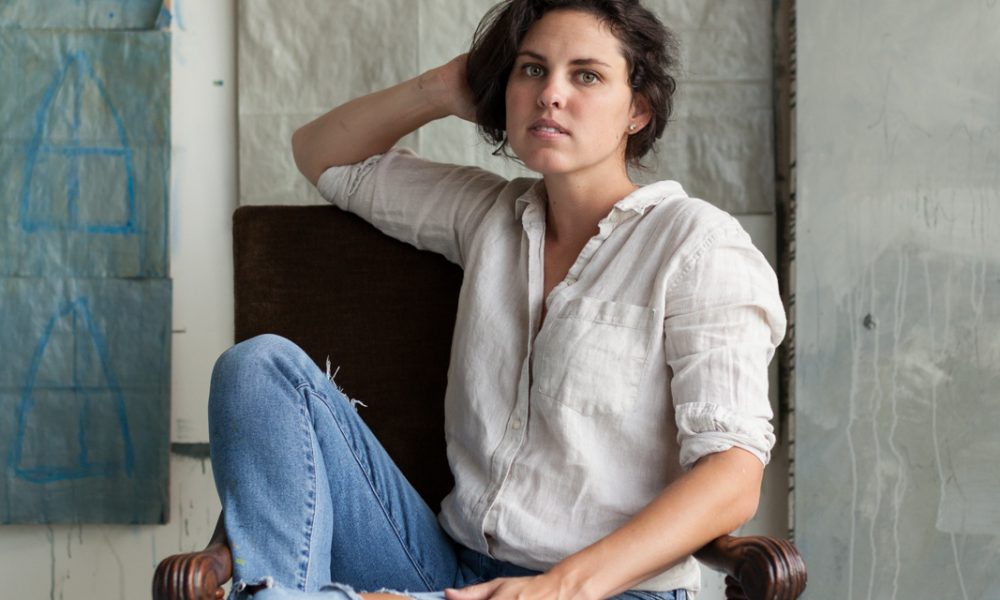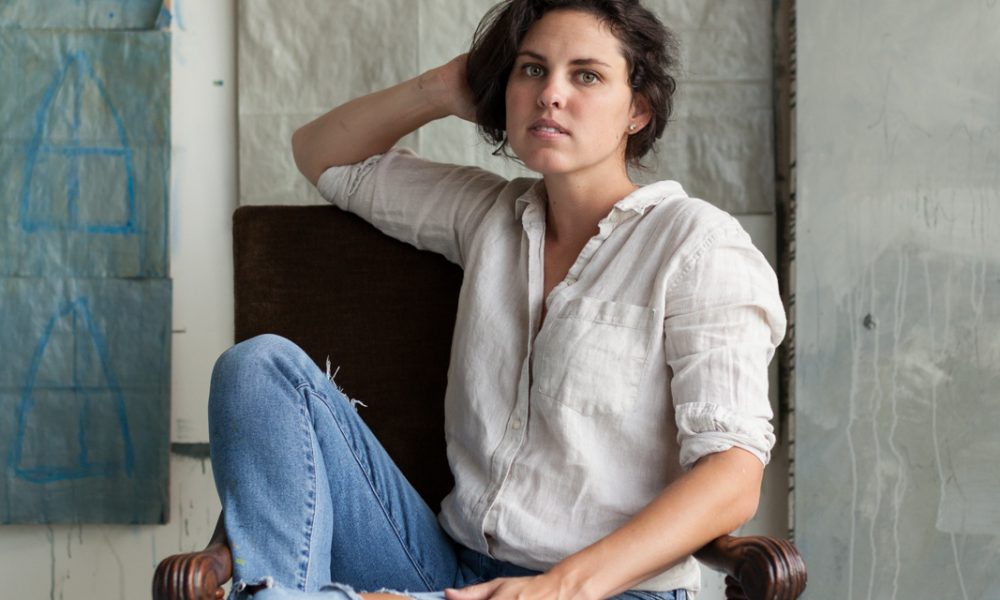 Today we'd like to introduce you to Addie Chapin.
Thanks for sharing your story with us Addie. So, let's start at the beginning and we can move on from there.
I began, probably like most people do, drawing on the back of a church bulletin, on a napkin or a piece of paper riding in the backseat of my parent's car. It always felt very natural to me to use my hands, to draw, to build, and use whatever was at my disposal. It could be from the backyard, the attic, or my mom's closet. However, 'to be an artist' was not something I could readily visualize, at least not in the small town where I grew up. I'm from South Georgia–Albany, specifically. Almost all of my family is there and in Dawson, a few miles up the road. I love the landscape—sure, it's flat and humid, and there's not a lot do to, but it is absolutely beautiful. An architect I've long-admired once said that the combination of heat, isolation, and boredom is an incredible catalyst for creativity. He was raised in South Alabama, a close cousin of my upbringing. Nothing has resonated with me and my creative process more than that statement. In a place with such apparent limitations, what we don't see or don't have, we create. Either in our minds or in our environments. So, that's what I did. 
Like a lot of families who want security and stability for their children, I was meant to find a responsible application for my creativity. After graduating high school, I enrolled at Georgia Tech as an architecture student, but was very quickly inundated with 'form and function' and computers. I was quickly reprimanded for my 'artistry' during critiques. My renderings, even simple sketches of urban elevations, were really just grown-up versions of the imaginary worlds I drew out as a child. I quickly realized I was in the wrong place. It was a good place, but the wrong place for me. The complete opposite of thriving. If I'm honest, I was more intrigued by the guy they spoke about at orientation, Frank Gordy who dropped out of the 'North Ave. Trade School' not long after enrolling to start the burger joint across the street, now famously known as the Varsity. I think they were using him as an example of what not to do, 'Don't be like Frank!' but in hindsight, I think I felt I had more in common with the Varsity guy than anyone else in that room. A few semesters later, I transferred to the University of Georgia, and I continued pursuing creative opportunities during school and outside of school to 'scratch the itch'. And I painted on my own, for myself, all along the way. Thanks to a very willing professor, I proposed an internship with Anthropologie as a way to learn about sustainability in retail design and somehow received credit. I worked with a girl named Audrey who was the head display coordinator. I think she was also one of the first SCAD Atlanta graduate students in sculpture. She worked early in the morning in dimly lit workshop, occupying leftover space in a back hallway. It was crammed full of table saws, scraps of fabric, spray paint, strange forms and shapes. I was in heaven. I didn't know people could do this kind of stuff and actually get paid for it. I couldn't believe they hired me. It was like the lights turned on, and I felt freedom to pursue a path I loved that I'd been resisting for so long. I knew it would not be a linear one, but I owed it to myself to listen and give it my full attention. It was a place I could thrive. From there, I did a lot of things, piecing together my skills, learning new things, absorbing everything like a sponge, and eventually landing in Chattanooga, TN. It was there I decided to devote myself full-time to painting–something I'd always held very close to my chest—I rented a tiny corner studio downtown and essentially holed myself up for a year or two, experimenting with materials, finding my voice, and building a body of work I was proud of. Some folks from Nashville came by one day to see my studio mate, and then asked me to be in a show in Nashville. I was painfully reluctant to share my work…but being nine months pregnant and sick and tired of being pregnant, running on no sleep and french fries, I said sure. That was really the beginning of it.
Has it been a smooth road?
I was my own biggest obstacle in the beginning. I was incredibly resistant to share my work, this thing I had always held so close to my chest. The first time I showed, I marked every painting as 'sold' because I couldn't bear to let it go. It felt like an extension of me, and the vulnerability of sharing that was, more or less, like walking through a room naked. God, I'm cringing now just thinking about it. 
I was fortunate to have some wonderful opportunities at the beginning of my painting career—Rodney Simmons, the proprietor and visionary behind Revival Home in Chattanooga, TN asked if he could host an opening for me and show my work. He, an artist in his own right, gave me total freedom to create whatever I wanted. As big as I wanted, as weird as I wanted. There were no parameters. He knew the importance of defining your voice–and he so graciously gave me the platform to do that, and share it in a way that was handled with such respect, care, and perfection. From the outset, I've felt freedom to create what I wanted and that was rewarded and met with such a positive response—really what more can you ask for? The fact that I can continue to make more work and run with my ideas. It is not lost on me how fortunate I am. Rodney and his partner Billy Woodall continue to exhibit my art at REVIVAL Home in Chattanooga, TN. Everyone there is so special to me. They've walked with me from the very beginning. 
Early on, I made a commitment to make the work I wanted to make—and not what others wanted me to make. Of course, that's not always foolproof. It's a constant battle for anyone to find that balance, regardless of your trade, while still needing to pay the bills and meet practical demands. But I was very aware of the hamster wheel of doing less-than work, taking random commissions of a long lost pet and slowly becoming a slave to the thing that initially gave you freedom. I felt a strong need to protect my art, saying NO to a lot of things. So I took whatever odd job I needed to in order to keep me from compromising my own creative development. It turns out, all those 'odd jobs' have actually bolstered my creativity and allowed me to learn new skills that have affected my art in crazy and unexpected ways. For several years I worked on a handful of productions as an art director, set decorator, various art department roles. I really love being on a team, and it's a great balance to working alone in the studio. The pace is so fast and crazy, the work is scrappy, coming up with ideas and solutions on the fly– it's incredibly energizing (and tiring). My work in that realm has waned a bit, but I still jump on from time to time. I've worked with national campaigns for Organic Valley, Crayola, Splenda, and others. 
Navigating the art world (whatever that means, I'm not sure) is new territory for me. There is the very tactile, physical world of art, which I love. And then there is the digital platform where art is shared, sold, and talked about. It's mind-boggling. I don't know if I'd have the same success as an independent artist without it. But I also believe it to be a real obstacle to incubating new ideas. I could go on and on–but essentially, if something exists to show you only images it knows you will already like, then it quickly becomes a homogenous system, editing out anything new or different. It is unchallenging. That is the antithesis of creativity. Social media is a fast-moving and efficient vehicle for putting the image of your work into the world, but it is not the work, itself. Art, architecture, sculpture, the decorative arts, all of it—it is something to be ultimately experienced in person, not as an image to be consumed. That's why we all need to get out there and go to galleries, museums, artist studios, historic sites, learn about it. Get curious, and get off your phones!
Tell our readers more, for example what you're most proud of and what sets you apart from others.
I am an artist that utilizes various media to create large-scale paintings and installations. I incorporate a lot of found and repurposed materials to create uncommon expressions of color, composition, and texture. I make a lot of something out of nothing. My works are abstract, using primitive form and repetition to convey a visual narrative. I am hugely inspired by sense of place and am looking for ways to evoke the memory or feeling of an environment within the physical constraints of the canvas. That was a mouthful.
My work can be found in notable private and public collections across the country, including nearby Blackberry Farm, Blackberry Mountain and Atlanta's 725 Ponce.
I am best-known for my larger work, and I frequently collaborate with designers and collectors to create site-specific works that are entirely constructed and imagined for that space. I love a good challenge, using nontraditional materials, big and unusual spaces, wild ideas and seemingly impossible parameters.  I don't want my work to be everywhere—it can't be, I'm just one person. This is my greatest limitation, and what I am most proud of. What a relief that I'm not a machine, right? I think it is a great reminder in a world of immediacy, Amazon Prime, and the pressure to do-as-much-as-you-can-all-the-time—to be a human, to need rest. To me, success is the ability to continue the work I love, alongside raising two small children, trying out new ideas, failing, and sharing whatever comes out of that with all of you. And thanks to my family and closest friends, to whom I owe so much for their support, encouragement and deep understanding that I am almost always never on time.
I also created a project called Excurricular. It is an editorial intersection for artists, architects, writers, culinary professionals, you name it. It is a website with all content captured by disposable camera, wielded by non-photographers from all backgrounds. I found it important to offer people like me a break from their primary creative work, and permission to experiment with a less-familiar medium. It is glorified home-work, really. But it's fun. Last summer I mailed a set of Kodak FunSaver cameras and notebooks to a group of folks and asked them to document their lives over a few weeks. None of them had a chance to review or edit their work. It was a great success. The first go-around is all released on our website. You can see it on www.excurricular.com. And on instagram @excurricular. I've also used this platform to experiment with other media. I directed a short film on the artist George Dawnay, and currently editing another one now on the painter, Matt Kleberg, which will be out soon. 
Let's touch on your thoughts about our city – what do you like the most and least?
High Museum, where I will always spend the longest time in the permanent folk art collection. I love Clementine Hunter's work so much. Also, the recent photography exhibits by Clarence John Laughin and the newly opened Sally Mann retrospective. Five stars. And I love a visit to Spalding Nix Gallery. He curates such interesting artists, juxtaposing established, emerging, and self taught artists in all mediums and styles. It's a cool space. And my friend Kyle Brooks, Mr. Black Cat Tips makes Atlanta really great. His art makes the traffic, and life, not seem so bad. But at the end of the day, I always want to return home. I need plenty of wide-open space and peace and quiet. I live way north of the city, at the very top of Lookout Mountain, where some claim to 'See Seven States' just outside Chattanooga, TN. 
Contact Info:

Image Credit:
Kyle MacKillop
Suggest a story: VoyageATL is built on recommendations from the community; it's how we uncover hidden gems, so if you or someone you know deserves recognition please let us know here.