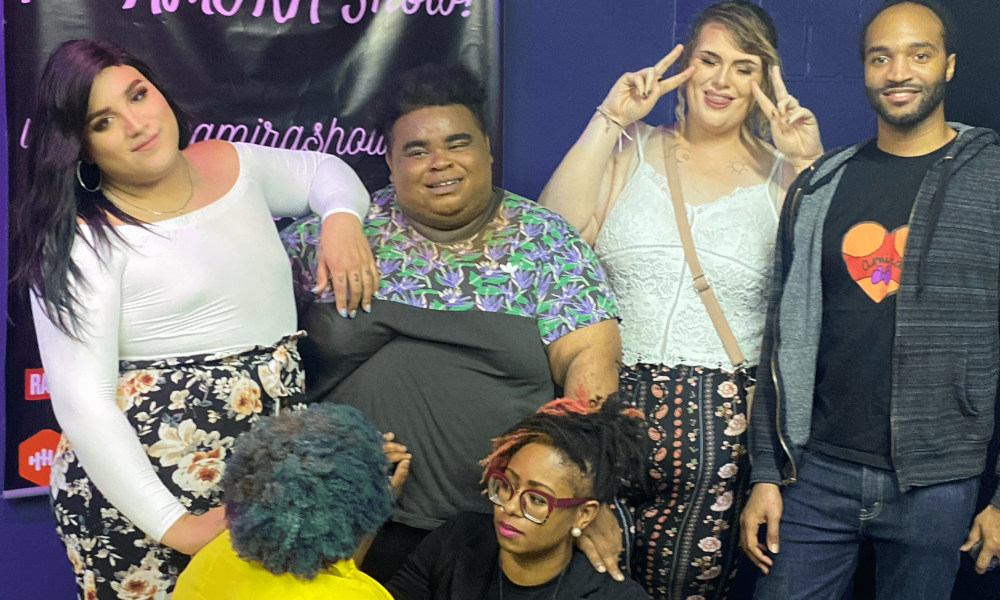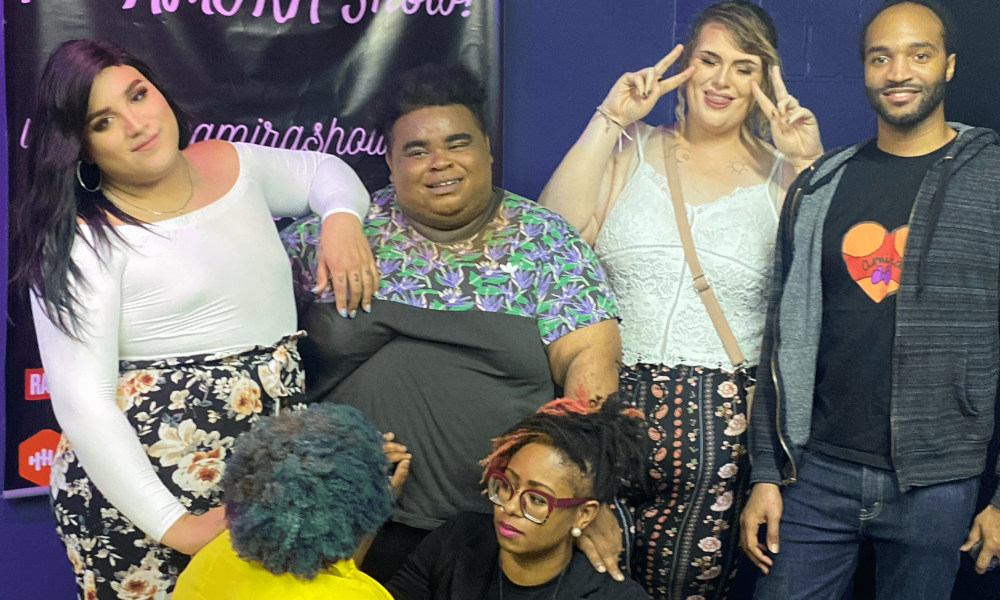 Today we'd like to introduce you to Amira Bryant.
Amira, please share your story with us. How did you get to where you are today?
While I visit often, I haven't lived in Atlanta in years.
I will piggyback off of that in saying I travel a lot and I travel with wherever feels right. My name is Amira Bryant and I identify with a few things. A military brat, a college graduate, a woman, black, bisexual, demisexual, athletic, loud, exhibitionist, sex and body-positive…there are many!
After graduating with my graduate degree from Western Kentucky University, I ran off to live in California. Out there is where I discovered my knack and interest in media and started my radio show, "The AMIRA Show!".
My first show aired on February 23rd, 2018 at Long Beach City College on public radio, KLBC 1610AM, and KCTY.org. I was an official radio show host and engineer. I shortly interned under a local show called The Luc and Cammie Show and they have forever been mentors in my growth in the media industry. Under their wing, I've experienced so many contacts, opportunities and outlets to become the most skilled media correspondent and show host I can be.
My second year in California, I found another opportunity to work as an audio engineer at a local internet station called Nai Studios. While I do this for my own show, my job was to control the audio levels of the microphones and ensure quality sound for the listening parties. I worked with many other shows and continued to collect contacts and experience.
I soon moved back to Kentucky to recap and regroup. California worked me good and I credit the west too much of my spiritual shadow work and light work…leading to my spiritual journey. Don't worry, I still continued "The AMIRA Show!". I worked on building my own platform and website to be a mobile show to move as I please and build the content/fan base I want.
My show has went through some rebranding and refocusing. We currently focus on the umbrella of love and self-love. I focus on the areas of the empowerment of women, sex/sex work, the LGBT+ community and I hold a music segment called TWERK TIME! I have collaborations and partnerships with local community members from different professional areas all tying to themes of my show. I believe in the power of teamwork and building each other up so I find value in this to build my platform and independent radio. I also strive to stand out from other shows around me because while I talking about many things that are taboo to the traditional expectations of a woman, I live the life that I advocate for and support.
Really quick! The AMIRA Show! IS a RADIO show! Not a podcast (lol). I love live radio because it's raw and real.
Today you can find my content and episodes at www.theamirashow.com along with finding episodes on all major platforms. I have seven partnerships/collaborations and I'm currently on a break with the show to move into my next season of the show in July, season 5. I am strengthening partnerships and collaborations, adding new methods of producing content. I'm also working as a body and activist in the war against Louisville Metro Police Department to demand justice for Breonna Taylor's murder. You can find immediate content on Instagram and Twitter – @the1amirashow and Facebook @theamirashow.
Great, so let's dig a little deeper into the story – has it been an easy path overall and if not, what were the challenges you've had to overcome?
Never a smooth road!
I had to further accept who I am and not be afraid of being different. It took courage to show to the world the person I am. A big thing was learning I'm a nudist and exhibitionist.
Aside from that, you know it takes money and jobs to support your dreams. Time and energy. Balance and self-care. It takes 4 hours to create a 5-minute video of an event I attended…sometimes, I just don't even want to LOOK at my laptop. But I've played with ways to take care of myself and not reach burnout, which I often do because I don't properly rest nor I would be kind to myself.
I now work in higher education as a Hall Director at Northern Kentucky University. Just sharing that makes me twitch a little bit because I was afraid of backlash and the institution possibly casting me out because…how could the want a representative like me? Who is happily and freely naked at events and on social media? I've already been in a few situations where students found my Instagram accounts and either made comments to "blackmail" me or they've reported something out of concern to one of my co-workers (their supervisor). It's hard…but my message isn't a bad one…and I can only be myself and ride the higher education ride until the eject me.
My most recent struggle was caused because of thinking too much being in quarantine.
I started to compare myself to someone else with the understanding that we have completely different focuses in our media…but still! Quarantine can get to you! Make you feel like you're not doing enough. I admitted to myself that my insecurity is not being an expert in anything therefore, I was limited in the YouTube content I create. I've surpassed that roadblock, and more YouTube content will be coming soon…but I never feel qualified and confident sometimes in sharing my own opinions because I don't want them to take me in a serious manner that'll steer someone in the wrong direction. Or even harm them! I promote nothin' but love so that is the LAST thing I want to do.
Please tell us about The AMIRA Show!.
I have my radio show called "The AMIRA Show!". I use this platform to support and highlight those who fall into my areas of focus. Under the umbrella of LOVE, I focus on the empowerment of women, sex/sex work and the LGBT+ community. I also have a music segment called TWERK TIME! Because I promote the TWERK!
The show is fun and is easy to listen to. We don't visit mainstream topics too much unless I decide its relevant enough to my audience or we'll touch on them to aid us in a discussion. There's so much bad going on in the world, so I want people to escape for a moment with my slogan, "It's all love.".
I'm currently most known for the fun. Being naked and free about sex and my body. Being positive and uplifting to my fellow sista's and I also only have guests on the show who fall under my categories. I only feature women and members of the LGBT+ community. Some have felt that my decision was limiting…but so what. It's my show and my platform is very specific. Many of these shows out here will interview anyone and many men, so they will ALWAYS have a show to guest on. I'm here for the taboo and minority cases where my audience can feel safe and be authentic knowing I'm here and all about them. We don't have that many platforms for JUST US, so I created one.
I'm most proud of what I previously said because that took some guts since I received some pushback, but I'm also proud to have just come as far as I did. I'm proud that I'm making investments in myself and in the show to improve the quality. I'm also proud to share some of the content that I do and see praise from others. So validating! I'm also proud to have special episodes with some of my collaborators. Some conversations just hit different when you have more influences with you to cover it.
Quick shout out to my collaborators and partners along with anyone I have special episodes with!
I have "The Monthly Check-Up – "Get PrEPPED!" with Dr. Jelani and Carmen Mitchell of the University of Louisville to discuss topics with the black LGBT+ community and HIV. I have "Liquid *Obsession* with local drag queen, Latin Barbie, Heaven where we discuss everything drag and gay. And I also have a monthly collaboration with sexpert NeNe of the podcast, NeNe at Nite where we discuss everything sex. My TWERK TIME! mixes are mixed by the OFFICIAL DJ of The AMIRA Show!, DJ Samosa. Shout out to new collaboration with Bri Renee or Love, Sex and Magic Co. Shout out to my waistbead plug, Donna Storey of A Natural Hair Storey. We promote the usage of waistbeads to become waistbead warriors! And shout out to my friends, Jazzy and Shanti for their podcast, Femme Drip. We'll be having new collaborative content coming soon!
What sets me apart is that I live the life that I support. I don't just talk about these things. I use myself as a muse to learn more and I'm transparent and vulnerable enough to put myself out there to learn for my audience. I'm also big into teamwork like I mentioned earlier. My friends always join me as my biggest support and they're titled, "The SQUADRON!". I often say, when I come up, I'm bringing them with me.
Contact Info:
Image Credit:
Shantii Way, Jazzy Burns, Jonathan Burrell, Anthony Bowman, Heaven, Natalia Jolie, Dee Johnson Photography, Dovie, Baby Blue
Suggest a story: VoyageATL is built on recommendations from the community; it's how we uncover hidden gems, so if you or someone you know deserves recognition please let us know here.