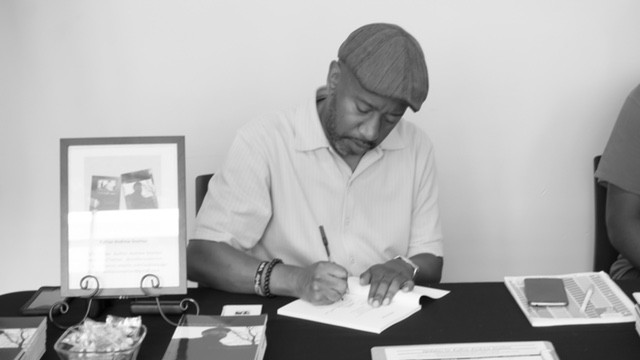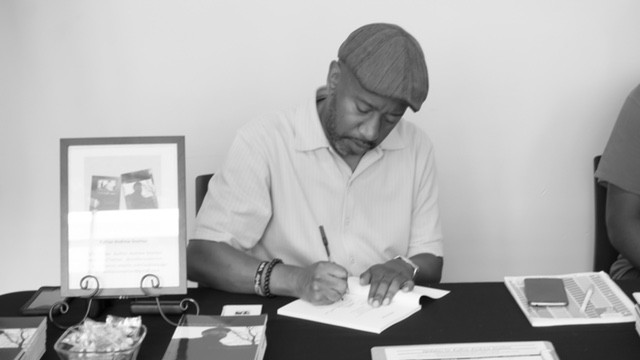 We're so pumped about our conversation with Andrew Snorton. Andrew is an Author, educator, speaker, host and is also a content partner. Content partners help Voyage in so many ways from spreading the word about the work that we do, sponsoring our mission and collaborating with us on content like this.
Originally from New Jersey and now based out of the Atlanta, GA area, via his business (Creative Community Solutions), Andrew's work ranges from education-based services (student tutoring and coaching, ACT/SAT prep), press/media services (for businesses and events), and writing/editing services.
Since 2017, he's published 3 books (2 of which are rated as Top-1000 reads in 2019 by the Author Academy Awards) and recorded 4 audiobooks (The Author's Mixtape audiobook series, which is a 4-volume collection of music and spoken word).
Community-wise, with a track record of work in Metro-Atlanta via The Lead Foundation, Family Food Festival Atlanta, the Alphas of Atlanta, and his membership in the Loganville-Conyers (GA) chapter, he remains engaged in the lives of young people and other audiences. Likewise, his current time as a member of the board of the School of Divinity, Greek Alumni Advisory Board (advisory group for fraternities and sororities), along with memberships with the Alumni Council, Alumni in Admissions, Deacon Club, and former president of the Association of Wake Forest University Black Alumni (all based with Wake Forest University), he takes a broader approach with his community engagement.
Check out our conversation with Andrew below.
Describe the thought-process and related work behind The Author's Mixtape audiobook series. What would you find the most fulfilling parts of doing such a series?
The concept behind The Author's Mixtape series is inspired by the mixtape culture found in hip-hop. Often times, an artist will "freestyle" over a track and essentially create his or her verses in an impromptu manner, commonly referred to "straight from the dome".
The same concept is used with all 4 volumes of the audiobook series. All of the tracks are written and recorded in 2-hour studio sessions, so NOTHING is pre-written. Another creative tangent is every track that's recorded is done so in one take.
The first volume (released August 2019) titled "Organic musings from HTooOh" is a 7-track creation of music and spoken word. The topics actually are created by the daughters of the owner of 3rd Level Entertainment Group; they essentially wrote down 20 topics and we randomly pulled them to create the content leading to the audiobook. The second volume (released in February 2020), "Beyond the holi-daze. Beyond history", is an 8-track audiobook incorporating more music, and with the track "No Sir", takes the call-response concept in a direction where on the surface, it sounds like someone is lacking in wisdom and knowledge, but if you go deeper, you realize you cannot judge a book by its cover. "get the Bag" is the 3rd volume in the series (released August 2020) which provides a follow up track to "No Sir" called "Yes Sir", as it provides a creative play on words as well. The current release (released February 2021) is "The Collab"; it's by far my most ambitious edition as I have a guess author, Kris10 Media (Kristen Kinder), to join me. We did 4 individual tracks (I did the intro and 3 tracks and she did the outro and 3 tracks) along with a duet titled "Ear Hustle" (it is truly a deep, insightful, energetic, and revealing piece); again ALL the tracks are done in a freestyle manner (music and spoken word).
Clearly, the freestyle nature of the series is the most fulfilling part. To challenge yourself to write and create something that speaks to youth and adults challenges your creative juices. When you listen to it and the impact you have, it's very powerful and humbling. It also lets you know if you can publish something along those lines "under fire", then imagine what else you're capable of doing. It's a creative release to put things on audio that you may not put in a book or e-book, and it just helps in so many ways with my individual writing and connecting on a truly innovative manner to connect with readers and listeners.
You've done poetry, inspirational, and sports based topics with your books. Are there plans to continue in these areas, or do you see yourself taking on different topics and writing formats?
I see myself continuing in these and other areas. While I may not do a follow up to "Deeper than your deepest sleep: thoughts on love with Joseph Snorton" (my 2017 poetry-based release), I do see myself doing another poetry book. To me, poetry can be one of the more powerful writing forms; just as a song and lyric can speak to and with the masses, you can do the same with poetry. Given the look at the action of love through various lenses (i.e. family, friends, community. loved ones past and present, self-reflection, and the spiritual), I can definitely see myself doing another poetry book.
Inspirational and empowering stories are ALWAYS needed, so I anticipate another volume of "9 stories of faith volume 1″(released in 2018). We all can use encouragement and taking a step back from our situations to see what others are going through; it allows for perspective and confidence in working through whatever is going on with us. The cross-faith conversation (the first volume includes reflections from those of Christianity, Islam, and Hinduism) is something we have to continue so we identify common concepts and build better understanding from them, let alone sharing best practices in health and wellness, identifying your support network, and changing your way of thinking.
I do see myself getting back into baseball as "nothing Minor" (released in 2020) is a solid "bridge" for fans of all levels. Taking an intimate look at the players, game-action (with contributions from EmoryRose Photography), along with insight from one of the umpire supervisors and looking at the Negro Southern League Museum (as 2020 is the 100 year anniversary of the Negro Leagues), is something that needs to continue. The player remarks and insights are applicable within and beyond the game, as I find myself using them in my day-to-day.
There are more works to do in these areas, yet you keep your eyes open to take on different topics and writing formats. Doing creatively different things challenges you, your mindset, and it helps you be more versatile as an author. Likewise, reaching more readers who can enjoy what you have to say is a goal for any author, so why not go deeper and cast a larger reading and writing net (so to speak)?
How did The Conversation Corner come about?
If you told me nearly 3 years ago that I'd have a television show and have interviewed people in arts and entertainment, political candidates and officials, community activists, media personalities, and more, I'd have looked at you a little cross-eyed (LOL)!
It truly started with a phone call in August 2018. I just finished as a participating author at the Mississippi Book Festival (Author's Alley) and literally just arrived at my relative's home in Kentucky (as I scheduled a book signing at Fante's Coffee in Louisville, KY) when the host of Say-Tell-Us (a show on the Status Network) reached out to me to be a guest on her show, literally that week. I let her know I could not do so at that time, but if she'd schedule me the next available date/time, I could do it.
On September 11, 2018 (I know, what a day), I had a wonderful time on her show. Little did I realize the network owner and lead producer are in the studio at that time; I received a phone call a few days later to come back to the station not knowing they say something in me to pitch the idea of me hosting a show. After a few weeks of coming up with the format, I hosted my first broadcast of The Conversation Corner (airing every 2nd and 4th Wednesday at 7pm EST on the Status Network/LyveTV channel) on October 24, 2018.
I've been blessed to have some truly extraordinary people from all walks of life (visit https://www.statusnetwork.net/Shows/conversation-corner/ to catch up on all the shows, as you can subscribe as well) and am focused on bringing in some great people doing great things across entertainment, business, community, and more.
You've covered a wide-range of guests across business, entertainment, community, and more, including (but not limited to) those in government (local, state, and federal), artists and entertainers, people in the public sector/nonprofit community, and more. What other people and stories do you see yourself covering on your show?
The sky is the limit when it comes to future guests.
As noted, the base is entertainment, business, community, and more. The "and more" is just that. There are some more good authors out there (I've interviewed fellow authors). There's some outstanding young adults/people (just as I interviewed a young adult who is current attending Howard University and is a member of their swim team; they are the only HBCU [Historically Black College and University] with a Division 1 swim team) and so many other good narratives and people out there whose stories aren't getting any attention. I look at is as my challenge and charge to use my platform to positively amplify these and other people who have something to say that can leave a positive imprint on my viewers and beyond.
To not do so is not making good use of the platforms I have access to, so be prepared!
How do you maintain your focus given at times, there are some tremendous highs and some perilous lows?
One of the main things I do to keep my perspective is my morning routine (well, on most days, LOL).
Typically, the tone is set in the morning. When I wake up, I do my prayer, then proceed to the local park to get my walking in. Generally, I get between 3-4 miles in and use that time to pray some more, reflect, map out my calendar, and then act like a big kid and take photos of the geese and look at the squirrels and birds running and flying around. Even on a cool morning (yes, it sometimes gets cold in Atlanta bright and early in the morning), it just helps me get "rebooted" and prepared for the highs and lows.
You understand this comes with the territory. You'll have your moments (I know I have), but the key is doing what you can to not stay stuck there. Likewise, my weekly live chat, #TheFast15, also helps. I launched it April 1, 2020 (no fooling) as early in the pandemic, I had my struggles; I had nights where my body would not fully shut down or get any rest and even had a few days where I was awake for probably 25 or so hours straight; that CLEARLY is a problem, and I figured other people had the same challenges, so doing a mid-week (Wednesdays at 1:06pm EST) 15 to 20 minute break is not only something to help others in working through our now-normal, but to help me.
Again, the blend of physical and spiritual "decompressing" are things that help me keep things together. Combined with a great support network, these are things that keep me going.
And as I'll tell anyone, whether slow or swift, movement is movement. Even in your tough times, do something. Even taking a moment to pause is something. Take a moment to rest, think, reflect, get some fitness in, and just doing something constructive on ANY level helps!
What insight or advice would you give to someone who is thinking about pursuing a similar path?
To keep it simple, stay grounded, stay humble, and stay hungry.
It means understand there is a higher authority or presence who's bestowed multiple gifts and talents. It is your job to discover them and build upon them to the best of your ability, along with being as consistent as possible in using them for the greater good. When you bless others, you'll bless yourself, and you never know where things can go, so partake of the journey.
Being humble is EXACTLY what it means. Whether it's 2 to 2o2 people who show up for a book signing or event, be grateful as they didn't have to come and support you, let alone share your information with others. Don't let the success you enjoy get to your head too much, or you'll get knocked down to size real quickly. You can and should be confident with things you are doing and/or preparing to do, but keep it in perspective and simply say thank-you to people!
Finally, staying hungry doesn't mean you don't eat any food (LOL); it means as much as you are doing and have accomplished, this is just another step and not the final destination. There's more you can do; there's more people to connect with. There's more greatness inside of you, so keep building on what you've done and get ready for doing even more.
Alright, so before we go, how can our readers connect with you to learn more and show support?
Here are the best ways for people to connect, engage, and support:
Facebook: Author Andrew Snorton via facebook.com/authorasnorton
Instagram: @authorasnorton via instagram.com/authorasnorton/
Twitter: @authorasnorton via twitter.com/authorasnorton
YouTube: Author ASnorton via https://www.youtube.com/channel/UCU3lfUBAuUDkim2cg6PzB9g
The Conversation Corner: https://www.statusnetwork.net/Shows/conversation-corner/
Email: authorasnorton@gmail.com
Site: asnortonccs.wixsite.com/authorpage/
Contact Info: