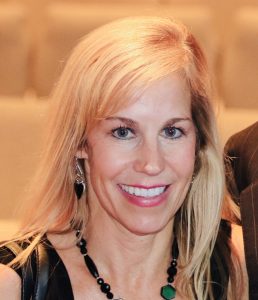 Today we'd like to introduce you to Anne Boudreau.
Anne, let's start with your story. We'd love to hear how you got started and how the journey has been so far.
Life is an adventure—if you choose to view if from this perspective. Every day is an opportunity to choose to do something differently, to enrich your brain by learning and listening, to be kind and compassionate to yourself and to others, and to derive meaning from your life. I am not implying that I have always felt this remarkable freedom and optimism, yet I have always believed that there is something meaningful that I can contribute to this world; my soul has yearned to make a difference by doing something that would help others. And, needless to say, our world today could benefit from uplifting and inspirational dialogue.
Born in Santiago, Chile, I was fortunate to live throughout the world as my father worked for global corporations. At the age of sixteen, I left our home in Germany to attend a boarding school in Connecticut named The Hotchkiss School, after which I attended Northwestern University in Chicago. After graduation, I was offered a position in Atlanta managing a real estate property for a developer. Only a few months into my first job, my direct boss was fired for defrauding the developer of hundreds of thousands of dollars, which I uncovered soon after I began, and the developer gave me the chance to manage the property. This was a thrilling time for a young college graduate who had never before worked in the business world. Little did I know that it was trial- by-never-ending-fire, and I earned more than an MBA in a few short months during which I managed a sizeable staff and a large group of tenants who didn't always pay their rent. It was a deep dive into the cold waters of corporate America.
The writing and communication skills refined during my college years were instrumental to advancing my career and narrowing my focus as a marketing and communications expert. After twenty-one years in the business world, I walked away to write a book that had been percolating in my brain since I was a young child.
Although I had two manuscripts in the works, I decided to research behavioral transformation. I chose this specific topic due to the fact that throughout my life, a common undercurrent of frustration among those with whom I interacted was their inability to achieve sustainable change. As much as they wanted to address and "fix" an issue about themselves—and had made numerous attempts—they were not successful. Statements such as 'I am too old to change,' or 'I've tried every diet known and I can't keep the weight off,' or 'I am sick of trying to be patient…' I would hear at every turn.
Within several months of in-depth research related to transformative behavioral change, I realized that I was focused on the visible issues—the symptoms—not the root causes. It is far easier to treat something that is visible to the eye than address what is creating the symptom. Behavior is the external manifestation of a deeper issue. Without excavating the hidden cause of what drives behavior, any sort of change is temporary bandage and, therefore, unsustainable, since the root cause is left unexamined. It became clear to me that every thought and emotion is filtered through a person's self-belief, how one values themselves in their inner core being, and this was the preeminent linkage to behavior.
Low self-worth is a common issue in all societies but abounds in the United States. It has no socioeconomic, religious, cultural, political, gender, or sexual boundaries, and affects those who seemingly have it all and those who have nothing. The recent surge in irrational violence, bigotry, bullying, suicides, and drug overdoses has created an increasingly detrimental climate of negativity.  In the midst of volatility, it is critical to develop an inner core of strength, stamina, resilience, and equanimity.
In my book, A Human Mosaic, I discuss how our self-worth originates and the role it plays in our lives. Self-worth is the lens by which we experience every relationship and interaction. It impacts our energy, attitude, concentration, productivity, sexuality, ability to heal from illness, immune system, our sleep patterns, and every facet of our lives. Most people do not realize the heavy weight of low self-worth until they are able to release the negative thoughts and wounds. How we view our inner self, the value we place on our innermost core being, has the greatest influence on our behavior and our ability to live a meaningful and fulfilling life.
When I began writing, researching, and interviewing numerous people, I learned that there is a major distinction between self-worth and self-esteem, although the terms are often used interchangeably. Self-esteem is our confidence in our competence, what we do in the world, our actions and performance. I refer to self-esteem as the "outside" self, our external self. Self-worth, on the other hand, is how worthy we believe we are, our "inner" self, how we value ourselves as a human being.
Every human being has an external self and an inner core self. For millions of people, these two facets conflict with one another, thereby causing an inner tension. Our inner self yearns to be in harmony with our outer self, and when they are discordant, a feeling of discomfort arises. This discomfort, known as cognitive dissonance, is a condition that develops early in a child's life when parents, guardians, coaches, teachers, and mentors impose expectations that do not line up with the child's desires. Living with inner tension erodes the quality of one's life.
Neuroplasticity is the key to sustainable change. The principles and practices I provide in my book are founded on the science of neuroplasticity, or our brain's ability to create new neural pathways at any age or stage of life. When I speak with people about their challenges and their inability to transform long-entrenched patterns of behavior, they tell me they are stuck in a rut. They believe they cannot change themselves; however, now we know through scientific, empirical proof that our brain is changeable—not hardwired as we once thought—and anyone at any age or stage of life has the power to transform themselves if they are willing to invest the time, energy, and make the commitment to the process.
After nearly seven years, my book, A Human Mosaic: Heal, Renew & Develop Self-Worth was published. Based on my own battle with childhood trauma and severe bullying, A Human Mosaic is a holistic and comprehensive examination of self-worth from every angle—I interviewed trauma survivors, psychotherapists, psychologists, scientists, addiction experts, acupuncturists, meditation gurus, and many others to understand how to retrain one's brain.  
Has it been a smooth road?
As we know, life is not a linear path nor a smoothly paved road, rather it is filled with vicissitudes, twists, and turns, starts and stops, ups and downs. As mentioned earlier, A Human Mosaic is based on what I did to transform myself, to let go of the critical, doubting, nagging thoughts in my head that had clouded my vision for four decades of my life. Although I appeared strong, vivacious, and accomplished on the outside, internally, I was riddled with the need for acceptance. I did not trust anyone, was terrified of rejection, and believed that I had to constantly win other people's approval. My sense of value was derived from achieving goal after goal, and being perceived as valuable, intelligent, and self-assured. When I finally decided I no longer wanted to live with feelings of inadequacy, I took a tremendous leap of faith that I could change myself.
The research and work involved in writing A Human Mosaic was challenging for a multitude of reasons. Understanding the human psyche has been an area of intrigue dating back to Socrates, Plato, and Aristotle who understood the human brain's complexity and sophistication. Writing a book is not for the faint of heart. Not only was I baring my soul to the world, I definitely did not want my book to be another self-help that someone reads, puts on their bookshelf, and goes back to their old, familiar habits. My objective was and continues to be to plant the seed of inspiration and provide motivation that will catalyze a person to take the reins of their life to learn how to love who they are—no matter what happens in the world.  
So let's switch gears a bit and go into the Author of A Human Mosaic: Heal, Renew & Develop Self-Worth story. Tell us more about the project.
Although the first chapter of my life was working as a corporate executive, this new chapter is devoted to helping others learn how to honor themselves and live with inner strength and peace. These qualities serve as a source of sustenance and centeredness, particularly in light of the uncertainty in today's world. Possessing an awareness and understanding that one always has a choice about how to respond to negative circumstances is a lifeline during challenging times.
Having coached people throughout my career, I will continue to coach others as well as speak to schools, organizations, and corporations on the importance of positive, healthy self-worth. I recognize how many people these days feel disconnected and internally distraught as a result of factors out of their control. They do not believe they have the power to change themselves. My objective is to facilitate self-change so that those suffering can shed the toxic thoughts and open themselves up to the beauty and joy of life.
My hope with my book, A Human Mosaic, is to create a movement around self-worth as a powerful source of healing, a path to acceptance, trust, peace, and love so that we can unite and respect our differences rather than reject them.
How do you think the industry will change over the next decade?
In terms of the publishing industry, it is definitely changing due to the fact that books are available electronically and on audio. Digital media has overrun the market, and traditional publishers are now having to adjust. Additionally, publishing companies are requiring much more out of their authors with respect to marketing and publicity, expecting authors to be active on social media. Several agents with whom I spoke when my book was in manuscript phase told me that unless I had a following of 50,000 or more on social media, they would not work with me. My response was, 'I've spent the last 6.5 years writing a book, not posting!' My response did not change their minds.
We live in a new age of technology, yet it should not have the power to deplete us mentally, emotionally or physically. Self-worth is a lifeline for anyone suffering from a warped self-concept or poor sense of self. It is worth striving for! Developing healthy self-worth stems from unconditional self-acceptance, self-trust, self-respect, and self-love, all of which are vital components to living the life one dreams.
Contact Info:
Getting in touch: VoyageATL is built on recommendations from the community; it's how we uncover hidden gems, so if you know someone who deserves recognition please let us know here.