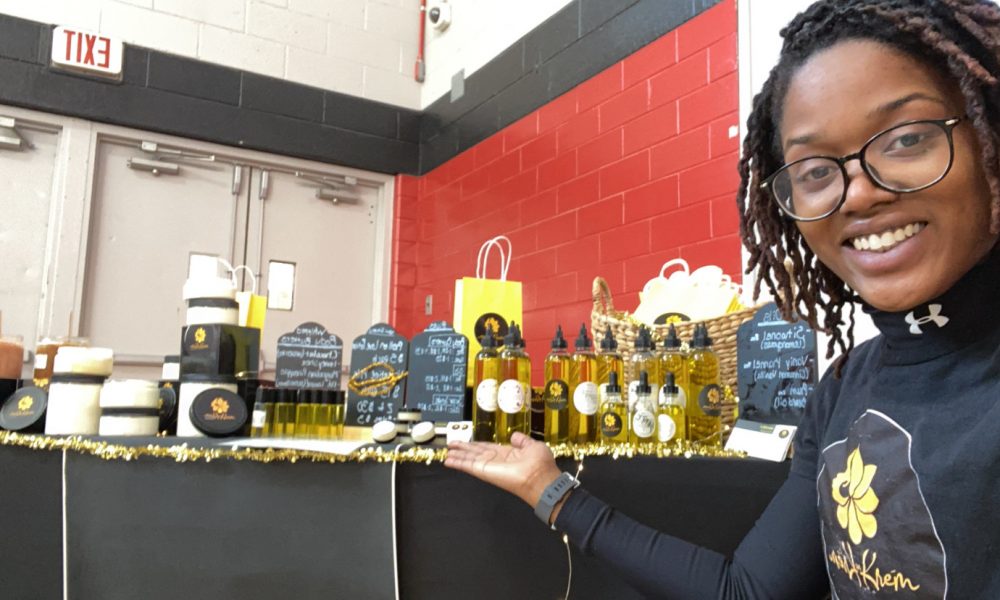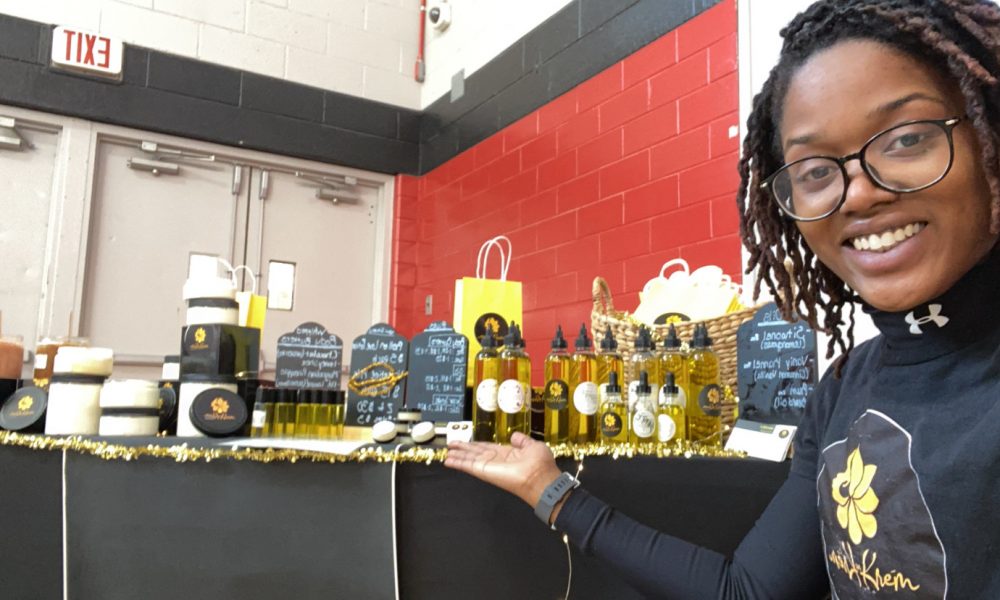 Today we'd like to introduce you to Ashley Duverneau.
Ashley, let's start with your story. We'd love to hear how you got started and how the journey has been so far.
My name is Ashley Duverneau and I am a 25-year-old first-generation Haitian American entrepreneur. I officially began this journey in February 2019 while completing my final semester of my graduate education at University of Maryland College Park. I began developing and manufacturing my recipe creation three years prior to launching Krém au Krém, LLC for my personal hair and skin needs due to my long life skin conditions, such as eczema and dandruff. After becoming frustrated with the cost and lack of luster from using store-bought lotions and creams, I began to do my research. Using my Biology degree and ethnic background I managed to develop a formula of body butter (Krém) that sooted my skincare needs.
At first, Krém was made in small batches for me and my family, then it progressed to my mother sharing the body butter with co workers and selling it at her job. The demand grew and grew, and in a few years, I launched Krém au Krém, LLC. I wasn't confident that it would last or people aside from close friends and family would support my handmade products, but in only two weeks I sold out of all the small supplies I had for my soft launch. In the last year and half my brand has expanded to about 10 products for men, women, and children.
My products are unique because they are made with the experience and background of a "scientist" (BS in Biology and French) and the master's education in Public Health. Meaning that I take caution, care, and forethought into the products I create to ensure they are safe, without testing them on animals or using toxins or preservatives to enhance the longevity of a natural, organic product. With my career experience in manufacturing pharmaceutical companies, I've implemented sterile practices and FDA compliance expectations in my home based facility to ensure that each item sold and or received by a customer is at its purest state to prevent contamination and increase shelf life.
Krém au Krém is Haitian Kreyol for "Cream of Creams." Krem is the term Haitians use to describe lotion or creams, it's the core to the creation of my first product… body butter; and now Krem is the center of my life. It's grown to be bigger to me, and I hope that I can expand, own a manufacturing facility of my own, and employee young people like myself in the not too distant future.
Overall, has it been relatively smooth? If not, what were some of the struggles along the way?
Although the road hasn't been long, it hasn't always been smooth. I say this because I am young, and not much of a sales woman. Funny story, I actually got fired from my first job (Sales) because I had the lowest sales. So as you could imagine, fear and anxiety were the biggest setbacks for me in the beginning. I knew I had a great product and that people would love it once they tried it, but I don't like to push or force the hands of a stranger. It's simply never been my style, even to the point where if I am shopping as a customer and I feel pushed or rushed, I won't purchase anything.
At first my sales appeared to give me constant customers, but then I noticed that those customers were people who knew me personally or through a family member. Once that population was done supporting my small business, I was only selling maybe a few jars a week. At the time I wasn't thrilled with my business' sales performance, but my personal life priorities were elsewhere; I had a full time job and I was finishing graduate school. Then life hit, I lost my job and was unemployed for four months right after graduating with my Master's in Public Health. Surprisingly, that was the best blessing in disguise I had ever received. This gave me the opportunity to focus most of my time on Krem au Krem, LLC. During that time I developed a webpage which I self designed, I hosted the first ever Krem Party at my home to showcase the webpage's launch, and I began attending local vendor events in the DMV in hopes to get more exposure.
As I tried the vendor events at the end of 2019 I learned a lot, I learned how to approach potential customers, what keywords to use, what intel they typically like to know, suggestions for future events, and of course plenty of networking opportunities with other small business owners showcasing their work as well. The more shows I did the more confident I became in introducing and speaking out about my brand. I learned how to sell my brand to a wider audience without stepping out my moral beliefs on anti-anxiety shopping. Once I became employed again… COVID-19 just began spreading in Asia. Fortunately, I hadn't booked events that far into 2020, so the last show was around Krem au Krem's anniversary (February 2020). That event was not only disappointing, but eye opening. I learned that not all vendor events are really worth the time, money, and travel expenses to attend. There were a few events where the vending fee outweighed the revenue made and I decided to reevaluate my approach to exposing my brand.
I thought to re-strategize my marketing approach to more of a remote, social distancing / social media methodology in hopes to push my online sales. Once COVID-19 spread to the USA in March, I was sent home for isolation due to my father contracting the disease. Aside from it being an emotionally crazy time (trying to nurse my dad back to health in a quarantined home, while working from home, and trying to run a small business) my father was quarantined in the part of the home where I store all my inventory, equipment, supplies, etc. (the basement). So technically when the country was under a lock down, so were my operations. Instead of producing, I used this time to research how I could grow my social media presence and gain new customers through ads and posts. This spiked my online sales and has taught me how to be multifaceted when it comes to supply and demand. With social media there is demand for both products, as well as good marketing content. By saying that I have learned that sharing what's happening behind the scenes is a great thing, people love to see what goes behind their orders, they love to be informed all the time, and they love that they can access all of this without leaving their home.
After Mother's day in May I would normally stop selling body butter (it melts in 75 degree temperature) to ensure the quality of the product I would rather hault that item for production until the fall. But, the demand for body butter grew, to the point where I had to improvise as a business owner. I updated my webpage and added the option for local pickup or delivery of body butter. This alteration was another milestone in my business. I would collect orders throughout the week and then deliver them (with the accompaniment of my wonderful boyfriend) on Saturday's or Sunday's every weekend. I had the opportunity to meet so many wonderful people that have found me online, and I have grown to appease to a more customer satisfaction based brand.
Unfortunately/fortunately, my website domain has a few loopholes, a new customer from Orlando Florida saw my post on Facebook and ordered a large amount of products and many of which were body butters. Knowing that Florida is hot hot in the summer, I texted and emailed this young woman and asked her if she minded if I exchanged or simply tried my best to preserve the items she ordered. She responded and said she'd take them as they came regardless, so I tested out my first summer body butter shipment. With a little research and added supplies for temperature regulation, her items arrived perfectly. This allowed me to have the confidence to place my original product (krem: body butter) back on my e-commerce webpage for international shipping all year around! Using the new methods (24 hrs freezing; insulated mailers; frozen gel packs) has allowed me to break all limitations to what I thought I could do this year for my company.
No smooth road is a story worth talking about, repeating, or listening to. So in hindsight I am fortunate for all these roadblocks, setbacks, and life adjustments, because I am farther than I had imagined I would have been at this point a year ago.
Please tell us about Krém au Krém.
Krem au Krem, LLC is a home based small black owned business. I would say it's somewhat of a family business at the moment. Krem began as a solution to a lifelong problem of mine; dry skin, scalp, etc. I've had eczema as long as I can remember. Honestly, the first real doctors visit I remember was about my skin rashes and what we (my mother and I ) could use or do to prevent or control this problem. When I was a kid I remember never being able to use "regular" products for my skin or hygiene needs; ie deodorant, lotion, soaps, laundry detergent etc. My mother always had to purchase Eucerin or unscented soaps and things for me to not have a skin reaction.
When I was in college I became more aware of the active ingredients and science overall in most skin care products, and I began doing my own natural research. I had done "the big chop", and this was my first time being completely independent so I thought why not try things out. So I began experimenting with oils and their properties for my hair type (4C), after still being very dissatisfied with the "natural" hair products' dry results. Upon graduation I was gifted with some natural skin care products from a friend, and after using the body butter, soap, and oil I had thought to myself… I could probably make this myself. After buying some ingredients, I began to test out different body butter recipes for myself and my family. After trying different ingredients, methods, and containers, etc, I finally found the perfect way to make my skin happy without it taking the fun out of hygiene. I had finally found a solution to enjoying getting dressed and going out, because before it was always a very boring process, nothing ever smelled good or felt good, and now it did. Now I can finally feel like a normal girl.
My mother, being such a proud mom started selling my little mason jars of krem to her colleagues and friends. I began to collect suggestions and fragrance requests from them, and my mom helped me by giving me my first mixer and essential oils from Amazon. At the same time I had transitioned to a manufacturing position in my personal life, where I had acquired the tools for preparing, creating, and final packaging a clean FDA regulated product. I learned how to create labels, inspect for errors, particulates, and contaminates, as well as package, label and store the final product for shipment. As I grew in my role as a manufacturer I gained the confidence in branding myself.
After collaborating with my friend to get a logo made, gathering my ingredients, and ordered my materials for packaging and branding, I decided to launch Krem au Krem, LLC on the last day of Black History Month of 2019 (February 28, 2019). In the first two weeks I was sold out of all the supplies I had purchased for my small launch, that's when I realized I need to order things in bulk.
From then the brand has grown from the one unscented body butter to now multiple scented butters, oils, scrubs, soaps, and more! Krem au Krem, LLC is a growing brand whose aim is to promote healthy, youthful, and hydrated skin and hair. Using strictly plant based ingredients that are great for sensitive skin, infant skin, and scarred skin. These products are made in mind to solve skin and / or hair issues that I, myself or someone I know had to live with. For example, I created this product called "Doule Hemp Body Butter", which is a pain relieving body butter, originally with the intent to create a tattoo wholesale product for a fellow business owner that I knew. The product wasn't what he had wanted and I had gifted the jars I made to my grandmother and other family members. A few months later my grandmother requested more for herself and her friends, because it relieved her arthritis pain. I was so thrilled that she liked it, that I added it to the product list. Now I can help other people with their aches and pains in a natural topical way.
Being plant based, herbal, natural, and organic is exactly what Haitian culture exudes, and that's what I want you to feel when you use Krem au Krem products. I want you to feel my culture; a sense of home and welcoming. Your skin shouldn't react or feel overwhelmed with unknown ingredients. Your skin deserves to feel loved, to still have fun, and smell amazing. Krem leaves your skin feeling like a fresh island tan all year round. It's light enough to not be greasy, but nourishing enough not to reapply often. It's sensitive skins' best kept secret.
What sets my business apart, I would say from other homemaker businesses, is that I use my science education as well as my professional manufacturing experiences to constantly find ways to improve the products safely. In undergrad I studied Biology and French, and then later studied Public Health in graduate school; with my lab experience, public health wisdom, and sterile FDA regulated manufacturing experience I can create useful products that are inexpensive, natural, and based on scientific research.
If you had to go back in time and start over, would you have done anything differently?
If I could start over I would definitely ask more questions, be bolder and more confident, and do further research when it comes to waying out my options. I still need to work on asking more questions, but I have this terrible fear and bad habit of not disclosing an idea I am excited about to the people I love, in fear that they will shut down the idea with criticism or simply not understand my vision. Since becoming an entrepreneur I have learned that there is no shame in asking for help. I constantly feel like I have to be doing 100 things at a time, but that only leads to one thing… tears. I have learned to use YouTube as a resource; if I don't know how to do something and no one I know can help me, I simply look it up. It's really that simple. Before I would go through long stressful avenues to get to the same conclusion. The wheel has already been invented, just use it and/or style it the way you like.
Being bold and confident is something I do not mind being when it comes to voicing my opinion, but not when it comes to showcasing my brand. I still have issues with confidence and telling strangers about my products at times, but with practice and time I have learned that the worst that could happen is me not saying something. Every time I have shared about my brand people show interest in some form, and every person who has tried an item has repurchased and has loved the products used. If I could go back I would just tell myself to try harder every day to spread the word and stop waiting for the brand to speak for itself. Advertising matters, otherwise you wouldn't know about half the brands that are successful to this day.
If I could go back I would do more research when it comes to services and resources for the market. For instance when formulating a price margin, I could have looked for cheaper vendors, ecommerce platforms, and other cost savings options. When it comes to logistical aspects to running a business, I still feel like a beginner in training. This can be a very frustrating but fundamental feature of owning a business.
Pricing:
Contact Info:
Website: www.kremaukrem.com
Phone: 4435378982
Email: kremaukrem@gmail.com
Instagram: @kremaukrem
Facebook: @kremaukrem
Suggest a story: VoyageATL is built on recommendations from the community; it's how we uncover hidden gems, so if you or someone you know deserves recognition please let us know here.