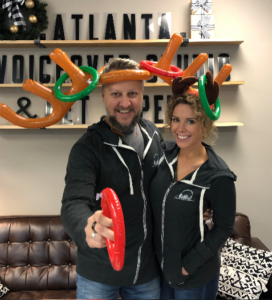 Today we'd like to introduce you to Mike Stoudt and Heidi Rew.
Mike, please share your story with us. How did you get to where you are today?
As full-time voiceover (VO) talent, we'd been working out of our home studio for years, when we weren't heading into Atlanta studios for booked jobs. One day, Heidi told me that she was really tired of not seeing people and only working from home. At the time, a friend was opening up a film/tv studio that had offices within the large space, so we rented an 8×10 office, put in a Whisper Room (vocal booth), and then switched on and off working from there. Heidi saw people and was happy. And it worked for us.
We decided to offer to record auditions for people who didn't have a quality home studio set-up. As we got busier, people started asking about voiceover classes and workshops, and how to get into VO. We soon realized Atlanta didn't have easy-access to voiceover training. There were a few people here and there, but unless you knew someone in the industry who knew them, you'd never know where to go. And for us to train, we had to go to New York or L.A or attend workshops that came to town. We spent thousands of dollars investing in ourselves so that we could get to the top of our game. And there simply wasn't anything here.
At that point, we teamed up with Brian Bremer, another veteran talent, who already had an Intro to Voiceover curriculum that he'd been teaching…and it steamrolled from there. We started adding other classes and workshops, teaming up with other veteran VO talent and a former VO agent.
That was in mid-2016. Fast-forward to today in 2020, and the Atlanta Voiceover Studio has grown from a 100 sq. ft. space, to sharing a 3200+ sq. ft. space with our friends, Matthew & Brooke Cornwell of Get-Taped. (Get-Taped puts actors "on-tape" for their on-camera auditions.) We offer voiceover workshops, classes, audition-taping, a main studio for talent who book jobs so they can have a professional engineer, and we also produce commercial, narration and IVR demos.
Has it been a smooth road?
I think early on, we thought that this would be a simple progression of building a company based on voiceover teaching and instruction. We're first and foremost VO and on-camera talent, so we already had a bit of an entrepreneurial spirit in us (at least in a very broad sense). But we could have never imagined how much would go into building a business from the ground up. We quickly found out it'd be "baptism by fire!"
One of the first challenges was that we found how differently each of us worked and processed. Her working and management style is totally different from mine, just like our personalities. You can look at those differences in a marriage and think, "oh, that's cute. I know why they're acting that way," and either move on or talk through it. In a business, the stress it creates is quickly amplified, so if you don't understand how to communicate and diffuse any potential conflict, it can increase and blow up in no time!
Thankfully, we recognized what we needed to do and we sought help in the form of a combined personal/business counselor. We were able to not only work through issues and learn how to communicate more effectively, but we clarified what values the Atlanta Voiceover Studio would be guided by. Knowing those values gave us a filter we could use, and a sort of North Star to guide every business decision. Those values are: Stewardship, Freedom & Grace.
Our second struggle was to try not to grow too quickly. It seems once word got out that we were here, we had a lot of people asking if we had a class for 'this' and a class for 'that'. We had to say no to a lot of things because of one reason or another, and it took a lot of patience, as well as strength. We knew what we wanted to do to fill all the needs, but we just couldn't. And space was an issue.
And the third biggest struggle we had was actually finding a space to grow into. We started looking for a new space a year and a half before our lease was up, and couldn't find a space that would work. Not to mention, many landlords didn't understand what we did. When we said the word studio, they thought we'd be a loud recording studio. So there was that… But then we were nearing a time of our lease being up and the building being sold…we had to get out! We finally found our current space and within the span of two weeks, we had to negotiate, sign all the paperwork, pack up, and move. Thankfully, we did it all and in time!
So, as you know, we're impressed with Atlanta Voiceover Studio – tell our readers more, for example what you're most proud of and what sets you apart from others.
The Atlanta Voiceover Studio's Mission is to: Equip, Elevate & Inspire. What we do, at the core, is teach and instruct people in the craft of voiceover. VO is much like acting, in that while someone may sound good and have a natural talent, it's still a craft to learn if someone wants to succeed and do this long-term. We teach people how to use their instrument, to put it simply.
We specialize in creating commercial, narration or IVR (telephony) demos. Demos are basically your "virtual calling card" – something you can let a potential agent or client listen to that demonstrates what you sound like. You can listen to some that we've done on our website, or mine or Heidi's on our websites (mikeSTOUDT.com; HeidiRew.com) for some good examples.
We also record auditions for talent who don't have a home studio. They can schedule a time to come in. We'll record and edit their auditions, make them sound as best as possible so that way they can shine when they send it to their agent or potential client.
Because of our bigger space, we were able to create a coffee cafe-themed main studio that includes a sound design engineer. Ad agencies or producers/directors can book a time to record their talent and have their commercial (TV or radio) fully produced. Any VO talent can also schedule time if they book a job where they need Source Connect, ISDN or phone patch.
Heidi & I are very proud of the team we've created. We have an administrative assistant, Hunter, who is great and keeps us on our toes. We just hired an awesome sound design engineer, Rochelle, at the end of 2019. She helps keep us sane most days because she's so chill. And we have a bunch of veteran VO instructors who teach classes, workshops or do private coaching. They've all grabbed hold of the mission and are running with it. Everyone who takes classes here can see it and feel it.
We're also proud of the culture we've created around that mission. We believe in building people up and helping them succeed as much as possible. This truly is a labor of love. And thankfully, we're able to do our own VO jobs throughout the day while we're here.
Let's touch on your thoughts about our city – what do you like the most and least?
Heidi was born here, so I love that first and foremost – that Atlanta raised a hot wife for me. 🙂 But also, we love the "Southern Hospitality"! It's a real thing.
What we like the least – and both of us agree on this one. Heidi's lived here all her life, and I've been here for 19 years, and neither of us can keep all the Peachtree Roads right…
Contact Info:
Address: 1575 Northside Dr NW
Building 300, STE 325
Atlanta, GA 30318
Website: www.atlantavoiceoverstudio.com
Phone: 404.350.0006
Email: mike@atlantavoiceoverstudio.com
Suggest a story: VoyageATL is built on recommendations from the community; it's how we uncover hidden gems, so if you or someone you know deserves recognition please let us know here.