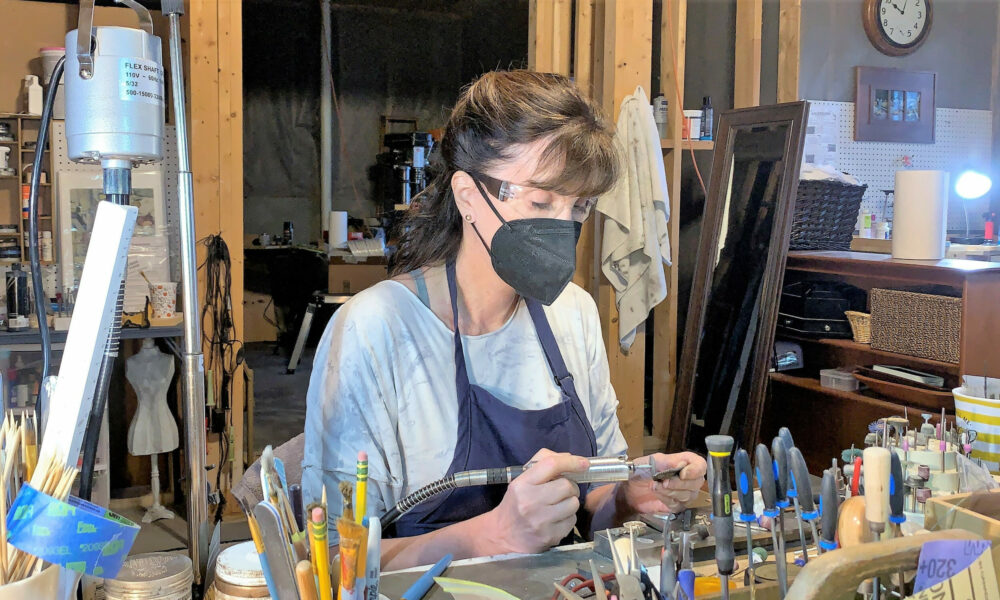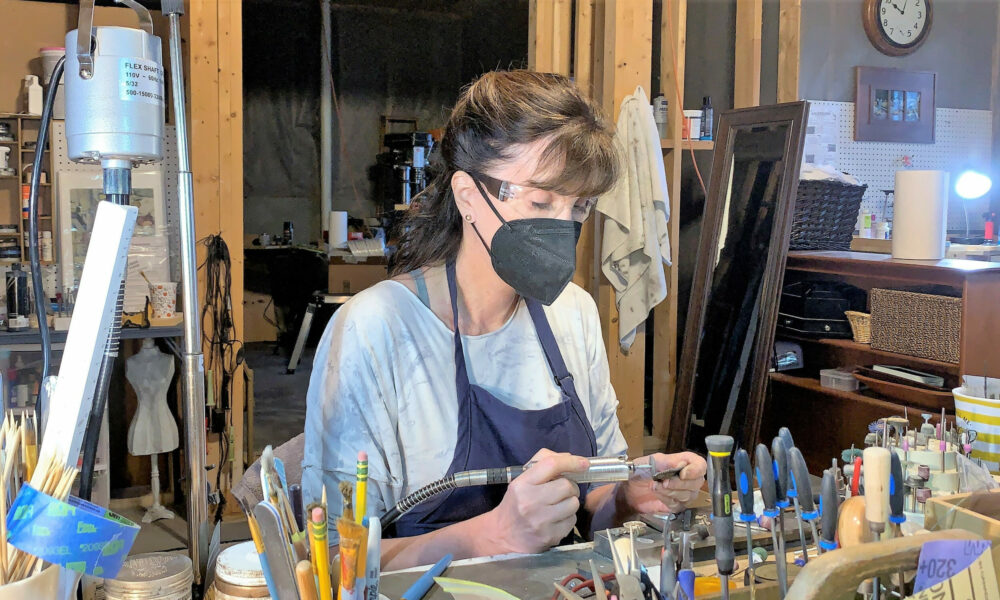 Today we're excited to introduce you to Bee Schaefer. Bee is a Metal-smith Artisan, Jewelry Designer and is also a content partner. Content partners help Voyage in so many ways from spreading the word about the work that we do, sponsoring our mission and collaborating with us on content like this. Check out our conversation with Bee below.
Hi Bee, so great to have you join us again. For folks who might have missed our earlier conversations, can you please take a minute to briefly introduce yourself?
Hi everyone reading this. My name is Sharon but I work under my nickname BEE. I am the sole owner and designer of Designs by Bee. I am a metal artist working in metal clays using old world metalsmithing techniques. I hand carve many of my charms and pendants and offer a unique and meaningful spirit to my creations. My favorite clays to work with are Aussie Bronze Gold and Sterling Silver.
Can you talk to us about how the Pandemic has affected your business and about any pivots you may have made?
Since the Pandemic I have had to pivot my business plans. Instead of creating a line of completed jewelry, unable to attend or host shows to sell, I had to rethink my business entirely. I thought about what brings me the most joy. I thought about taking time to develop my style. I thought about what would be the best way for me to continue my business but find time to spend with family and friends. Being a sole proprietor, I was often working 24 hours 7 days per week. Never knowing if my finished necklace would be what someone else would want to wear. Now I hand carve and smith pendants, charms and other jewelry components and sell directly to other designers. Because I hand make each of my pieces, they are never mass produced. They are always a little different. This way my old-world techniques never produce a cookie cutter outcome.
Where can someone find your creations?
There is a local gift store I do have some items for sale. It is a place for community @JohnsCreekBooks. They offer books but also support local artisans. I love that they were voted Neighborhood favorite. Most of my work can be found on Instagram @designsbybee_ If you see something or need a special custom design then just DM me and I will work with you.
Can you help us understanding your thinking and strategy around why you chose NOT to go wholesale and not get into boutiques through the mart jewelry and gift shows?
For me it is about making people smile. To design a meaningful piece that will be fashionable and a treasure. Since I make each item by hand. It takes so many steps to complete. I cannot mass produce to have quantities to supply a variety of boutiques. Nothing gives me more joy than to put my heart and soul into my designs and continue to have repeat business because they enjoy the quality in my work.
Do you design with a certain age group in mind?
I actually design for myself. Fashion has always been a part of my life. I was sidetracked when I began making jewelry. I was making what was popular. I wasn't happy. I had to rethink. I had to pivot and decide what truly brings me the most joy. It is making meaningful well-made designs. I find that I love what I make so much that I wear my jewelry when I go to the grocery store. I find comfort in my talisman charms and pendants. That being said I have sold pieces to teenagers, to men and to parents gifting items for their children.
Do current events whether happy or sad inspire your designs?
The answer to this is a very loud YES! I am very spiritual and an emotional soul. So, what happens in current events definitely inspires me. I've made memorable charms when we lose an icon or a famous singer/songwriter. I design flowers because springtime blooms inspire me. Nature is a huge inspiration. Oh, the list goes on. I've made special pandemic charms. An emoticon wearing a facemask. Home is where the heart is when we were in lock down. Happy or sad I can tell you a story behind every charm or pendant I make.
It was so great to reconnect. One last question – how can our readers connect with you, learn more or support you?
Readers can connect to me through my Instagram @designsbybee_
Facebook I am @designsbybee
My webpage is DesignsbyBEE.com (I am still developing my webpage) and has a contact form that I will return an email by the end of the day.
Contact Info:
Image Credits
S. R. Schaefer