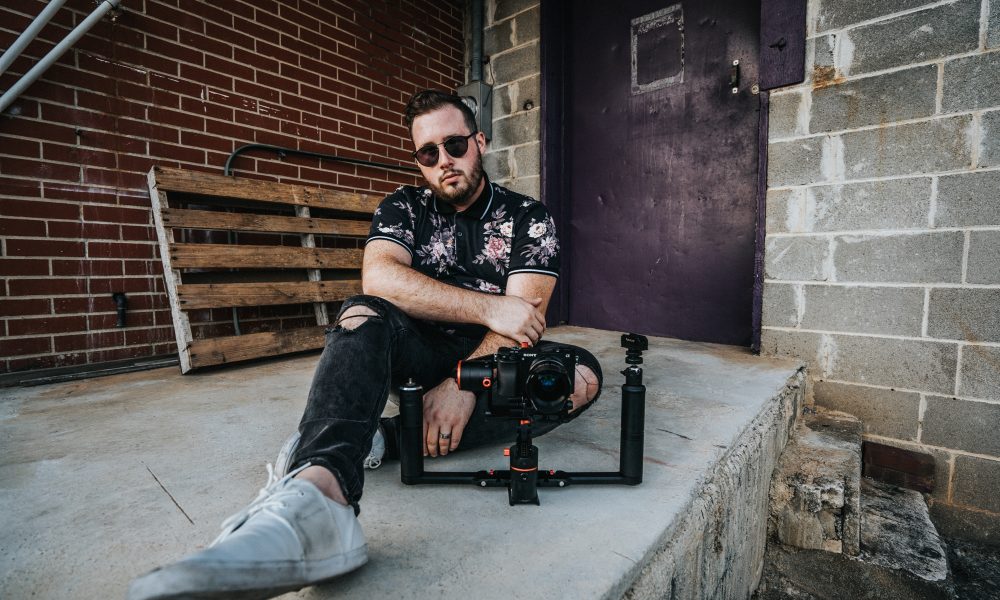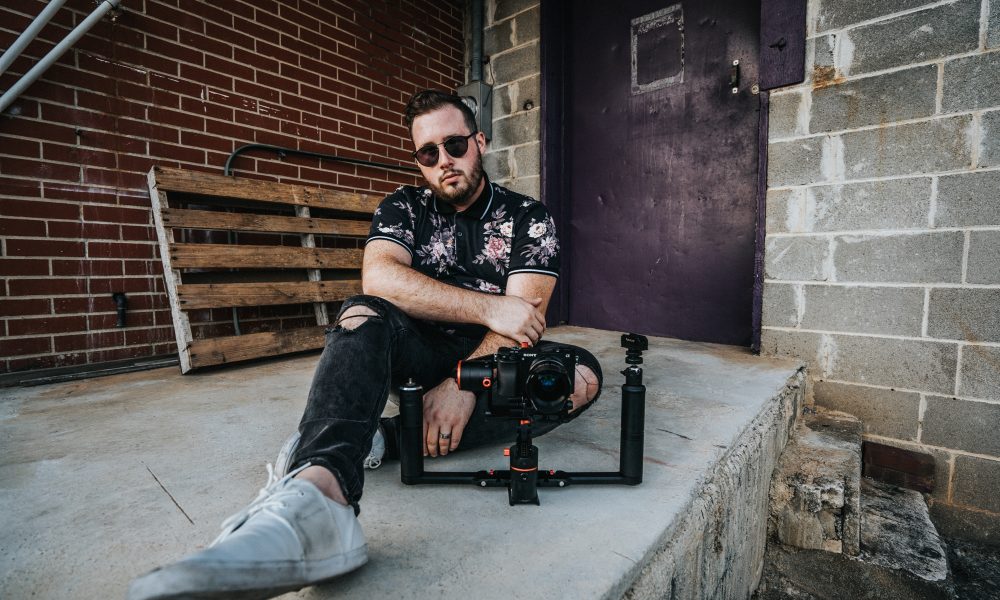 Today we'd like to introduce you to Ben Johnson.
So, before we jump into specific questions about the business, why don't you give us some details about you and your story.
I am 25 years old. I am originally from Florida, but in 2018, my wife Mikayla and I moved to the Atlanta area.
I have always loved creating. Whether it was music, graphic design, web design, photography or video. Anything I could create and tell stories with, I loved. It all started when I was a middle schooler. My dad is a graphic designer, and so I've always been around Mac computers and had access to photoshop growing up. I would see my dad working on things, ask him questions, and started learning how to use the programs at a young age, it always just came naturally to me. However, in high school, I ended up in a TV Production class, and that was really when I started to find my passion. The class gave me an opportunity to be around editing software and equipment, and I was able to start taking these ideas I had in my head and creating them into videos. This was when things really became interesting.
It was in my junior year of high school that I started freelancing. I would create videos for local businesses, local churches, and even the school itself. I wasn't making much, but I was getting paid something, and for a junior in high school who had never freelanced before, it was astonishing. I started saving up some money and purchased my first camera, a cheap entry level DSLR and a kit lens. With this, my video quality increased, and I started to pursue photography as well. For my senior year of high school, I went around to all my friends and offered them senior pictures. I even created posters and hung them around the school offering senior photos for a cheap price, my slogan was "by a senior, for a senior"
As soon as I graduated high school I got offered a job at a local church that I had done some work for, and I worked there for two years. I did everything for them. From graphic design to web design, to videos and photos, to setting up emails, and creating billboard designs. It really gave me an opportunity to explore every aspect of digital marketing. During this time, I also started to freelance for other churches and small businesses in the area. This is when I officially created my business legally, under the name: Ben Johnson Creative, LLC.
It was near the end of my time working for the church that one of my friends was getting married. They knew that I did video production, and asked if I would film their wedding. I had never done this before but I decided, SURE! This changed everything.
After filming and editing this first wedding, I was hooked. Another friend of mine was getting married and I filled their wedding as well, then a cousin of mine was getting married and I filmed theirs as well. Soon after this, I got connected with a photographer who had been shooting weddings for 10+ years, and he was wanting to offer wedding films in his services. I joined up with him, and that first year we shot A LOT of weddings. I remember one week in the summertime, we shot 6 weddings!! I wasn't getting paid a whole lot, but I was in it for the experience. We shot everything from beach weddings, barn weddings, resort weddings, country club weddings, backyard weddings, and more.
Eventually, I got to the point where I decided to pursue more of my own weddings. With this in mind, we created our wedding Photography and Videography company: LoveView Weddings.
It was around this time that my wife Mikayla (at the time girlfriend) got more involved with the business as well. She has always been passionate about administration and organization. She started taking over the business side of things so that I could focus more on the creative. The three of us started booking weddings, and booking a lot of them. We started shooting all over Florida: From Sarasota and Tampa to FT Meyers to the Keys to Orlando, Jacksonville, and beyond. We even started to travel out of state from couples that would hear about us. We went to Texas, Maryland, Virginia, and etc. As our weddings grew, so did our company, and we added on team members. Shout out to Jeremy who has been with us since the beginning, and shoutout to Chelsea, as well as Charles, Kevin, and Andrew!
At this time, I was 24 and I was absolutely head over heels in love with my wife (at the time girlfriend) Mikayla. I asked her to marry me, she said yes, and we got married in March of 2018. Fun fact: Our wedding company had grown a bit at this point, and we actually hired our own company to shoot our wedding! I actually ended up doing one of the hardest but most rewarding things afterward: editing our own wedding film. Definitely had to fight back some tears during that process!
As soon as we got married, we moved to the Atlanta area. Not even joking, we basically honeymooned on the way there with all of our stuff! Now that we are here, we have expanded our wedding services to this area, and our team members in Florida are still servicing the sunshine state.
I still maintain my original business Ben Johnson Creative, we are running strong, servicing couples with our Wedding Company LoveView, and are in the process of creating a new business focused on Social Media for businesses
Great, so let's dig a little deeper into the story – has it been an easy path overall and if not, what were the challenges you've had to overcome?
I don't think that any road worth traveling is ever smooth. Life always has its downs and its ups, it's bumpy paths and it's smooth rides. However, it is bumped in the road that allows you to learn and grow the most. Running your own business takes crazy faith. There are a lot of times that things just simply don't make sense. It didn't make sense for us to uproot ourselves from Florida and move to Atlanta when we had a huge client basis back there. But we did. And I am so glad that we did. Because the connections that we have made up here are helping us launch into a completely new business. Is it easy? no. Does it take a lot of hard work? You bet. But is it worth it? 100 percent.
Please tell us about Ben Johnson Creative.
For you to understand our business/company, I need to dive into the structure briefly. Ben Johnson Creative, LLC is the original company. From there we started LoveView Weddings which is a DBA of that company. And now we have created Thrive Your Brand, which is a DBA of Ben Johnson Creative, LLC as well.
Let me answer this question for each business respectively:
LoveView Weddings: This has been the business we have been focusing on and growing the most. I'm most proud that throughout the whole process, our team is still in this thing for the right reasons. We aren't just chasing paychecks, but we are here to make a genuine connection with our clients, and add value to them! Our goal with every wedding we shoot is to make sure that in 50+ years our couples can look back on their day and remember why they married each other.
Thrive Your Brand: We are in the process of starting this one, so with that in mind we don't have a ton to say. However, being that we haven't officially launched, but already have four monthly clients, is AWESOME. Our initial goal was 10… so, we are definitely excited to officially launch this thing and see how it goes!
Ben Johnson Creative: This company has become really more Music video-based, which is a huge passion of mine. I have done various rap and hip hop style videos, as well as full bands. My favorite videos we have done to date though is for a band called Boyce Avenue. They are the largest cover band on youtube. Each of the videos we have created for them has millions of views, and it is definitely up there on some of my favorite projects that I have gotten to work on!
Do you look back particularly fondly on any memories from childhood?
One of my favorite childhood memories was coming up to the Atlanta area from Florida. My sister and brother in law lived up here, and we would come to a couple of times a year to visit them. This is when I started to fall in love with the area, and as I grew older started to see some awesome business opportunity here as well
Contact Info:
Getting in touch: VoyageATL is built on recommendations from the community; it's how we uncover hidden gems, so if you know someone who deserves recognition please let us know here.