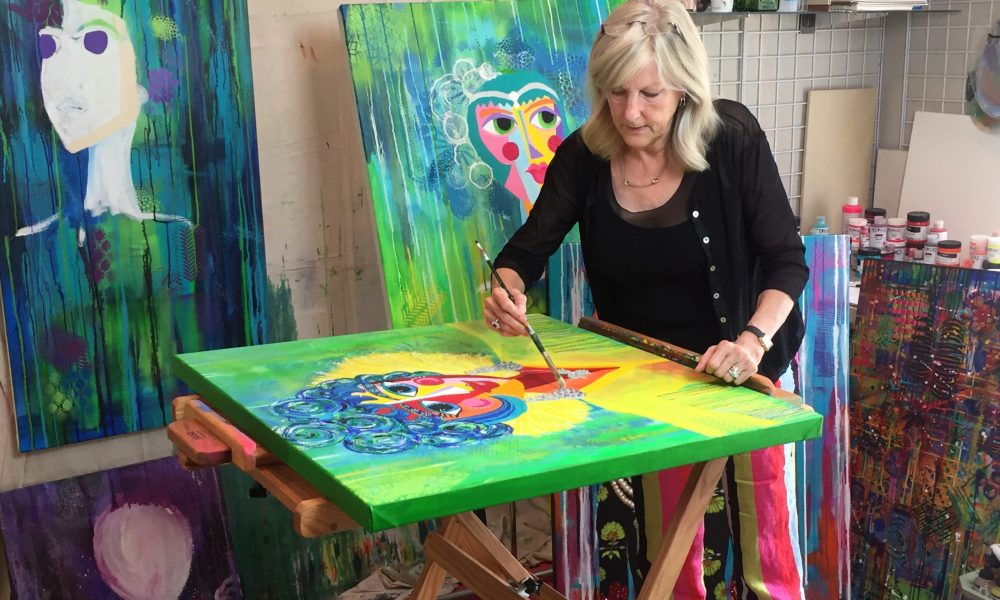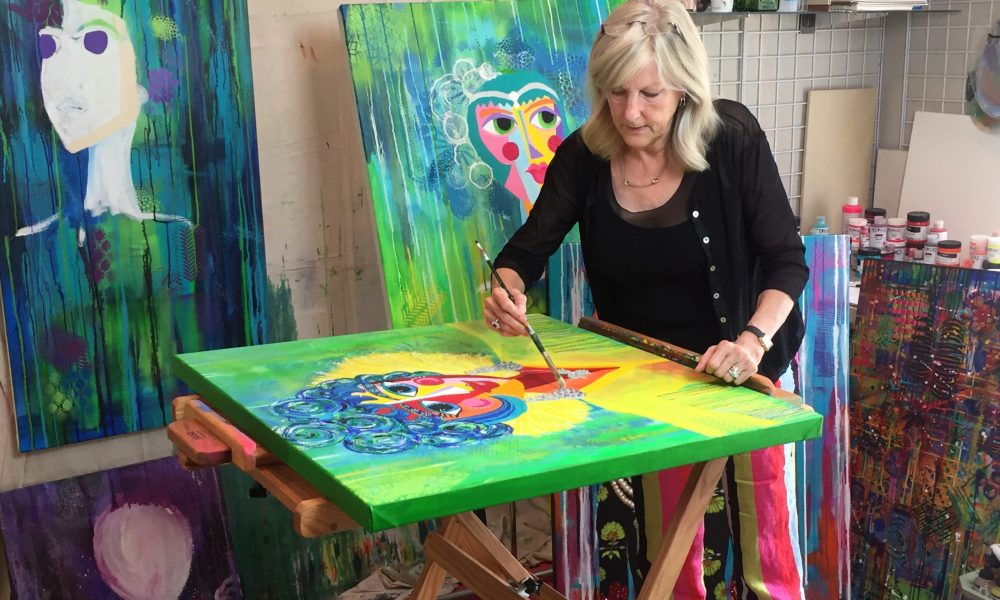 Today we'd like to introduce you to Beth Picard.
Every artist has a unique story. Can you briefly walk us through yours?
I have loved art since I was a kid. My parents were so supportive and I attended semi-private art lessons from a wonderful teacher from first grade until high school. I had several private art teachers in high school and went to college to major in art.
The art instructor in my first college course was a tyrant. I had learned to take constructive criticism along my art journey, but this guy ranted and screamed, ripped apart drawings, threw them on the ground and stomped on them. He ruined my desire to pursue art and I changed my major, several times, actually. Although I painted throughout college for myself, I never took another art course.
I realized as I got older that maybe that was a blessing in disguise for me. I am a rule follower. And the rules of art always seemed to bog me down, because I am also a perfectionist. I could never loosen up, I never felt like I painted freely. I wanted to paint like when I was a kid again, but I knew too many rules to let myself do that.
I have painted on anything and everything, throughout the years, clothes, furniture, canvas, and paper. I have dabbled in other mediums like mosaics and ceramics. I had multiple businesses through the years, selling paintings, mosaic benches, painted clothes, etc… Selling paintings helped supplement my income when I got divorced.
I started a stationery/invitation manufacturing business using my designs in 2002 and had over one hundred dealers across the country selling my line. I sold that business in 2009, perfect timing as it turned out. Seems a lot of the invitation/stationery business was being taken away from brick and mortar stores, and people were buying it all online. I know this because I met my current husband through my stationery business. He was one of my dealers and both being divorced, we struck up a friendship and now we have been married over twelve years. I could see first-hand how much business he was losing to online sales and knew it was time for me to get out.
Then, I discovered digital graphics. I sold clip art, backgrounds and other digital graphics for a while through Etsy and my own website. I had a paid membership group where I taught people how to use them to make things. Then I began making products with my designs on them: beach towels, baby bibs, tee shirts, luggage tags and tons of other things and sold them online as well. This business was hugely successful, but the success was killing me. I was working eighteen-hour days, seven days a week trying to keep up with the demand for my products. I was miserable, I had no time to be creative, I was simply keeping up with orders and running a business. There was no amount of money that was worth that, not only was I miserable, but I was making my husband miserable and even my grown children were sick of hearing me complain and cry all the time.
About three months before my 60th birthday in 2017, I decided to close that business down and go back to painting full time. This was pretty scary, as I had been profiting over six figures in that business and had no idea if I could even sell one painting. It had been about fifteen years since I had actually sold a painting. But I felt this was something I HAD to do. I missed painting, I missed creating. So, I began.
I painted with acrylics, I used watercolors, I used markers, I painted silk scarves, I did collages, I was all over the place. I took some online classes, but nothing was clicking. I was frustrated and wasn't producing anything I even wanted to show anyone. I re-read one of my favorite books, "The Artist's Way" and decided I wanted to paint like I had never before, freely with no rules. I decided to try some abstracts, I had never painted an abstract EVER. Had no idea what I was doing, but turned out a few that weren't horrible.
Then I had a dream. I dreamed I was doing a series of paintings about parties. I LOVE parties. The one I dreamt about was Andy Warhol. So, I did "Andy Throws a Party". I had never painted people before, so I had to learn how to do that- on my own terms, without finding out what the "rules" were. I did "Jimmy Throws a Party" next as a tribute to Jimmy Buffett and then the game changer- "Ashley Throws a Party". I did a painting of Ashley Longshore and all the things about her. She has been a huge influence on me the past few years, as she encourages artists to believe in themselves, sell their art themselves and she is funny and I love her paintings. When I posted my painting on Instagram, she immediately commented that she wanted it. SOLD! to one of the hottest artists around.
Please tell us about your art.
I paint on canvas, mostly with acrylics, but also use some Japanese papers and other things, like rhinestones and glitter. I love color, it makes me happy, which is what I hope it does when other people see it. I have to create. It is truly like breathing for me. If I can't be creative in some way, every day, I get frustrated and out of sorts, (unless I am on vacation, then I can handle it). I want my art to make people feel good and smile and provide them with something bright and fun to hang in their house.
Given everything that is going on in the world today, do you think the role of artists has changed? How do local, national or international events and issues affect your art?
I do think that artists today have a larger platform for their art to "speak" because of social media and people from everywhere in the world can see the art. You no longer have to limit yourself to just selling in local galleries or areas near where you live.
My art is really not affected by anything happening in the world, except there are so many terrible things happening all over the world that now, more than ever, I think "happy" paintings are needed.
How or where can people see your work? How can people support your work?
Right now I am only selling my art on my website or directly from Instagram and Facebook. I post all my new art on both social media sites. All of my work is shown and can be bought directly from my website.
Contact Info:
Getting in touch: VoyageATL is built on recommendations from the community; it's how we uncover hidden gems, so if you know someone who deserves recognition please let us know here.