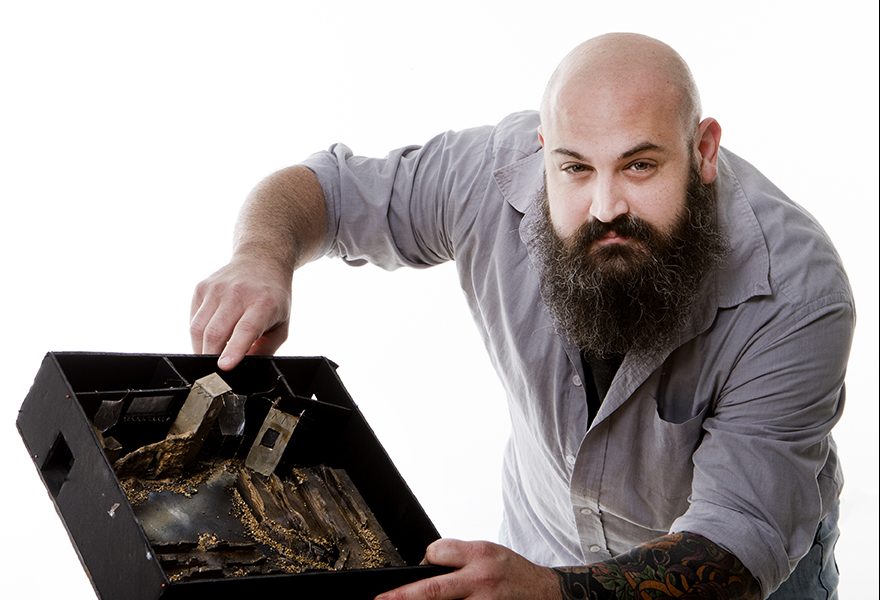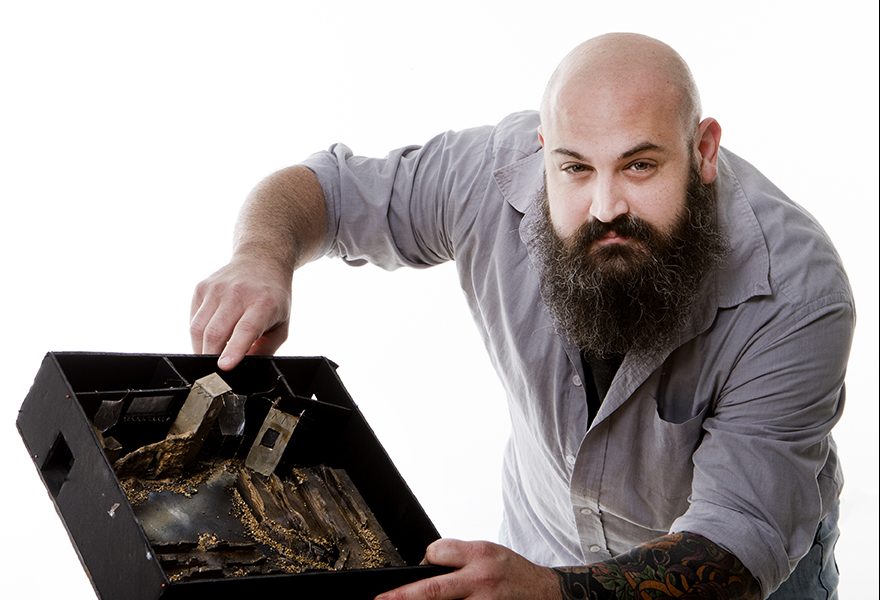 Today we'd like to introduce you to Brad Darvas.
Brad, can you briefly walk us through your story – how you started and how you got to where you are today.
I grew up in Fayetteville, Ga graduating class of '99 from Fayette County High. I thought I was going to attend film school upon graduation, but things changed and I ended up studying theatre at Georgia Southern University. I left Ga in 2004 to attend graduate school at Wayne State University in Detroit, working to receive my Masters of Fine Arts in Scenic Design. I attend Wayne State to study under the incredible Russian Designer, Larry Kaushansky. During my graduate studies, I had to opportunity to study Russian theatre and design at the famous Moscow Art Theatre School in Moscow. This was a pivotal point in my life as a young artist.
In 2007 I started teaching at the University of West Georgia in Carrollton. I was brought on as the technical director of theatre and resident set designer. This was my first gig out of graduate school. I had never expected to move back to Ga and live an hour from where I grew up. Part of my responsibility for that job was to manage the shop and facility the scenic construction of five show season, while set designing one to two of those shows.
One semester I brought in a former teacher from my undergraduate days, Patrick Battles to teach a week long course on leather mask making. During that course, I realized that I sort of had a knack for sculpting and I really, really loved it. Though I had always drawn and painted, I had never really sculpted in my life. That sort of opened up a lot of new doors for me. I have always been a huge fan of horror movies and practical effects, and face it, we don't get to do a lot of stuff in that genre in theatre, especially educational theatre, so naturally, I needed to find more of a personal, creative outlet. I started to study all I could find on sculpting and latex mask making and in doing so, helped me rediscover a childhood passion of mine in special effects makeup. I've always been pulled in multiple directions regarding creative activity, nothing ever seemed enough. Makeup effects sort of fell off the chart when I was younger, but that love and obsession came rushing back. Before I knew it, I was sculpting, painting, learning to airbrush, reading and devouring all that I could find on the career. I took a couple of trips to LA to study sculpting and started meeting the artist who had created the creatures that I was obsessed with as a child.
It was around that time that I started Brad Darvas Designs and started attending horror conventions to sell my masks and busts. Being exposed to that world, and seeing other folks my age creating such awesome work inspired me. Every second I could get, I was in my garage shop creating more masks and busts, experimenting with new materials, and studying how to build prosthetics for makeup applications.
All of this stuff started to come fairly easy to me, though don't get me wrong, I certainly made many mistakes and wasted a lot of money worth of materials from those mistakes, but it was in those less successful incidents that I learned the most.
To continue to feed my drive to become a better artist and dive more into the world of makeup fx, I started searching the Atlanta area for other people who were doing this stuff. At this point, I had been promoted at the University to Head of Design and started a tenure track position. As part of pursuing the tenure track position, the school allowed course release to focus on professional development. Instead of taking the more traditional route and purse outside work in scenic design, I sought out anything I could find involving makeup FX and film. I eventually landed at a local FX shop on the north side of Atlanta, Toby Sells Creature FX shop. There I got to do some small "shop" work on a variety of movies, learn from other local professionals, and most importantly, meet some of of the best friends I have today and sort of formed a little cohort of artist that I work with professionals on a fairly regular basis. It was also at this shop that I got my first on-set experience as a makeup artist.
I started taking all of this new knowledge and brought it back to the University. I started teaching workshops, first to my students, then later, traveling to regional conferences, to teach makeup fx, sculpting, molding, and casting workshops. I quickly learned that there was a huge demand at the University level for this, and not too many people teaching it. We have also been able to incorporate a lot of what I was learning in the FX field into what we were doing in our theatre department, bumping up the level of props fabrication and makeup fx that we could do here at UWG.
In 2014 or 2015, the day school was done for the spring semester, I got two calls the same day from some buddies of mine that were Makeup Artist on a very famous TV show entering its 6th season. They said that the show was looking for a makeup PA for the first couple of episodes. I turned my resume in, did the interview and got the job. I worked as hard as I could for those guys because I couldn't believe this was happening and didn't want to miss this opportunity up. I had to leave a month later for a teaching gig that I had already lined up and was so afraid that I would never be invited back. To my surprise, I was invited back as soon as my teaching gig was over, but this time it was to work as an additional makeup artist. I have been working as an additional on the show ever since we are starting season 11 this spring. Not only did that trial by fire introduce me to the world of film/television but it opened up many other doors to "day play" as a makeup fx artist on other tv shows and films. I never thought that I would be working professionally on a hit tv show near the same woods that I use to film high school student movies in. I've been so extremely fortunate to do the majority of my work as a professional makeup fx artist with the company KNBFX Group. Because of them, I have been able to travel to Austin to work on a spin off series of the show I was originally hired for and most importantly allowed to work alongside talented, industry professionals that I had always admired, who I can now call my friends.
It's kind of crazy to look back and think that all of this happened within the last 8 years. I am now a tenured professor at the University, and spend all my time carefully juggling my responsibility teaching, designing, and mentoring students at the University, working when I can, as a professional makeup artists, traveling to teach workshops and do demos at regional conferences and other Universities, while still finding the time to occasionally work on a new sculpture to sell for my business at one of the national horror convections. It's a busy life, but one I wouldn't trade for anything. I am constantly thankful for those who have helped me along the way and always jump on the chance to help point new artists in the right direction.
We're always bombarded by how great it is to pursue your passion, etc – but we've spoken with enough people to know that it's not always easy. Overall, would you say things have been easy for you?
All in all, it has been fairly smooth, but there has been plenty of time of self doubt. I think this is fairly natural as an artist. I just take those moments and turn them into something positive. When I first got into scenic design, I felt very far behind and had to work extra to catch up. But I was okay with that. There have been horror conventions that I barely sold anything at, so I took notes and pushed my self to sculpt better and produce pieces that might be slightly different from what others were doing. The world of makeup Fx is very competitive and though I feel very fortunate to be working professional, I am very aware of all the talented artists out there that are pursuing careers in this profession, and that only makes me work harder to be better and not complacent. Nothing that I do is really good enough for my eyes. There are things that I am very proud of, but everything could be better. So the biggest obstacle and challenge for me it always strives to do better.
Tell us more about the business.
My business is a one person business, just me and my garage shop. It started as just a latex mask company, like halloween style masks. Though I still occasionally make wearable masks, most of what I do now are pieces more for collectors, display pieces. I mainly like to sculpt full size creature/characters, made of silicone, latex, or foam. Because this is a long and tedious process, I don't produce a lot of larger pieces, usually only a couple a year.
Since the majority of my sales come from horror conventions, I will create smaller, novelty things for horror fans to buy. One of my best sellers and an item that I sort of started to become known for at the conventions were my "hour coffins", little wooden coffins that I would apply sculptural or graphic elements on that were horror movie themed. I also create smaller, more affordable sculptures/busts for collectors. I have an Etsy store, but it's very limited in content now.
I have also done commissioned pieces for people, masks, or busts. From time to time, I will pick up some smaller, independent film work where I will provide makeup fx services or produce some prosthesis for props. I've very proud of my larger, display pieces, and have a whole line of new ideas that I will be rolling out soon.
Has luck played a meaningful role in your life and business?
As I mentioned before, I feel very fortunate to be where I am at today, but I'm not sure I believe in luck so to speak. Yeah, I'm lucky to have such a supportive wife, I'm lucky to have such great friends and colleagues, I feel lucky to do what I do every day, but I think it's more than that. I think hard work should replace luck. I have what I have today, and hopefully more in the future, because I'm not afraid of hard work. You make sacrifices, and work crazy hours and always strive to be better. If you do this you sort of become lucky because good things start to happen as a result. I'm also very much an optimist. If the thing didn't work out or failed, it wasn't bad luck, it was something that needs to be evaluated and improved upon. Once you do this, all of a sudden you are "lucky" again because you have overcome the obstacle.
Contact Info:

Image Credit:
Steven Broom; University of West Georgia (photo of me).
Suggest a story: VoyageATL is built on recommendations from the community; it's how we uncover hidden gems, so if you or someone you know deserves recognition please let us know here.