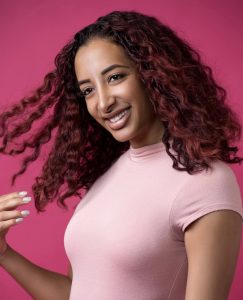 Today we'd like to introduce you to Brittany Greathouse.
Brittany, please share your story with us. How did you get to where you are today?
I was born and raised in Bolingbrook, Illinois & I'm an only child. Growing up I was a tomboy who was super competitive, actually I still am! I loved all types of sports, playing games, music, baggy clothes & anything electronic. Looking back, I learned the value of teamwork from being involved in sports. Pretty much all the skillsets I use today came from that. There is no downside to practice & preparation as well as being persistent and disciplined in every area of your life. For the most part what made me happy then, still makes me happy now.
My introduction to entrepreneurship started when I was in 6th grade. As an only child with a lot of aunt & uncles I used to get cash as a gift between Christmas and my birthday in February. Like any kid, I would spend the cash on PlayStation games, Ipod's & burning cd's. Basically, when March rolled around, I'd spent every penny. To make a long story short, my mom recognized that I wasn't managing my money properly. So, she took me to the bank, and we opened a savings account. Furthermore, knowing how competitive I am she challenged me. She said, "If you can save $1K by the end of the year, I will match it." She opened the account with $50 and in my mind, there was no way I could save $1K by Christmas. But my ears perked up because when I heard $1K plus a match of $1K dollars… in my mind that was like $100 million dollars. So, that selective hearing, told my brain you need to figure out a way to make $1K not save $1K dollars.
At the time, I used to constantly chew Bubbilicious gum. Everyone knew I always had gum on me, so my classmates would ask for some until I had none. This sparked the idea to sell gum. I used some of the money from my savings account to buy a few four-packs of Bubblicious gum from Family Dollar. I planned to sell each pack for double its value. The first day I brought gum to school, I sold it all – and I still had a few classes to go. I got to tell you I got excited! I came home and asked my mom to drive me back to the store to get more. At this point, I bought all the Bubblicious they had in the store.
By the end of the school year, I was half-way to my goal. I'd made a $500 profit in just three months. Each day I came home with a draw string bag full of quarters and dollars. I would dump it out on my bed and record the days total on a sheet of paper. My mom took notice and over the summer, we sat down and created what is officially called a balance sheet. When school started up again in the fall, I quickly learned about competition as my friends caught onto to my hustle and started undercutting my price. That's when I learned about business efficiency. Selling gum was super labor intensive. I wanted to find a product that wasn't easy for everyone to source and something that gave me a larger profit margin.
Life is strange, just when I was thinking about what to sell, the answer was a boy sitting across from me – in my science class – who kept staring at the fake, shiny spinner chain on my neck. We were cool and he asked if I would take my chain off and let him hold it. Once he had it in his hands, he tried it on for himself and asked if he could buy it. At first, I said NO! Then he pulled out a $20 dollar bill and my answer changed. I had bought the chain from the Beauty Supply store for $4. There were plenty more at the store, so I gave him the chain and took the money. That next week, he came back with $60 and asked me if I could get him 3 more chains for his friends. In all honesty, I told him, he could get them himself. But he quickly stated that his parents wouldn't drive him to "that side of town." So, my new business was born. Fake chains and magnetic diamond earrings. My customers were more niche… preteen boys and my profits soared!!!
To wrap up, since I was buying so much inventory from the Beauty Supply Store, I worked out a discounted inventory deal with the owner because I was moving so much product. My mom didn't need to match the money because I blew my goal away. Self-reliance is so important. When you set a goal, and quantify what takes to get to that goal, then you start to visualize the steps that go in between to get there. Just to be clear, I didn't know every step it would take to get to a thousand dollars. I did see the first step and after taking the first step, the rest of my steps became more apparent.
Moving on… All the success I had in junior high was null and void when I got to high school. I had to start all over again, in a new school with 4,000 students on the lowest rung of the totem pole. High school offered tons of extra-curricular activities in addition to organized sports. If you can't tell I'm an extrovert. So, I tried to fit in as much as possible without compromising my grades. The second semester of my freshman year, I invited a new friend home. When she saw my grades posted on the fridge, she couldn't believe I was a straight a student. Sidebar, my dad paid $20 per every a and at that time money was a great motivator.
Getting back to the story, when my friend saw the A's she was stunned. She assumed I got lower grades because I goofed around in class. Little did she know, I was the master of multi-tasking. I'd become accustomed to juggling various responsibilities. But the subtext of what she was saying was loud and clear. Her words were a turning point. I really started to understand the power of perception – and besides basketball, all the activities I'd chosen my freshman year, were social. For example, the group BASIC (Brothers & Sisters in Control) talked about issues in the African American Community. I was in H20 (Heart Haven Outreach) a Christian group where we could talk about mental health issues and the HEART Organization which focused on social justice.
Midway through my high school career, I stopped playing basketball and band. This left me with lots of free time. Before that I never really thought much about what I was doing what I why I was doing it. I shared my feelings with my mom, and she connected me community- based programs outside of school. The two that stand out were NAACP DuPage County ACT-SO (an acronym for the Afro-Academic, Cultural, Technological and Scientific Olympics) which is an academic achievement program. And there was the Quad County Urban Leagues' TSTM college prep program which is an acronym for Tomorrow's Scientists, Technicians & Manager's.
My mom was very involved with our cable access station and she worked with me to produce a show called Empowering the Community; which featured high school students. We are both members of Alpha Kappa Alpha Sorority, Incorporated. Before I pledged in college, my mom put me in the AKA Chi Sigma Omega Chapter's Tea Rose program. There I deepened my understanding of sisterhood and service – as well as gaining confidence in navigating social situations.
When I was a junior in high school, my mom told me, "You're definitely going to college, but you're going to have to figure out how to pay for it!" And she was serious. My selective hearing kicked in again. I recognized the challenge of earning college tuition was far greater than figuring out how to generate a thousand dollars. I had college on the brain my whole junior & senior year. When my mom saw how serious I was she paid for a college prep tutor named Martin Bremer. Martin was brilliant yet eccentric. He had done his undergrad work at the University of Chicago & got an MBA from Harvard. He was older and had been tremendously successful tutoring well-known people when they were high school students. The former student Martin talked about most was Rahm Emanuel. He also let me know that he'd tutored Linda Johnson Rice, the heir to Ebony magazine. But I think he only brought her up because she was the only other black female he'd ever tutored. My mom also invested in a scholarship coach who helped me kill it. She helped research apps that I was eligible for and kept me on point in terms of following directions and personalizing each application. In total, I completed about 116 scholarship applications and landed seven which covered a big chunk of college tuition. I had no idea so much money was available. Can you believe I even applied for a grant for left-handed students??? The whole exercise was really about being disciplined and tenacious. It was a real eye-opening experience!
The summer of my junior year, I attended Entretreneuity a one-week business camp at Wheaton College. Then I went downstate to Champaign-Urbana for the two-week LEAD (Leadership Education and Development) summer camp hosted by the University of Illinois College of Business. Then I came back home for a week and headed off to a similar camp at Southern Illinois University in Carbondale, called ECIB (Exploring Careers in Business) which is where I met Michael Haywood. Mr. Haywood, ran the Minority Business Program on campus. He and another professor Dr. Marcus Odum radically shaped my professional life. While in college I fully understood the value of building a personal brand. It was something I'd unconsciously started working on after entering high school. I ended my high school career by being voted "Most Likely to Succeed" by the senior class. My objective when I started college was to be focused and known for one thing and one thing only.
When you know where you want to go – the work is in finding the people who can guide you along the path to get there. Maybe I can better state it with an analogy. Think about a lake. Your standing on one side. The other side is where your success is. You can jump in & swim across. But there are undercurrents you can't see that can drag you down. Programs are like stepping-stones underneath the water. People who run the programs know where the stepping-stones are located. But – they can't walk the path for you. If you listen and follow their advice, they can offer you direction to steer clear of the undercurrents. The programs I went through laid the foundation to cross that lake from high school, to college and now to a corporate career. Even with the help of programs it hasn't been easy. But I know I have support. I have a rich network of people I can call so I don't get stuck.
To backtrack just a bit, college was defining. I chose Southern Illinois University in Carbondale, partly because Mr. Haywood recruited me like I was an elite athlete. Also, to honor my family. I am a 4th generation college student. My great-grandfather, grandmother and mother are all alumni. In total, I am the 15th member of my family to graduate from SIU-C. I was elected College class President my junior year and Homecoming Queen my senior year. As an undergrad, I majored in finance after I switched my major from Accounting. As an accounting major my first two years opened the door to two summer internships at Deloitte through the Inroads Program in Chicago. I met a girl named Lindsey during my first internship. The following summer she went to a consulting firm and informed me that a consulting internship would probably be better fit. She introduced me to the MLT (Management Leadership for Tomorrow) Program which opened doors I didn't even know existed. I also applied to SEO (Sponsors for Educational Opportunity) which ultimately provided me with an internship and by extension a career in Accenture Strategy.
The MLT & SEO programs in particular expanded my mind. I met peers who were enrolled at Ivy League and Big Ten schools. I always felt inferior to those type of students. However, once we became friends, I saw there was no difference between us. Our common bond was the desire to put in the work to BGREAT!
Programs and college aside, I seek to align with people who are striving to better themselves. Senora Rose, who taught Spanish in high school perfectly encapsulated this sentiment as, "Dime con quien andes y te dire quien ares." Which means, tell me who you walk with and I'll tell you who you are. Fast forward to now. I feel like my journey is just beginning. Since I graduated from college in 2014, I'm still with Accenture Strategy. In addition, I maintain multiple streams of income and BGREAT is one of them that I hold dearly! Since inception in 2013, BGREAT brand shares strategies to bring out the best in YOU! It is a brand that connects people to opportunities in business and within yourself. I believe that greatness is at the core of everyone! So, the only question YOU need to ask yourself is… Why be Good when YOU can BGREAT!
Has it been a smooth road?
Since quarantine started on March 20th, BGREAT highlighted 45 people being great in their professions every day at 5PM on Instagram Live (@BGREATLLC). One person stated that you can't climb a smooth mountain; that stuck with me because you have to experience challenges, sadness, and setbacks in order to succeed and know happiness. My journey hasn't been smooth but having mentors, coaches, family, and great friends around me has made the setbacks a whole lot easier. I will go deeper into detail about one struggle that has been long lasting. For the past seven years I have nightmares every night and because of this I have trouble falling and staying asleep. Because of this, some of my days run into the next and I'm not able to work at my full capacity. I knew everyone had a struggle and I tried to ignore it because my reality was much better than my dreams. But the more I did, the bigger it became. Once the nightmares started to become harder to forget about and after countless attempts to fix it, I started going to therapy. I recommend therapy to anyone and everyone because it uncovers a lot about yourself and makes you more aware as a human being! I found my therapist by going on a site called Therapy for Black Girls. Because of being in therapy over the years, my nightmares have decreased, and I gain more insight on how to overcome these things.
We'd love to hear more about your business.
The BGREAT brand shares strategies to bring out the best in YOU! It is a brand that connects people to opportunities. I started this brand because I believe that greatness is at the core of everyone! Currently, BGREAT has a YouTube Channel and Podcast (the BGREAT Podcast) that helps other BGREAT and highlights people's journeys who are being great in their own way. There isn't one way to succeed in life and the beautiful part of life is that you define what your success looks like. BGREAT provides others with connections through our platforms to pay it forward, work together, or help someone get further along on their path. My background in finance plus additional streams of income in: stocks, real estate, supply chain, the ATM industry, Amazon, and eCommerce has solidified that you can do anything you put your mind to if you are hungry to succeed and are driven by your purpose. My purpose is to help others BGREAT by simply helping them bring out what's already there and connecting them with others to make the journey clearer.
Is our city a good place to do what you do?
N/A – I live in Chicago, IL but I love Atlanta! It is a great place to jump start your career or flourish if you're already senior in your career.  I own and operate ATM's all around the Chicago area, I have a six figure Amazon online business that I run passively. I have clothing line called www.SpeakVolumesMerch.com where we sell merchandise with meaning on them! I also am a strategist who helps small businesses grow through BGREAT.
Contact Info:
Suggest a story: VoyageATL is built on recommendations from the community; it's how we uncover hidden gems, so if you or someone you know deserves recognition please let us know here.