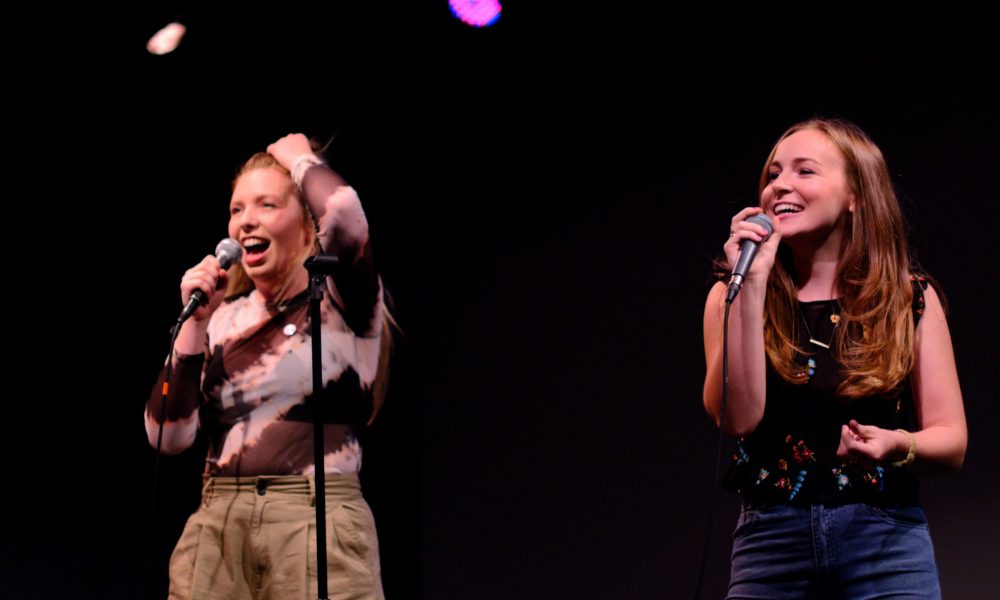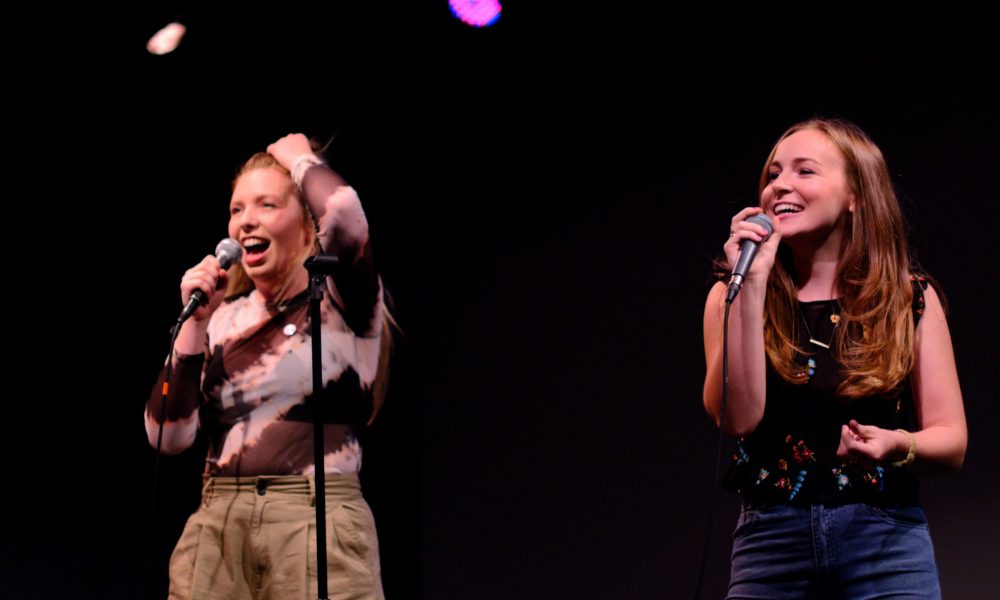 Today we'd like to introduce you to Brittany Raper and Natalie Gifford.
Brittany and Natalie, please share your story with us. How did you get to where you are today?
Truly, it all started in a coffee shop, talking about work visas, comedy and acai bowls. Natalie had taken comedy in her last semester of university, where she had to perform a stand up set. One of the requirements was to go to open mics around the city and test out the material. She discovered that, as a woman, the comedy club community can be very unwelcoming and intimidating. The majority of open mics are male-based, and a lot of the jokes are offensive and degrading to women. Brittany had also recognized this taking a comedy class at UCB.
When we met up for coffee in the summer after graduating university, we talked about these issues in the stand up comedy scene Together, we thought it would be a great idea to gather some of our funny friends (most of them had never done stand up before), and put on an all-female identifying stand up comedy show. Our mission became to create a space to empower female-identifying individuals through stand up comedy, have their stories and voices heard for what it is, and to create a supportive community in which female-identifying individuals can get their beginnings in stand up. We also felt, at the time, with the Alabama Abortion laws and the "Me Too" movement, that it was important to give women a platform to feel empowered. From there, we met once a week and went to open mics together. September 23, 2019 we had our first show at the Wild Project, and it was a huge success; the theatre completely sold out. That event inspired us to continue with our mission.
We received numerous emails and DM's from women wanting to be a part of our community, and we were so excited to have them. We began with monthly first timer shows at the Wild Project hosted by Natalie. From there, we created an alumni network where people could reach out to one another and participate in open mics together, attend stand up shows, and support each other's performances. We also produce alumni shows on a bi-monthly basis. It's so crazy to see some of these women that had started off with us a year ago, never having done stand up, never thinking that they would EVER do stand up, now growing into their own comedic voice, and getting booked to do shows all over NYC. It makes us feel like proud mamas!!
We are also super grateful for the support that has been given to us from the Wild Project, and our past headliners Rachel Sennott, Caitlin Reese, Veronica Garza, Amina Ahimani and mentor Jaye Mcbride. We've also had the opportunity to collaborate with sketch comedy groups such as OKMeatplace. Women Stand Up's latest first-timer show was on March 12th at the Kraine Theatre.
Has it been a smooth road?
Not at all. The biggest concern at the moment is that we are both Canadian and don't have US citizenship. Since graduating from NYU Tisch School of the Arts, we have both obtained an Optional Practical Training (OPT) work visa allowing us to work in our field of study for a year. In order for us to continue working in the US, we need to obtain another visa, or…. get married. This inspired Brittnay to take the leap and turn Women Stand Up into an LLC. The hope is that we can both obtain a work visa from this, continue to pursue our passion in the arts, and provide more opportunities for women to live out their stand up dreams in the US.
With the COVID-19 outbreak, we have had to go on hiatus, which has, unfortunately, taken a chunk of time out of our visa deadline. We are currently trying to work on fun online alternatives to continue the involvement within the Women Stand Up community, including weekly writing sessions, and watching stand up specials online together. In fact, Natalie recently performed one of her stand up sets for an online fundraiser through a PowerPoint presentation, which was well-received. Not all hope is lost for stand up comedians in these digital times!
Please tell us about Women Stand Up.
Women Stand Up is a stand up comedy training and production company for any and all female-identifying starting out in stand up. We work to make the performance and training of stand up comedy accessible and empowering for women. We want women to have their beginnings in stand up in a community that supports them and their stories. It is our mission to empower any and all women through stand up comedy.
Our specialty is our first-timers stand up comedy training program that connects a group of women who have never done stand up with a pro female comic "Mentor" for a five weeks course. At the end of the course, we put up a big show for the group to showcase them and their Mentor headlines! Brittany and Natalie operate as co-founders/producers and Natalie is our resident host and performer.
As we've done more and more programs and shows our alumni network of passionate, creative women has grown beautifully. We love our alumni like family and are always actively thinking of new, fun ways to get them on stage. We've put on alumni bring back shows and partnered with other comedy companies in curating new shows. It's been amazing to watch these women shape the face of the company as they go out into the comedy scene repping WSU and bringing other female-identifying individuals into our family.
As a company, we were born out of a need to be different from what we saw in the stand up comedy scene. Because of that, when you mention what sets us apart it's more like what doesn't! We wanted to do things differently. We wanted to make stand up welcoming and to use the inherent empowerment in stand up comedy for good. Seeing the effect our business has on the women involved is what keeps us inspired and proud of what we've built.
How do you think the industry will change over the next decade?
With streaming technology, stand up comedy has the most exposure and consumerism it has ever had. This has diversified stand up's audiences, increased stand up comics' reach, and altogether created a new market for stand up comedy. We're only seeing the beginning of the new world of stand up. Even though it seems like there's a new Netflix stand up special every week, here at Women Stand Up we think we're going to be seeing even more creative content exploring the performance and structure of stand up. The art form itself is morphing in our TikTok, Twitter world and the old club comics might not be ready to face that change is inevitable to the industry's success.
Change in who we're seeing onstage is also inevitable to the industry's success. Stand up's increased exposure and audience has raised up a new generation of those seeking out the comedy stage. Especially after the #MeToo and #TimesUp movements targeted quite a few prominent male comics, audiences are eager to see new faces and hear new voices. What used to be acceptable isn't anymore. And it's also just not interesting anymore. Luckily simultaneously, minorities, including women, are hungry for the stage. At least at Women Stand Up, we've never had a problem with any of our first-timer women not having anything they want to say. We love this quote from Amy Sherman-Palladino: "You need different people to tell those stories because suddenly, you're not just pitching to one demographic… and I don't know if you've noticed, but there's a lot of women in the world."
We predict stand up comedy to become an even more bright, successful industry including innovation in training, platforms, and brands.
Contact Info:
Image Credit:
Susan Dorf
Suggest a story: VoyageATL is built on recommendations from the community; it's how we uncover hidden gems, so if you or someone you know deserves recognition please let us know here.