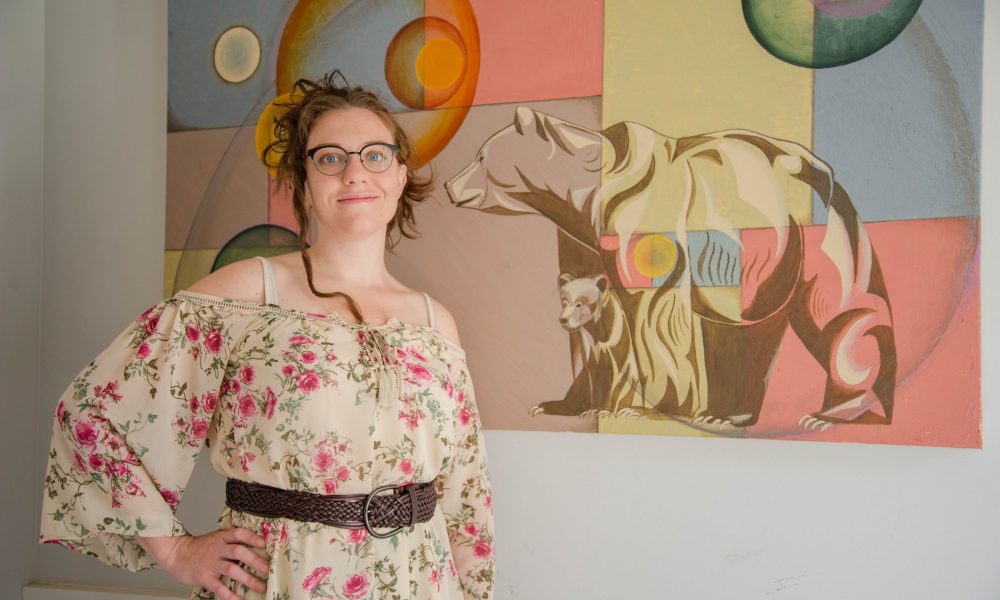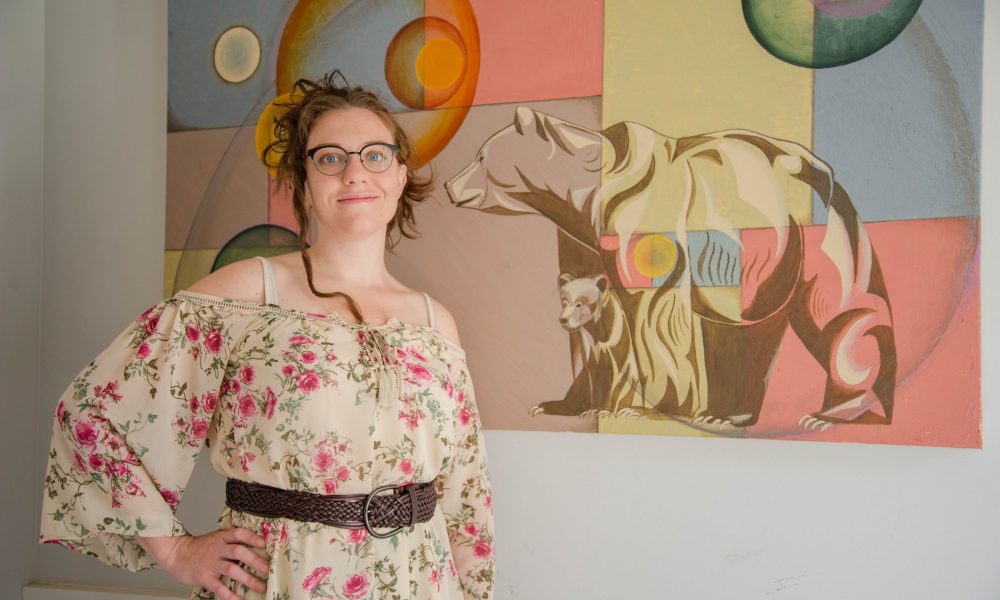 Today we'd like to introduce you to Carrie Padgett.
Carrie, let's start with your story. We'd love to hear how you got started and how the journey has been so far.
I wanted massage therapy to be my profession as soon as I knew that it was even an option. I have always been touch oriented and thought that people did not receive enough healthy touch; I was definitely that friend that always hugged everybody whether they wanted it or not. I took a little detour though and got a BFA in painting from SCAD with a minor in drawing. Art has always been my other obsession, so when I was 14 I thought it would be neat to work in a massage practice that was also an art gallery where I could display my work. Spoiler alert: that's exactly what I'm doing with my life right now and it's pretty amazing. In college my life drawing and painting classes taught in detail how the human body looked and moved from the inside out, starting with the skeleton and building muscles on top one by one. This absolutely captivated me and I ended up doing a series of large format oil paintings based on muscular anatomy.
I promptly got licensed in massage after art school as if it was not even an option, but simply my next step in life. I even moved from Savannah to Atlanta to go to Atlanta School of Massage so that I could get the best education available to me. I absolutely loved massage school and even took private tutoring in modalities that are usually only taught through continuing education. One of my instructors loved my paintings so much that we traded my artwork for lessons in Lomi Lomi, a very unique Hawaiian style that has been an integral part of how the sessions I provide today developed. Lomi Lomi taught me how to truly be in the moment during my sessions and be fully present with my clients. The anatomical paintings that have not sold, as well as a variety of other paintings, are now happily hanging in my therapy space and I use them to teach my clients about how their bodies work.
Right out of school, I started as an orthopedic massage therapist at a chiropractic office that specialized in prenatal care and personal injury cases. I worked on all sorts of injuries including whiplash, TMJ disorder, sciatica, herniated discs, nerve impingements, thoracic outlet syndrome, vertigo, joint replacements, carpal tunnel, and more. Working alongside experienced practitioners and taking continuing education to learn more about how to help my clients heal from traumatic injuries and chronic conditions was an incredibly valuable time in my career. Active isolated stretching (AIS) has been the most effective modality for orthopedic issues that I have learned so far. It also happens to be incredible for sports massage, which led to an interesting and unexpected turn in my career.
Rewind a few years and I was basically a squishy couch potato until I went to massage school and learned how to actually take care of my body. I started taking kickboxing classes at an MMA gym because it was more fun and effective than awkwardly moving machines around at a gym without any soul and I knew I needed to stay active, so I might as well have fun with it. After working out with fighters and changing everything about how I ate, I dropped 60 pounds and basically replaced my old body with a new one. During this lovely fitness journey, I saw how hard the trainers and fighters were working and was amazed at their fitness levels, but I noticed a frequent injury and lack of proper stretching. I ended up trading massage and stretching sessions for personal training sessions with one of the fighters. This trade turned into an obsession with performance optimization for him. I would watch him spar and work with him on specific movement patterns. His speed increased, injuries decreased, recovery time from training decreased, and flexibility went through the roof. He was 5'6″ and got to where he could kick the chains the heavy bag was hanging from. As I took on the other trainers as clients, their clients, in turn, followed suit and I started my own sports massage practice out of that gym almost by accident.
I sold that business in 2015 and moved closer in town where there was more opportunity. I started contracting with a wonderful massage practice in Midtown where I have been able to hone my skills and make a living while building up my own clientele around the East Atlanta area. I currently run my practice out of my massage suite in my home in Kirkwood. I have been a massage therapist for 7 years now and I feel like I am just getting started. The more I learn and grow in my career, the more excited I get about what the next step is going to be. Now in each session, I focus on combining the mindfulness of Lomi Lomi with soothing intention and knowledge of orthopedic assessment and treatment to create an effective and deeply healing session. I had no idea that this career was going to be so profoundly fulfilling. I get to help people and learn something new on a day to day basis.
Overall, has it been relatively smooth? If not, what were some of the struggles along the way?
Life is very good at throwing potholes, no… sinkholes in the middle of the road, even if you feel you are on the right path. There have been many days where I have questioned absolutely everything and thought long and hard about throwing in the towel. When I was in massage school, I had a serious back injury from a bicycle accident. I herniated a disk and had trouble walking at first, then developed severe sciatica down my right leg. The pain was so excruciating that I had to lay on the floor during classes because sitting up in a chair was too much to bare. Massage therapy is a physically demanding career path and I had no idea how I was going to be able to continue if I couldn't even walk properly. Fortunately, I had some incredible teachers that knew how to help me. They worked on me for free in class and taught me how to stretch and strengthen to protect the disk. I made a full recovery and my back, along with the rest of my body, is healthier than it ever has been. I am on my feet all day, take kickboxing classes, and cycle commute without a problem. My back still occasionally gives me trouble, but I know the therapies to set myself straight so well that an episode which takes most people weeks to get over is done in 2-3 days without medication or shots. I now appreciate the struggle that I went through because I have no doubt that it made me a much better therapist than I would have been otherwise. This is just one of the many anecdotes where it would have been perfectly reasonable to change my path. I look back at each struggle almost with a fondness because of how they helped me grow and now I no longer fear struggles to come because I see them as opportunities to learn.
Blank Canvas Massage – what should we know? What do you guys do best? What sets you apart from the competition?
I am most proud of seeing difficult cases as opportunities to learn. I do not get discouraged if my client is in a lot of pain or if the first session doesn't make much of a difference. There are so many resources out there in the massage world that I am usually able to find a way to help.
What sets me apart from others is that I have personally gone through what a lot of my clients are dealing with. I know firsthand what massage therapy is capable of and I can truly understand and empathize with extreme pain. I also have the goal of getting my clients to the point where they don't need me anymore. I do not try to convince my clients to come in more than they actually need.
What is "success" or "successful" for you?
To me, success means being honest with yourself, no matter how painful that can be. Authenticity can be difficult to come by, but it is absolutely the most important quality to me. If you build a business on a lie, or a fleeting version of yourself, it will not be satisfying and you will not make real connections and all the money in the world won't matter.
For my own path, my goal is to improve the lives I come in contact with. Even if a client comes in and only wants a foot massage, I am going to give them the best foot massage I know how to and that little bit of happiness for that person is a drop in the bucket of success for me.
Pricing:
$100/60 minute session
$140/90 minute session
$180/120 minute session
$500 6 hour package
Contact Info:

Image Credit:
Deondre Bonds Photography
Carrie Padgett
Getting in touch: VoyageATL is built on recommendations from the community; it's how we uncover hidden gems, so if you know someone who deserves recognition please let us know here.