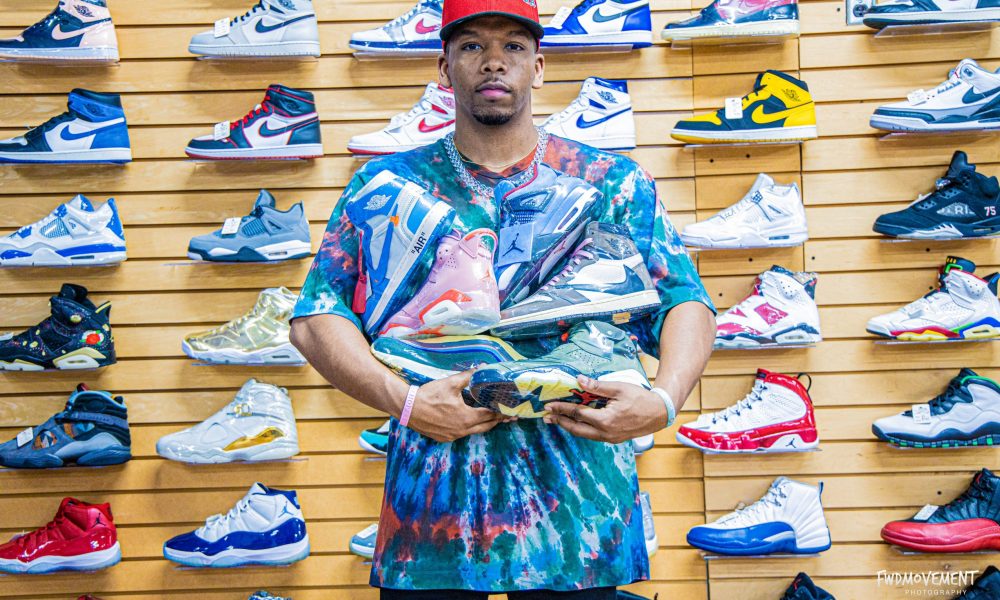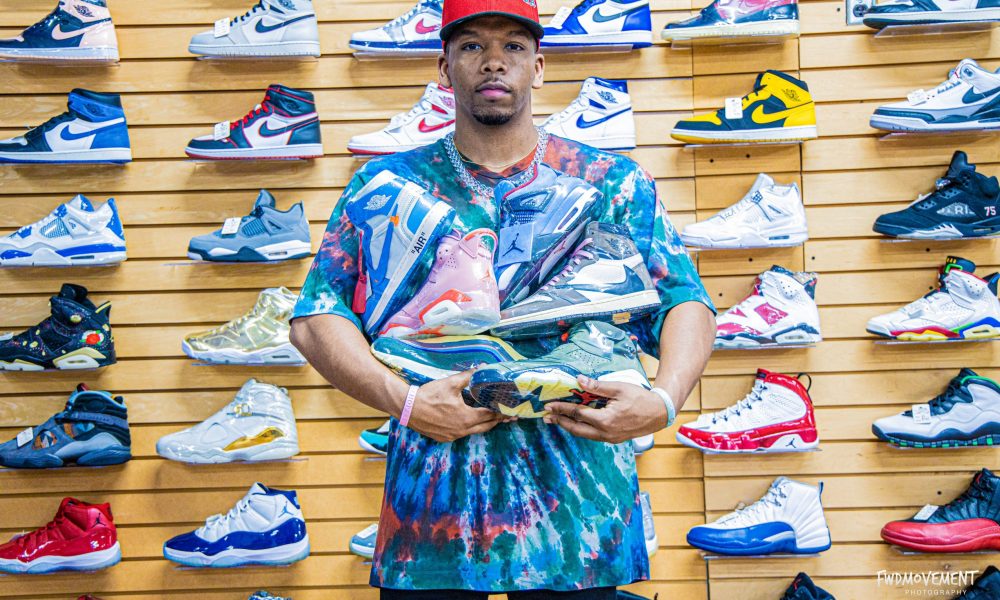 Today we'd like to introduce you to Chris Smoot.
Chris, can you briefly walk us through your story – how you started and how you got to where you are today.
*Well I've been into shoes and clothes the majority of my life, ever since I can remember getting my 1st pair of Jordan's in 5th grade. My big brother inspired me and influenced me at an early age. He would always have the freshest outfits and sneakers, and everyone knew it too. I wanted to be like him, so I started asking my mom for sneakers instead of toys as I got older. I also used to save my lunch money to buy sneakers. When my feet grew big enough for me to fit my brother's shoes, I'd borrow pairs from him without him knowing. Most people where I'm from either know me from basketball or what I wear. I even won best dressed in high school (Didn't feel like I deserved it, but it motivated me to live up to it). I would always trade sneakers with my friends, but I began selling them once I went to a sneaker trading convention in Atlanta called SneakerCon in 2013. I arrived there with 13 pairs of shoes & $30. I left with 6 new pair & over $300. I've been to every SneakerCon in ATL every year ever since. The journey of my opening a store started back during my last year of college in 2017. I met with my advisor after the spring semester, and he informed me that I had to secure an internship before the fall semester began. So from May-August, I was trying to find an internship but couldn't secure one. But during the summer, I went on this study abroad trip with my school for a month to NYC, Paris, London, & Milan. While I was overseas in Paris, I walked into a store that was not like any other store I've ever been in. There was a bunch of fashionable teens & young adults in there buying, selling, & trading sneakers and streetwear. Their inventory was not like your normal Footlocker store either (which I was working at during that time). They didn't just have new releases, they had sneakers from over 10 years ago as well. I thought to myself, "It would be cool to have something like this back at home." After I came back from the trip, 1 night I was at home scrolling through YouTube, (after a day of reading disappointing email responses from potential internships, and also filling out new internship applications), and came across a store called RoundTwo. They had the same concept as the store I saw in Paris. I was surprised to see that it was stores like this in the states. A few days later, I was chilling at my mom's shop, (She owns a women's fashion boutique called "The Walk-In Closet"), and I noticed a "For Rent" sign in the window of a store directly across the street. I walked across the street and looked in the window and saw that it was already set up like a shoe store.
Immediately, the thoughts of those sneaker stores ran through my mind. I figured I'd give the renters a call just to hear how much they wanted. They told me a price that I thought was extremely reasonable, and that inspired me to go for it. Keep in mind, I had no money. I was a broke college student, but I knew that I was set to receive my last student refund check for my last semester of undergrad soon. Usually, I would blow it on some expensive shoes and clothes, but this time I had to think smart because it was my last 1. So, I was going to use it to invest in my business. And since securing an internship seemed few and far between, I went to my advisor and asked him, "Since I can't find an internship, can I use this last semester to work on opening my own business?" He told me if I can have it open by the end of the semester, I could and it would count as a grade. That motivated me more than ever. Soon as the fall semester began and my refund check came in, I used that to pay the deposit, 1st month's rent, get the power turned on, and started buying inventory. After doing all that, not much money was left and I still had a lot to do. Plus, those Footlocker checks were not cutting it. The only asset I had that could get me a good amount of money in a short amount of time was my extensive sneaker collection. My brother introduced me to a guy named T that was buying shoes and selling them online. So I met with him and began selling some of my collection. I told him I was getting ready to open up a shop. And every time something came up after that, and I needed money, I would sell more and more shoes to him. By the last month of the semester, I only had three pairs of shoes left. But I was nearing the opening of my store. My store officially opened on December 2nd, 2017 (2 weeks BEFORE I graduated from The University of Alabama). Before I opened the 1st day, my bank account was in the negative. But there was a line outside waiting on me to open (T was 1 of the 1st people in line), and that was a sign that today was going to be a good day. Selling all of my shoes and spending more money than I had would all be worth it.
By closing time, I ended making like $3,000 that 1st day and I thought I was rich! I thought every day would be like that, but boy was I wrong. I learned quickly that to maintain having and selling good products, I would have to constantly buy more inventory. The 2nd day I opened, I bought $500 worth of vintage clothing from a guy named Michael that came in the shop with loads of it. Buying inventory became petty much a daily thing after that. I worked in the shop by myself for about the 1st five months. It began to become more than I could manage alone, and I knew for it to grow, I could not continue to do it alone. I would have to get some help. So 1st I contacted the guy Michael, whom I bought the $500 worth of vintage from on the 2nd day I opened and asked him if he would like to join and be over the clothing section. Then I contacted T, the guy that I was selling shoes to before I opened, and asked if he would like to join and be over the sneaker section. Michael agreed on 1st, and T eventually did as well (after contemplating for a minute) and we've taken off ever since. Unfortunately, Michael is not a part of the business anymore, but we're still good friends though. Couldn't have gotten this far without him or T. Fast forward two years and over 11 thousand Instagram followers later, here we are…
We're always bombarded by how great it is to pursue your passion, etc – but we've spoken with enough people to know that it's not always easy. Overall, would you say things have been easy for you?
* Nah, it hasn't been a smooth road at all. It's been more of a curvy, bumpy road. But they say nothing great comes easy. We've had our fair share of ups & downs like everyone else, that's life. I jumped into this business with little to no business knowledge at all. I didn't know most of the things I had to do before opening. I didn't know about business licenses, taxes, building inspections, etc… The 1st 5 months were rough. Some months I didn't know how I was going to pay the bills because business was reallllllly slow. Some days I would make good money, some days I wouldn't make any at all. Some days that I didn't make any money, people will still be bringing in stuff to sell, which put me into an even bigger hole. But in this business, you have to spend money to make money. I have to give a bigger shoutout to my partner T because I couldn't do it without him and we definitely wouldn't be where we're at today without him. Even before he was a part of the shop, some months he would come in at the end of the month, right before bills were due, and cash out on multiple pairs of sneakers (which enabled me to pay the bills on time). The month before he joined, I was even worried about losing the shop because I was a month behind on rent and didn't know how I was going to pay that or the next month's rent. But from the 1st day he joined, business picked up and bills & business expenses became a little more manageable.
But still, to this day we have our struggles. Some of the struggles are being broke because we invest all our money back into our inventory. Someone even stole our iPad that we used to check out our customers on. Our building is super old, so we continue to have to spend money on maintenance. We've lost employees. And just your normal growing pains when a business is growing at such a rapid rate. I wouldn't trade it for the world though. I'm a firm believer in everything happens for a reason. So, you have to take the bad with the good. As long as you stay positive and optimistic, all you can do is keep the faith and keep moving forward. Whatever you're going through could be worse, so don't stress about it. It's not the end of the world. Everything we've been through is lessons and made us who we are.
Tell us about your company. What do you do, what do you specialize in, what are you known for, etc. What are you most proud of as a company? What sets you apart from others?
*"Memory Lane" is a buy/sell/trade sneaker & vintage clothing store located in the heart of downtown Bessemer, AL (My hometown). We sell new & pre-owned items. We specialize in popular and rare sneakers that you cannot find in your regular retail stores in the mall. Also, unique (mainly 1-of-a-kind) vintage items from the 80s, 90s, & early 2000s. I'd say we are known for our pretty fair prices. We sell some shoes for as low as $40. What sets us apart from others is the way we trade and that we are the only store around Birmingham that buys; the others do consignment. We'd rather buy the product from our customers outright, that way we'll own it and be able to set our prices.
What we are most proud of as a company is our integrity. We have a certain way we do things, and we stick to it. Our way has led us to grow faster than we could ever imagine. I'm also proud that we were able to do it in my hometown of Bessemer. Many people didn't think that could happen because it's considered "the hood." But I truly believe that if you have good products, then people will travel from wherever. Plus, I enjoy bringing people to Bessemer, so they can see that it's not as bad as the rep it gets.
So, what's next? Any big plans?
We don't make many plans because we just like to take it day by day and go with the flow. But our main objectives for the future are to just keep getting better; Keep providing better products for our customers. Hopefully, we'll be able to start giving back to the community somehow too. And who knows, maybe in a few years open up another location somewhere. We just want to continue to grow and be successful. * I used to define success by how much money you make. But as I've gotten older, I realized that's not it. I mean it's a part of it, but it's only a minuscule part. Success to me is ultimately being happy and being able to help others.
You can make all the money in the world, but if you're doing something that you don't like and not helping out your friends and fam, you'll be miserable and unfulfilled. I'd rather make a decent amount while doing something I love and I'm passionate about. They say, "If you always do what you love, then you'll never have to work a day in your life; because it won't seem like work." I have the luxury and time of doing whatever I please, that's priceless. But I also want my success to be measured by how many people I've helped and inspired. So, I'm still far from successful at the moment.
Pricing:
* Our sneaker prices range from $40 up to over $1,000
* Our clothing prices range from $10 & up.
* We buy, sell, trade, & price based on: * What it is * The condition it's in * What size it is * What it's worth & what we'd sell it at * How fast we think it'll sell * How popular and/or sought after it is
Contact Info:
Image Credit:
FwdMovement Photography
Suggest a story: VoyageATL is built on recommendations from the community; it's how we uncover hidden gems, so if you or someone you know deserves recognition please let us know here.