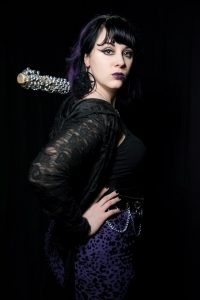 Today we'd like to introduce you to CM Addams.
CM, before we jump into specific questions about your art, why don't you give us some details about you and your story.
I've been drawing most, if not, all my life. I can't think of a single day in my life there wasn't a pencil in my hand. It's always been my pride, joy and my escape outlet. Both of my parents were artistically inclined, so I feel it is truly in my blood. I didn't start truly taking my art seriously until I was about 12 and stumbled onto the internet and started sharing it with the world. At the time I lived in Montgomery, AL, I was an outcast. I didn't fit in with most groups, not even the artistic groups. They were just too stale, too 'in the lines' for me. My only friends were my online art ones. With that and trouble at home, art became a HUGE escape outlet for me, feeling only my art understood me. One particular style that still inspires my work today is the Japanese concept of 'Guro' or Grotesque if you will. I adore the creepy, macabre, and surreal side of it. From multiple limbs and eyeballs to subjects that don't make a lick of sense. That's what I like my art to be. Surreal, macabre, and doesn't always have to make sense.
It wasn't until I started college, got out of an abusive relationship, and began traveling back and forth to Atlanta from my hometown that I began to feel a sense of belonging. Meeting the art world in Atlanta and being apart of it just changed me. I just knew this is what I had to do with myself, even if it kills me! It definitely has not been an easy journey getting my foot in the door, but I wouldn't change it for the world! I'm excited to see where my art journey takes me next. Almost three years later and I would not change a thing. I now am a spooky, surreal artist.
Has it been a smooth road?
Absolutely not! One of my biggest struggles was growing up as the quiet girl who doesn't ask for much, even if she REALLY wanted something. I also struggle with anxiety, which can be difficult to overcome in social situations where you HAVE to sell yourself if you want to make it in this lifestyle. One piece of advice that really helped me overcome my fear of social interaction was the quote from Lemony Snicket: "If you wait until you're ready, you'll be waiting for the rest of your life."
I definitely wasn't ready when I first started, emotionally or financially, but I'm glad I did it, and I would not trade it for the world. I still remember my hands shaking violently when I signed up for my first art convention and it's been history ever since. Don't ever try to hold yourself back from your true potential. Only you can make the shots and you're guaranteed to miss the shots you never take.
Please tell us about your art.
I'm best known for my "Artistic Guro" style, as someone once told me. As I've said before, I like work that doesn't make a whole lot of sense in the physical world. I like grungy, spooky, surreal and occult like themes with a dash of glitter and neon on top. Growing up as a 90's kid, EVERYTHING was neon and glitter! Then growing up in my angsty teen years, I was drawn more towards blood, horror, and all things creepy. I guess you could say my art style is a mixture of my two past selves colliding into one. A big bloody glittery mess. How I like it.
I'm most proud of how far I've come as an artist and company. I started as some anxious rinky-dink table in the middle of a dark, dreary bar, covered in nothing but my prints and my black shaw I got out of the car. Now I'm a full booth with more than enough of my true work that has a recognizable style and theme. Probably my proudest moment was being at a very large expo and overhearing people recognizing my work and talking on how inspired they felt looking at my work. My heart swelled up ten times that day.
I know that my art is not for everyone. I like crude, I like bloody and creepy, and I know that's not going to be everyone's cup of tea. But for the ones who do truly appreciate that kind of work, it speaks volumes. That's my biggest goal for my business. Is to touch those who are often outcasts and take refuge in that type of content. Where we can escape and be our true selves with no censorship or shame.
How do you think the industry will change over the next decade?
I'm definitely seeing myself biggering and biggering. I have an opportunity to move to Los Angeles soon, and you bet I'm going to take that offer to hype up for the City of Angels. I keep getting better and better that it feels like the sky the limit at this point. I don't see myself ever quitting.
Pricing:
8×11 Prints: $15
Enamel Pins: $10-12
Stickers: $5
Custom Art: $50-200
Buttons: $2
Contact Info:

Image Credit:
Photo taken by Frank Rebelroma https://www.facebook.com/rebelroma/
Suggest a story: VoyageATL is built on recommendations from the community; it's how we uncover hidden gems, so if you or someone you know deserves recognition please let us know here.