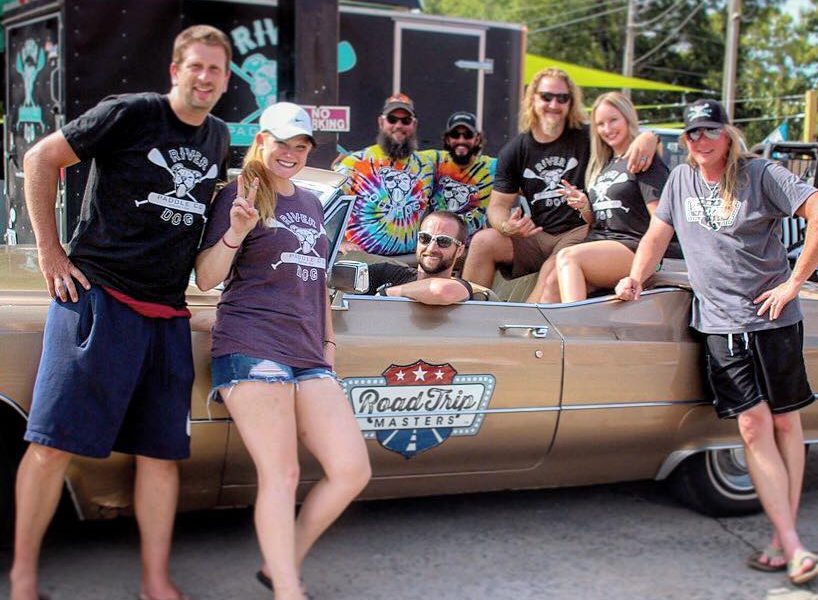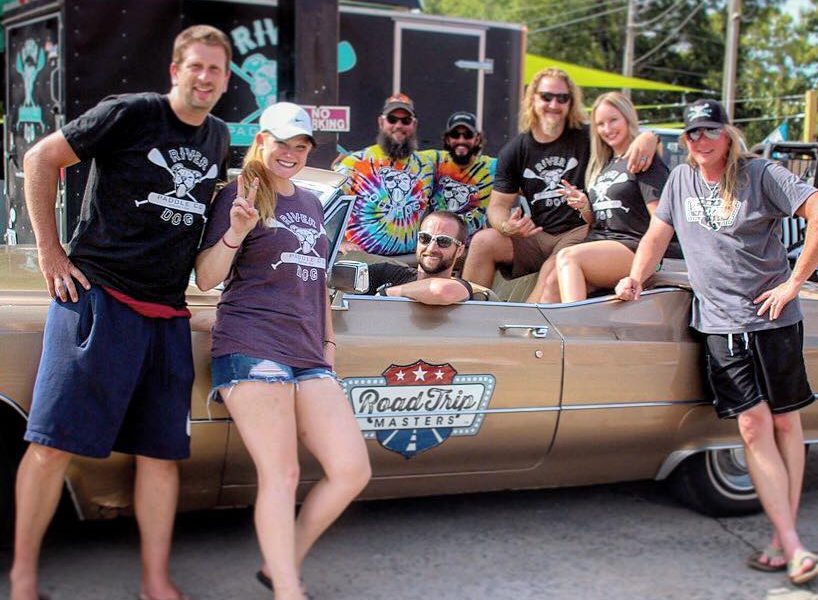 Today we'd like to introduce you to Connie and Mike Sams.
So, before we jump into specific questions about the business, why don't you give us some details about you and your story.
I (Connie) am an Atlanta native, grew up around Marietta and lived in Virginia Highlands and the West side of Midtown all of my adult life.
Mike's from Virginia and lived in Atlanta most of his adult life. We loved our West-side Atlanta neighborhood (Whittier Mill Village) but with 3 dogs and an outdoor lifestyle, wanted to find some wide open spaces, which led to our move to Rome in the Spring of 2012.
Rome is a great small town. At the heart of our Historic Downtown is Broad Street, our Main Street – which is among "America's Greatest Main Streets" and runs along the Oostanaula River. The convergence of the Oostanaula and Etowah Rivers in downtown Rome form the Coosa River which flows West to Alabama and Weiss Lake. Coming from Atlanta and frequent 'Hooch shooters, we were surprised at the lack of activity on Rome's rivers – with their prime location in the heart of downtown. There were walking bridges with stunning birds-eye views of the rivers below and walk/run/bike paths running along the rivers, but not much happening on them. We also noticed most of the downtown business literally had their backs turned to the rivers. Somewhat understandably so, with Rome's history of flooding and old carpet mills back in the day to the North polluting the waterways. But that was long ago, and we inadvertently set in motion a resurgence of activity on Rome's rivers.
We were down at Rosemary Beach with some awesome friends in April of 2014. My #bff, Jenn, asks me if I want to try stand up paddle boarding, and never have thought much of it before I thought sure – why not. The next morning we head to the SUP shack, only to find it closed to attend a local SUP race. Thinking oh well, we tried… we just head down to the beach. I noticed a fellow beachgoer had this big beautiful looking bamboo wood, elaborately designed, longer than a surfboard looking thing – a stand-up paddleboard or SUP. I was more drawn to its aesthetics than functionality – I even had to ask Mike what it actually was – and little did I know at the time where that observation would eventually lead. Thinking how cool these things looked, I really wanted to try it out then – and was stoked when the beach rental guy showed up and drug some out! Jenn and I got a quick lesson and hit the water. After just a few minutes of wonderfulness out there, I was instantly hooked and there was no turning back.
Back home with grand plans of SUP'ing with my dogs and getting on Rome's rivers, I order my first SUP online. The board came, Mike grabbed his kayak and we hit the Oostanaula. It was awesome – and Mike couldn't keep up with me in his kayak. We get home and Mike starts looking for a SUP of his own. But after a few outings, I find myself thinking something's not quite right with my comfort level on my board – especially when I added a dog. Little did I know I'd ordered a board that was too short, and built for SUP surfing – I just thought it was pretty! On a new quest for a SUP, Mike and I meet Don Bowling, a fine fella over in Alabama selling SUPs and he invites us out on this river, the Elk River, to try a few out.
That experience of buying the right boards for us, meeting Don and seeing him run SUP rentals and sales on the Elk River and saying to us "You can do this too, man!" further ignited a spark. Mike would often paddle with our dog, River, who we rescued along the Coosa River one night. Anytime we'd be out paddling around Rome folks would ask us, "what are those?" "how can I try that?". The interest was there. We went through SUP Instructor certification, converted our motorcycle trailer to carry paddleboards and in August of 2014 with a few used boards Mike set up River Dog Paddle Co, running rentals from the Coosa River boat ramp – just steps from downtown. One afternoon we were doing some Downtown shopping along Broad Street. We got back to the car and happened to look up and notice the storefront window we parked in front of had a "for rent" sign. Located just steps from river access and across the river from the boat ramp, we thought it would be convenient to have a spot to store some boards. We rented the space in September of 2014. That "space to store some boards" quickly grew into "we have a retail storefront on Broad Street – we need a shop", and we opened River Dog Paddle Co on Black Friday – November 28, 2014.
Just across the street from the shop at a corner spot along the Etowah River. An old gas station facing Broad Street with a dilapidated deck on the back that just so happened to be at the convergence of the Etowah and Oostanaula, where the Coosa forms. Our landlord had tenants there, selling occasional snacks and using it for storage. We'd sneak over to the deck some to hang out on Wednesday nights after paddle club and take in the river and a few beers. Our wheels turning, thinking how great it would be to have a spot beyond our little shop lounge to hang out after paddling and drink some cold ones, typically SweetWater. We put a bug in our landlord's ear should it become available we wanted to consider it. We opened River Dog Outpost, an outdoor beer garden, on December 24, 2015, with 8 taps dedicated exclusively to SweetWater brews. We dig the folks at the brewery and had a connection with them through their "Save Our Water" campaigns. It was a natural fit.
Today we have an additional 6 taps where we rotate out select craft brews, mostly from local Georgia breweries, and around 100 different craft beers in cans along with cider and wine. The super yummy Speakcheesy food truck is onsite serving up gourmet grilled cheese deliciousness most nights and weekends. We converted a shipping container and moved our shop into the beer garden along with a satellite bar where folks can check out SUPs to buy or rent along with cool River Dog schwag and surf style apparel and gear. We're a super chill spot where folks can come soak up good vibes all year long, bring their dogs to relax and take in the river, catch some live music or participate in one of our festive events such as our annual .0420 Mile Micro Marathon – a collaboration with SweetWater and CRBI (the Coosa River Basin Initiative, a local non-profit and River-Keeper organization).
Somehow, we ultimately combined our passion for dogs (we have 4 rescues), the outdoors and stand up paddle boarding with a dedication to enhancing our community and the viability of our local rivers. We're advocates of the CRBI and local animal rescue groups Claws for Paws and Friends to the Forlorn (who is ultimately responsible for River Dog having his very own SUP shop and bar). We sparked a revival of activity on Rome's rivers and opened a river-facing establishment, apparently a first. We didn't have a plan – we went through doors when they opened, evolving truly organically. We filled a void in our community that it didn't necessarily realize was there, the community has responded graciously and we're so glad they dig our vibe.
Overall, has it been relatively smooth? If not, what were some of the struggles along the way?
Smooth Road? Ultimately yes. That doesn't mean we haven't had to make some tough decisions, We grew before we were quite ready – which is great, but we had to make sacrifices in our personal lives in the process to make it work. We both worked full-time jobs as we got things started. Mike runs the day to day operations now, but I (Connie) still work full time. We're lucky to have a core group of employees that are also friends, and share in our vision and passion and make River Dog so successful – and fun! There is no way we could so what we do without them.
We've consciously tried to keep things simple, but have had to pay attention along the way and evolve. I always had a vision for a retail shop with cool stuff, and now we have a bar business that outpaced that vision. I knew to continue to grow the retail needed to evolve into the bar and while I gave up a piece of my vision with that decision, it's been the right one to make, We're doing things Rome has never experienced before, first with the paddle boarding, then a river-facing bar, and now a cool converted container with our shop inside the beer garden!
Alright – so let's talk business. Tell us about River Dog Outpost / River Dog Paddle Co – what should we know?
River Dog Outpost is a river-front beer garden with around 100 craft brews on tap or in the can, along with beer and wine. We're known as a super chill spot with a unique vibe – a vibe that was missing from Rome. Folks tell us we remind them of their favorite beach bar, that they feel like they're in the islands or on vacation. We don't try to be any of those things – we're just who and what we are. It's not contrived, it's authentic. People pick up on that with or without realizing it – and it makes us unique.
You'll usually walk in on a sunny afternoon to reggae or ska playing – Slightly Stoopid, Dirty Heads, Rebolution or such – and it's awesome. We have crazy fun events and in the Summer even do some yoga classes – some with beer! You can rent or buy Stand Up Paddle Boards, t-shirts and surf style gear from River Dog Paddle Co in a converted container we added to our beer garden last Summer. First with Stand Up Paddle Boarding and further with the evolution into our bar, we truly brought a lifestyle to Rome. We don't have customers – we make friends. They paddle with us, we hang out after and drink beer at the Outpost. It's truly like an extension of our backyard to us.
We bought a new concept to Rome. An experience it had never had before. And we opened a river-facing business, which was a first. I'd say what further sets us apart is that we were able to combine our passions – dogs, the outdoors and stand up paddle boarding; tie them to our community and the viability of our local rivers; and collaborate with local non-profits – the CRBI and Claws for Paws – to tie everything back to things we truly care about and make a difference in our community. When we moved our retail from the storefront into the converted container, we maintained the lease until we were able to secure the spot for the CRBI. They were able to move in, and now we have the perfect neighbors and they are right next to the Rivers they work so hard for now too!
As far as being proud, I'm stoked that we sparked a revival. It started with getting out on the rivers and paddling. Then we opened our shop on the "Cotton Block", Broad Street's oldest yet least occupied block and started a resurgence of occupancy along the block. Then we took what was often referred to as an eyesore of an old gas station where nothing ever could make it work, turned it around to face the river and opened Rome's first beer garden. And all of it happened organically, by taking a chance on opportunities when they presented themselves.
Any shoutouts? Who else deserves credit in this story – who has played a meaningful role?
Our employees are the core of who we are. They are a part of our community, a part of us and we love them. We have amazingly supportive family and friends who helped financially when the opportunity for growth presented itself, yet we weren't quite ready and must thank Mike Williams and Alvin Colon. Jake Farrer started as a customer at the shop, became a friend, and is now a partner with us in River Dog Outpost, helping us to grow and evolve. Mindy and Gorg Hubenthal skipped Thanksgiving with their family to help us get the shop open in 2014, and further helped with the bar. Anna McCaulley, Derek Bell, Jessica Carrier, Adam Sikes, Andy Lester, Brooke Barron and Libby and Aaron Gore are family. We credit Don Bowling with Fort Hampton Outfitters for planting the seed.
Mike's over 20 years of experience in the hospitality industry in Atlanta, the people he worked alongside, friendships he developed and carry with him to this day are integral to his ability to make River Dog successful. Personally, I (Connie) learned a ton about running a business from Rene Diaz, of Diaz Foods. I worked for him for over ten years when we lived in Atlanta and without that experience, I would not have had the initiative to open the doors or the capacity to make this all work!
Pricing:
Contact Info:
Getting in touch: VoyageATL is built on recommendations from the community; it's how we uncover hidden gems, so if you know someone who deserves recognition please let us know here.