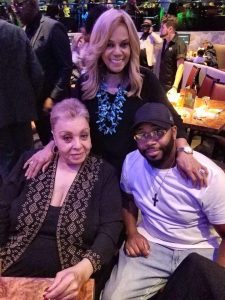 Today we'd like to introduce you to Courtney Benjamin.
Courtney, can you briefly walk us through your story – how you started and how you got to where you are today.
The journey started nine years ago coming up on our ten year anniversary in August 2020. Our label and entertainment company was created by overcoming and surviving a lot of no's, evictions and getting taken advantage of as I tried so hard to get my wife music out.
One thing I do know is adversity will introduce you to yourself. I was frustrated, mad and tired; but instead of giving up, I trusted God and the process. I start praying for wisdom and strategy. As I prayed, I got to work as well; reading, going to seminars and studying every chance I got. Through the process, I learned to be Determined not desperate.
I had a 9-5 in the beginning but I knew that life was not for me as my mind started to expand from reading, dreaming and building. As a janitor, I worked and studied on breaks, always being asked and told why I was reading and to stay on the job "it's secure" you have a million in one chance in the music industry. Their mindsets and fear they were trying to put on me I had to get out so I quit prematurely; thinking I had it all together, I saved up a little money and leaped. I was wrong I didn't have a plan. Money starts running low, the things I read seem to not be working out, desperation and panic mode start kicking in, I start feeling lost. I kept thinking man if I just meet this and that person I will be straight; wrong nobody owes you anything they have successful business' to tend to as well. God gave me everything I needed when I was born to take on this purpose.
Thank God for a supportive Queen (Christina Benjamin) that wouldn't let me take off my crown. It wasn't easy talks but necessary. We were on vacation to get away and clear our minds. Got a call from factory job I had applied for 8yrs prior while we were at the airport coming back home. The next time I quit was with purpose and an exit plan.
Fast Forward all the work, growing instead of going through the process led to becoming a serial entrepreneur, managing multiple award-winning artists, traveling the world, become a top music publisher, upcoming music mogul award, helping recover over $50k in unclaimed and back royalties for writers, producers and artists, artist being on NBC's "The Voice", start seeing the tagline of our company manifest "Empowering Indie Artists", music placements in tv/film/commercials, being able to look the man I looked up to and studied in the face and say "Thank You" (Berry Gordy: I would have never met him if I would have gave up, my artist Beth Griffith-Manley introduced us – if I gave up I would have never signed Beth and if I would have gave up my artist Dodi who introduced Beth to me when she was seeking management I would have never met) and so much more I'm thankful to God for. Adversity will introduce you to yourself so keep going and use the adversity.
Has it been a smooth road?
No, it isn't or wasn't a smooth road. I teach all the time now always remain a student never stop growing because your industry is constantly growing.
Becoming me was scary and hard work; when you are dealing with you, there is no one but God to lean on and trust. It's not easy getting what's in your head out.
Finding the right distribution that fit the labels needs, finding talent buyers to pitch my artists to, battling numbers and getting promoters to give my artists a chance to perform, knowing what to do on the road, learning how to pitch to music supervisors, promoting multiple artists, dealing with knowing how great my artists are believing in them and get turned down or get shat on (hey here's $50 perform a 2hr set take it or leave it I'm giving you a opportunity); hurts like none other. I learned the power of NO quick and protect my artists. Never be scared to say NO in fear of losing a gig.
It wasn't easy flying back driving straight into work after a show when I was working a 9-5. You have to do what you have to do. I couldn't just leave my artists hanging in a different country or state all because I have to work. I sleep on the plane and sleep at work on breaks if work didn't need to be done for me to send out to promoters or music supervisors.
Putting the right people in the right seats in your companies is so key, I struggled with that trying to help out friends in the beginning. Knowing when someone is in the wrong seat; delegating is a strategic skill. It's not about like minds you really have to know your lane and execute in your lane. Some people just want to be a part of something they see moving; no where around with the groundwork, struggle and working for free era.
Dealing with the IRS. Entertainment Industry is one of the highest random tax audit surprises. Learned a lot from it; expensive class though.
We needed the finances to keep home and business a float. Coming to reality getting a financial advisor to help guide and discipline us. When your credit is good sky is the limit when leveraging it.
The importance of having a team and building systems; going back to right people in the right seats.
Once I got my wife out there recording, performing and acting being approached by other artists to manage them was scary at first. It takes a certain level of confidence to be in this industry; I didn't have that at first. This is peoples lively hood in your hands (BIG RESPONSIBILITY). I didn't want to let anyone down.
People trying to put their fears on you. Be delivered from people.
Learning to balance God, family and business. Once I had it in that order things came together. Time is the only thing on earth you can't get back, use it with purpose.
Learning that everyone don't want your help but they always want to pick your brain. I still don't understand this one. In the beginning, I was getting unsure of myself dealing with this until a major artist told me to "know your worth, you just added value to my life and opened my eyes to the business side of things I never thought about or seen in my 15 years in the game".
Getting artists to understand they are a business and need every element of a business to succeed including investing and diversifying their money. They see the mainstream artists with all the glits and glamour but don't see the behind the scenes: business structure and businesses they have and the assets they invested in. Everybody is doing music but not BUSINESS…
We'd love to hear more about your business.
Benjamin Entertainment Group is all about empowering indie artists. We specialize in providing quality structured artist shows, artist management, workshops and seminars, music publishing and pitching music for tv/film/commercials throughout different divisions under the labels umbrella.
We educate and build artists up to get them out of a hobby mindset into a business mindset. We also provide tools for their career: Writing/ Editing, Website Design, Videography/Promo Video, ISRC Codes/Barcodes, Radio Distribution and 1-on-1 Consultations. We even partnered with a credit repair company to help get artist credit together so they can leverage their good credit. When you can fund your own shows and book the venue and collect your backend; sky is the limit. If they aren't booking you book yourself. Business mindset wins all the time! Business mindset over hobby mindset.
The thing I'm most proud of is being able to see the manifestation of our artists as I saw the companies manifest each time our artists grow. They Act like an Artist but Think Like a Record Label.
The thing that separates us is we teach you how to use the tools you need to succeed, but you have to work them!
Is our city a good place to do what you do?
Yes, I would definitely recommend Atlanta, this city birth my favorite rapper 3Stacks (Andre Benjamin). This is the new Hollywood and hub for the music industry. Before any business learn the business and research the market before diving in. The market is wide open and getting bigger and stronger here. Embed in your mind its enough for everyone out here just because its a lot of the same music industry or entertainment business' out here don't mean you won't make it you have something all the rest don't have; YOU!
Pricing:
Contact Info:

Image Credit:
GHANI VISION, MICA WEBB, TIMOTHY PAULE, MOB VISION
Suggest a story: VoyageATL is built on recommendations from the community; it's how we uncover hidden gems, so if you or someone you know deserves recognition please let us know here.