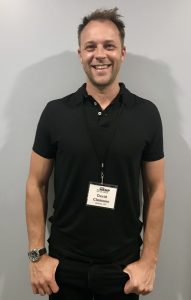 Today we'd like to introduce you to David Claassen.
David, let's start with your story. We'd love to hear how you got started and how the journey has been so far.
I first arrived in Atlanta in 1991 when my family moved here from Sydney, Australia. As an 11-year-old kid, it took me a while to adjust to the slower pace of Atlanta. Keep in mind, and I had just left Sydney where I was taking two trains and two buses to and from school every day since eight! After graduating from The Lovett School in Atlanta, I attended the University of Georgia where I was a punter for the UGA football team from 1998-2002. In order to earn extra money – and get a free beer! – I spent three to four nights a week playing violin with various music groups all over Athens. After graduating in 2002 with a BA in Spanish and Global Studies, I continued playing the violin and toured with multiple Americana and Rock/Pop groups. I also recorded strings on many albums, which earned me a spot as a Grammy voter.
Those recording sessions in Athens and Atlanta led me to London, where I worked in PR and Press at Defected Records while pursuing my MA in Music Business Management at the University of Westminster. From day one, I was always drawn to the creative side of the music business: Songwriting and Composition. Whenever I play the fiddle, it's usually a situation where I walk onto the stage and improvise, sans rehearsal. I found that rehearsals often interfered with my passion and had a negative effect on my playing. I am an improviser at heart, classically trained, but I play by ear, much as I do in business every day! My passion can only be expressed by creating in real time, alongside other talented creatives.
During my 21-year music and entertainment career, I have continued to find my passion on the creative side. But, I also saw another side of the business that really had no passion at all. If it's a hit song you're after, throw enough money and a "recognized" producer behind it and the formula will work almost every time. Style over substance. You will make some money, but the music or film is soon forgotten, and those careers are often short lived at best. The term "one-hit wonder" comes to mind!
In the 11 years, I spent with Broadcast Music Inc. (BMI) working mostly with songwriters, publishers, managers, agents and labels, I discovered that my role as Creative Director had a lot of similarities to being a parent: A poor parent is one that is disconnected and allows their kid/s to sit in front of a TV for hours after school, eating cookies and ice cream rather than engaging with the child. A pro parent spends quality time with their kid/s, reading to them, overseeing homework and activities and teaching them the skills they need to succeed as an adult. As a Creative Director, I never wanted to be the "poor parent" example. I always wanted the artists and creators I worked with to thrive and succeed by giving them the creative freedom, support and insider information that they needed in order to have a sustainable career. My motto was "Dave Claassen gets you Seen, Heard and Paid!"
Also, during these years, another friend Michael Dunaway and I formed a film company, Gasoline Films. We began making all kinds of films — documentary and scripted, short and feature length. We even shot a few music videos too! Our second feature documentary, 21 Years of Richard Linklater, was a New York Times Critics Pick. We worked with Matthew McConaughey, Ethan Hawke, Zac Efron, Peter Bogdanovich, Morgan Spurlock, Kevin Smith, Billy Bob Thornton, so many wonderful artists. We learned so much about storytelling from all those great storytellers.
Over the last five years, with advances in Streaming and Social Media, it became clear that my "parenting style" was no longer welcome in the modern music industry and I knew that it was time for me to move on. My entire career, starting in PR and Press at Defected in the House in London to Managing Director at an Indie Rock/Pop Label in Orlando, FL, to running my own marketing business in Music and Entertainment (RFS Marketing Group), Producing and Music Supervising Films (Gasoline Films) along with my work at BMI was all built on helping creatives get paid to do what they do best, plain and simple. I knew these principles could be applied to another industry, so I set out to find my next gig!
When I left BMI in late 2018, I decided to spend some downtime in Florida with my mother, Helen. She was a Botanist in South Africa and taught me early on about the joy and rewards of growing plants in our home garden. In my frequent travels to the west coast, I paid close attention to what was happening in the cannabis world and wanted to learn more. I subscribed to multiple magazines and news outlets and learned about Farm Journal's Hemp College in Kentucky. I decided to jump all in. After meetings all over KY with processors, growers, pod-casters and legislators, I knew that I wanted to work in Cannabis and Hemp!
My dad Oliver used to say, "Your past will always intersect your present!" That proved true because Ken Weeks, a long-time friend from North Carolina, saw my Instagram posts from Kentucky and reached out to see what I was up to. Ken owns a vegetable and herb seed company in North Carolina and less than a week later, we started Cherokee Hemp Seeds together in late July. We spent the next few months talking with hemp growers and seed breeders from as far away as the Netherlands. Pretty soon, we realized that the cannabis industry in general had quickly outpaced the laws and regulations that were in place. We noticed that testing was the bottleneck that was keeping many growers on the sidelines. Multiple growers shared their stories about how backed up the local testing labs were and several even had their crops destroyed as a result of these delays.
Then in early October, two chance encounters happened on the very same day that eventually led me to where I am today. The first was an unexpected meeting, with Brandon Bush of Sugarland and his friend telling me about a new THC/CBD testing device that gives reliable results in less than 30 minutes. Later that same afternoon, I received a call from Ken who told me that he'd just had lunch with a police chief friend he's known for 20+ years that was planning to open a brick & mortar cannabis testing lab when he retired in 2020. After I heard both, I knew right away that cannabis testing is where I should focus my attention. That was the day my passion was reignited because I knew that I had found my next gig. I picked up my violin and viola that night and must have played for hours! The creativity was flowing right out of me.
In the days that followed, Ken and I jumped on a call with his police chief friend and by the time that call was over, the three of us agreed to form a new business together that we eventually named HempLab, focusing on Machines and Mobile Testing. The next few months were spent mostly on research on the testing device mentioned earlier vs. the other competing devices on the market. We soon decided that the CompleTest device from www.FluroTech.com was indeed the disruptive mobile solution we were looking for.
The CompleTest device itself is patented receiving 56 of the 56 claims it contained and is the only device available that yields consistent reliable results in 30 minutes or less. In addition, this device is user friendly and affordable, making it the ideal solution for law enforcement agencies, growers and dispensaries. HempLab is an official distributor for FluroTech throughout the Southeast.
In a nutshell, here is the problem that the legalization of industrial hemp has created for law enforcement. Trained officers and drug-sniffing dogs can't tell the difference between legal hemp (below 0.3% THC) and illegal cannabis (above 0.3% THC). Even local Police Chief Tim Cox has commented in a recent AJC article that his department is having to change their procedure regarding marijuana arrests and seizures – https://www.ajc.com/news/local-govt–politics/cobb-stops-misdemeanor-pot-arrests-citing-hemp-law/uY4FpcWeidu003qKNrinYO/ With the CompleTest in their arsenal, law enforcement agencies can quickly determine if the Cannabis they come across is legal or not.
For the licensed growers, it's a different dilemma. Throughout the growing season, growers are required to constantly test their crops to make sure the THC content stays below the legal limit of 0.3%. With more than 1,500 licensed hemp farmers in FL, GA, NC & SC alone, the few certified testing labs out there are constantly backlogged. For a farmer, it could take up to 3 weeks to find out that their crop is already above the 0.3% limit. If they could get results in 30 minutes, they would know exactly what day they need to harvest and avoid having to destroy a crop that was above the 0.3% THC limit.
In Florida alone, there are more than 212 medical dispensaries and that number is growing fast. One issue that dispensaries have with the smokable flower is the questionable lab results provided by their suppliers. Basically, a grower can send a sample of their Cannabis to 3 different labs, receive three different results and then label their product using the most favorable results. If a dispensary could test their new inventory daily, they would know exactly what the true THC/CBD content was before it ever reaches the shelf. Medical cannabis patients need to know exactly how much THC or CBD is in the products they purchase, and this can only be achieved through in-house testing using a reliable, trustworthy device.
Moving forward, we will be meeting with growers, dispensaries and law enforcement agencies throughout the South to show the CompleTest device. Our first delivery of these units will arrive in early March and the initial response from certain people we've shared the device with has called the CompleTest device a "disruptive game changer" for the Cannabis industry and our initial projections are to sell around 200 units in 2020 alone.
Drawing on my roots in the music and film business, we're currently planning a documentary (through Gasoline Films) that gives an in-depth look at the entire Cannabis industry, from seed to shelf. We have an award-winning director on board and we're also in discussions with a household name in the music industry that is also a major player in the Cannabis industry (believe me, I wish I could tell, but I can't just yet!). This will be an opportunity for me to tell this story correctly and help and connect so many people along the way.
What is "success" or "successful" for you?
I don't think Success can be measured in dollars and cents or likes, views and followers. It really comes down to doing what you love because that isn't work. Enabling other talented individuals around you to help and share in your dreams whilst helping them find their passion is a beautiful thing! IF you can make a living by pursuing your passions, then that's what I call SUCCESS.
Pricing:
Units sell for $20K +/-
Cost per lab test for end user is under $60
Contact Info:
Image Credit:
Arrives for Special Release Party: "Sympathy For Delicious" – Mark Ruffalo's Directorial Debut. Held at Sky Bar, Mondrian Hotel on April 27, 2011 in West Hollywood, California. 2011 – Michael Tran
Fiddle Shot, Linklater and Metromix / BMI shot – f22studio
Suggest a story: VoyageATL is built on recommendations from the community; it's how we uncover hidden gems, so if you or someone you know deserves recognition please let us know here.