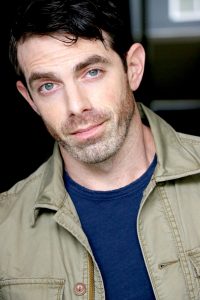 Today we'd like to introduce you to David Shae.
David, let's start with your story. We'd love to hear how you got started and how the journey has been so far.
It was the year 2000.  I pretty much woke up one day, overwhelmed be a feeling that I needed to [be in] Los Angeles. To this day I don't know where that feeling came from… but I knew this was a feeling that wasn't to be ignored.  I was attending Boston College at the time, but something wasn't right. I always felt like I was in the wrong place. So I signed up for a summer internship at NBC in Burbank (with this ridiculous soap opera called Passions) .. figuring I could get this "LA thing" out of my system, while still maintaining my academic course at BC. I packed up whatever I could fit into my 1990 Jeep Cherokee and drove across the country. I didn't even have a place to live but figured I would figure it out when I got there. Ah, the optimism of youth. Luckily I had a cousin who let me crash with him till I found sublet by my internship (a sublet in a place called Sun Valley next to a meth lab – but I digress).
Working at NBC was my first taste of the magic that is Hollywood. I would see Jay Leno pull up in a different vintage roadster every day. I would see the actors coming in and out of their dressing rooms. I would see the stages, lights, crews, executives – everything it took to put together a show… And I was mesmerized. This was the moment I realized it was time to begin my journey into the arts. I never went back to Boston College, somehow got into USC, and continued with my undergraduate degree by day, taking acting classes in Hollywood at night.
However, the grim reality of a "life in the arts" quickly became clear, as I spent far more time bartending, waiting tables, catering, personal training, and dodging sexual harassment, than ever working on the sets of NBC. For about 13 years I chased my tail, never really knowing how to get past the velvet rope of being a working actor. It was all happening right in front of me, and I tried everything I could thing of to join the party, but the bouncer blocked my every move. There's a LOT more to this story… But suffice to say I got a little lost in the process. Los Angeles is an AMAZING city but its very easy to get distracted by all the beautiful people who seemingly never work but always have time to party. Luckily, one day in 2013, my light bulb moment occurred.
I was reading in the trades about everything happening in Atlanta and it seemed I had found a proverbial back door to the club. Productions were popping up by the dozen, and they were all casting locally. I told many a friend about my idea to relocate to the South and they all told me I was crazy. Most said, "what are you gonna do? Get 1 line on 5 different shows and then come back? What's the point?" Others said, "how can you leave Hollywood to go live in Georgia, pursuing the Hollywood dream?" It just didn't make sense to anyone. They all thought I was crazy (a sentiment I'm quite used to and dare I say, comfortable with). That's actually when I knew I was onto something. 30 days later I put a deposit down on an apartment I'd never seen in Druid Hills, packed my belongings, and headed to Georgia.
It's been about six years now, I've worked on 25 different productions, and now have those same Los Angeles friends calling me for career advice daily. You gotta take a chance to be the change. And I made a huge gamble, but for me, it worked out.
We're always bombarded by how great it is to pursue your passion, etc – but we've spoken with enough people to know that it's not always easy. Overall, would you say things have been easy for you?
My first two years in Atlanta proved fairly fruitless. I had triple digit auditions with both major casting offices here before either ever hired me. But I had a solid team who believed in me and kept pushing… And still do to this day. If this was Los Angeles, I would have been dropped by month six. Luckily Atlanta operates differently, so I dug my heels in, accepted all the rejection, and kept going. I was determined to make this move worthwhile, and for me, failure is not an option. So I took every class, workshop, and opportunity I could. And SLOWLY, the door started opening. I got one line on House of cards in 2016 and from there, my real journey began. Then in 2017, I met Jason Lockhart when he joined the agency. The two of us hit it off instantly. He trusted me to do more than a line here and there and pushed me with all the casting directors in town for much bigger roles. Almost instantly we booked Lodge 49, The Inspectors, and Haunting of Hill House. Since then we've booked roughly 20 projects together, everything from zombies, to mutants, to assassins, to fathers… And he continues to show me the sky's the limit. That's my favorite part of acting in Atlanta. There are no limits and no boxes. You can play anything if you allow yourself to go there… And take some chances along the way.
Please tell us about your work. What sets you apart from the competition?
My biggest win so far has been in Clint Eastwood's Richard Jewell, which premiered December of 2019. I got to work one on one with the Boss himself, and it was beyond surreal. He's the most caring, humble, and peaceful director I've ever worked with. Between takes, we would talk about life, Old Hollywood, his home in Monterey… And of course the movie we were making together. He and Olivia Wilde both took me under their wings and showed me the ropes in making an Oscar caliber feature film. I still don't believe it happened. And not only did it happen, but it also happened collaboratively. Most sets you walk on have a very specific pecking order. And I'm generally on the bottom. But on Clint's set, everyone was equal. And everyone was trusted. Over half my lines in the film were completely improvised, as he just kept the camera rolling, and trusted me to tell the story in my own words. That is an experience ill never forget the rest of my life.
With that said, I guess that a good seguay into part two of your question as to what sets me apart. I'd say it's that I'm not afraid to take chances. On most of my auditions, I go off script at some point (ok, many points lol). I need to show casting and producers who *I* am, infused (ideally seamlessly) with the character that was written. I'll never forget Tyra Banks pulling me aside last July (she cast me in her Christmas movie, Life Size 2). She told me she watched my tape and it was insane – but that's exactly why she wanted me in the film. She noticed every time I went off script, but it made her laugh, and she knew I was someone who would be able to roll with the punches on set. And maybe even be entertaining along the way. You have to show producers, aside from having talent, that you are someone they are gonna want to spend 16 hours with on a long Friday. And I try to always be that guy who's always smiling. I can't think of a single audition I've ever done that didn't include a smile at some point… Even the darkest of dark characters. You can always find the light in the dark.
So, what's next? Any big plans?
Right now I'm working on a TV show for HBO and a movie for MGM. I can't say too much about either, but both are incredibly exciting. After that, it's right back to the audition circuit. You'll also be able to see me in The Walking Dead, Bad Boys 3, The Glorias, and Macguyver, all scheduled for release in early 2020.
My goal for 2020 is to be a series regular on a show. I'm ready to tell a character's story in a larger context than a few episodes. And hopefully, he'll have a bit of a dark side I can delve into to keep things interesting… One that I will, of course, smile through. 😉
Contact Info:
Image Credit:
Jason Lockhart
Suggest a story: VoyageATL is built on recommendations from the community; it's how we uncover hidden gems, so if you or someone you know deserves recognition please let us know here.