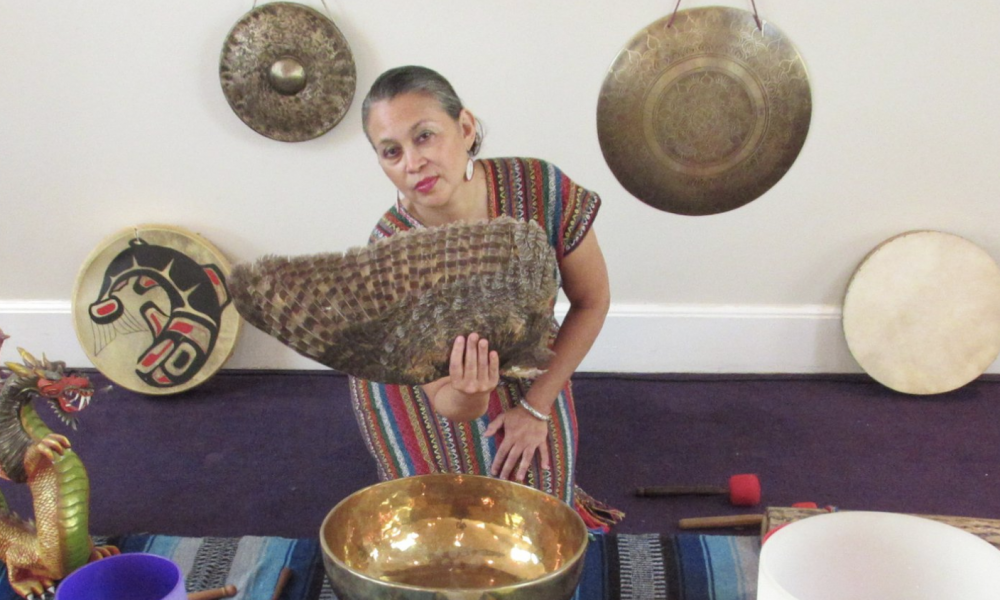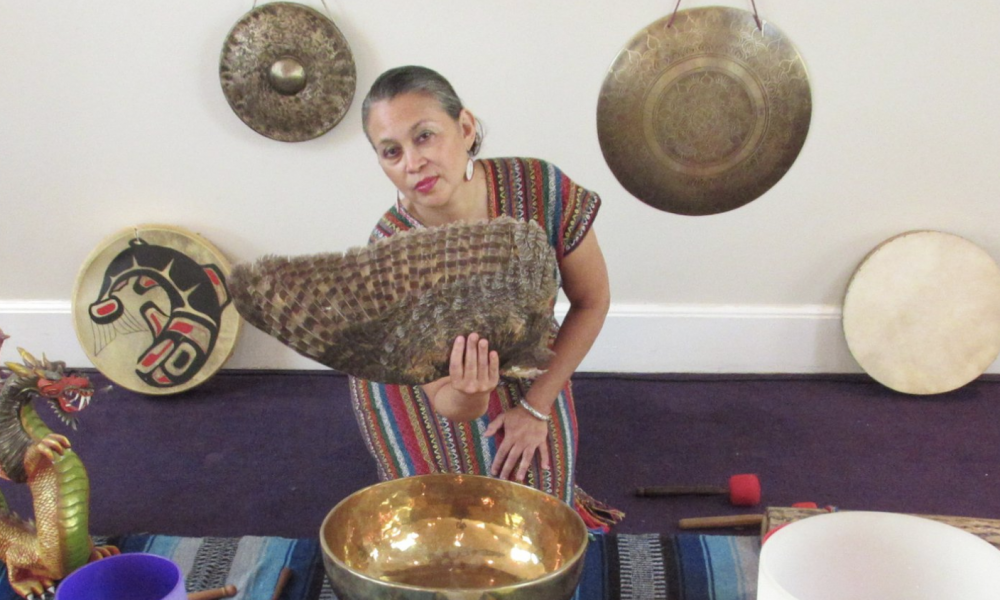 Today we'd like to introduce you to Donna Peera.
Donna, please share your story with us. How did you get to where you are today?
I was born with gifts from Spirit. I am from the Osage Nation of Blackfoot and Cherokee from my father's side. My mother's side is (psychic) Philippines. I am a mixed culture of many in between. I started seeing spirits as a baby and couldn't express myself. As I grew older and able to see and hear, my parents grew uneasy with my gifts because I was an advanced old soul. At times, my mediumship was apparent at traumatic death of my sister at three and living in a gang and drug trafficking neighborhood in Tucson, AZ. I started hearing angels and guides but didn't know what guides were. I would know when someone would pass but learnt quickly that just caused a lot of pain in others so kept these to myself. At times, I had my father's gift of speaking with animals telephathically to understand and at others, I was empathic, clairvoyant, clairaudient and clairsatient. My father never revealed what Native American heritage we were.
I later learned in my 30s Reiki the Usui Shiryo Method and the Bill Flocco Method of Hand, Feet and Ear Reflexology. I was the events coordinator for the Ga Reflexology Organization to spread understanding and would go to the GA Capitol work with an organization called Complementary Alternative Medical Association mostly for Emory Nurse's Day and lecture about the benefits of Reflexology and Reiki. I would demonstrate and answer questions at the Capitol about the same benefits. I was interviewed by the 21st Century Medicine Man show about my Reflexology knowledge as well and featured in the Atlanta Magazine for my skills in Reflexology. I also learned Shamanism from a continuation from a Past Life as one in Canada upper New York and learned about my mediumship and how to use it, crystals and ability to travel time or dimensions without substances. I could see and hear and sometimes feel different entities of Gods and Goddesses and Other Mythological entities to understand different spiritualities, beliefs and their story that could be updated to the Universal Life Lessons for All including me and how to cope.
I channel these stories as non threatening healing energy information from the use of the inner childlike healing heart. I have worked psychic fairs with the Horizon Healing Center and was called in because I was a different psychic, I have been called into fairs and helped organize at Serenity Wellness Center and detox centers and the Warrior Day Spa in Tucker. I have implemented a program of sound healing from certifications with varied instrument to relieve pain, heal the elements, planet and people. Chiropractors value my gifts and are shown on my website… Family Chiro Center and Horseshoe Bend Chiro. I have worked with other chiropractors to promote their businesses and ionic detox bath and reflexology. I have been called in for my healing gifts with animals to settle them into homes with new owners.
I have also been called to clear dark entities out of people Spirit guided. I don't go hunting for ghosts or dark entities; Spirit guides them to me and I take care of it. We are darkness and light and how much we let in; is a choice but also your Divine right to exist in the light and be whole is the plan to walk our path in peace, transformation, inner strength and utilize the inner creative, paint, dance, sing, breath and meditation. I learn much from nature and meditation. At times I am guided to places to be there for emergencies to calm things down or be mediator. I have skills in corporate chair massage and Traditional Moari Tribal Crystal Healing. I am a food allergy chef and recipes on allergyfreechef.tumblr and bluethunder63 on tumblr. Spirit guides me to write messages to share for all not only through stories or inspired by a person's predicament and make sure I do not reveal their names, places, etc. for privacy reasons. I have taken Asian Tai Chi/Qi Gong of varied times in my life and watched it in China. I have taken a few classes from the psychic school but read many books by Sylvia Browne-psychic on guides and angels, etc.
I believe my work is to assist all in reaching their highest potential in the now and let go of the past or pain. I work with the dying and get them ready to transition or help them gain the light in contract with God to stay. I have done union/wedding ceremonies tailored to their ways and funeral masses tailored. My favorite event is the Day of the Dead to heal our dead and Ancestors. Healium Center was created from our living our philosophy of inner creative heals from my healing arts/creativity, my husband a multi-talented artist and entrepreneur and our kids who are musically creative and artistic in songwriting, playing instruments, acting and film making. I create many types of ceremonies at events at Healium Center – interactive healing of the arts for soul, body and mind with my husband.
Healium is where my husband and daughter worked with Emory University and Clayton College for our mobile programs of creative, meditation with story telling and sound to bring balance to the work or school place. Clayton was part of the art of expression to send pieces of art without violence to the White House on how varied people felt called 'Art of the Heal' I have studied Ayurvedic medicine I to assist me in creating healing recipes for myself and family and friends. I have worked with Veterans and macho men and women from prisons as I said Spirit guides them to me. I believe we all have the potential to move in positive movement forward. We are a world of many but One Tribe. We strive to live in understanding, harmony, love, acceptance and peace; we can unite and change the world as the Universe is waiting for us to align. Much love and gratitude for this interview with VoyageATL. Thank you Kenneth and my daughter for sending you here. Peace, Aho and Namaste.
Great, so let's dig a little deeper into the story – has it been an easy path overall and if not, what were the challenges you've had to overcome?
The obstacles was I was working for the corporate world since 16 years old. Too restrictive in dress, time load and check in and out and working with non spiritual people and environment. I was dying inside but had just married and had a young son as my husband was searching for a business to open up and have it successful. I was working corporate plus working the carpet cleaning jobs my husband ended up evolving working with high end clients like Elton John, TLC, L.A. Reid and many influencers of the Atlanta scene. When 9-11 hit; he was no longer welcome in client's home due to stereotypes. The stereotypes at work for me was I was a promiscuous because I was Asian and my husband was either a camel rider with lots of money or a Mexican that crossed the border illegally. We somehow moved from AZ to CA and to UK and France after he tried to succeed at Women's Fashion Design but it became apparent it was along haul without connections/funds.
I continued to work the corporate scene with Macy's training department and law offices and the Greater Atlanta Small Business Project (Micheal Lomax proj.) I then decided after my 2nd child was born with my husband that I would stay home and work from home at time I was running a buffer to clean carpets, invoice/bookkeeping and cleaning the cleaning pads, cooking and attending to my small children with any school activities or involvement. Family was important and still is. I took care of my husband's mother for 16 years at the same time. She was my 2nd Mom and very dependent on her kids. At times, the South was cruel; I had been called a person the Hiroshima bomb left out but used humor to deflect and show my kids that violence is not the answer to ignorance. I have been assumed a Mexican cleaner even with the Neighbors at Healium Center and my husband the same. Other businesses with real estate had other real estate folks assuming he couldn't possibly know about business and investments.
At times; learning to run a healing center was difficult but we went through a seven year ordeal fighting our property rights in the Rosa Park's District of Montgomery, AL. We had to have our wits about us and we came through victorious on the law books and Healium Center came at the right time. It was then I had been told by spirit the five years will be hard and you've learned enough of healing modalities to assist your husband distantly to protect him. I do lots of work distantly… God is unlimited in providing me learning experiences and blessings.
At times, my advanced skills were not accepted and welcomed by doubters and would say there's no way you can do that without any substances. People's limitations are not my limitations… they can keep that. I have had to leave teachers once the friction comes in competition and it is Spirit's way of saying: "It's time to move on." I keep to myself and only started revealing my work these years at Healium and take on clients with Blue Thunder Healing. The know me as the meditation and sound healer and varied healer. I am grateful but the hardships had to happen to strengthen me and to gain my recommitment in serving the people. It is my honor to serve in Pure Light. Thank you for this time.
Please tell us about Blue Thunder Healing.
Blue Thunder Healing is a broad spectrum of modalities I utilize either my lineage or taking certifications in: Reiki I II and Reikimaster, Reflexology – Hands Feet and Ears of the Bill Flocco Method, International School of Shamanism, Acupressure I, Blue Thunder Sound Immersion, Mediumship, working with your Angels, Ancestors and Guides, Dark Entity Clearing or property clearing all Spirit guided and brought to me, intuitive guidance, psychic, tarot, psychometry and life/death ceremonies or specialized sound immersions targeted for an event and theme. My company is minority owned. I am a minority woman who has been through traumas and helped people through theirs.
I do not claim guarantees, warranties or curing others nor do I claim that I healed anyone. It is their wish and effort that brings themselves to wholeness. I do also past life regressions even distantly, clearings even distantly and healing with Reiki distantly as well. It is a Universe of Pure Light Tools at access and a blessing to be part of the healing of this planet. There's a compassion and truth I strive for in this work. I am not the superhero and if Spirit tells me that this person is not a person to service; I tell them honestly. I am not a train station to receive any and everyone as Spirit knows the divine timing and work when needed through me will be done to the best of my abilities with my Pure Light Helpers. Thank you for this opportunity.
Do you look back particularly fondly on any memories from childhood?
I was in angst because when I was a child; I shared information about a neighbor and shared it with the person involved about the rumor in order to be honest. However, I was told that I was not welcomed to their house anymore as I played with their children. I was Catholic and going to confession and my mother a devout Catholic was with me. As I came to terms with the wrong doing; a heaviness came off my shoulders and saw an image in my mind of Jesus and the lightness was like wings on my shoulders.
I felt so much relief and peace and years later the neighbor forgave me realizing at my accomplishments as a student, receiving scholarships, etc. that he would tell his daughters to be like me. That was heartfelt. So I try to stay true and make amends whenever I feel that it needs to be done. Ascended Master Jesus has been with me a long time and other Ascended Masters as well. It is a blessing to receive this ability to assist all. Thank you.
Pricing:
Sound Immersion 10 ppl mini starts $200 hour/$20/person depends on travel expense & number of ppl
Reiki/Tarot/Reading/Channeling/Reflexology starts $75/hour depends on travel expense
Life/Death/Ceremonies starts $325/1.5 hours depends on time length, travel expense +
Shamanic/Past Life Regressions/Clearings starts $75/hour depends on length of time
Available for sound immersion special event themed starts $200/hour
Available psyhic or spa fairs/chiro fairs (min. 4 ppl booked 15 min sessions) $1/minute
Available to speak on peace or energy healing modalities depends on event/travel starts $75
Animal Healing starts $75/hour
Space clearings depends on Spirit Guidance starts $300/hour, location and travel expense
Contact Info:

Image Credit:
The red fringe dress credit E37 Photography/Ralph Williams.
Suggest a story: VoyageATL is built on recommendations from the community; it's how we uncover hidden gems, so if you or someone you know deserves recognition please let us know here.