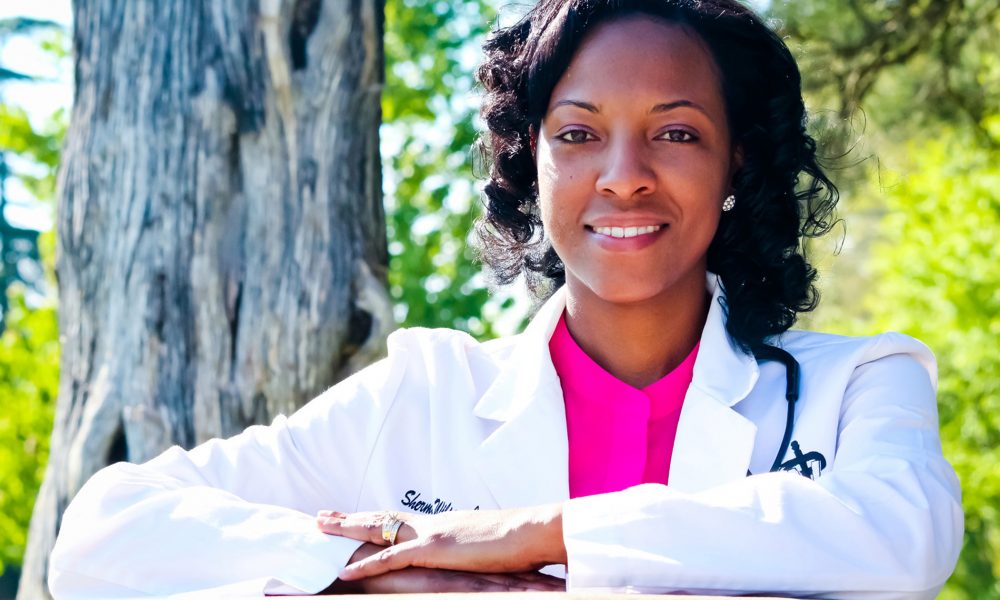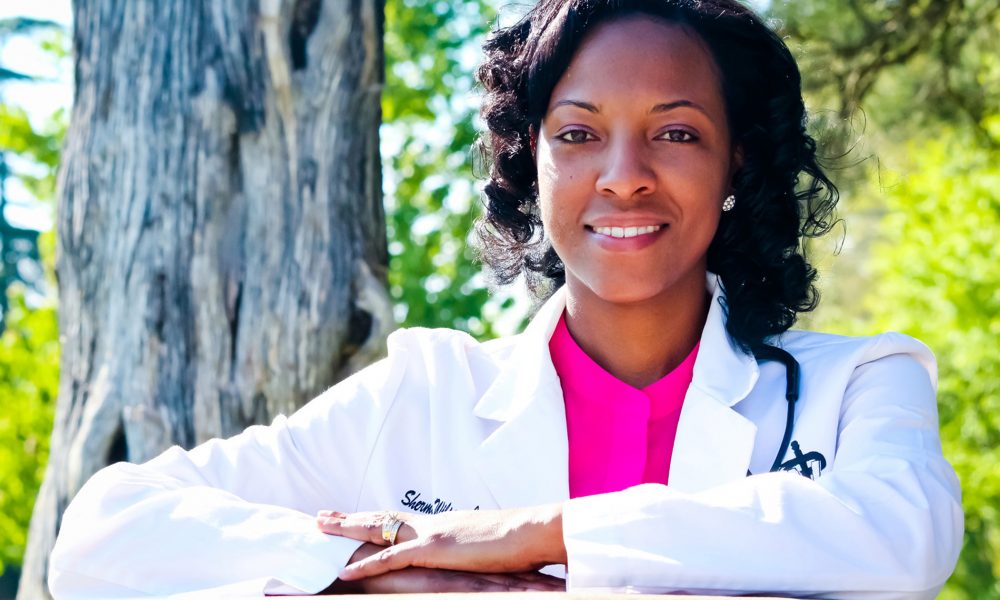 Today we'd like to introduce you to Dr. Shermaine Wilson Cox.
Dr. Cox, can you briefly walk us through your story – how you started and how you got to where you are today.
I've always loved animals! I grew up with several during my childhood (dogs, cats, guinea pigs, hermit crabs, rabbits, you name it! I can't recall a time where we didn't have a pet in the house. However, I didn't always know I wanted to be a vet. It wasn't until I was about 25 that I realized what my passion truly was. I had a cat named Merlot that I acquired from my sister. I had Merlot for about five years before she became very ill. After several trips to the vet for diagnostics such as bloodwork, cytology, and ultrasound, Merlot was sadly diagnosed with Lymphoma, which is cancer. Following her diagnosis, I had to take her to the vet on many different occasions. During these exams, I was very intrigued and inquisitive about learning about how the animal body works, ways disease in pets can be treated, and what I needed to do at home to prolong Merlot's life. After Merlot's diagnosis, I gave her medications at home and spoiled her until her final days. The exposure I received from frequently going to the vet hospital and interacting with the doctors sparked my interest in veterinary medicine. I really wanted to be able to help other pets that were sick and also educate owners on how to properly care for their pet. Following Merlot's death, I did some research and figured out what the requirements were to attend vet school, and that is how my path to becoming a Doctor of Veterinary Medicine began!
After visiting and researching several veterinary schools, I had found the perfect one for me. I applied and got accepted into Tuskegee University College of Veterinary Medicine in Tuskegee, Alabama. I started my vet school journey in the fall of 2010 and graduated in May of 2014.
After vet school, I went on to do a two-year laboratory animal medicine residency at Emory University in Atlanta, GA. The residency was followed by a one-year fellowship also at Emory University. After completing my fellowship in July 2017, I decided I needed a change of pace and decided to practice small animal medicine. I worked for a small animal corporate hospital, mainly treating cats and dogs for about 1.5 years before my entrepreneur's side started to kick in.
In December of 2019, Royal Paws & Purrs Mobile Veterinary Services was launched. It is a luxury mobile veterinary clinic that services Atlanta, GA, and surrounding areas. Working at a small animal hospital, I would often see many pets that would get anxiety and become very fearful as soon as they step foot into the hospital or when their owners even turn into the parking lot. Several owners would complain about their pet getting car sick or how difficult it is to catch their cat and put it into the cat carrier without getting scratched or bitten. Some dogs may be too aggressive towards other dogs or cats, and owners are having to struggle and try to hold their pets back from attacking other pets. Also, some owners are just not physically capable of taking their pets to the vet. A mobile veterinary practice is a luxury, convenient service that allows the veterinarian to come to the house of the pet. This service helps alleviate the anxiety and fearfulness of going to vet hospitals, decreases negative interactions with other pets, and is much less stressful for the owner. They don't have to deal with struggling to put the pets in the car, driving across town and fighting with traffic, then sitting in a hospital waiting to be seen. It is a win-win for both the pet and the owner. Our goal is to bring affordable and quality veterinary care to your pet!
Overall, has it been relatively smooth? If not, what were some of the struggles along the way?
From 2018 data, African Americans make up only about 2.1% of Veterinarians. Growing up, I had never met or seen a black veterinarian. When I decided to become a veterinarian, I mentally struggled with self-doubt and not knowing IF this career was truly for me or if I was good enough. I didn't have anyone that looked like me in a position that I wanted to be in to tell me that it is possible, and I could become a veterinarian despite my skin color. I remember going to vet school open houses and being the only one or one of very few African Americans. My mind shifted when I was in undergrad, and a fellow classmate mentioned that there was a veterinary school at an HBCU. I immediately researched this school, finding out the name, location, and requirements for entry. I applied to this school without even taking a visit, without speaking to previous graduates about their experience, or the type of town it was in. Several weeks later, surprisingly, I received an invitation for a campus tour and interview! I was so ecstatic! I drove down to my interview, sweaty and nervous. When I arrived, I was in awe. I was interviewed by the Associate Dean of Academic Affairs and one of the Assistant Professors, who both looked like me! Walking through the school for the first time, I was able to see many students that also looked like me. From that moment, I knew this career was for me, that Tuskegee University was for me, and that if they could do, I could too!
I think representation matters! It is extremely important for the younger generation to have role models or mentors in the career they are interested in to let them know that anything is possible. When given a chance, I always try to speak to and encourage young black children that want to be a veterinarian. The obstacles and imposter syndrome that I faced was completely gone just by having someone to look up to and by being in the presence of educated, black doctors.
Another obstacle that I am still learning to deal with is how to be a business owner. This is not something that is taught in veterinary school. I also wasn't taught scrub design in vet school, but I was able to launch an entire line of medical scrubs that people love! I am constantly educating myself on marketing, the importance of networking, using a business coach or mentor that can guide me in the right direction. This process has taught me that many skills can be learned. You shouldn't give up on your goals or dreams just because you don't know how to do something. There is always someone or something you can tap into in order to receive the knowledge or experience you need to get to the next level.
Royal Paws & Purrs Mobile Veterinary Services – what should we know? What do you guys do best? What sets you apart from the competition?
Royal Paws and Purrs is a mobile veterinary service. Our focus is on keeping pets healthy in a stress-free manner. We have a 24ft mobile veterinary unit that we drive to our patient's homes and provide top of the line veterinary care. We offer vaccinations for dogs and cats of all ages, diagnostic testing such as bloodwork, fecal tests to check for intestinal parasites, heartworm testing, microchips and deworming, We can treat minor sick cases such as ear and skin infections, wound care, vomiting, and diarrhea, UTI, etc. We also have an online pharmacy that can deliver medications, prescription diets, as well as monthly flea and heartworm prevention right to your door. we will soon be offering surgical procedures such as spay, neuter, mass removals, and dental procedures in the near future. We also offer compassionate in-home euthanasia. I am most proud of the fact that we are able to cater to individuals such as the elderly, blind, or wheelchair bound that are not easily able to take their pets to the vet. Therefore we can treat pets that may otherwise go without the necessary medical care. We are also able to keep veterinary medicine stress-free for the pets. What sets us apart from other mobile vets is that we truly "treat your pets like royalty. We are gentle, loving, kind, and we treat your pets as if they are our own. After each visit, we love to don a crown and take a candid snapshot of your furbaby and showcase them on our social media pages and website.
My affinity for headwraps and headbands spurred the creation of Sankofa Medical Scrubs. As a naturalista, I love my head wraps, and I always tried to wear one to add spice to what I wear to work, to add more life to my hairstyles, or to cover up "bad hair days", and more importantly to express my culture. For this reason, whenever I went shopping for head wraps or headbands, I also considered my scrubs. I always tried to get head wraps that would match my blue scrubs and my white coat. However, at one point, the search for head wraps to match my scrubs became exhausting, and I decided to seek the help of the "worldwide web" to save me the stress. I went on google and searched for "African print scrubs with matching head wraps" but surprisingly, not many options were found. There were hundreds of various other prints and patterns, but none were African prints. I figured I had to do something to change that. After my little encounter with google, I conceived the idea to come forth with a line of Afrocentric medical scrubs with matching headwear.
At Sankofa Medical Scrubs, our goal is to become the purveyor of a wide variety of attires for black healthcare professionals made from African prints and patterns. Thus far, in line with our vision, our works have inspired health professionals to be more fashionable, to be more confident about what they wear, and to express culture through their profession.
What is "success" or "successful" for you?
Success, to me, is driven by fulfilling my purpose here on earth with the incorporation of my passions. As a veterinarian, I want to successfully keep pets healthy for as long as possible so that my pet patients can live a long, happy life with their owners. I want to educate pet owners on proper animal nutrition, health, and disease prevention in order to extend the life of their pet. We are starting small, but I hope to one day have a fleet of mobile vet units so we can reach even more pets.
With Sankofa Medical Scrubs, my goal is to bring awareness to minorities in medicine. I want all African Americans in the medical field to know that our brand exists, and it's a brand where they can feel a sense of pride when wearing our kente print scrubs to showcase our history. I would love for our scrubs to be available across the nation in scrub shops alongside the other popular brands such as Cherokee, Wonder Wink, and Dickies.
Contact Info:
Suggest a story: VoyageATL is built on recommendations from the community; it's how we uncover hidden gems, so if you or someone you know deserves recognition please let us know here.