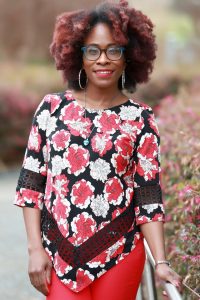 Today we'd like to introduce you to Ellakisha O'Kelley.
Ellakisha, can you briefly walk us through your story – how you started and how you got to where you are today.
My experiential background is colorful. I've worked in banking, warehousing, food production, human resources, education, and athletics. Most of the past jobs I had were to assist me in achieving my athletic goals. I was a former elite athlete competing for the USA in track and field as a 100m hurdler form 2001-2008.
It all started in Albany, NY where I was born and raised. I was introduced to track and field my freshman year of high school. I didn't take it seriously until my sophomore year when I was introduced to the hurdles. Prior to that, I was a sprinter and who was doing pretty well in sprints ranging from the 60-meter dash – 200-meter dash. But, one day playing around at practice, I jumped over a hurdle and the coach saw me and she said I would competing in that event from there on out and the rest was history.
I had very successful track seasons my three years of high school, thanks to my high school coaches and summer coaches; but once all the collegiate offer letters started pouring in, I quickly discovered I wasn't up to par with my academic requirements to receive a scholarship. Amado Lambert, my summer coach, worked very hard in assisting me with preparing for college entry exams (SAT and ACT) and selecting schools, Coach Dorin, my high school coach, worked with me in getting my high school curriculum together to meet the NCAA minimum requirement to be considered and accepted into college as an athlete. During my senior year, I was on double duty to achieve everything I was told I need to.
I started going on college visits, and I fell in love with Seton Hall University. Coach Lambert and I discussed this opportunity and I committed to the college. After graduating high school, I discovered I was with child. I made a decision to accept my responsibility and forego my scholarship to the university. I sat out of college for a year while I got my life together. Once I had my daughter, I resumed training. I was determined to have my feet open up another opportunity. I would run all over town getting into shape, I worked out with my Bowflex that my father had purchased for me. I put myself in a position to be prepared for an opening. I interviewed with the head coach at The University of Albany. He was willing to allow me to walk on the team, but I had to figure out a way to get into college and get financial assistance. I wrote a letter to Dr. Carr, who was then the Director of a program called EOP. It's a program that gives an opportunity to students who come from underserved communities but who show promise academically. Thank goodness I cranked it up my senior year, because I met the academics requirements they were looking for. However, there was a concern that I was a young single mother and that might affect their success rate.
I had several meeting with many people in the program to convince them I was worth taking a chance on. Fast forward, I was accepted into the University of Albany as an EOP student and the following year I applied for and got accepted into their nationally ranked Criminal Justice program. I joined the track and field program, where I broke many records and won many titles, I eventually transferred to the University of South Carolina (UofSC), where I ended my collegiate athletic career. I was the first woman to win both hurdle races in an SEC championship, I earned the honors of being selected as the Best Student-Athlete of the University of South Carolina in 2000, earned a 6 X All-American achievement, and became the record holder for the 60m and 100m hurdle events.
After graduating from UofSC, I joined the Nike team after my 2000 Olympic trials performance, where I became the 100m hurdles Olympic alternate for the Sydney Olympic Games. I placed 4th, 2/`10 of a second behind 3rd place. Everything changed for me from that day forward. My athletic career became a business on a whole other level. After traveling to compete nationally and internationally and going through so much financially, emotionally, mentally, and spiritually I quickly learned I was considered a product in the sport. I finished my last year of competing with coaching, managing and representing myself. It was the toughest, yet, most rewarding year I had as an athlete. My athletic results suffered because it was difficult to be everything all of the time, but the experience and knowledge I gained eventually led me to my "why" today.
When I stopped competing professionally, I started coaching. I was the Head Coach for a collegiate men's and women's track & field and cross country program. I learned so much about the business side of collegiate athletics and had the opportunity to exercise my advocacy and negotiation skills for various reasons. I had the opportunity to coach so many talented athletes that I know should've and could've competed beyond college, but because of the business of sports, it didn't happen. I was always giving advice to athletes in track, basketball, and football. My office was like a revolving door. My past personal heartaches and headaches were not in vain as the information proved useful to others. At the time, I was also assisting many professional athletes with taking care of their business. I eventually decided to walk away from my then current coaching role to work on putting myself in the best position to assist athletes in the best possible way. Five years later from making that decision, I became a practicing attorney.
Overall, has it been relatively smooth? If not, what were some of the struggles along the way?
The road I have been traveling on has not been smooth at all. To blaze the trail I have chosen, I was not only a hurdler on the the track, I had, and still have, to be one off the track. I was not just a hurdler on the track, I had to be a hurdler off the track as well. I had figure out how to reach my goals despite the obstacles ahead of me. Being a young mother. I was defying the odds that statistically were supposed to prevail.
During my college years, I had to live off campus with my daughter. I had to figure out how to pay rent, eat, get clothes, shoes, all the basic necessities. I had to figure out daycare, afterschool care, and transportation. I lived upstate in Albany, NY, so winters were much harder than other seasons. Most importantly, I had to figure out how now to be in the huge percentage of freshmen who drop out after their first year. I signed up for every public assistance program I knew of, I accepted hand-me-downs, I saved meal money from track meets, When I moved to the south, every struggle was the same, the winters were just a little better.
During my professional years, I experienced most of my struggles due to the fact it was sink or swim time. I entered into contracts I shouldn't have, joined training clubs I shouldn't have, was silent when I shouldn't have been, and the list goes on, I started non-profit and for-profit businesses while competing as an athlete as well. Actually, one of my companies, Athlete Alliance, Inc. was growing and getting pretty lucrative, but I just wasn't ready to properly handle business at the time. I had great service, but I had a lot more to learn about all the other details.
When I decided to take that leap and run my own law firm instead of working for someone else, I used all of my past business experiences and education to put myself in a good position structurely to run the business. As far as the actual practice goes, I faced the challenges that come with operating in -not one- but three male-dominated industries. Then add on everything else that comes along with being a black female entrepreneur. I still face these challenges, but my results and referrals are making the naysayers less and less of an obstacle. I don't expect challenges to be go away, I expect my growth to be found within it. I LOVE being a black female boss!
E. O'Kelley Sports, Entertainment & Business Law Firm – what should we know? What do you do best? What sets you apart from the competition?
I am a businesswoman who has many different components that work together to display what "I do."
As an educator, coach, and speaker I empower, influence and advocate for people. However, my most powerful platform is being an attorney. It allows me to sit at tables I normally wouldn't be able to, it gives me resources and tools I wouldn't have, and it gives me the leverage that is bestowed upon an elite community. I use this platform to bring everything I do to another level.
As far as the ESQ behind my name, I assist clients in achieving the best outcome, they can possibly have in contract deals. I protect my client's intellectual property through trademarking and copyrighting. I form business and maintain state and federal legal compliance for non-profit and for-profit companies. My clientele consists of athletes, entertainers in the music and film industry, and small business owners.
I'm known for being a caring and passionate person who has a no-nonsense get it done attitude.
I'm most proud that I can stay true to my intention. I don't have to compromise anything for anyone. I truly have my clients best interest in mind with no influences from outside pressures.
The first thing that sets me apart is that I am me. There is no other person created on this earth to think, feel, and see exactly how I do. My genius can be imitated but never duplicated. As a matter of fact, I have never even met another person named Ellakisha. If there is now, they definitely were born after me. LOL.
Secondly, everything that I do comes from a place of direct experience. A lot of people look for careers that they believe they'll love for whatever reasons. And there is nothing wrong with that, But what sets me apart from most in my practice areas is that my work choices were formed out of my life experiences and compelling intention and attention to something bigger. I didn't go through my undergraduate program, MBA program, or JD program saying I wanted such and such job or opportunity because I long for the shimmer and shine. I always said I am equipping myself to be in position for those who need someone like me, just like I yearned for and couldn't find when I was in their shoes. I carry this attitude into everything that I do.
What is "success" or "successful" for you?
My definition of success is being led towards and attaining a piece of my genius everyday.
Realizing my vision in the physical form. Seeing people around me impacted in a positive way because I have crossed or am in their path. Being the exception and demolishing the rule. Standing on the mountain top and looking down into the valley at all the definers that are considered my disadvantages and finding the seed of advantage within each of them. Looking at outcomes knowing that I had to have been used by Infinite Intelligence to blaze that trail and move our culture forward.
Contact Info:
Website: www.eseblawfirm.com
Phone: (404) 772-9519
Email: Email Chief Talent Officer Riahna Edwards at riahna.edwards@eseblawfirm.com
Instagram: @afro_attorney
Facebook: @ESEBLawFirm
Twitter: @afro_attorney
Getting in touch: VoyageATL is built on recommendations from the community; it's how we uncover hidden gems, so if you know someone who deserves recognition please let us know here.