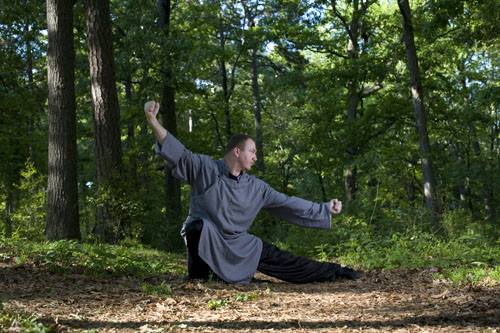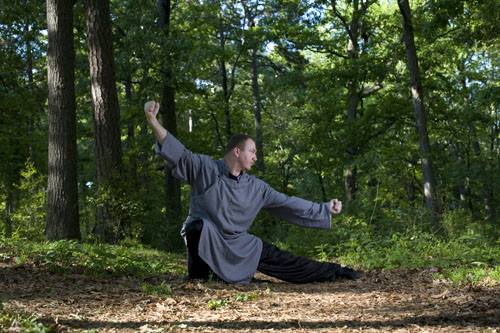 Today we'd like to introduce you to Gary Mitchell.
Gary, please share your story with us. How did you get to where you are today?
Kung Fu- the name creates images in the mind of warriors in battle, fighting with exotic weapons, and a mystery of amazing powers of strength of mind and body, it is all of these things and so much more. I started my personal path of training in Kung Fu at the age of 8, under a private instructor, in the art made famous by the legendary Bruce Lee, and his master ip man. My journey was wrapped in adventure, culture, and discipline.
As I got older I studied under a couple of different teachers in other styles, such as northern praying mantis Kung Fu and Tibetan white crane Kung Fu. At the end of the 80's I decided I wanted to learn in the birthplace of Kung Fu, China. I prepared myself for this journey by finding a language university that was a 10-minute walk from the illustrious Shaolin Temple (the home of the most famous Kung Fu monks in China). As I saved money and prepared my mind for this, a friend of mine who defected from China years earlier, showed me the news, Tiananmen Square protests were on CNN. this was April of 1989.
Upon seeing this, I knew my journey needed to be redirected. I looked into hong kong, as the all of the kung fu movies came from there, I figured, this would be a great place to learn. As I considered ways of making a living while there, I had learned from friends that teaching English would be the best way, Hong Kong (at the time) was an English colony, English was spoken well throughout hong kong. There was no need for this Georgia boy's lessons in an English colony. I met a friend while training at the Tibetan white crane school here in Atlanta (Decatur), who was a Taiwanese national.
We talked and I decided Taiwan would be my destination. He offered me a job as a police equipment purchaser. He owned a police equipment company, his brother was an undercover officer. I lived in the police equipment warehouse. I also went on to teach English in Taipei city. I found my Shifu (master teacher) in the back streets of Tapei. I began my training with Shifu: Lin, Chien Hong (for who my school is named after out of respect), in 1989, I continue to train with him to this day.
By living and studying in Asia, I decided upon my return that the school I opened would reflect on the past training I had received as well as the chance to introduce Chinese culture as a tradition to those who may have always wanted to learn it but, couldn't go to Asia to seek it out. The beauty of our school is its diversity and its connection to the old ways of training the martial arts. We incorporate mandarin Chinese in our study of the art, we perform and demonstrate Chinese lion and dragon dance, we focus on the depth and heart of the training which goes well beyond the idea of it just being a business.
My inspiration is drawn from the teachers I was blessed to have studied from but, also the students that I have trained throughout the years. I have learned much about myself in the years of my practice, and I still continue to learn each day.
Kung Fu- its true translation and meaning are not martial arts but, any craft or art that requires work from its practitioner. An artist who paints and sculpts, a chef who creates masterful dishes, a musician who plays to our senses and our emotions, a martial arts master who enriches, empowers, and gives guidance throughout one's life…. are all using the powers of Kung Fu!
Has it been a smooth road?
The road of a full-time martial arts teacher is a long and winding road. Challenges are constant. There is a saying, "if you teach 1000 students and can only produce one great teacher, you are blessed." Not many choose this profession as a full-time career. I embrace it because it is more of who I am and not what I do. I knew the trials going into this early on. I opened my school at the age of 23. A very young age to run a full-time business.
Some of the struggles have been, *when I started teaching, older students sometimes looked down on my age as a sign of not being old enough to be a teacher. Skill and talent are traits of the young, depth and wisdom are traits of the old. It was a constant proving ground to some students who entered our school during this time. *Fighting challenges occurred in the mid-late 90's, as many people must have watched too many Kung Fu movies. We handled them with as much "diplomacy" as we could. *As I did not go into this as a business venture, one very difficult challenge through the years has been learning the trends of it, as a business.
When you an artist of any sort, commercialization can weigh heavy on the mind, as that isn't always the mind of the artist, history has proven this with the likes of Jackson Pollock, Frank Frazetta, Peter Tosh, Kurt Cobain… So, teaching an ancient tradition in a modern society can be hard as we find technology can.
Do much of the work that we are slowly moving away from its roots. Making food from scratch, building furniture, writing a letter, having a face-to-face conversation. These are some of the struggles I have faced but, even though these struggles, we as a school forge forward as these things can only make us a better school for a new generation of students.
So, as you know, we're impressed with Chien Hong School of Kung Fu – tell our readers more, for example what you're most proud of as a company and what sets you apart from others.
The Chien Hong School of Kung Fu instructs classes in the arts of Shaolin Hongquan (5 animal Kung Fu), Chen family tai chi, red boat wing Chun, TACT/DART self-defense training, and Chinese lion and dragon dance.
We opened our doors August of 1995. We are the longest running lion and dragon dance performance team in Atlanta, Georgia. We have performed for a vast variety of groups and events in our school's history. Such as Unicef fundraier hosted by former President Jimmy Carter and tv's 20/20 host, hugh downs, annually, the dragonboat festival at Lake Lanier, fundraiser for bringing the pandas to atlanta zoo from China, and the naming of the pandas, various Chinese-American business events, a wide variety of prestigious restaurant grand openings, we have performed for celebrities such as, Ludacris (rap star and actor), Jane Fonda (actress), 2 Chainz (rap star), Jack Black (actor and voice of kung fu panda)…
I am most proud of my school's diversity. As we are a mix of cultures and people, performing and dedicating ourselves to an ancient Chinese tradition, we only wish to show that anyone can embrace a culture outside of their own and present it with honor and care. My students are what makes me proud of what I do.
What I think that sets us apart from others is that we hold the same standard of tradition that we opened our doors with over 20 years ago. many martial arts schools bend to trends, business ideals (contracts, billing companies, etc), we are Chien Hong School, our training is old school and we make no apologies for that. gloss, fancy externals, rank selling, these are not our way. We have seen schools come and go. We are still here.
As our methods come from a long ago time, we forget into modern times with reminding others that a good history should not be forgotten and a bad history should always be a lesson.
Let's touch on your thoughts about our city – what do you like the most and least?
Atlanta has been our home from day one, August 1995. We have seen it grow into itself through the 90's into the new millennium. This city brings a great taste of cultures and allows others to see them shine. Greek festivals, Japan fest, Scottish highland games, Lunar New Year events, Atlanta Caribbean carnival, etc… We are a great city and our growth each year shows that (its traffic does too : )
What I least like is that many of its older establishments have disappeared. Restaurants, music venues, variety stores, etc… these to me are landmarks that (as an old soul) I feel some, not all should have been kept around or something respecting their historical relevance. Even the fox theater, whose history is without question here in Atlanta, has been threatened by this. Big business doesn't always show very much care for what isn't in their vision. I wish more would!
Pricing:
group classes in shaolin 5 animal kung fu (adults) $150 per month (children $140 per month
Contact Info:
Address: 1083 Austin Ave. Atlanta, Georgia
Website: www.chienhong.com
Phone: 404-525-3226
Email: chienhong_us@yahoo.com
Getting in touch: VoyageATL is built on recommendations from the community; it's how we uncover hidden gems, so if you know someone who deserves recognition please let us know here.