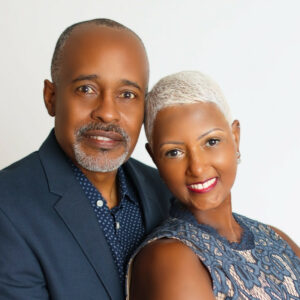 We are thrilled to be connecting with Gil & Renée Beavers again. Gil & Renée are are authors, Marriage Facilitators & IDENTITY Coaches and are also content partners. Content partners help Voyage in so many ways from spreading the word about the work that we do, sponsoring our mission and collaborating with us on content like this. Check out our conversation with GIL & RENÉE below.
Hi Gil & Renée, so great to have you join us again. For folks who might have missed our earlier conversations, can you please take a minute to introduce yourselves briefly?
Gil & Renée are the hosts and creators of the Rich Relationships podcast, books, and the Refuge, a self-paced online relationship course. This couple is learning, growing, and enjoying the journey of life and love. With more than thirty years of marriage and fifteen-year of relationship facilitating experience serving engaged and married couples, it's obvious marriage is this couple's passion. Gil and Renèe are on a mission to shorten the learning curve of building healthy relationships that last. Marriage is one of the most overlooked and underserved areas of ministry in most churches and organizations. This disparity is the catalyst for the Rich Relationships with Gil & Renée Project. Gil and Renée are empowering singles to bridge the gap and connect the dots between dating, engagement, and marriage.
What is Rich Relationships Refuge?
The Rich Relationships Refuge is more than an online course, it is a community and a safe place to learn and grow in healthy Rich Relationships. The Rich Relationships Refuge will provide examples of how to apply biblical principles to our marriages and relationships.
Who is Rich Relationships Refuge for?
Rich Relationships Refuge is for singles who desire to get married and dating and married couples who want to grow and mature. Marriage, like all the good things in life, is hard work. Unfortunately, many of us don't understand what that work entails. Rich Relationships Refuge provides tools, accountability, examples, and community.
Why is marriage so important to you two?
Relationships are where we have the highest likelihood to grow if we are willing to do the work. First, we must unpack and examine ourselves. Yes, healthy relationships require work, and that work begins with us. Renée and I both come from single-parent homes marriage was something I desired as a little boy. I, [ Gil ], knew marriage could be forever; I just had to learn what would make it last. So, Renée and I began our relationship with a shared commitment to love and accepted one another. Marriage for Renée and I, [Gil], is a gift to share, and that is our mission to share the gift of marriage with the world.
How has divorce changed your life?
Divorce has left a scar on my heart and mind that reminds me that my choices don't just affect me. They affect the people I love and care for. Divorce made me make my marriage work for thirty-three years. Divorce made me a better dad. But, mostly, divorce made me aware of the lasting effects of giving up on my commitments. Divorce makes me grateful to be married.
Why Is Identity so important to you?
The key to giving yourself away is knowing, understanding, and loving, not just the reflection in the mirror but your whole self. It's taken years for me,[Renée ], to know who I am and who I am not. My Identity is my unique value proposition. I am one of a kind. When women don't know who they are, everyone in relationships with them suffers.
Our identity is the source of our value and our worth. It's what we bring into each relationship we enter. We enter into relationships to give and serve. Without personal identity, we enter into relationships to take and to be served. Our expectation is that the other person will make us feel valuable and that it's their responsibility to make us feel good about ourselves. Not only is this unhealthy, but it is also extremely taxing on new and existing relationships. A strong sense of our identity makes us a healthy, safe place for relationships to thrive and grow.
What is your hope for the future of Rich Relationships Refuge?
That all people, especially people of color, would stop suffering in silence! Anything healthy and growing has a team of people helping it to grow. No one is successful alone in marriage and relationships. We need the help and support of others who have gone along the path before us. We all have growth areas, bad habits, and unhealthy beliefs we must unpack and unlearn.
It was so great to reconnect. One last question – how can our readers connect with you, learn more or support you?
Join Gil & Renée as they launch the ONENESS CODE live five-week couples session on August 23,2021 8:00 PM CST. Thank you for connecting with us. Gil and I are excited to serve more singles and couples in need with our new course.
Please grab your seat in the room today. https://richrelationshipsrefuge.thinkific.com/
Rich Relationships Refuge, will launch on May 24,2021 at 8:00 PM CST. Our ten-week two-module group course is for dating and married couples. The ONENESS CODE module is a live five-week experience. IDENTITY-REHAB is for singles and dating couples. This module is a pre-recorded experience. Both modules are self-paced and interactive. Gil & Renée are passionate about marriage. It is their mission to equip singles and married couples to thrive in relationships. Let's get to work together. Remember we are stronger together, and "You Are More Than Enough."
Contact Info:
Image Credits
Nomar Noslen
Suggest a Story:
 VoyageATL is built on recommendations from the community; it's how we uncover hidden gems, so if you or someone you know deserves recognition please let us know 
here.