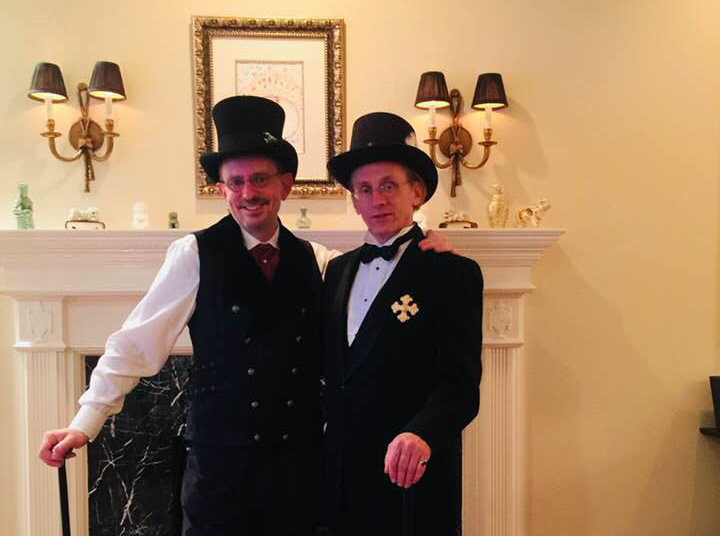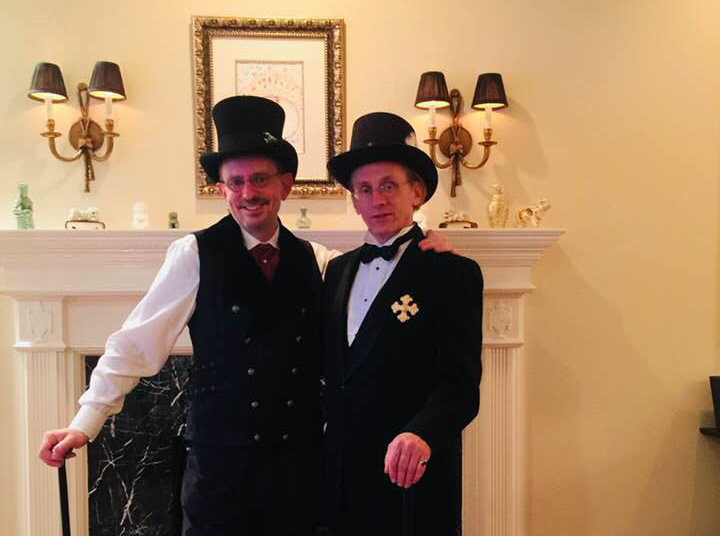 Today we'd like to introduce you to Grandison Trowbridge and Bruce Tidwell.
So, before we jump into specific questions about the business, why don't you give us some details about you and your story.
Bruce: We are very new. Last October my business partner "Mr. Peter" Coughlin proposed that we start a company selling a line of luxury personal leather goods. He is a marketing expert but he needed a designer and I agreed to discuss it. After looking at his Pintrest concept board, I pointed out that there was a subtle steampunk influence there. I've been into the steampunk subculture for almost ten years although never as deeply as I would have liked. Steampunk was something he was aware of but only as a pop culture fad but it has become the narrative of our business and now he's as into it as much I am. In a few hours, we decided first that we would have a steampunk theme, it would be an Emporium and then, since every Emporium must have a proprietor, it would The Trowbridge Emporium, owned by Grandison Trowbridge. We named it after one of my great grandfathers because his name sounded appropriately Victorian. Since I'm personally into cosplay and performance art, I just sort of took that and ran with it. Peter realized that Grandison was attracting a lot of positive attention online and he has gone from being an advertising fiction to a real person of sorts. My business cards have Grandison Trowbridge on them. I dress like a "proper steampunk gentleman" and go out to social events as well as having an active presence in social media. Grandison is very proper, always gracious, but comes across as slightly daft at times. He's not a time traveler but he lives in an anachronistic Victorian bubble that leaves him sort of baffled and perplexed by many facts of modern life. At times, I think he may end up being far more interesting and popular than I am, though. Our website is up and running and we are adding new items as fast as we can.
Grandison: It really has been the most amazing adventure! October last, dear Mr. Peter opened a conversation with me about a notion that he had that we should be in business together. I was quite curious, although he did encourage our meeting with a very nice old bottle of red wine knowing I couldn't resist such temptation. Of course, we have been passing friends for so many years, but I was quite pleasantly surprised how harmonious our thoughts were on the project. I told him that making Beautiful Things was easy but selling them a far greater challenge. He said, "Dear Grandison, just leave that to me, it's what I do." In mere moments the Trowbridge Emporium was born. He says I'll soon have a shop but we have to begin with a website sort of thing on the Internet. Now it seems, just moments later, I'm on the Facebook, the Twitter, the Instagram and I have a most beautiful website with a growing collection of beautiful things available for purchase. It's all rather breathtaking, really. I do depend on Mr. Peter to handle most of that, though. Although, I think I've mastered the Facebook, modern technology is just rather baffling. I'm far more comfortable in my studio with my machines and tools and the most exquisite materials to work with. Perhaps I should strive more for humility but I'm rather proud of what we've accomplished so far, and in so little time, really.
We're always bombarded by how great it is to pursue your passion, etc. – but we've spoken with enough people to know that it's not always easy. Overall, would you say things have been easy for you?
It has been an amazingly smooth road! Part of it is because we are a great match. Tongue in cheek, he is a marketing genius and I'm an artistic genius. We have absolute respect and admiration for each other's abilities and a natural division between our roles so we aren't stepping on each other's toes or struggling for control. From the very first conversation we had, though, our visions have just been in sync. Every time I've felt like I might be going out on a limb with some idea or selection, he was already thinking something similar and I'm continually amazed by the things he comes up with. The only struggle has been that we dove headfirst into a very big project and now we are sort of racing to stay on top of it but that's the kind of difficulty every entrepreneur dreams of having.
Grandison: Mr. Peter and I are having a simply brilliant experience doing this. He assures me that something called our "metrics" are good which I take to mean we are attracting considerable interest. For that attention, I am most humbly appreciative. Mr. Peter has worked so desperately hard to put our business together but he hasn't complained of any difficulties. I think it has simply been a fact of knowing what to do and making it happen. My only struggle is that there are quite literally not enough hours in the day for all that I need to do! Building business always takes hard work but it has been work that fairly warms our hearts with joy.
So let's switch gears a bit and go into The Trowbridge Emporium story. Tell us more about the business.
Bruce: We are growing into a true Emporium, The contemporary definition is a large variety store, but the ancient definition is a trading outpost established in another country. We are a steampunk themed variety store and we also hope we can be a bring the eccentric charm of steampunk style to mainstream Atlanta, as well. Our showcase item is four lines of luxury personal leather goods. Eventually, our leather collection will have more than 60 different products spread out over four different collections from the affordable Vagabond collection in leather-trimmed canvas to our executive Grand Tour collection in polished oxblood leather with pigskin lining for appropriate pieces. Each collection aims to equip a particular lifestyle or facet the complicated life you live. We are also working on having a wide variety of appropriately themed home decor items including Victorianesque antiques and vintage collectibles, art, jewelry, fashion accessories, branded Tshirts, perhaps even our own custom cologne and grooming products. We are actively looking for artists and artisans producing handmade items in a Steampunk/Victorian/Edwardian style who would like a showcase for their works. Explore our site and, if you feel at home there please contact us. We are taking things one step at a time but looking to be as eclectic as possible within our chosen style. When we open our physical store, we even hope to host book signings, tea parties, musical evenings, and generally become a gathering place for those who want to come and play with us. Our guiding lights, though, are a commitment to the highest levels of quality and of course, staying true to our aesthetic vision. The thing we are most proud of is that with necessary exceptions, everything we sell will be handmade, limited run, artisanal products as locally sourced as possible.
Grandison: Dear lady, we make Beautiful Things and sell them to interesting people! As we say, "quality equipage and artifacts to furnish your amazing life." We are furnishing our store with all things unique, gracious, and amusing. We will always be adding new and interesting things as we find them. However, quality and authenticity will always be a priority. We have no interest in common things that one might find anywhere. Our merchandise is not strictly one of a kind, although many things will be, they are almost without exception, carefully crafted in limited quantities. Our own line of luxury leather goods is the epitome of our philosophy with each piece made by hand in and presently by myself, although there will never be more than a few apprentices to assist me. What we sell will always be limited to what we can make. I believe life should be lived with passion, enthusiasm, and an authentic commitment to your dreams and desires. Attention to quality and delight in even the smallest things leads to the deepest satisfaction. When we open our shop, we aspire to be patrons of the arts, in our own humble way and offer a place where a community can grow. We would like to collect a community of friends around us and play hosts to whatever social events present themselves. Aside from making Beautiful Things, there is nothing quite so fulfilling as hosting a party for friends. We are actively searching for talented artists and artisans who desire a showcase for their own Beautiful Things. Please visit our home on the Web and if you feel yourself to be a kindred spirit, we would be most pleased to make your acquaintance. Of course, selling things is the point of having a store and we hope the community will give us their generous patronage. We will be most gratified, though, if we can also be an inspiration toward towards more elegant and authentic lives. Oh, my! I do feel I've perhaps waxed overly poetic but The Emporium is my own passionate adventure after all.
Has luck played a meaningful role in your life and business?
I can't say that everything I've done was strictly a matter of careful planning and hard work. There have been many moments of serendipity. Peter and I coming together to do this were one of them but it really wasn't a matter of random chance. What may seem to be luck usually happens because you make it possible.
Grandison: The development of our business has been quite fortuitous but I wouldn't say it was mere luck. I'm not sure I believe in luck except at the card table and even there skill plays it part. Well, perhaps there is luck at the roulette wheel but that is a foolish rambunctious game. In life, though, one makes one's own luck, as they say. Of course, there are surprises and moments of serendipity but those generally occur because one set them in motion, even if perhaps unawares, rather like an unexpected shot on the billiard table. Not to boast but I do believe the growing success that we have is the result of talent and effort, not mere chance.
Contact Info:
Phone: (470) 440-0643
Email: INFO@THETROWBRIDGEEMPORIUM.COM
Getting in touch: VoyageATL is built on recommendations from the community; it's how we uncover hidden gems, so if you know someone who deserves recognition please let us know here.