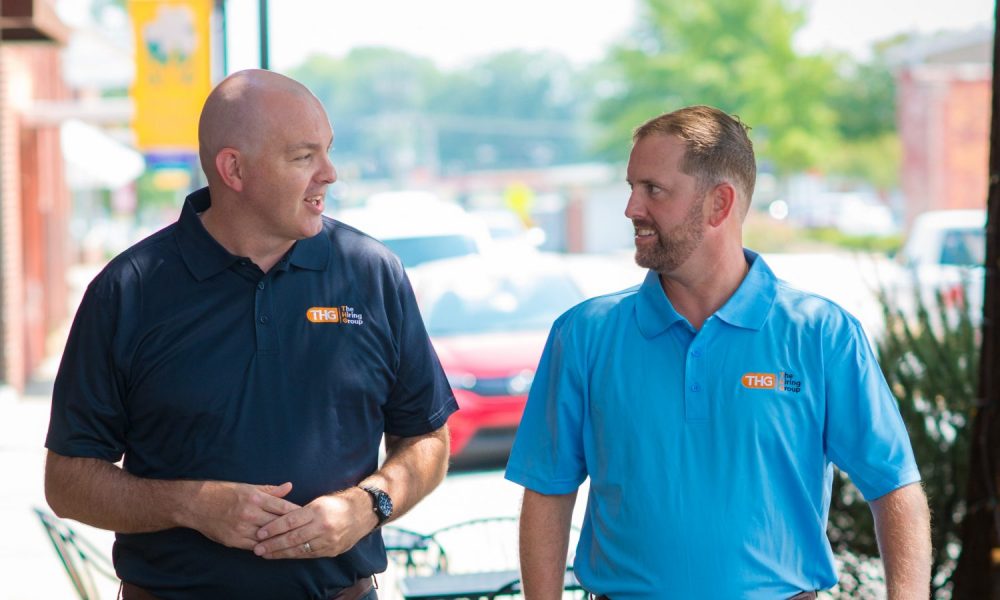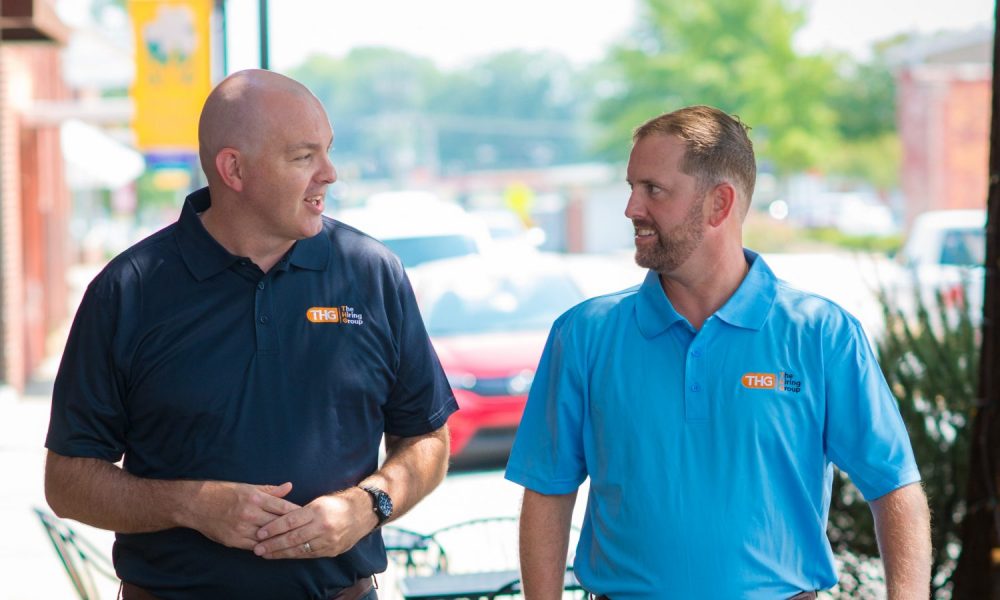 Today we'd like to introduce you to Chris Yarrow and Brooks Israel.
Chris and Brooks, please share your story with us. How did you get to where you are today?
Chris: Career-wise, I started in the staffing industry in November of 2000, when I left retail and joined the largest IT staffing firm in the country as a technical recruiter. I had 13 very successful years in the industry and worked in Greensboro NC, Silicon Valley CA, Raleigh NC, Virginia Beach VA, and Greenville SC.
Brooks and I started The Hiring Group April of 2014 in Atlanta, GA. We had a vision for a technical staffing firm that could truly take care of its contract employees, and provide a client experience that was vastly different than the ultra-aggressive sales tactics that had proliferated in our industry. Over three and half years we have honed that message on both sides, offering the best benefits in the industry to our contract staff, and built a successful multimillion dollar, retention-focused staffing firm from the ground up without making a single cold call.
Brooks: The Hiring Group was started in the basement of an old lake house on Lake Lanier. The overall theme of our inception can be summarized with the quote: "We have done so much with so little for so long we can do anything with nothing." Our path to success was far from a walk on the red carpet (or walk in the park).
My business partner and I had a non-compete which prevented us to start our business near our Simpsonville, SC homes. Our hands were forced to pick a location where we could work within the constraints of our previous employment agreements. This meant working in the Atlanta area away from our families for over 18 months. It was a tough call to make but we felt the rewards outweighed the initial hardships. So off we went to conquer Atlanta (and the world). The office furniture was purchased for $200 from my church back in Upstate South Carolina.
We built everything from ground up using a Microsoft Excel spreadsheet to manage our progress on all our projects. We were rookies but we were thorough with our research and follow through. In our initial year, we put a very small revenue number on the books but it was at least a number.
Today we are a multi-million-dollar, legit business sitting and competing with billion-dollar staffing companies. We are not a rag to riches story yet but all I can say is we have the secret sauce and message resonating with our customers and they are slowly getting how and why we are different than all other staffing companies.
Has it been a smooth road?
Chris: I am not sure smooth roads exist, or even should exist, in any entrepreneurial endeavor! You need to struggle so you can appreciate the successes and realize how hard you must continue to work to keep them coming. We've been broke, worked out of a basement, fought with family, fired friends, lived on credit, gotten beat by bigger competition, and made plenty of rookie mistakes. Not to mention we spent the first 18 months living away from our families while we complied with our non-compete with our former company.
When you are trying to turn an industry as established as the staffing industry on its head by basically being everything it has traditionally not been, you can expect a lot of initial pushback. How can you do that? How come you don't cost more? Why doesn't everyone do that? No way you can make that work? You guys are crazy; how will you make any money? Then the contractors and clients see it in action for the first time, and it all just makes sense.
Brooks: From day one, people wanted to know why are we different. At the time, we had almost 25 years of combined experience in the staffing industry and our clear answer was it was US (Chris and I). When you are in the metro Atlanta, GA area (5.7 million people), "US" (Chris and I) are not going to be a differentiator in this enormous market.
Meeting after meeting, people wanted to know why we are different or what do we specialize in this HUGE market called staffing. We did not consider this obstacle a challenge, more like a lesson for the life of a small business start-up. Most (if not all) of these potential customers had the advice of a lifetime (why are you different) but none of them have ever jumped off the ledge to put it all on the line to see if they could make the cut.
Some wanted to believe and help in our efforts which was an unbelievable feeling.
Others were the naysayers who wanted to bring road blocks and doom and gloom to our day. The fact is the world does not accept a small business can do more than one thing well until you prove them wrong. We are grateful to have encountered both types of people. It made us focus on why The Hiring Group and today our clear message is echoing success.
We'd love to hear more about your business.
Chris: We are a technical staffing firm focused on IT and Engineering.
We are known for being good at what we do, taking care of our people, and being easy to work with.
We are most proud of where we are today as a company, and how our employees feel about coming to work every day.
We are one of the very few staffing firms in the country who has any true differentiators.
It is the dirty little secret of the staffing world…they are almost all the same.
Differentiator #1: We provide all of our contract staff with Gold Level medical benefits that carry a $0 family deductible. These are the best benefits in our industry and rival or exceed any Fortune 500's corporate plan.
Differentiator #2: We pay 50% of the employee-only cost for those benefits.
Differentiator #3: We automatically provide two weeks of PTO per year for almost all our contractors, no negotiations required.
Differentiator #4: We are the first truly "retention-focused" technical staffing firm. The war for talent is obvious to all, but we know the war for clients to retain that talent is where we truly separate ourselves.
Differentiator #5: It is widely believed that all staffing firms fish in the same pool for their contract resources. Our exceptional benefits allow us to work with candidates who are in current full-time positions and entice them to work with our clients on long-term contracts, or make a contract-to-hire scenario more palatable, which takes our search from the pool that everyone else is in, to the ocean.
Brooks: The Hiring Group exclusively targets Applications, Data Science, Advanced Analytics, Technology Infrastructure, IT Security, and Engineering skillsets to support client needs across their enterprise. We provide technical staffing via Contract, Contract-to-Hire, Direct Placement, and/or Payroll Services to companies of any size.
The Hiring Group is redefining the technical staffing business model by providing a differentiated level of service and a focus on the well-being of our employees. Our philosophy is simple: Great Contractors Deserve Great Benefits. Most staffing organizations choose to offer "meets minimum requirement" level medical benefits. In our pursuit to attract and retain the best engineers and technologist, The Hiring Group provides our contractors the best benefits in the industry. Taking care of these employees translates into a dedicated, loyal workforce.
There have been many proud moments but the three that come to mind are our team, the reputation we have earned and my business partner. We have a dedicated team who have all given up something to be a part of something special. Since day one of their employment with The Hiring Group, all of them took a chance on us. They saw through the risk and focused on how they could individually help us be successful. We could not be where we are today without their sacrifices and commitment to our company. I have been on many great teams in my life but this one takes the cake.
Secondly, I'm proud of the reputation we have earned across the industry and within the clients we serve. It is the momentum and the catalyst to our future growth. It is the secret sauce we have created to differentiate us from all the other staffing companies.
Today, the staffing industry talks and focuses on the "War on Talent" but our reputation and secret sauce answers what all our clients and consultants really care about – the "retention war." Our company has the solution and is capitalizing on what the others have not invested in or cared about.
Lastly, I could not have picked a better business partner. We are Yin and Yang. At times, we can be two opposites yet we have complementary energies. Although we can be totally different, opposite, our individual qualities and business, we are interdependent.
Yin and Yang cannot exist without the other; they are never separate. Chris and I are just that and we make each other better because of our differences, our strengths, and our weaknesses. It is an understatement to say I am proud we are on this journey together.
Our philosophy is simple: Great Contractors Deserve Great Benefits. The Hiring Group provides our contractors the best benefits in the industry. Taking care of these employees translates into a dedicated, loyal workforce.
Is our city a good place to do what you do?
Chris: I feel Atlanta is a great place to be in the technical staffing space, just due to the amount of overall opportunity in the market. Yes, I would recommend it as a good place to start out, both for the opportunity I already mentioned, and also because Atlanta is very welcoming to the new kid on the block. We learned that Atlanta is the biggest small town in America, and it was refreshingly easy to openly network with many in the C-suite throughout the market. They all know each other and freely share good recommendations, opportunities, and things to watch out for. I have lived and worked in the largest technology markets in the U.S. and none could match Atlanta on the Networking front.
Brooks: Atlanta is an ideal place to start a business. One of our company values is "pay it forward" and this was how we felt Atlanta treated The Hiring Group when we started our business. As an infant business you are anxious, nervous, terrified, and a thousand of other emotions. When you reach out for help in Atlanta it is met with welcoming arms.
Everyone we met believed in us and wanted to be a part of helping us through the early times. It was a real cool feeling to have so many people care about our success. There are countless individuals who made an impact on our first couple of years and for that we are forever indebted and thankful. As a business it is our plan to pay these gestures back by paying it forward to others now and into the future.
Contact Info:
Address: 1201 Peachtree Street, 400 Colony Square,
Suite 200,
Atlanta, Georgia 30361
Website: www.thehiringgroup.com
Phone: 770.545.6262
Email: greatbenefits@thehiringgroup.com

Image Credit:
Betsy McPherson Photography  www.betsymcpherson.com (C) 2017
Getting in touch: VoyageATL is built on recommendations from the community; it's how we uncover hidden gems, so if you know someone who deserves recognition please let us know here.