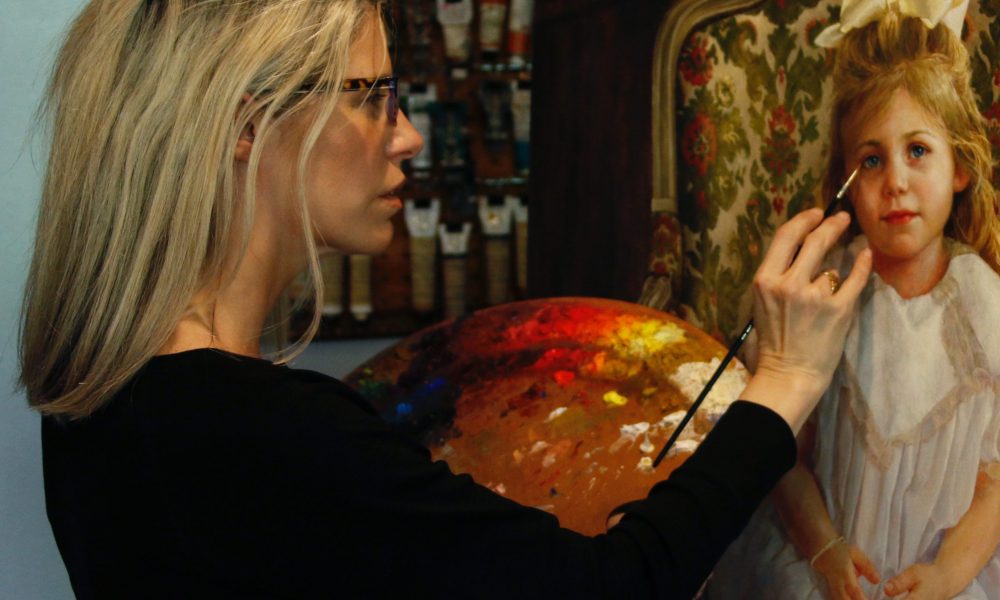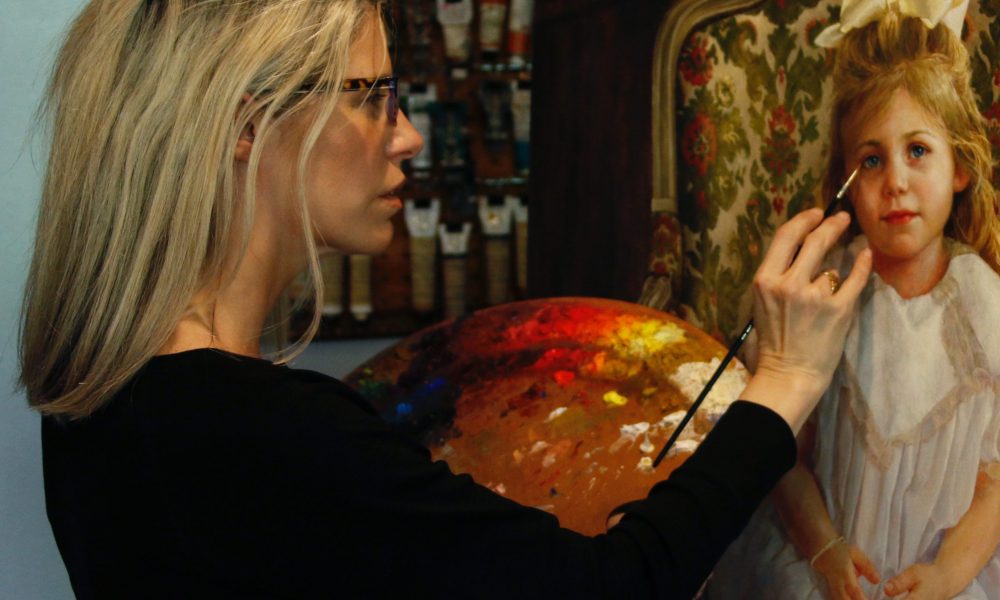 Today we'd like to introduce you to Holly Henson.
Thanks for sharing your story with us Holly. So, let's start at the beginning and we can move on from there.
Although my whole life has been marked by a heightened love for beauty, nature, and order, my official path to becoming a portrait artist began about 22 years ago when I enrolled in my first oil painting course at the Atlanta College of Art. I had enjoyed some art classes prior to this, but falling in love with the medium of oil painting, with its rich history and juicy paint application was something altogether momentous for me. At the time, I was fresh out of university with a challenging and demanding job in IT consulting, and I had no ambitions of working as a professional artist. But quickly, I became aware that when I picked up a brush and painted, however clumsily at first, I stepped into a realm of timelessness. As I learned more about the medium of the great renaissance and baroque masters and worked steadily on developing some skill with it, I came to divide my time into two categories: either all-consuming sessions at my easel or periods away from my easel, which were characterized by a sense of longing. This remains true to this day. Painting was not just joy, it was challenging and frustrating and maddening and triumphant. It required intense concentration, and it was always difficult. I loved this about it.
Five years later, I turned my passion into my profession, creating both gallery paintings as well as commissioned art. This transition was gradual, as I began taking commissions and increasing the amount of time I spent in my studio. My work has been through many stages and phases as I have grown and changed as a person and as an artist. I have loved creating floral paintings, avian art, and even abstract paintings. But today I feel firmly planted in the world of representational art, specializing in portraiture. My heroes are the Renaissance masters, such as Leonardo da Vinci, baroque masters, especially Rembrandt van Rijn, and the French Academy painter, William Adolphe-Bouguereau. They painted portraits that were individualized and tender, yet magnificent and transcendent. My favorite subjects today are people, in all of our complex psychological layers and physical diversity. At the moment, almost every portrait I paint is by commission and I have been fortunate to have the most remarkable collectors and sitters. Every portrait is an experience of its own, presenting new artistic challenges, new opportunities for seeing, and new human connections.
Has it been a smooth road?
There have certainly been challenges along the way. Early on, I didn't yet have a clear vision of where I was going as an artist and how to choose the right teachers. I found that the art instruction I received was a bit hit or miss. "Art" is a huge umbrella, encompassing many philosophies, mediums, and styles. Some were for me, and others were not. When an artist is first starting out, there are many critical voices competing for her attention, both external and internal. Sometimes my teachers offered the exact tools and methods I needed to practice and progress, and sometimes their approach was completely wrong for me. There were many times when I got in my own way because I had not yet honed a personal aesthetic vision. This was hard to wrap my hands around in my first few years. It took time and a winding path to come to better understand myself, what kind of artist I wanted to be, what kind of instruction I needed to become that artist, and where to seek that instruction.
Another challenge and a persistent one that only gets more difficult with time is the difficulty balancing the timeless nature of the act of creating art with real world and urgencies and demands, both personal and business related. Creating art is, for me, a solitary, almost monastic, undertaking. When I'm in my studio, everything melts away and all that exists are the artist, my subject, and my painting. I struggle to switch back and forth from creation mode, which is transcendent, to the temporal world, where there are chores to do and meals to prepare. All of my work consumes me, and when I'm working on a portrait that spans weeks or months, I'm almost constantly thinking about it, if not actively working on it. It keeps me awake at night. The process of creating a work of art is an obsession. I think this is why many artists appear to be scattered. It's because we stumble when we try to move back and forth between our responsibilities to our families and communities in a concrete world, and our ache for eternity.
We'd love to hear more about your business.
Primarily my business is heirloom oil portraiture. I create commissioned works of art that will be passed down for generations, even centuries. I also love to paint pet portraits, flowers, and birds. But truly, painting the human face and figure could engage and challenge me for a lifetime, probably at least five lifetimes. The fact that we all share the same anatomy and features is comforting and weaves our humanity together, yet within that structure are infinite individual characteristics and psyches, the miracle and magic of our diversity.
My portraits are built up in many layers, and my aim is always to achieve a strong likeness. If I'm lucky, I will be able to paint something more elusive perhaps, something beyond that likeness. My desire is to capture my sitters' individual nature and personality, a small glimmer of what makes them who they are, unlike any other human. And while my work has an exactitude to it, at its core, it is painterly. I use passages of thick built-up paint combined with thinner transparencies to create a portrait. My goal is not to achieve something photo-realistic, but to sculpt with my paint, a portrait that moves beyond a photo likeness, to become an object of art in and of itself.
A portrait artist needs a certain amount of scientific understanding as well, I have studied human anatomy, the optics of light and pigments, and the proper chemical composition for building an oil painting that will stand the test of time. These are all incredibly important to creating a beautiful portrait that will last for many generations.
My process includes portrait sittings, painting from life, making color studies, and taking photos of my sitter. When someone hires me to paint a portrait of a loved one, they are getting an artist who will obsess over every last brushstroke of their portrait, day and night. The final artwork may take months to complete, and in the end, it will be the collection of relationships. To experience it will be to experience the relationship between artist and sitter, between the artist and the artwork, between the client and the person whom they have commissioned me to paint, and ultimately between the portrait and the viewer.
What is "success" or "successful" for you?
In some ways, that's a really difficult question. I think for the artist, success can be a moving target. I may have an idea of what would constitute a masterpiece, but the closer I get to that, the higher my standards become, the idea is always beyond us. In a very real sense, I know I'll never arrive at my destination. One of my heroes, Leonardo da Vinci, carried the Mona Lisa with him for seven years, from its conception until his death. Through all of those years, he continued to make changes to it. It began as a portrait commission, but he never let go of it as he never felt satisfied. I find that incredibly remarkable! One of the greatest artistic treasures of civilization was considered "unfinished" by its creator. That's one thing that beginning artists should know, that you never feel satisfied for more than a few moments, and I think it gets worse as you go. Leonardo's example is a testament to this theory. The gap between what is and what we can imagine: this is our creative energy. It's what propels artists forward.
On the other hand, and at a more practical level, I hope to never hold on to a commissioned portrait for seven years still working on it! I do let go of my work, of course, and I always guarantee that the collector will be thrilled with the painting in the end, or it isn't finished. It is not uncommon for people to become emotionally overwhelmed when a portrait is first unveiled and I've seen a lot of happy tears during these unveilings. I live for these moments! These moments tell me that I have created a work of art that captured one of the persons they love most, something they will treasure for the rest of their lives and generations beyond. That is success I can be happy with!
Contact Info:
Getting in touch: VoyageATL is built on recommendations from the community; it's how we uncover hidden gems, so if you know someone who deserves recognition please let us know here.