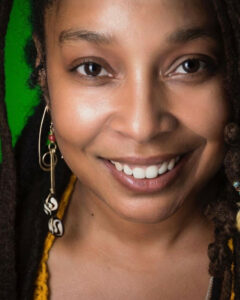 We're so pumped about our conversation with Honeysuckle Moon. Honeysuckle is a Plant-Based Skin Therapist, Wellness Product Manufacturer and is also a content partner. Content partners help Voyage in so many ways from spreading the word about the work that we do, sponsoring our mission and collaborating with us on content like this. Check out our conversation with Honeysuckle below.
Honeysuckle, it's been too long since we last connected. Thanks so much for taking the time to share your thoughts with our community again. Some readers might have missed our prior conversations, so maybe you can kick things off for us with a quick intro?
Greetings! My name is L'Angela Lee, aka Honeysuckle Moon. I am a plant-based skin therapist, herbalist, spa practitioner and apothecary from Louisiana. My small, Black-woman owned business is based in historic West End Atlanta, Georgia and I have catered to local and global wellness communities of color since 2005.
Why did you create this business?
Honeysuckle Moon was created with the initial goal to provide hydrating anti acne formulations from plants and minerals that truly worked well for Black + Brown skin, without irritating or clogging the pores. Effective skin condition redirection and aromatherapy infusion are my strong suits as a business. Additionally, I feel it is beyond important to establish and commit to daily self-care practices that provide wholistic benefits for the mind, body and Spirit. My Pan Afrikan cultural stance surrounding entrepreneurship helps to formalize the business's foundation and support strategies, and it has taken me on an extensive wellness education journey around the globe.
What does a typical work week look like for you?
As a true artisan + creative + wellness professional, my workweek is an entire kaleidoscope. Everything from product development, manufacturing and order shipping, sourcing herbs, collaborating on art, doing graphic design and organizing Vibrant Moons, my annual women's wellness festival and platform is a typical workweek. The therapeutic jewel in my crown, however, is the fact that I provide the best organic plant-based facials and spa therapies for wellness clients in both Atlanta and Jamaica, respectively.
Who are some of your key inspirations?
Chiefly, I am inspired by the Most High and My Ancestors. Additionally, Madame CJ Walker, Sonia Sanchez, Lauryn Hill, Fannie Lou Hamer and Bob Marley are among my key inspirations.
How long have you worn dredlocs and why did you decide to grow your hair?
I've had my DredLocs since 1999. The Spiritual Teachings of Rastafari and Bob Marley helped to establish who I am today. I have worn my hair natural, however, since 1995. I manage my hair as a unique genetic coded expression of my God essence and Afrikan bloodline. It is my beautiful crown.
What happens next for Honeysuckle Moon, once the world reopens?
When the world reopens, two things will happen: My Roots, Trees and Flowers Herban Wellness Spa Truck will be on the road, providing self care + products + spa solutions, including manifesting an itinerary of community wellness-focused efforts across metropolitan Atlanta and surrounding areas! I feel tremendously optimistic that we will physically reunite for Vibrant Moons Natural Wellness Festival for the Indigenous Woman 2021 and celebrate our 5th year of cultivating wellness through the Black + Brown Sistahood. Additionally, my Eco Therapy Jamaica retreat platform will, soon, begin accepting applications for our exclusive lodging + private beaching natural wellness experiences to Oracabessa, Jamaica.
Why is spirituality key in this season?
Spirituality is vital in this time where the entire planet is perpetually healing and evolving as the pandemic reshapes our everyday lives. Having love-based spiritual systems (without judgment) that guide humanity into new levels of interaction and mutual respect is key if we are to truly achieve equity and peaceful coexistence now and for future generations.
It was so great to reconnect. One last question – how can our readers connect with you, learn more or support you?
Please visit my website iamhoneysucklemoon.com as well as @honeysucklemoon on Instagram for updates!
Contact Info:
Website: iamhoneysucklemoon.com
Facebook: @honeysucklemoon
Linkedin: @honeysucklemoon
Twitter: @honeysucklemoon
Youtube: @honeysucklemoon
Other: Clubhouse @honeysucklemoon
Image Credits
Simply Zee Imagery