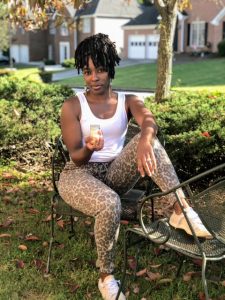 Today we'd like to introduce you to Jazmine Robinson.
Jazmine, let's start with your story. We'd love to hear how you got started and how the journey has been so far.
Growing up in a small town, opportunities didn't really present themselves. However, I have always desired strongly to be different. Sometimes this had a positive impact other times not so much. Having grown up and facing some pretty serious challenges at home, it motivated me on many levels to be better, to strive harder, and to set myself apart of what appeared to be the norm for most of everyone I knew. Hardships, minimal options career-wise, and limited resources for minorities and women in general, despite vigorous education skill-sets in which they possessed, not to mentioned being overlooked and passed over on many instances, were some of my motivational boosters. My hometown is still very much stagnant and set in a period from long ago. While in my senior year of highschool, I was introduced my lovely husband, but it wasn't until my second semester in college that we officially began to date, soon after we had our first little one and two years later, we moved to the Atlanta area. In 2008 we purchased our first home and got married later that year.
Life as we knew it was grand. I finally had transitioned into a great position relative to my educational background of Psychology and we were living each moment joyously. Our twins came along and were such loving additions to our little family. It wasn't long after the economy crashed that our seemingly perfect world came tumbling down, and more life hurdles were thrown our way. After things started to appear to be moving in a positive directions, our youngest twin was diagnosed with T1D it forced me to turn down a dream position as I had finally made my re-entry to my career after taking on the role of being a stay at home mother and homemaker.
It seemed inevitable that this must have been God's desire for me. I had so many talents and so many dreams and none of them seemed to be happening according to how I had planned. The years went by and days turned to months and months into years. Picking up the pieces as they were displaced and rolling with the punches as some would say became the norm. I managed to inch my way back into the workforce a bit and once again circumstances beyond my control took place. During this period of not having consistent work I chose to happily focus on my eldest three and really throw myself into homeschooling. Then yet another blessing took place in the form our our last and only son. It was shortly after his introduction that I revamped the project I had began almost 10 years prior and re-ignited it with zeal. It was my first business venture and immediately it was being blessed by God's hand which allowed my talents to be put to use, without interfering with my responsibilities as a wife and mother.
As a wife and mother of what was now four beautiful blessings, alongside running an Educational Development business you may think another business venture is she nuts! Well that is actually the same mindset I had initially. It all began in our lovely homeschool classroom.
When Covid-19 seemingly transitioned our newly accepted normal way of life, field trips, group learning, and freely traveling to an educational site, my children and I began to have a deep yearning to get out of the house. So our particular Bible lesson for the week was centered around Providing Service to others just as Jesus did. Now the actual act itself was something that we typically would do just not in the capacity in which our act of kindness would play out. While brainstorming items we could present to the elders, their wives, and shut-ins within our local congregation I figured I will run out, get some containers for the sensitive skin scrub I created to use on my hands, due to having severely sensitive skin and underlying health ailments which contribute to my skin being dry, and not to mention the handwashing with 3 little ones under the age of ten. And so the scrubs were made and the Lemon and Poppy Seed muffins were baked. They were packed in cute little gift sacks and we drove from home to home that Friday and delivered our treats, muffins for the gentlemen and body scrubs for the ladies.
Fast forward to the following week. I began to get responses from the people in which we had taken them to. Not just to say thank you but to ask if we sold this stuff. So back to the aforementioned thought, my response was simply uhh… no… I already have one business with several programs I oversee, four children, and I am a wife, that would be nuts. So as I had learned to do in all of the years which I was blessed to endure and grow through, I prayed about this possibility, I asked my children if they would be interested in participating in a collective business venture to call their own and watch grow. They said yes and we prepared products in which they chose and named and created a soft launch menu and we distributed it to family and friends. Boy were we in for a treat! The support received was an overflow of blessings and within 2 hours they sold out of 75 jars and had two custom order for three of each scent totaling to 42 jars they had to customize their first day.
So after everyone finally responded and showed their support they sold over 140 jars were sold in their soft launch of just two days. Then it was time to really look at how we'd grow this thing and take things to another level. I planned, prepped, built a website, created labels, ordered packaging supplies, and three weeks later we launched publicly and to date the response has been amazing. Our products have only received positive feedback and the only negative commentary has been can we have more and we want bigger sizes! N2Skin by 4K has sold over 420 jars and has 12 repeat customers, several of which have elevated to our Elite Customer status, and that number is steadily growing in just three months time. We are truly blessed and want to show our customers we are here to stay and help them enjoy their skin journey as we embrace learning what running Beauty and Skincare Line entails.
Great, so let's dig a little deeper into the story – has it been an easy path overall and if not, what were the challenges you've had to overcome?
Oh, I would like to say it has been a cake walk, but absolutely not. The first shipment for our product jars arrived with over half of them broken so we ended up having to troubleshoot in order to remain fully stocked. We also had three packing errors which was excused because our Customers are SUPER AMAZING! This was our first way of learning what avenues to take to keep the customer satisfied. Otherwise, there have not been any other struggles so we count it all joy!
Please tell us about N2Skin by 4K.
N2Skin by 4K is a Skincare Line that specializes in skincare products formulated for extremely sensitive skin, inclusive of dry skin due to underlying health ailments, eczema, psoriasis, cracked heels, and severe allergies which are triggered by fragrances. Our products are truly made with only natural ingredients and what sets them apart from other products is that unlike most scrubs, ours exfoliates, hydrates, and promotes healing all in one step, so it is not necessary to purchase multiple products. Our products also show positive results immediately and after your first use. We are most proud of our products as we are the operation and put in time and effort to perfect the craft to provide great products to make our customers have a pleasant skin journey and experience. We truly value feedback as we feel it is imperative to the customers to know what they like and dislike.
Do you look back particularly fondly on any memories from childhood?
My favorite memory from my childhood is definitely getting to visit my grandparents in their Personal Care Home in which they owned, It was just pretty cool to watch and help. I had no idea that those examples would contribute to my desire to become a business owner someday.
Pricing:
Our prices are super affordable our sampler sizes are $3 each and our standard size jars are $7.
Our Elite small jars accessible after 3 or more purchases or for whole sale 10 or more are $10.
Our Elite large jars accessible after 3 or more purchases or for whole sale 10 or more are $20.
We offer care packs for $30 and they allow you to add a special message to your recipient! We wanted to keep up the tradition of committing acts of kindness.
Contact Info:
Website: www.n2skinby4k.com
Phone: 2292561191
Email: n2skinby4k@outlook.com
Instagram: @n2skinby4k
Facebook: @n2skinby4k

Image Credit:
Kami A. and Kylee L.
Suggest a story: VoyageATL is built on recommendations from the community; it's how we uncover hidden gems, so if you or someone you know deserves recognition please let us know here.